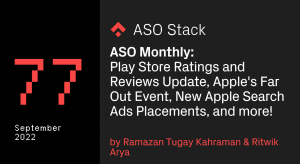 In the ASO Monthly series by ASO Consultancy Phiture, we reflect on the previous month and shed a light on trends in App Store Optimization, algorithm changes, insights in conversion rate optimization, and tools updates.
This update was prepared by Senior ASO Strategist, Ritwik Arya and Ramazan Tugay Kahraman, Senior ASO Keyword & Metadata Specialist at Phiture. 
September 1 – Google algorithm change
AppTweak's algorithm change tool has detected the biggest anomaly of the year in the Play Store. The change in the algorithm affected many countries and there were significant changes in keyword rankings. According to members of Phiture's ASO Stack community, most of the apps lost between 10% and 30% of visitors and installs. Google did not announce the details of the algorithm change. The steps you need to take after such a major change in the algorithm are as follows: 
Check if the downfall in the organic visibility of your app is related to the algorithm change.

Identify in which countries the algorithm change affected you most.

Find out which keywords lost the most rankings in these countries.

Consider replacing these keywords with new ones.

Additionally, ask yourself what steps should be followed to restore the performance of the lost keywords?
Another way to analyze and understand the effects the recent algorithm change had on elements of your product page or store listing, would be to look at the search ranking of competitor apps.
Google's algorithm change also brought some interesting (false) positive results. A member of Phiture's ASO Stack Slack channel, Guy Rotstein shared an incredible change he saw in the visibility of his gaming app. According to Rotstein, his poker app received tens of thousands of visitors in countries where there was no previous presence, including Japan and South Korea. This was probably due to Google's algorithm change briefly showing the store listing in the first countries where it was not currently listed.  As the poker app listing page did not have localization support set up for these countries, it could not maximize this unexpected exposure to new markets.
Algorithm changes can cause unexpected results and data. In such cases, publishers should do their analysis by prioritizing the algorithm change.
September 3 – Croatia currency change
Apple sent a message to the developers on September 3, 2022. On January 1, 2023, Croatia will replace its currency with the Euro. With this change, in-app purchase prices will also change.
Apps targeting users in Croatia need to think about currency exchange before 1 January, 2023. We should reconsider our in-app purchase prices prior to the exchange rate change. Setting prices higher than they should be by making wrong calculations can lead to loss of users.
Here is Apple's official statement: "Starting next year, Croatia will adopt the euro (EUR) as its official currency, replacing the Croatian kuna (HRK). In accordance with this transition, the pricing for apps and in-app purchases on the App Store in Croatia will change from the kuna to the euro on January 1, 2023. 
Price tiers will be converted to euros using the statutory fixed conversion rate of 7.53450 HRK = 1.00000 EUR established by the Council of the European Union on July 12, 2022. For in-app purchases, as per the Act on the introduction of the euro as the official currency in the Republic of Croatia, you'll need to communicate the statutory fixed conversion rate of 7.53450 HRK = 1.00000 EUR. Additionally, both the kuna and euro prices will need to be visible to customers within your app for the duration of the transitional period from September 5, 2022, to December 31, 2023. This messaging should appear anywhere prices are displayed."
September 7 – The most popular keywords of 2022
AppTweak has released a list of 2022's most searched keywords. AppTweak's official statement was as follows:
"The most popular keywords are defined as searches that received the highest possible search volume scores at some point in a year. The volume score is a number between 5 and 100, calculated and directly received from Apple. The higher the search volume, the more popular the keyword and the higher the frequency of searches for that term on the App Store."
"The top 20 most searched keywords on the App Store changed quite a bit from 2021 to 2022. Only 6 keywords that ranked in the top 20 in 2021 still rank in the top 20 in 2022: "instagram," "snapchat," "facebook," "tik tok," "youtube," and "messenger." On the other hand, some notable keywords that lost their top 20 popularity rankings this year are "mario kart," "zoom," "among us," "disney plus," and "free games."
September 9 – 24 hour delay in Google Play ratings
Senior Technical Editor at Esper, Mishaal Rahman shared a warning about the new rating system of the Play Store on Twitter. The change in the rating system was mentioned in this memo sent to all developers: 
"Changes to Rating and Reviews. To allow us to automatically detect suspicious Ratings or Reviews activity, we are introducing a delay of around 24-hours from when users submit Ratings or Reviews to when those submissions are published. In this period, you will be able to help your users by seeing Reviews and replying to them, but these won't be immediately public."
This is a strict action taken by Google Play Store to tackle the issue of spam and fake ratings and reviews in the Play Store. It will limit the Black Hat ASO activities by deleting fake or spam ratings and reviews within 24 hours of submission.
September 12 – iOS 16 released for all users
With the release of iOS 16 to all users, there have been remarkable changes in the stores.
With the new update came changes in the use of notifications and widgets on the home page. Notifications and widgets became more visible after this change.
As we saw in TechCrunch's news, many widget applications showed an unexpected uplift in installs. For example, 'Top Widgets' has shot to the top of the app store rankings in a matter of days. 
With the increase in the number of iOS 16 users, apps that offer differences in notifications and other customization options are likely to increase their number of users.
September 14 – Play Store shows average rating by device type
The process of showing the average rating by device type has started. Users will now see the average rating based on the type of device they use. Google announced the change in August 2021.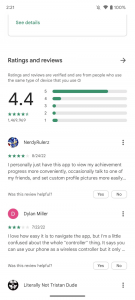 Last month, Google started showing average ratings by country. As of this month, average ratings by device type has also been included. Meaning any application page in the Play Store, will now show users the countries they are currently in plus the average rating given by users with the same device type in that country.
September 16 – Apple's Far Out Event
Along with launching the latest iPhone 14, Apple made many new announcements that influenced the app industry at their recent 'Far Out' event. From making Apple's own Fitness app available for all users, to introducing Dynamic Island with third-party support, we have covered all the important aspects in our Apple's Far Out Event: Our Mobile Growth Roundup. The blog post outlines ways in which these new updates can impact app marketing practitioners.
September 20 – Apple to raise prices outside US
Apple plans to increase the price to purchase apps, in-app items and subscriptions for iPhone and iPad owners in response to international currency fluctuations and inflation.
According to Apple, the change will affect Chile, Egypt, Japan, Malaysia, Pakistan, Poland, South Korea, Sweden, Vietnam, as well as all other countries using the euro, and the majority of Europe. Apple's late-Monday email to developers made no mention of the US App Store. 
Apple stated in its note that the modifications will take effect automatically in early October. As an illustration, an app that currently costs 0.99 euros will now cost 1.19 euros.
September 27 – 6.7-inch screenshot and video support in App Store
After the introduction of the new iPhone models, there was a small change in the App Store.

Apple has started supporting 6.7-inch screenshots and videos for the screens of Pro Max models.
Before the next update for apps and games, you may need to prepare images for the new screen size. By default, App Store Connect will utilize 6.5-inch screenshots for the latest supported screen size.
September 27 – Search Ads introduced new ad options
Search Ads has started offering new ad locations to advertisers. With this change, we now have the chance to advertise via two new placements in the App Store. In this way marketers can increase the visibility of apps and games, plus have a chance to increase their app's relevance for a particular keyword.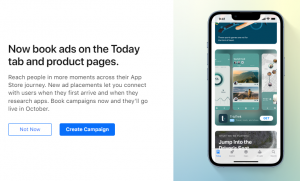 The most important part of the change to Search Ads covers the Today tab. We can now reach this area, where we were able to take place with editor selection as Featured, by advertising. Apps and games that can't be featured or caught the eye of the editors will be able to take place in one of the most visible places in the App Store thanks to Apple Search Ads.

Along with the Today tab, marketers will be able to advertise on Product Pages. They will also be able to determine the relevance between their own product and the places where the ads will appear.
September 27 – Other devices tab on Google Play Store
Using the Other Devices tab in the Play Store, users will be able to search for apps and games suitable for other devices more easily. Google introduced the new tab called Other Devices in an official statement.
With this tab, users will be able to see content suitable for the other devices they have logged in with using their email address on the main page of the Play Store.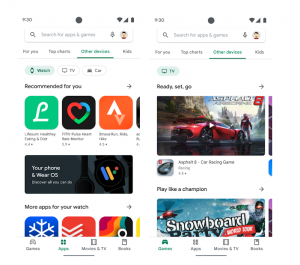 Upcoming events
App Growth Summit SF 2022 – Onsite – October 20
App Growth Masterminds LA 2022 – Onsite – October 27
Tool Updates
SplitMetrics: Apple Search Ads Insights: Charts, Reporting, and New Regions
AppFollow: AppFollow 8.0: Monitor, Engage, Accelerate, Automate
SplitMetics: New in SplitMetrics Acquire: Automation Rule Templates
StoreMaven: Zynga Completes Acquisition of Mobile Growth Platform Storemaven
ASO Desk: The new Keyword Dynamics tool will help you analyze your positions for keywords
Interesting Reads
How & Why to Monitor App Store Algorithm Updates for ASO | AppTweak
How to best use gamer motivation to level up your mobile game's creative assets | Apptamin
China Takes Over the App Store | AppFigures
What are LiveOps and How to Use Them in Your Play Store App Growth Strategy? | Phiture
How to Increase Your App's Conversion Rate | AppTweak
How a good first impression can boost your conversions | Apptamin
Why App Ratings are Critical to ASO Marketing Strategy | Apptentive
2022 Casual Gaming Apps Report | Liftoff
Before you go: 
Making compelling screenshots and promotional videos for games is essential if you want to achieve increased store conversion rates. Have a look at The Big Catch Playbook from Facebook Gaming for insights into the eight most popular motivations for gamers downloading an app. This could serve as a great starting point for developing a fresh creative strategy for your game's product page or store listing,  resulting in a potential increase in the number of visitors it converts.
Explore the importance of free trial…
---
November 20, 2023
by Anastasia Karpikhina
This month's ASO Monthly edition…
---
November 6, 2023
by Ritwik Arya