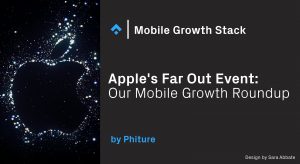 Editor's note: this news piece was contributed by Phiture Consultants, Aleksandra Stankovic, Ramazan Tugay Kahraman, Ritwik Arya, and Sergio Martinez.
iPhone launches might not generate the hype they once did – the iPhone 14 will likely be the least searched for of all iPhone models yet – but these events remain an interesting watch for those in the mobile growth space.
Just like in previous years, the news from California was dominated by new product specifications and features. In particular, Apple has announced the new iPhone lineup, alongside AirPods Pro, three new Apple Watch models, and an exciting update to Apple Fitness+.
Here, our team covers the most important features of the new devices and the details of most interest to app marketing professionals.
iPhone 14 & iPhone 14 Pro 
New A15 & A16 processors 
The iPhone 14 is powered by the A15 Bionic chip, first introduced on iPhone 13Pro, while iPhone 14 Pro runs on the new A16 Bionic chip that includes two more graphic processors than the previous version. 
This enhancement is great news for game developers, as users will enjoy an enhanced gaming experience with potential for increased engagement as a result. 
Camera
As we've seen previously, the designs of the new iPhones center largely around the camera, in the process, lifting the photography experience to an entirely new level. With a 12MP main camera, iPhone 14 will be able to capture better night shots. In addition, enhanced video stabilization in iPhone 14 and cinematic video mode in iPhone 14 Pro will turn making video content into a true film-making experience. 
This is good news for apps focusing on photography and video, as photo and video editing will remain as relevant as ever. This is a great opportunity to add some new features to your apps and go far and beyond to satisfy the ever-growing needs of potential users. This is also exciting news for social platforms that thrive on video content, as they can expect more activity thanks to improved capabilities of creating quality content. 
Fitness+
Apple's fitness app will now be available to all users. While for iOS users this might be exciting news, it's not so much for fitness app developers and marketers. In the past, Apple has been known to favor its own apps in search results. Therefore, just as a precaution, app marketers might want to consider a different strategy when trying to target the keyword "fitness". 
Dynamic Island 
This feature enables new ways of interacting with your iPhone, adapting in real-time to show important alerts, notifications, and activities. 
It's a great opportunity for app developers to adapt to this top-notch feature, as for third-party apps, it represents valuable support in getting more user engagement through notifications. 
Apple Watch
Women's health 
The new Apple Watch Series 8 was introduced, alongside Apple Watch SE, the second verison, and Apple Watch Ultra, focusing on health. What's interesting about Apple Watch Series 8 is that it focuses in particular on women's health, and it now includes cycle and ovulation tracking capabilities. The information will be stored with end-to-end encryption making it available only to the Apple Watch Series 8 users, which is an attractive security feature that might lead more users to choose this option instead of a cycle tracker app.   
This is bad news for period tracker apps that will have more challenges acquiring new users.   
L1 & L5 GPS 
Apple Watch Ultra, which is a Pro version designed for outdoor activities, has a new L1+L5 GPS feature. This new feature offers better GPS tracking in places where GPS technology is difficult to use. 
For apps featuring maps and GPS capabilities, this represents a new challenge and an opportunity to make improvements.  
Before You Go
Explore other recent articles