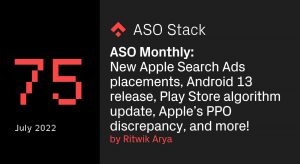 In the ASO Monthly series by ASO Consultancy Phiture, we reflect on the previous month and shed a light on trends in App Store Optimization, algorithm changes, insights in conversion rate optimization, and tools updates.
This update was prepared by Senior ASO Strategist, Ritwik Arya at Phiture. 
July 13 – Are you prepared for Android 13?
Android 13 is just a few weeks away from its official launch. On the Android Developers Blog, Google has asked developers to run the final compatibility test over Beta 4 to perform app testing before the launch of the new version of Android.
Running compatibility tests before a new OS launch is highly recommended from an ASO perspective. That's because incompatibility issues can lead to an adverse impact on Android Vitals and adversely affect the user experience. In this scenario, the app will start seeing a drop in organic visibility in Google Play Support.
Android Police has tested a 'Panlingual' per-app language support on Android 13 Beta 4. This feature enables users to turn on a preferred language for specific apps. Given that there is a huge population of users who speak more than one language, this feature would let users choose different language preferences for different apps. The new update increases the need to localize the app with the target audience in mind, as future users might prefer to use their apps in languages other than English.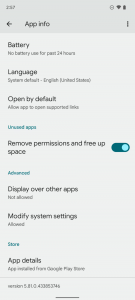 .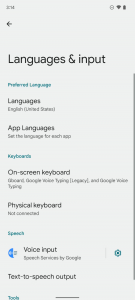 Source: Android Police
July 14 – Google Play Store algorithm change 
AppTweak's App Store Algorithm Change detector recognized two major algorithm changes in the month of July in the US. There were similar algorithm changes across several countries worldwide. Members of the ASO Stack Slack community witnessed a significant impact of this algorithm change in both Search and Explore traffic. While some members reported an uplift, others reported a decrease in traffic. Algorithm updates require marketers to look into both their own and competitors' ASO strategies to get an idea of the signals that are valued more by the algorithm.

July 19 – Google Play Console A/B testing bug
Several members of the ASO Stack Slack Community reported a bug where Google Play Store did not allow the running of new A/B test experiments. This issue occurred when older experiments were stopped and community members tried to start new experiments. The bug delayed A/B testing plans. However, the issue was reported resolved within the next 2-3 days.
July 20 – No store listing experiments in Google Play Console
One of our ASO Stack Slack members, Wei, highlighted a bug in the Google Play Console. According to Wei, after clicking on "Store listing experiments", they experienced an error and did not see any options within the "Store listing experiment" dashboard. Subsequently, the issue with AB tests was identified across the industry. This is another error within a short span related to Google Play Console's experiment tab. These inconsistencies are leading to interruptions in running A/B tests on the Google Play Store.

July 21 – Dropped user acquisition in Google Play Store
Several members of the ASO Stack Slack community reported a significant change in new user acquisition after the Google Play Store algorithm change. The algorithm update led to a drop and increase in traffic across search and explore for different apps. While some members reported a change in traffic correlating to the time of updates to metadata, others highlighted variation in traffic even without tweaking their metadata, which is highly likely to be attributable to the algorithm update.

July 26 – Discrepancies in PPO impressions data
ASO Stack Slack members, Chen and Mateusz, noticed that the PPO dashboard in App Store Connect has a huge discrepancy in unique impressions compared to the original number of impressions in the analytics tab. This indicates that app marketers need to compare the number of total impressions in the analytics tab with impressions reported in PPO experiments to check the level of discrepancy, as a higher rate of difference could raise questions on the reliability of the PPO results.

July 28 – Update to LiveOps performance measurement 
Google Play has introduced changes to how the performance of LiveOps is measured. The new change first noticed on July 28 highlights changes made to viewers and converters as shown in the picture below. This change will lead to a better and more holistic understanding of the performance of LiveOps as the metrics would include more users who have been influenced by LiveOps within the Play Store.

July 28 – Google Systems Update July 2022
Google launched its monthly Systems Update and brought new changes to Google Play Store. With an improvement to Play-as-you-download, now gamers will be able to play a game while downloading it, thus reducing the waiting time for gamers to start playing. If implemented correctly, this feature could possibly let developers break free of the limitations of keeping the game size under certain thresholds, and motivate users to download games with higher sizes. Other than that, the new update includes new features to discover apps and games, and optimization for faster download speeds, alongside other changes (Update July 2022). 
July 29 – Apple announced new Apple Search Ads placements
Apple is planning to launch new ad placements for mobile marketers to advertise on Apple Search Ads. The future update will enable advertisers to showcase their apps on Apple App Store's "Today" page and "You Might Also Like" section. After this update, mobile app marketers will be able to advertise their apps in the same space reserved for the apps featured by Apple's editorial team,  therefore receiving the same amount of exposure as a featured app simply by running Apple Search Ads. This update would make App Store browse and search more competitive, as paid promotions will acquire users browsing the today tab, leading to more fierce competition. It will also be interesting to see the impact of the advertisement of competitor apps under "You Might Also Like," as opposed to the organic performance of apps, as many users download apps from search itself, and might miss looking at this section altogether. 

Source: Appleinsider
Upcoming Events
Devcom – Hybrid – August 21 to 26
Gamescom 2022 – Onsite – August 24 to 28
Tool Updates
AppTweak: AppTweak's New App Store API
MobileAction: Monitor, Analyze and Reply to Your Reviews with MobileAction
App Radar: Connect Google & Apple Search Ads
Interesting Reads
Android 13: New Push Opt-Ins and How to Prepare | Phiture
Apple Search Ads and ASO Interrelation: How to Trigger App Growth | SplitMetrics
8 Distinct & Effective Ways: How Do Free Apps Make Money? | Dot Com Infoway
How to Plan Brand Awareness Campaigns That Boost App Growth | Phiture
A Guide to Influencer Marketing and Its Role in App Advertising | AppSamurai
Why You want to Add SEO to your App Growth Strategy | App Growth Network
Before you go
Did you know, In-App Events (IAE's) in the App Store are an effective way of driving reengagement? Our research has shown that, IAE's are not only effective in bringing new users to the app, but also highly useful as an reengagement mechanism. Our IAE's campaigns achieved 87% more app opens than new downloads for one of our client's apps. This signifies the importance of planning and designing IAE's for new users as well as existing ones.
Learn how user surveys and pricing…
---
September 20, 2023
by Pierre Neau
Explore Phiture's AI Labs: Shaping the…
---
September 14, 2023
by Moritz Daan