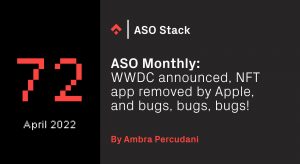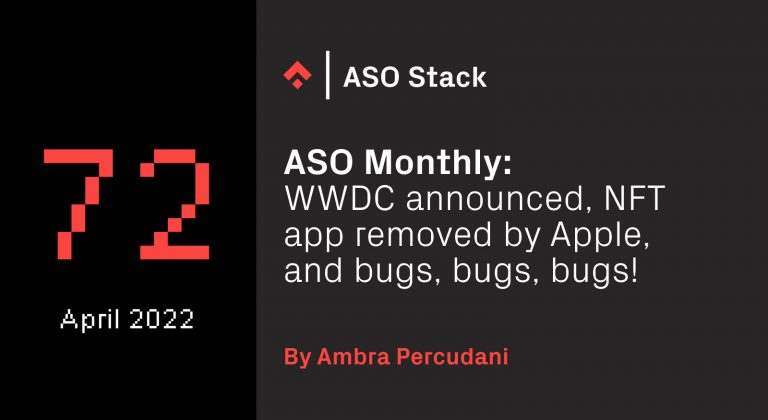 In this ASO Monthly series, the Phiture team reflects on the previous month and sheds light on trends in App Store Optimization, algorithm changes, privacy changes, missing data to watch out for, and Google experimentation updates.
This update was written by ASO Consultant Ambra Percudani at Phiture
Don't miss our ASO eBook which was released on  March 7 and be part of the ultimate ASO event this year! ASO Conference 2022 will be hosted on May 11 with a dynamic and exciting format for knowledge-sharing. See you soon!
Phiture Academy is now live! 🎬 Don't forget to enroll to our first course 'ASO for beginners" and get learned now!
April 5 – Apple's 2022 Worldwide Developers Conference is announced
Apple's Worldwide Developers Conference (WWDC) returns in its online format from June 6 to 10, and it's free for all developers who want to attend. The main innovations will concern the majority of OS systems, such as iOS, iPadOS, macOS, watchOS, and tvOS. 
It will be a great opportunity for more than 30 million developers to access Apple engineers and technologies and learn how to create successful apps and interactive experiences.
In addition, the program will also cover more practical sessions including:
Learning labs,

Digital lounges,

Localized content.
Apple will also host a real-life event, where developers and students will have the opportunity to watch the keynote and State of the Union videos together at Apple Park on June 6, along with the online community. 
Stay tuned and don't miss it!
More information here.

April 6-12 – Data missing in First-Time Downloads in App Store Connect
In October 2021, Apple introduced new metrics to App Store Connect, especially in relation to downloads. Since then, it's possible to see not just the First-Time Downloads (previously called "App Units") but also total downloads and redownloads. However, there was data missing for First-Time Downloads from April 6 – 12.
As reported by ASO Stack community member Katie Stegs, there was data missing in the time range April 6 to April 12 in the First-Time Downloads. Katie also added this was probably a bug, since in Firebase they could see this information (ASO Stack). Other members also confirmed the same lack of data. 
As always, we suggest you to keep this in mind when will you analyze the performance of your app in April. 

April 6 – Expanding Google Play's target level API requirements to strengthen user security
Google Play is continuously working on the safety and security of its user experience by requiring new apps and app updates to target an Android API level within one year of the latest major Android OS version release. On April 6, it took additional steps to protect users by expanding target level API requirements.
Previously, Google Play announced from November 1 2022 that apps not targeting an API level within two years of the latest major Android release version will not be available for discovery or installation for new users.
The good news is that the majority of apps on Google Play have already accomplished these requirements, but if it's not the case for your app, keep in mind to check whether your app is matching these requirements before the deadline. It's also possible to request a 6-month extension if you need more time for migration.
More information here.

April 6 – 'NFT' app Sticky removed from Apple's App Store after operating for just months
This month, we would like to share with you a particular case of an app removal from App Store, as reported by TechCrunch+.
As we know, Apple's approach to non-fungible token (NFT) apps is still unclear, and the lack of official guidelines on iOS has made it hard for app developers to understand what's permitted and what's not. 
Sticky was born as a tool for creating stickers in 2020, and afterwards became an NFT app. The app has been live on the App Store for several months, passing through half a dozen updates before its removal by Apple. 
It seems the problem was how they use the term NFT, even though there is a lack of official guidelines. Apple suggested that Sticky's use of the word NFT to describe its digital collectibles was misleading because they weren't minted on a decentralized public blockchain.
What Sticky was doing wasn't necessarily wrong or explicitly banned by the App Store Review Guidelines. It was operating in a grey area by offering a proprietary ledger that didn't have a developer platform, white paper, or any way for the public to contribute. 
The fact is, developers like Sticky don't have access to clear and documented rules that explain how NFT apps should or should not operate on the App Store. 
This is a clear example of how there can be misunderstandings in applying Apple guidelines. It is advisable to always read the guidelines with caution before implementing or developing new features.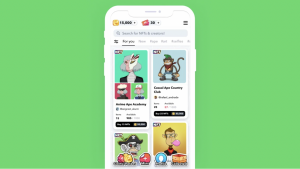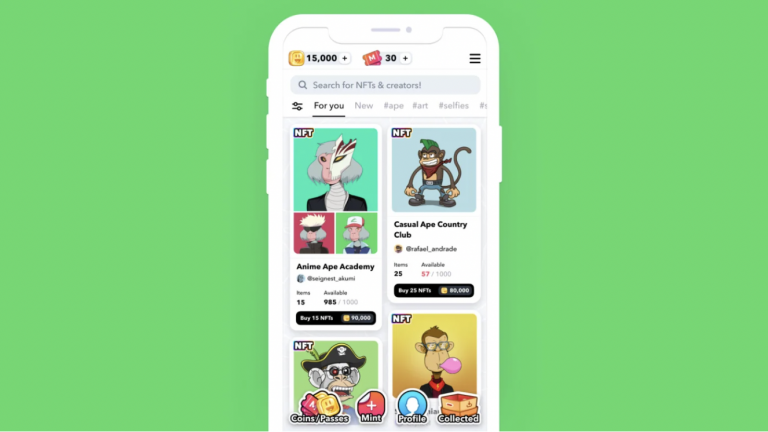 April 7 – Temporary bug with App Store Connect
On April 7, ASO Stack Slack community member Simon Thillay highlighted a temporary bug in App Store Connect, getting stuck in a loop when clicking into one of his apps without having the possibility of accessing the app (ASO Stack). Simon had to use a trick to overcome this bug while he couldn't access it. 
The issue was also noticed by other members of the community however it was not experienced by all, with other members reporting they could still access App Store Connect with no issues. Apple resolved the bug a few days later. 
April 11 – Bug in "Store listing conversion rate" in Google Play Console
As we know, Conversion Rate is a crucial metric for ASO practitioners to monitor as it allows the management of how effective your product listing is. 
On April 11, ASO community member Marina Roglic, reported a huge spike in "Store listing conversion rate" in Google Play Console. It seemed that the bug was then solved the following day. We advise removing this spike from any analysis you might run since it could affect the results (ASO Stack).

April 12 – Google expands functionality of the Experiments product
Google Play Console added three new important features to give users more control of experiments in terms of settings and results. The main changes include: 
Experiment parameter configuration;

A calculator to estimate samples needed and time to completion;

Confidence intervals for continual monitoring. 
To fully understand the new capabilities offered by Google we have to grasp the statistical concepts behind how the experimentation works. Please take a look at our article if you want more details. 
Moreover, Phiture alumni Matt Wrzeszcz wrote a great technical guide about Google Play A/B testing that is well worth a read. 
If you haven't seen the changes yet, don't worry since the features described are not yet available to all developers.
April 12 – Android App Excellence Summit
On April 12, the App Excellence Summit took place and Google Play, Android, and Firebase shared their latest insights and best practices for building high-quality Android apps. 
It's possible to watch all the content from the summit on their #AppExcellenceSummit playlist here. It covered several different topics, from more theoretical themes such as Google Play's privacy and security to very practical sessions such as how to design a great Google Play store listing. 
In addition to this, they offered inspiring insights from apps like Duolingo and Headspace. It's well worth a watch, and you can find more information here.

April 15 – Missing Conversion Rate data in App Store Connect
On April 15, ASO Stack Slack community member Juhui ha noticed there was missing Conversion Rate data in App Store Connect. This absence applies to the first two weeks of April (ASO Stack). 
Other members also observed the same bug. It is therefore advisable you omit this time period from any analyses of Conversion Rate.
April 25: Apple's privacy labels missing from the App Store, probably just a bug
A year and a half ago, Apple's App Store introduced privacy labels to the App Store. The main idea was to provide a more detailed and easy-to-read view of app privacy practices. 
On April 25, mysteriously, these labels disappeared from apps on the App Store and the Mac App Store, as claimed by a Twitter user and confirmed by 9to5Mac staff. 
These privacy labels were first introduced at WWDC 2020, with the purpose of better informing consumers of the privacy practices of each application. These are the main sections of Privacy labels: 
Data used to track you

Data linked to you

Data not linked to you
If you want more information, you can find more insights here.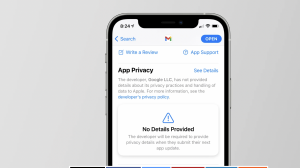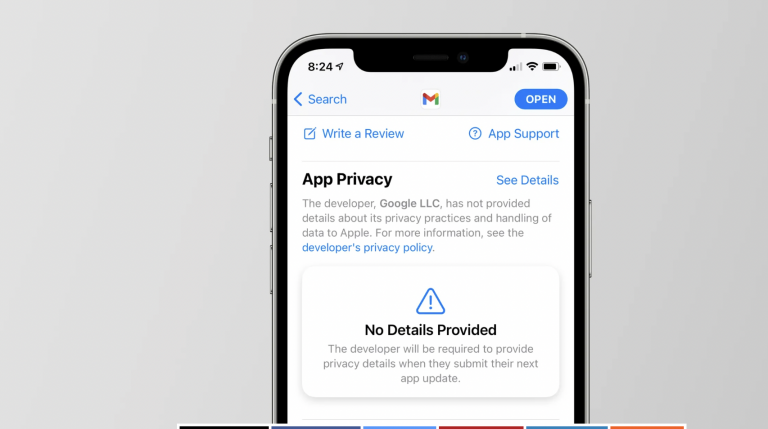 April 25 – Temporary disappearance of in-app events from search and App Store pages
ASO Slack Channel Member Raneal Engineer shared that he wasn't able to see the in-app events of his app from the search and product pages in the App Store. As is already common knowledge, the metadata in the in-app events is indexed by Apple, allowing your app to appear on related search results.
The same bug was also reported by other members of the community, who shared that the bug was resolved the following day. (ASO Stack)
April 26 – The Play Store's new Data Safety section is finally here to show the apps that may be invading your privacy
Following the launch of Apple's Privacy Labels in 2020, it's Google's turn to address the topic, with the launch of its own Data Safety section, as stated in this post by Android Police. 
Google's new Data Safety section is different from Apple's Privacy Labels, which simply requires developers to explain what data they're collecting. Google Play Store will also ask developers to: 
Divulge how data will be used,

State if it's shared with third parties,

Comment on how it's stored and what security practices are in place,

Verify standardized security practices.
Initially, the Data Safety was to be launched in February however this was delayed. As the rollout will now take a few weeks, it's reasonably likely most of us won't see it live in the Play Store right away. 
Since the launch was delayed and the developers had to submit their form in two months, this will give them exactly 12 weeks to submit the requisite details.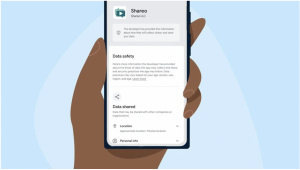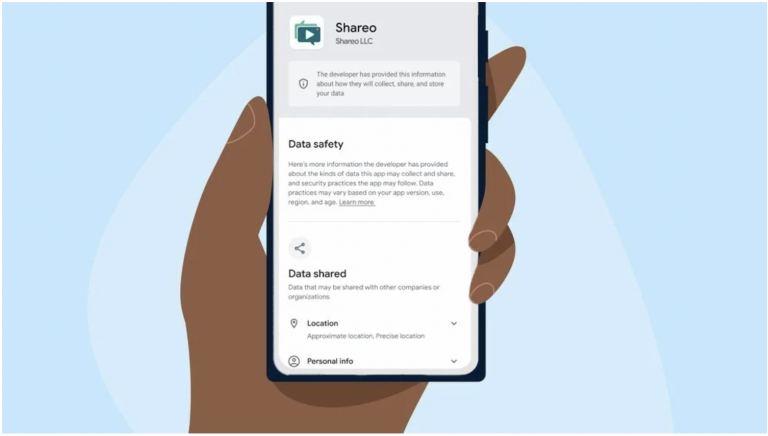 Upcoming events in the next month
May 5 – Apple's Worldwide Developers Conference
May 11 – ASO Conference
Tool Updates:
Splitmetric's new feature in "Insights". (Splitmetrics)
Splitmetric's new update in "Share of Voice metric". (Splitmetrics)
AppTweak's new feature in "Marketing Intelligence" section. (AppTweak)
Interesting Reads:
Before you go
Just two more things we would like to share with you: 
CPP is only displayed for users on iOS 15.2
It appears people who see the 'default' version of the Custom Product Pages are using old versions of iOS, while the CPPs are only visible to 15.2+ users. This suggests that in time there will be no default and no way to compare the performance of CPP vs the defaults. This topic was raised by Thomas BCN in our ASO Stack Slack community.
You can find more information here. 
iOS 16: Here's what we know so far about new features, supported devices, and more
As was the case with the last update, we expect iOS 16 will be announced at Apple's annual Worldwide Developers Conference. This year, Apple could drop support for the iPhone 6s, iPhone 6s Plus, and the original iPhone SE, but it's just a rumor. To know the truth, we have to wait until then. 
Mark Gurman, a tech reporter for Bloomberg who reports Apple's product plans has indicated there will be information about iOS 16 and watchOS 9, which he calls "major upgrades." 
About iOS 16, → significant improvements, including an update to notifications and new health-tracking features.

For iPadOS 16 users → enhance of multitasking capabilities. 

Last but not least, watchOS 9 → upgrades to activity and health tracking. 
In general, it seems iOS 16 will not offer an "end to end redesign," meaning that the overall design will remain the same.
Check more information here. 
Efficiently compare the costs of your…
---
May 24, 2023

by Simon Thillay
Key subscription metrics help growth…
---
May 17, 2023


by Alice Muir and Sameer Ginotra