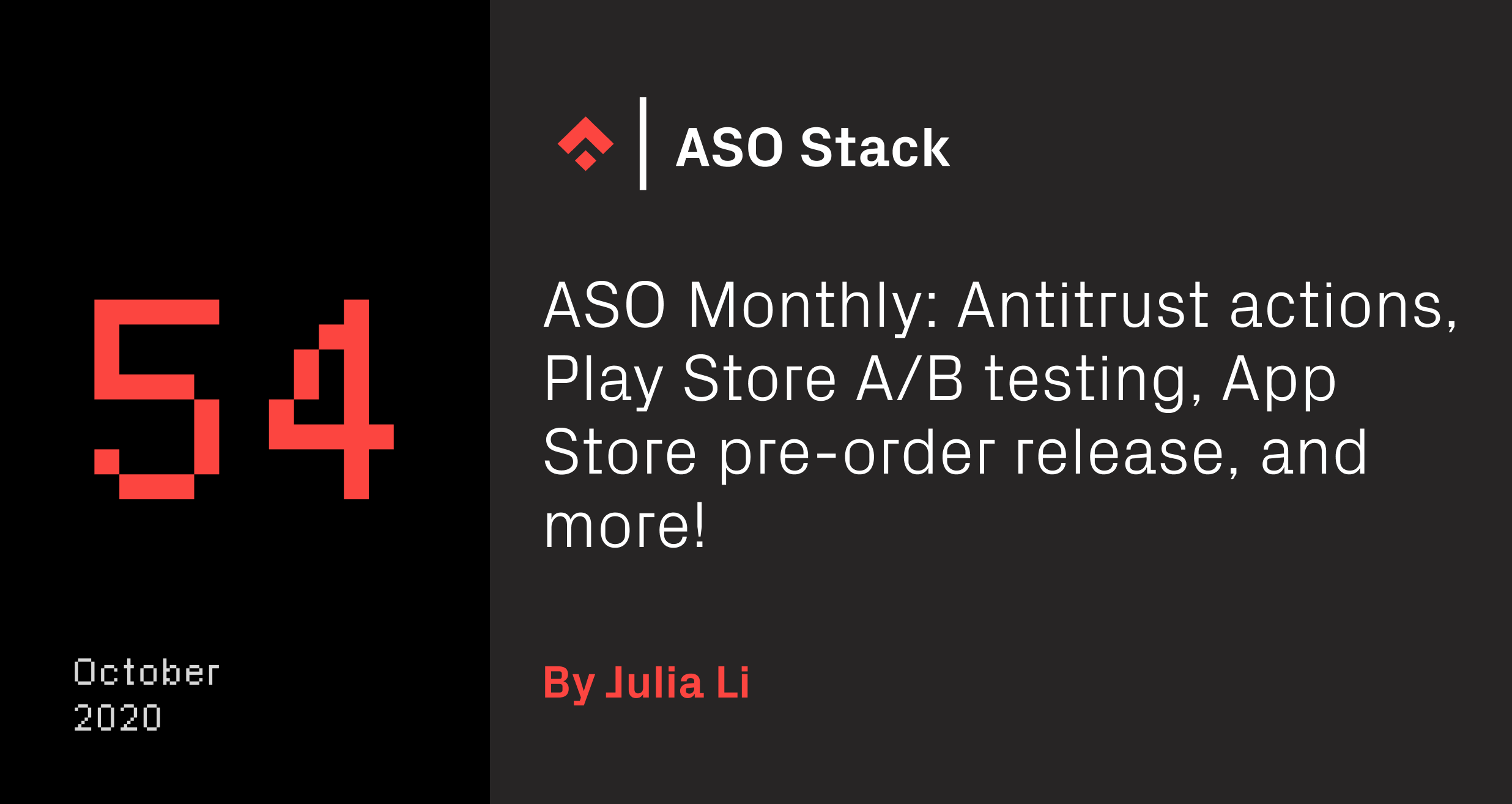 In this ASO Monthly series, the Phiture team reflects on the previous month and sheds light on new trends in app store optimization, algorithm changes, insights into conversion rate optimization, and tool updates.
NB: Phiture is hiring! You'll have the opportunity to join Phiture and help us lead the way in mobile growth. Check here for current positions.
This update was written by ASO Consultant, Julia Li, at Phiture.
October 1 – Antitrust law against pre-installed apps drafted in Europe
A new European legislation draft has raised the possibility of prohibiting Apple and other companies from selling devices with their own pre-installed service apps. The European Union issued an early draft of The Digital Services Act, which proposes measures that would limit what big tech gatekeepers are allowed to do. The draft mentions possibly banning big tech companies' preferential treatment of their own services on their sites or platforms, including the possibility of banning pre-installed Apple apps in Europe. For ASO practitioners working with third-party apps in Europe, especially ones that are currently in competition with Apple stock apps, this could result in a lot of growth opportunities on the App Store. (Source: Financial Times)
October 1 – Indian start-ups looking to form alternative app store
Over 150 tech companies in India are reported to be discussing forming a new app store to provide an alternative option to the market outside of the Google Play and App Stores. While the conversation among startups initially lasted for a few days, the initiative has now been escalated due to Google's announcement of new billing policies, which state that Google is entitled to a cut of up to 30% of app-related payments for an app listed on Google Play. The new policies are due to come into effect next year. (Source: TechCrunch)
While there are no clear next-steps as of now, India is the largest market on Google Play in terms of total downloads. ASO practitioners focusing on the Android market must, therefore, pay close attention to how this evolves as a new app store could shake up the entire market.
October 14 – Managed Publishing feature on the new Google Play Console
After September's announcement that the discontinuation of the classic Google Play Console will come into effect from November 2, Google has further announced the rollout of a new feature called Managed Publishing. 
Managed Publishing will replace Timed Publishing in the classic Google Console and will provide more flexibility for ASO practitioners when publishing changes for an app. With the new feature, changes that have been approved and ready for publishing will be shown on the publishing overview page and will go live only when you decide. One thing that ASO practitioners should keep in mind is that store listing experiments will also need to be published separately on the publishing overview page after setup.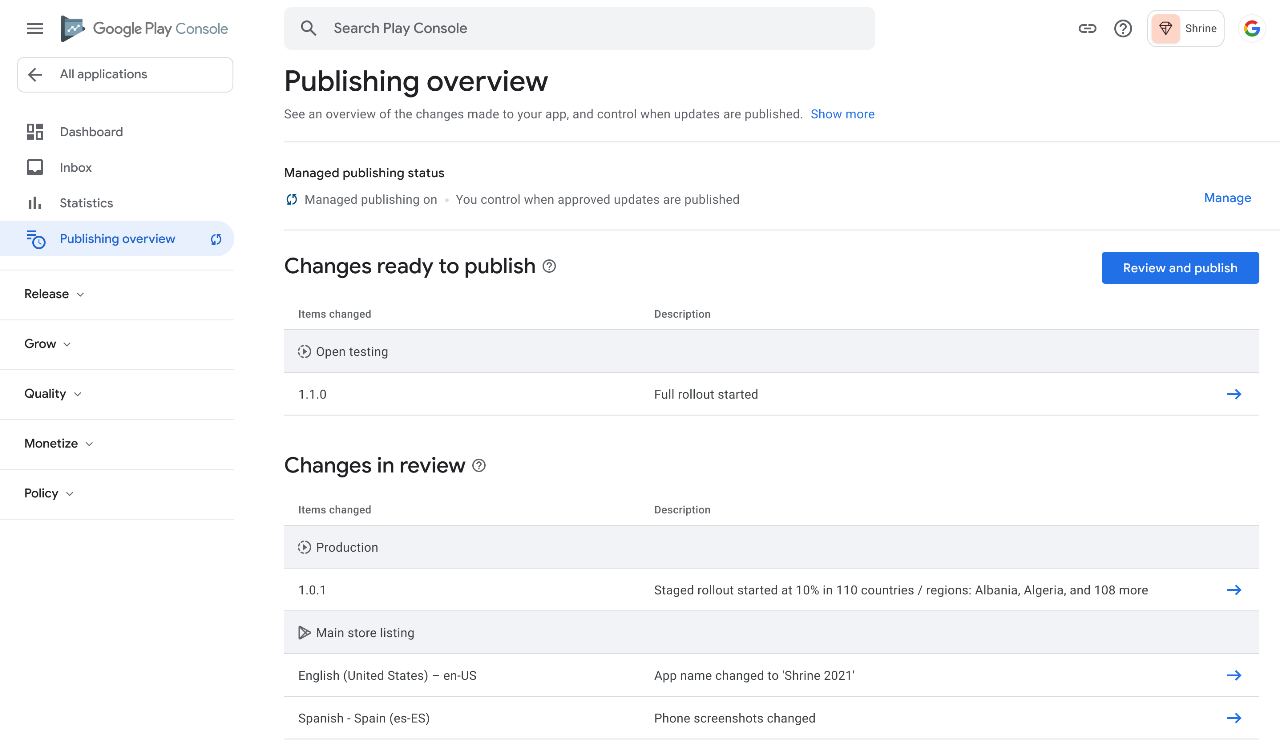 While previously, developers were only able to publish changes once all changes were approved with Timed publishing, Managed Publishing can be turned on and off at any time to publish approved changes, even if there are other changes in review.
Managed Publishing is now available on the new Google Play Console, and soon there will be a Managed Publishing icon in the left-hand navigation menu that indicates when the feature is turned on for an app.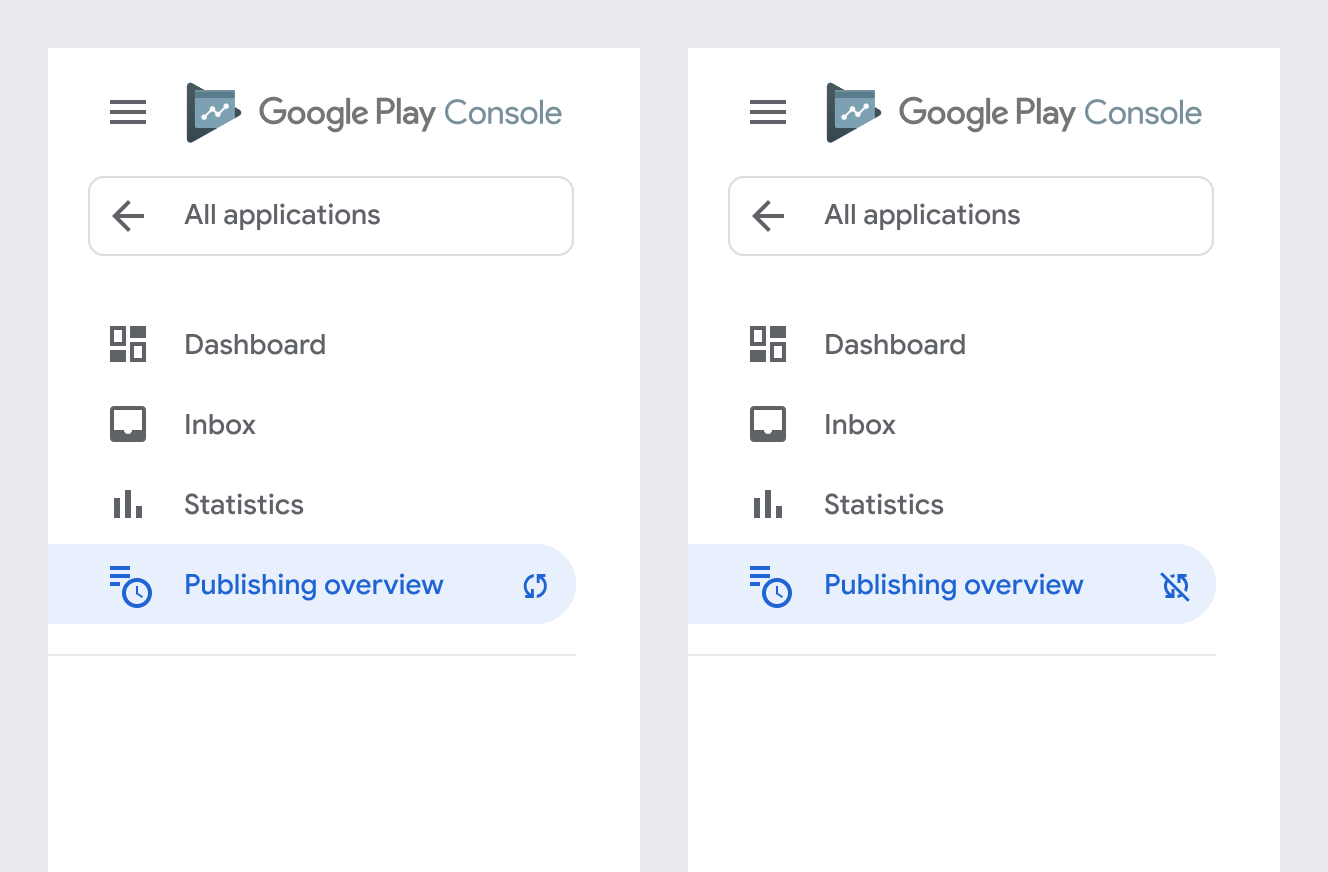 October 14 – The Play Store A/B test on the side navigation menu

Following the A/B test on the search results of the Play Store spotted last month, Google is carrying out another A/B test on the Play Store UI — this time on the three-line side hamburger navigation menu. The latest UI test includes an expanded floating window that pops up when a user taps on his/her profile icon at the top right corner of the Play Store UI.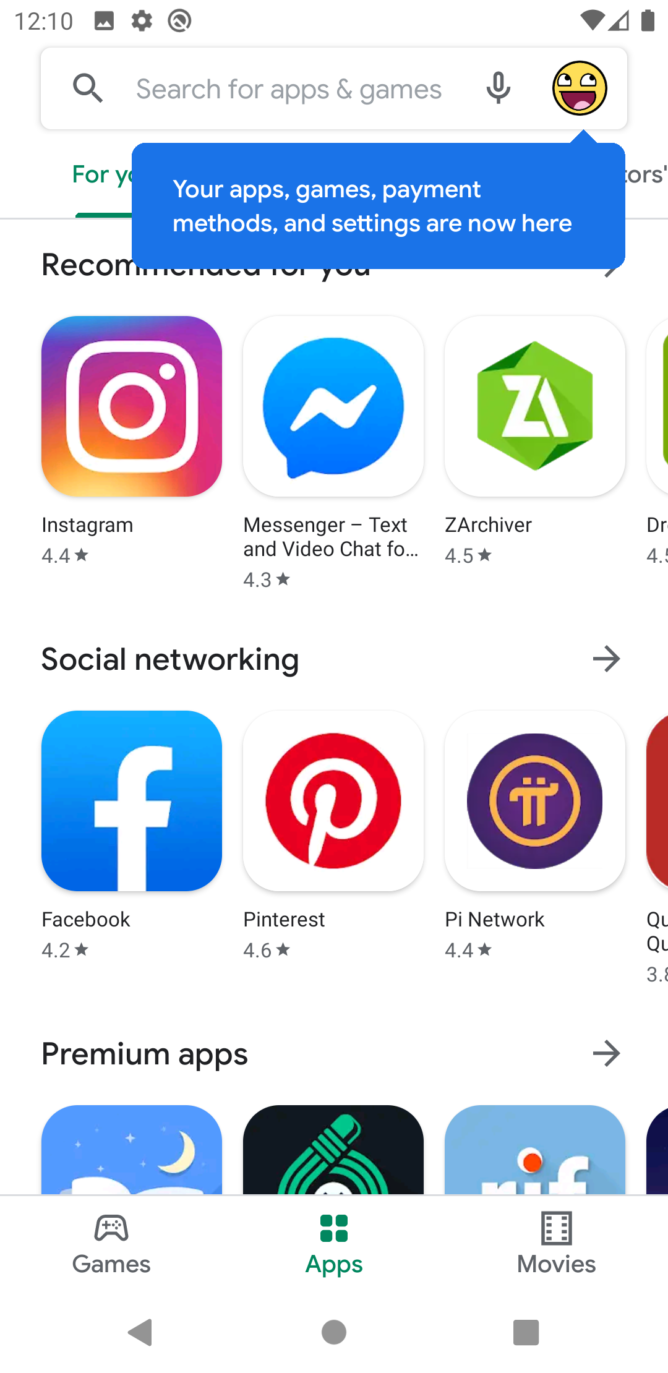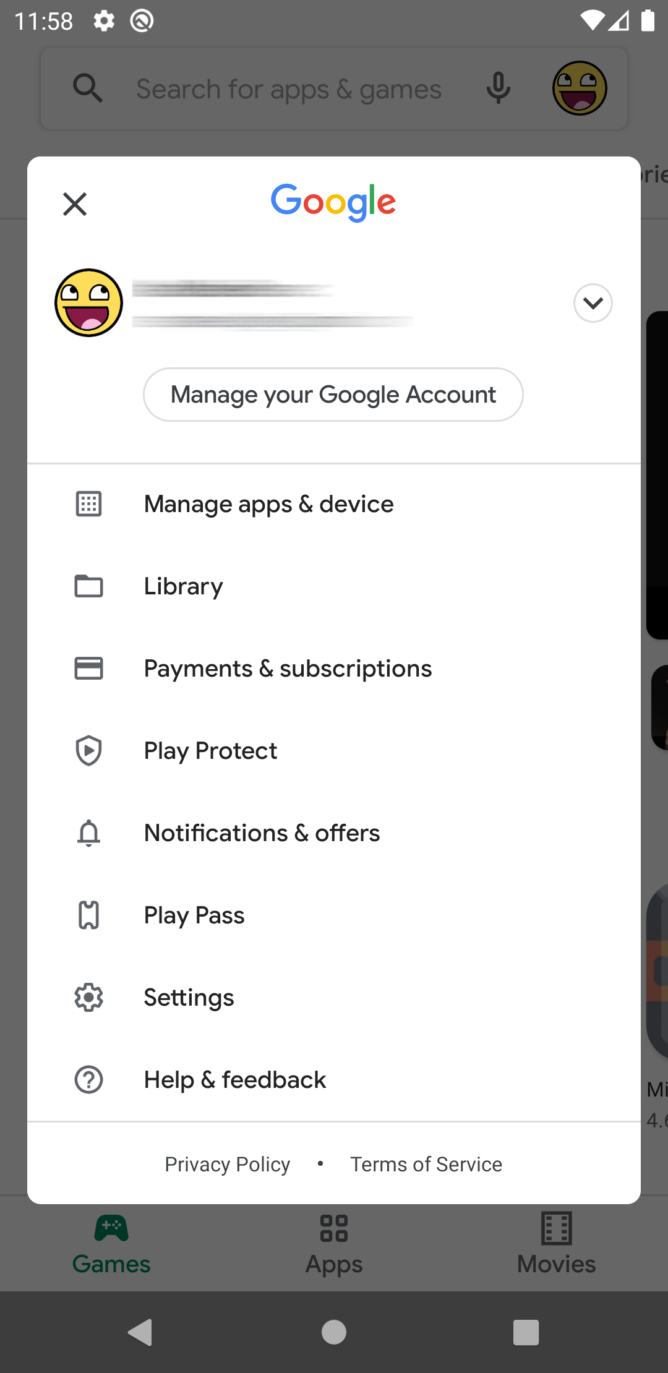 Source: Android Police
While it is yet to be seen whether the test will be adopted as a permanent element, ASO practitioners should take note and ensure that your app's screenshots do not feature a hamburger navigation menu.  With apps such as Google Maps and Google Photos set to part ways with the design this year, the hamburger could be conceived as an outdated icon.
October 15 – App Store pre-order release
App pre-orders can now be available on the App Store up to 180 days before the app's official release date. The longer lead time gives ASO practitioners more flexibility when managing pre-order strategies to ensure the release is aligned with promotions in and outside of the App Store, which could, in turn, encourage more pre-orders, and ultimately a more successful app release.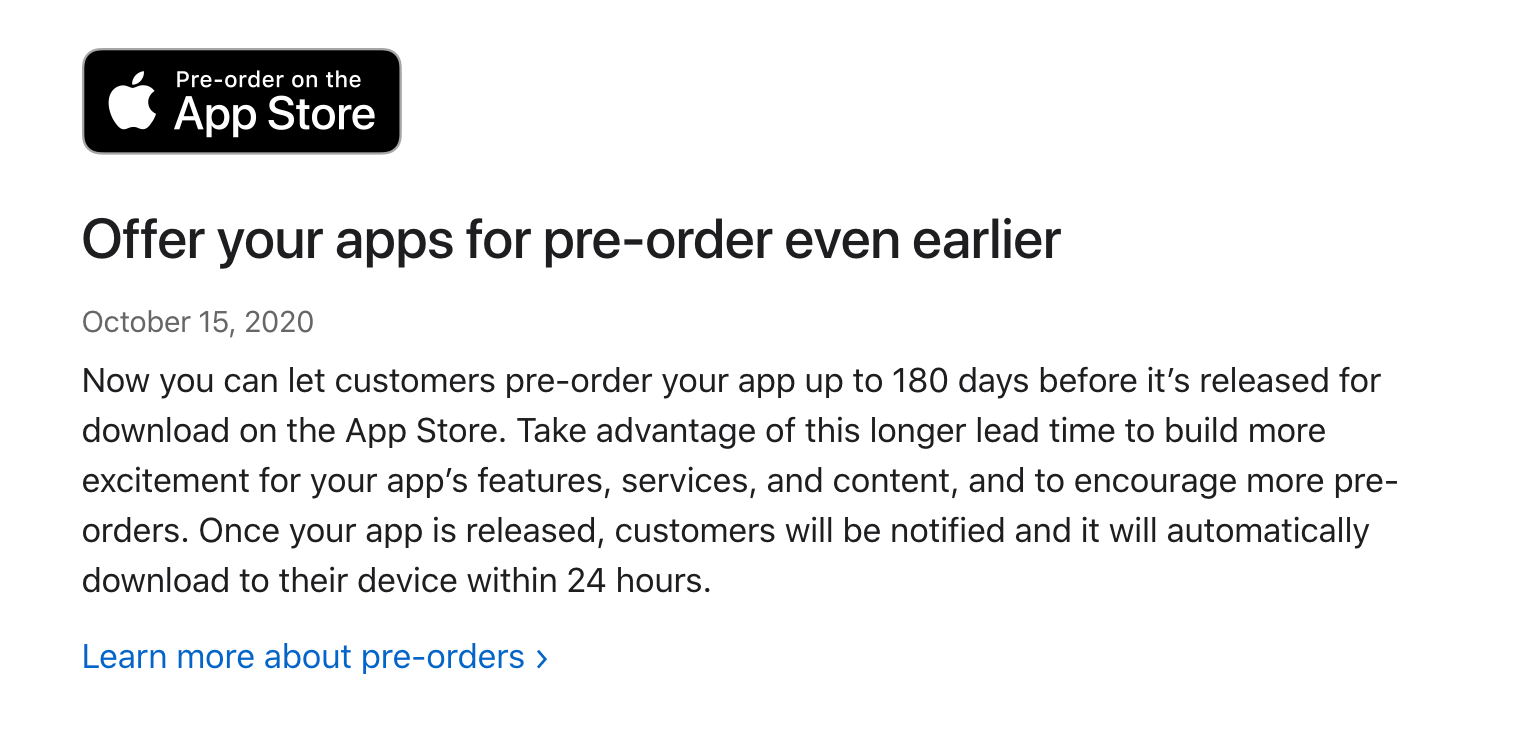 October 21 – Apple Search Ads Certification
Apple has launched an eight-lesson, self-paced online training program called the Apple Search Ads Certification. To become Apple Search Ads certified, you will have to complete all eight lessons, take the 50-question exam, and earn a score of 80 percent or higher.
Apple Search Ads and App Store Optimization often work hand-in-hand in maximizing app units on the App Store. ASO practitioners and app marketers alike who are interested can start learning and demonstrate your app marketing proficiency at certification-searchads.apple.com.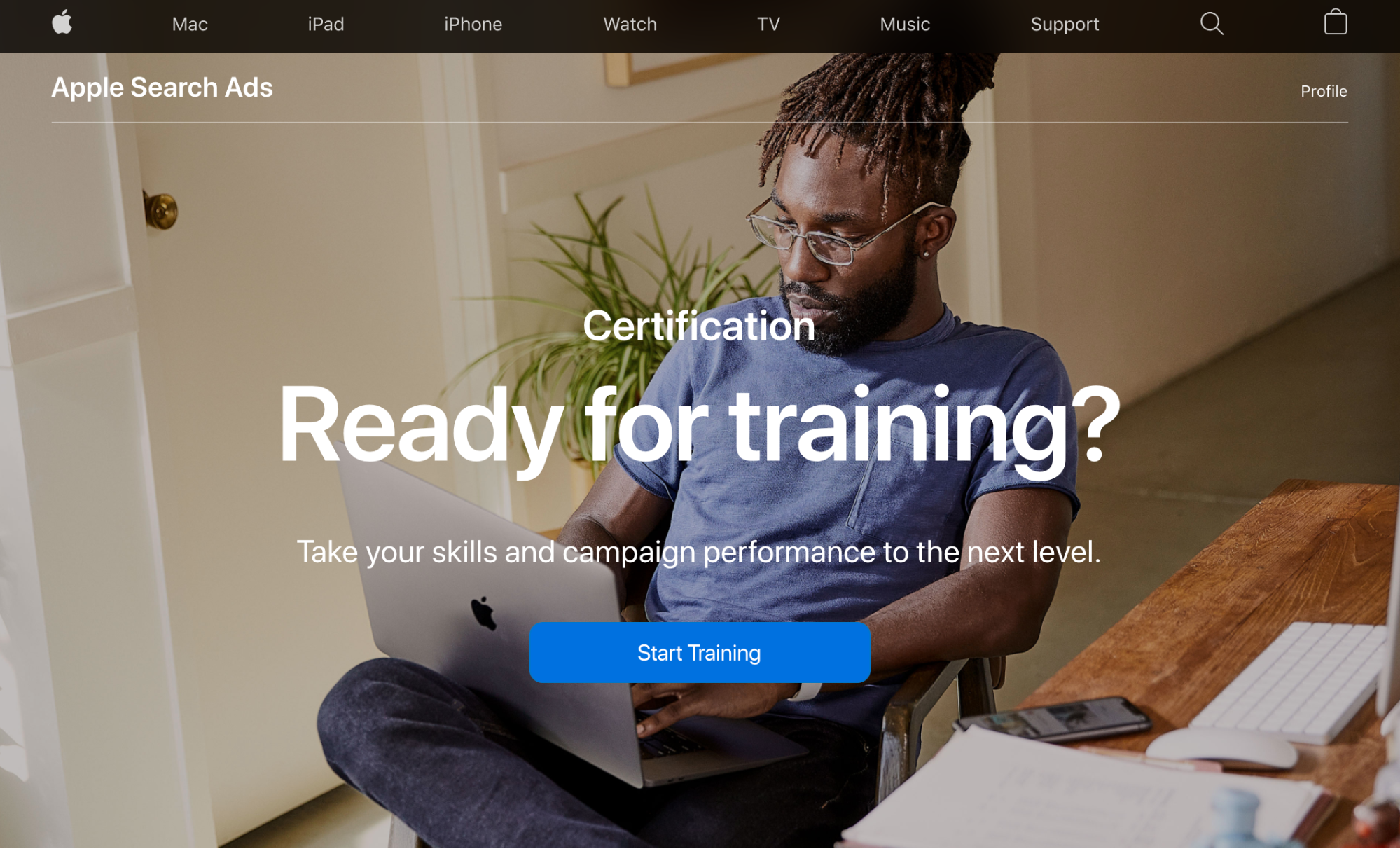 October 29 – The Play Store A/B test on the "Compare apps" section
At the end of October, Google was spotted experimenting with a "Compare apps" section under the individual app listing.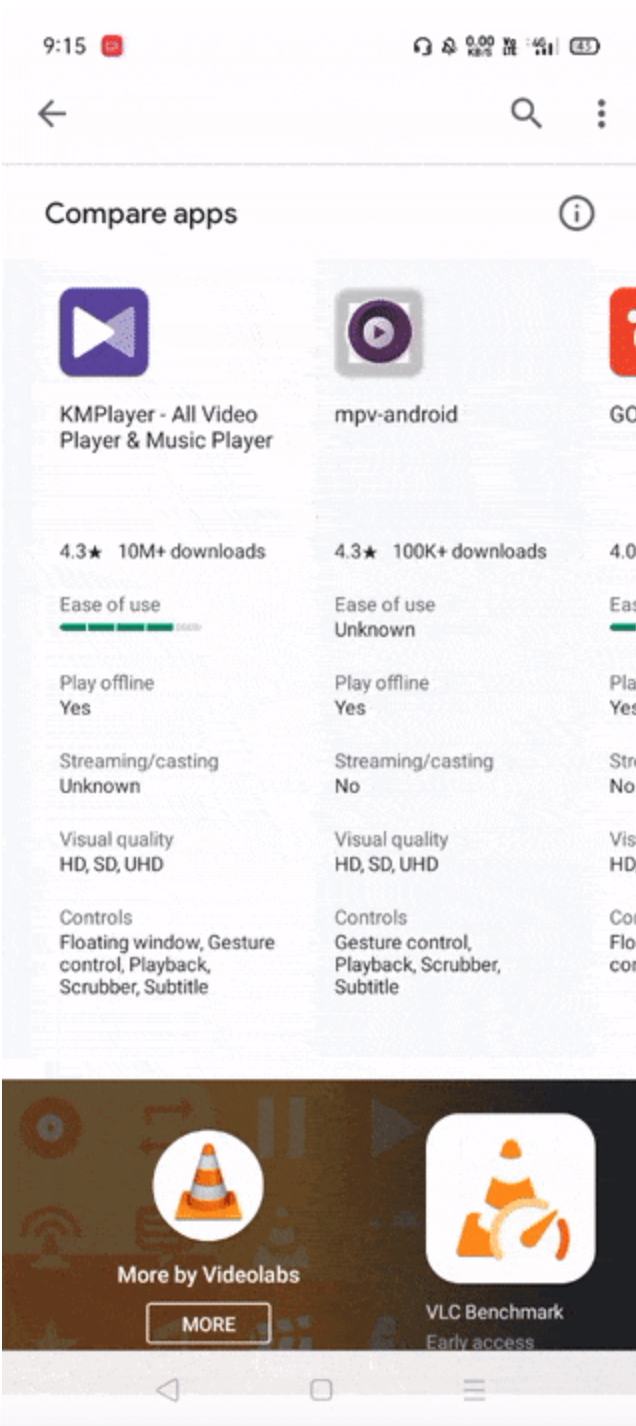 The new section compares similar apps head-to-head on important metrics such as ratings, number of downloads, ease of use, and other supported features relevant to the app category such as offline playing and visual quality for media players.
For ASO practitioners, the side-by-side comparison could mean a growing importance of ratings, number of downloads, and app features in driving installs on the Play Store. ASO practitioners should keep a close eye on how your Android apps are doing in terms of ratings and reviews compared to your competitor apps, as well as any unique features that are supported by your competitor apps.
Upcoming Events in November 2020
11-13 November — SubSummit 2020
18 November — App Growth Summit APAC 2020
25-27 November — Nordic Game Conference 2020
Tools Update in October 2020
AppTweak –
Check out an app's Google Tags in our Live Search
Monitor your best keywords across countries
App Radar
Store Listing Editor has a new user interface and features
AppFollow
App management startup AppFollow raises $5M Series A round led by Nauta Capital
Tune 
Capture Every Conversion, Part 1: Pixel Tracking for Affiliate Marketing Campaigns
Interesting to read
A Step-By-Step Guide To YouTube Influencer Marketing for Mobile Games
Non-linear: the Universe of the User Lifecycle
Playable Ads: The Right Way to Use Them for Your App
5 reasons to connect your Apple & Google Console
What are App Clips and How to Use Them?
Which apps need to attract organic traffic
When ASO will start bringing results
How competitive analysis helps in App Store Optimization
How to Build a Winning Gen Z Strategy on Mobile
Mobile App Usage Surged 25% YoY in Q3 2020
SEO Backlinks: What Are they and How Are they Relevant to ASO for Google Play?
Competitive Retail Events to Spur Record 60 Million Hours Spent in Shopping Apps the Week of Prime Day 2020
Shopping, Food & Drink App Launches Have Grown More Than 50% Year-Over-Year in the U.S. Since March
App Growth Talks: Daniel Peris Molina
How Automation Can Simplify Mobile Ad Production
In case you missed it, Phiture recently…
---
November 19, 2021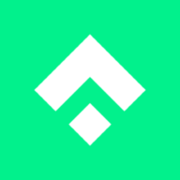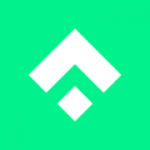 by Sarah Tilley
In the October edition of ASO Monthly…
---
November 9, 2021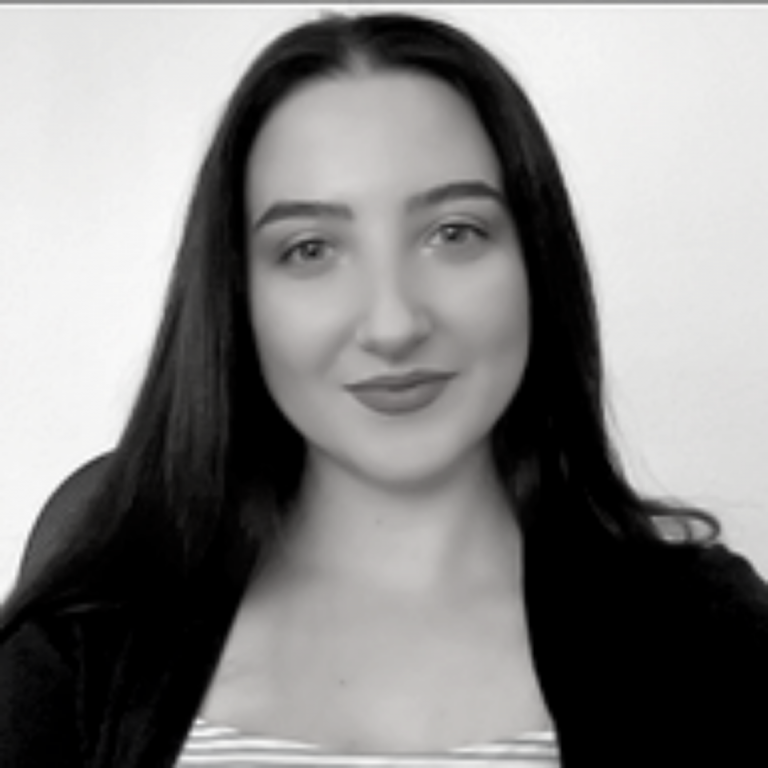 by Aleksandra Stankovic