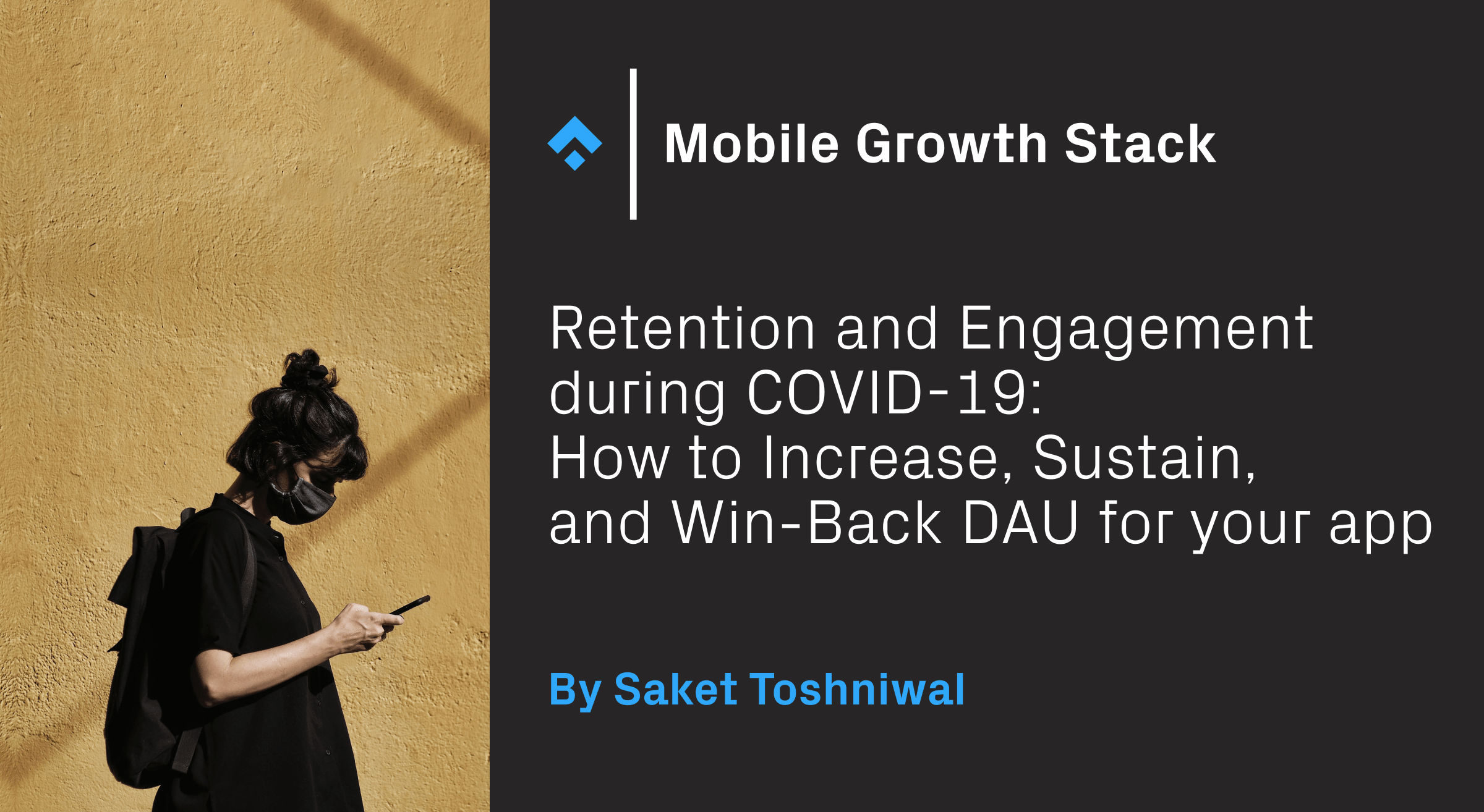 Editor's note: This is a guest post from Saket Toshniwal. Saket is responsible for CRM, Growth, and Product Marketing at LOVOO. LOVOO is a social entertainment app with 120+ million users. He leads the team and builds strategizes across all stages of our user journey, upscaling the interaction with customers, and building a robust CRM ecosystem. Saket is also a thought leader, speaker and consults companies to grow CRM smartly.
Are you tired of reading about COVID-related things? I hear you. It's exhausting. It's likely that you, your team, and your company have worked hard to make some immediate changes with the onset of COVID-19. It may feel like the pressure is slightly easing. But I can confidently say that the real work is just about to begin.
There has been a ton of work put into teams—product, engineering, CRM, and marketing teams, in particular—to maximize value during COVID-19. 
And it's exactly during these uncertain times when it's important to remember the fundamentals of retention.
Retention is about building and deepening the habits of your users and customers. Users have motivation, cognitive and physical friction, and rewards that all play a role in habit building. You can further divide retention into two categories: registration retention and activity retention. Registration retention depends on how fast the user gets any value from your product/app.  But activity retention is about usage, not revenue. 
During COVID, it's likely a drop in revenue retention that's setting off warning bells. But revenue retention is an output of usage. It's a lagging indicator. What you should be focussing on is the leading indicator: activity retention. 
If your team is sitting around discussing ideas about how to improve retention, you're asking the wrong question. Retention is an output. To move retention, you need to focus on inputs. What you really should be asking is what is going on with your core inputs: activation, engagement, and resurrection. 
In this short article, I'd like to explore how these three core inputs are essential to understanding your retention cycle as a whole. The idea is to use all three to increase, sustain, and win-back DAU for your app. 
But first, I'd like to address a few questions you should probably be asking right now. 
Three questions you should be asking not only during COVID-19, but always:
How have the habits of my users/customer base changed? How might they change going forward?
The core elements of your current and potential customers have probably changed during COVID-19. Have habits been broken? Weakened? Strengthened? Why? It's likely that these changes have happened in the past couple of months. But the answers to these questions are going to start changing, and they will constantly change at least until Q4 of 2021 (depending on which country your product operates.)
How has usage of my customer base changed, or how is it changing?
As a result of these changing habits, the app usage behaviors of your current and potential customer base have probably changed, too—and they will continue to change. You really need to understand the why behind these changing habits. You can do that by looking into metrics such as usage time, average sessions per day, activity by feature and by cohorts of users (if you have a large user base).  If you're an app where core-business has been at a standstill during COVID-19 (the airline or travel industry, for instance), you need to ask yourself: how can you increase the usage of the app or consumption of content through the app during the pandemic? Even though your users may not fly, they can be inspired to read content around COVID-safe traveling tips, for example. 
As a result of #1 and #2, which input (activation, engagement, resurrection) should I invest resources to improve?
Based on the first two questions, you should start to get a sense of which inputs you'll need to align resources toward in order to build a proactive strategy. Activation, engagement, and resurrection have different strategies to improve, and require different amounts of effort to drive them. I explore this in the next section.
But during COVID-19, most marketers have lowered their spending on user acquisition. Thus, it's even more important to activate and monetize your after install/registrations. Try your best to monetize your new user on Day0 or Day1 of activation, and try to get at least a given percentage of users to upgrade to a subscription free trial. Remember that to give the user first value, get the push permissions, marketing permissions and send them the right content tutorial to read, understand, and act on the content, in order to get and continue to get user value.  This has proven to increase your DAU. 
Core inputs
After you've asked a few fundamental questions about your users, it's now time to think about your inputs. Here's where your trio (activation, engagement, and resurrection) can really make a difference during COVID-19. 
Let's start with activation.  Making sure that your new users clearly understand how your app is positioned during COVID times is one of the most fundamental steps you can take right now. Start with the in-app onboarding flow: it should inform users to do the next steps to get first value not only as soon as possible, but as effectively as possible. One great example is by using the install to registration notification. On Android, app developers don't need additional push permissions. From there, you can use push notifications for when users start the registration but don't complete it, increasing registration completion. 
Users can receive empathetic communication on how to best use your product during the pandemic. If you are an e-commerce app, let them know that you can deliver products in a sanitized-safe environment. This critical stage should be a cornerstone of your marketing approach during COVID-19.
Next up is engagement. Think about what engagement strategies really suit your app. Push notifications, email marketing, SMS, retargeting, FB audiences and in-app notifications can really help during this period. One of my favorite engagement segments is users who were active prior to one day ago and performed a key event in the app. When your user has done a key action in the app (or reached a certain level of credits/points), it's important to remind them to perform the repeat action or reach the next level.  At LOVOO, we often send in-app messages based on triggers. Such triggers are custom events such as  like_created, profile_visited, registration_completed, stream_viewed etc, or custom attributes. 
You can send push notifications to bring those users back to the app. Daily surprise gamification can really help: runstreaks, points, day streaks, levels are pivotal here. Free credits when your user comes back daily helps engagement campaigns across the board. Gamification can combine with feature releases, app updates, and lifecycle marketing, too. 
Finally, think about resurrection. During COVID, you have to realize that if the core value of the product may have been weakened, strengthened, or even replaced by an alternative. List down the use cases that your users are coming back to the app and the channel through which your users are coming back. Recognize that you are now competing with a new set of alternatives solutions to the core value of the product.
Resurrected users consist of a given percentage of users at any given time. For smart resurrection tactics, you should build smart prevention and resurrection models that take into account both resurrection and reactivation—I explain these further in the last section of the piece.
All of these are for lapsed users who need to be reactivated. You should also consider creating free promo codes, free credits—anything free, not to mention FOMO (fear of missing out) strategies.  Community actions are also invaluable during this period. 
What about your metrics?
COVID-19 is prime time to establish the right kind of metrics to understand retention as a whole. What you should be thinking about are those metrics that you probably haven't tracked before. These include the following: 
Percentage of daily active users who opened your app and did not have any activity

in your

app.

Basically, a user performed two actions: they opened your app, and closed your app. You'll be surprised to learn that 5-30 percent of your daily active users would fall in this segment. 

Percentage of daily active users who did not have any core engagement-actions in your app

. Define what the core engagement-actions in your app are and start measuring. If users perform core actions, only then can they receive value or trigger interactions. 

Percentage of users who performed a core action /engagement/interactivity in your app that are reachable via push notifications, email marketing, SMS, or other channels. 

Do you have the valid pushable tokens for a given percentage of your users? What percentage of your user base is email_confirmed and email_subscribed? You should also be thinking about sending notifications to your different user sections at least several times a week. These are all important channels that you should be including in your data analytics. 
Preventing churn during COVID-19
With your inputs and your data now in place, the other big question during COVID-19 has to do with the elephant in the room: churn rate. To have churn prevention work smartly, best companies apply machine learning to identify and cluster at-risk users by their absence of key actions, events taken in the app, frequency of use, the time between sessions and behavioral change.  
Instead of discussing each model, let me give you some use-cases that you can apply:
Churn Prevention

. Preventing churn can be done in a few ways. Start by

increasing the absolute number of power users in your app. You can then engage community users on app start and during sessions, or consider community member greetings (which can be automated). Free-trial to subscription and re-login on the same device within a certain amount of days (email log-in only) also help keep the user engaged. 

Churn Resurrection.

For churn resurrection, think about using a wide-array of tactics.

Free credits, upgrades based on user actions, and temporary app icon changes are a great start. More granular components also work: adding notification bubbles or asking users to change passwords are a simple but great way to re-engage. Lastly, think about all of your channels—email, SMS, and social media.  Sending email recommendations to new restaurants/people/community members around you—or even about a new product category launch—engages users while preventing churn. If you're a web and mobile app, don't forget to convert web 8sers into app users for higher retention.
Remember that knowing your daily and weekly activity retention allows you to see the full picture. You can then build campaign models around users that churn, and find the right avenue for you. 
Key takeaways:
Retention is an output. To move retention, you need to focus on inputs. What you really should be asking is what is going on with your core inputs:

activation, engagement, and resurrection. 

Adapt your activation, engagement, and resurrection strategies to the current juncture. Run campaigns based on your data and see what works the best for your particular app. 

During the pandemic, think about metrics that you

haven't

tracked before. These include: percentage of daily active users who opened your app and did

not

have any activity in your app and percentage of daily active users who did

not

have any core engagement-actions in your app.

Preventing churn is a combination of

churn prevention and churn resurrection

.

Identify and cluster at-risk users by their absence of key actions, events taken in the app, frequency of use, the time between sessions and behavioral change.  

Brands that have their marketing engagement on these four fundamentals will thrive post-COVID: being

tech-enabled, purpose-driven, community-driven and narrative-based.
WANT TO GROW YOUR APP?
---
Saket Toshniwal is Head of Growth, Product Marketing, and CRM at LOVOO GmbH, a social entertainment app with millions of downloads. This pricing expert has consulted top companies to grow revenue by implementing smart strategies that have proven to work. You can follow him on LinkedIn.
All author posts
In Part II, I'd like to move one step…
---
August 18, 2020
by Ekaterina Petrakova
We've heard it before: COVID-19 has…
---
June 22, 2020
by Ekaterina Petrakova