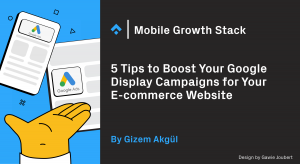 What are Google Display Campaigns?
If you're running an e-commerce website, you've most likely run Google ads at some point or another. While search is a great starting point to attract lower-hanging fruit, it's hard to beat the visual experience display ads offer. 
Google Display Campaigns serve visual ads on Google Display Network (GDN) which consists of millions of websites, apps, Gmail, and even YouTube. With specific targeting opportunities, various bidding strategies, and responsive ad creation, Google Display campaigns are a smart way to invest the performance marketing budget for your brand.
GDN is the largest display ad network covering 90% of all internet users. So, these ads will quite literally stay in front of your target audience as they browse the web and show up in the right context to the right user. 
If you've been thinking of experimenting with Google Display campaigns for your brand, we have a few tips to make sure you're getting the most bang for your buck.
Increase display ad performance with remarketing
While display campaigns are great at new User Acquisition since they're more engaging than text ads, it's always a good idea to support your UA efforts with remarketing to utilize lower funnel users, increase ROAS (Return On Ad Spend) and decrease conversion costs.
Google offers many different granular targeting abilities to create the right remarketing audience. You can target people who have visited your website before, added a certain item to their cart, looked through a certain category of products, or even people who had a large basket size on their purchases from your website. 
You also have the ability to timeframe these audiences. For example, you can target people that have visited women's shoes on your website in the last 7 days. These very specific targeting abilities will be key to your remarketing strategy and creating a controlled funnel users can pass through.
We recommend creating audiences for all funnel steps (visit, add to cart, and purchase) and different time ranges (1, 7, 14, 30, 60, 120, 180, and 360 days). Target them on evenly distributed ad groups to keep the campaign from favoring a certain ad group due to it being a lot larger than the rest.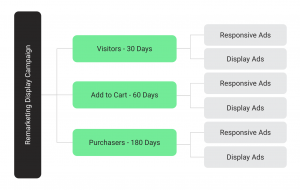 Convert more users by combining responsive and display ads
There are two types of ads for display. First is responsive ads which are more automated and adaptable to every size and shape of ad inventory. They serve in combination with descriptions, headlines, and logos you provide to create the optimal ad combination for your audience.
The second type is a more traditional and stand-alone type of ad which are uploaded display ads. The uploaded image component can be a few different sizes (e.g. 250×250, 120×160, or 300×600) with a maximum file size of 150kb. This type of display ad allows you to have full control over your ad as uploaded ads serve alone in suitable inventory.
While responsive ads are a no-brainer in this day and age, with their adaptability to fill any sized ad spot, we also recommend using uploaded display ads to fill all possible slots and better control what your ads will say and look like.
It's also equally important to fill all possible slots on the responsive ads to increase your chances of reaching the optimal ads to convert users. This is also recommended by Google representatives as a best practice.
   
An example of a Responsive Ad (left) against an Uploaded Ad (right).
Boost display ad value by optimizing placement exclusions
As Google Display Network covers millions of websites and apps, there are going to be some placements that are not valuable or relevant for your brand. Generally speaking, a lot of gaming apps and kids' content will look like it's bringing in a lot of clicks but will be low value in terms of users as kids may be clicking on ads accidentally.
It's best to exclude these placements right from the start. You can reach placements on the left-hand menu in the Google Console and should be checking this tab regularly. We recommend once a week depending on your budget and impression volume.

While optimizing the campaigns, you can also create a set of filters that make sense for your brand. For example, Click Through Rate <2%, Impressions >1000, or Cost/Conversion >$4. Use this filter to identify low-performing placements and make regular exclusions to keep efficiency to a maximum.
Automate display ad efficiency with Performance Max campaigns
Performance Max is a new campaign type from Google that allows you to utilize all Google inventories from display to search in one campaign while optimizing performance. It's a fairly new and almost fully automated product that focuses on performance and efficient conversions. It's super easy to set up as it requires the same assets as a responsive display ad plus videos.
Not just a display campaign, Performance Max offers a high value, high CTR, low cost, and low effort alternative to support your existing campaigns. We at Phiture have been testing Performance Max and have seen great results for our higher volume clients as the campaign operates based on existing signals and conversions. 
Use dynamic product feeds to personalize your ads
Last but definitely not least, possibly the most impactful tool you can use for your e-commerce brand on Google Display is dynamic product feeds. A feed is essentially a database of all your products, their price, stock, images, and other important attributes.
You can either use Google Merchant Center to create a dynamic feed or use a template to manually upload an offline feed to the Google console via Business data in the Tools and Settings menu. This database can be attached to your display campaigns (not just on Google but also on other channels like Meta) to be served with your assets to improve performance. Users are able to see price and product images within the ad which will result in a more personalized ad experience. 
For example, a great way to retarget users that have been looking for shoes on your website is to filter your feed to include only footwear items and retarget those users to create a personalized and effective strategy. Another way could be to filter out selected sales items on your feed to complement your "25% off selected items" offer. 
Conclusion
Google Display Campaigns are a great way to create customized ads you can use to push users down the funnel in a strategic manner. While they have their strengths, it's also quite easy for display ads to become inefficient. This is because they are often very broad and are implemented without a sound strategy.
Using these tips to create the most efficient and effective display ad strategy for your brand will be a good way to level up your performance marketing game, especially for e-commerce websites. As always, don't forget to diversify your channels, campaign types, creatives, and targeting to find out what works best for your specific audience.
While you're here
You may find the following articles around the topic of advertising from across the Phiture Blog valuable further reading:
How to amplify your Facebook Ads Strategy with Custom Product Pages
Combining Apple Search Ads with Custom Product Pages
Explore other recent articles