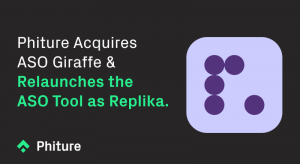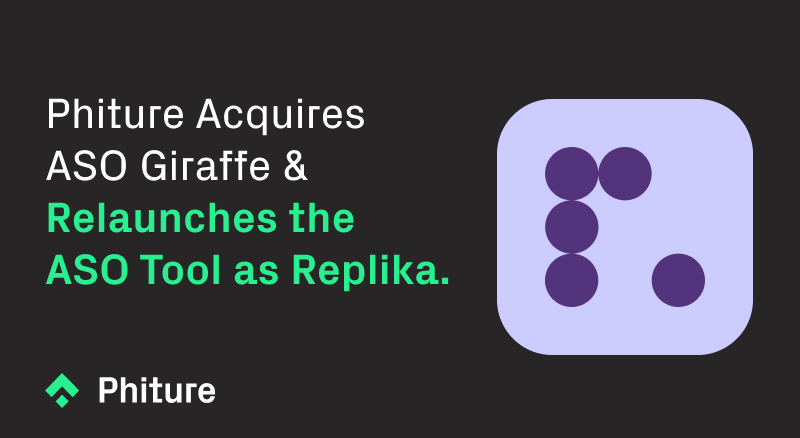 We are delighted to announce Phiture has acquired ASO Giraffe, now re-launched as Replika.
Replika allows ASO professionals to test app or game concepts before investing in development, fulfilling a crucial market need. The tool is available in a self-service plan or as an integrated part of the managed ASO service for clients of Phiture. ASO professionals new to Phiture's services can sign up and try out this testing environment for their own app.
The relaunch of ASO Giraffe as Replika comes as we continue to develop our software toolkit here at Phiture. We're using its unique position as a market leader and diverse portfolio of clients to improve the available tools for all mobile growth professionals. Under the Phiture umbrella, Replika joins in-app messaging creator tool B.Layer and in-house built keyword optimization tool Toaster. 
Our founder and partner Moritz Daan said, "Fede and the team have built a great product over the last years. The acquisition of ASO Giraffe, now Replika, is an exciting step for us, it complements our existing keyword tool Toaster and in-app messaging tool B.Layer. It connects well with our approach to ASO, enabling us to support companies to optimize their apps and games early on and relying on anonymized and aggregated user behavior data for optimization of app store assets and concept testing." 
Phiture's Director of Acquisition, Wolfgang Peters said, "Replika is an incredibly useful ASO tool, and we've already received a large amount of interest in this product. It offers the functionalities we have been looking for, it caters to the needs of our clients with apps and games in development for concept or art-style testing. I'm looking forward to concepting tests, supporting our clients setting the right focus on the store assets that make a difference for the users, and developing the tool further with our teams."
Fede Behrens, founder of ASO Giraffe said, "This acquisition is a testament to the amazing work the ASO Giraffe team has done building both a recognisable brand in the ASO space and a software tool that's used by major app developers worldwide. After launching at the Phiture's 2019 ASO conference, I'm happy to see things come full circle, and I'm excited to see the Phiture team take the tool to the next level." 
How Replika works
Replika offers a powerful ASO testing environment for mobile growth experts to experiment with detailed reconstructions of the app stores. Phiture's dedicated Design, ASO, and Localization Teams are on hand to help every step of the way. 

Step 1: Traffic source
A user clicks on an ad banner in their traffic source of choice. The most common traffic sources are Facebook, TikTok or Snap. However, other options are available across Replika including web and cross-promotion.
Ad campaigns can be managed by Phiture's Performance Marketing Team, while Phiture's Design Team deliver ad creatives to ensure eye-catching visuals optimized to encourage an increase in web traffic. 

Step 2:  Replika app page
Test users will land on a web-based 'Replika' of the app store product page. If required, Phiture's ASO and Design teams can create product page variations based on years of experience and ASO best practice, from developing creative wins. The test user's interactions with the product page are then measured, and behavioral data is shared with the app publisher.

Step 3: Surveys
For apps and games in the pre-launch phase, test users will be redirected to a survey or email form. This allows publishers to both capture interest and collect more information about the preferences of your users. Additionally, Phiture's User Research Team can create and measure the results of the user survey to extract crucial additional insights.

Step 4: Reporting and Iteration
Behavioral analytics, conversion rate data, and winning variants can also be seen in this powerful new testing platform. The data is then passed to the relevant Performance Marketing, ASO and Product Teams for consideration. Phiture's ASO Team will report on the test result and assist with creating the testing roadmap. This allows publishers to make the best use of the platform and ensure constant iteration.
How to use Replika effectively? 
Replika's creative optimization capabilities fulfill a number of key needs for ASO Teams. Using Bayesian experimentation and super-fast page loading times ASO practitioners can generate real insights for a constantly improving ASO strategy. 
Pre-launch testing
One of the most powerful features of Replika, especially for game publishers, is the option to let users test different game concepts, styles, new characters, and features before devoting resources to development. 
By analyzing Click Rate and behavioral metrics, publishers using Replika will be able to:
Eliminate guesswork.

Test new game concepts, characters, and features on test users.

Save development resources, while learning about game/app users before going live.
Live app testing
One of the most exciting features for app publishers is Live App Testing. Replika provides an additional layer of behavioral data that can be used for continued ASO or ongoing product development purposes.
ASO: Drive relevant traffic to the replica product page and measure the Conversion Rate impact of new creative assets. Every part of the replica product page is customizable.
Product: Test new features, major User Interface changes and re-brandings before commiting time and resources to further development.
User research: Find new audiences by analyzing how different test user segments engage with your product pages.
Research & Development: Run in-depth research on how creative assets, star ratings and user reviews impact your conversion rate.
Find out more
Efficiently compare the costs of your…
---
May 24, 2023

by Simon Thillay
Key subscription metrics help growth…
---
May 17, 2023


by Alice Muir and Sameer Ginotra