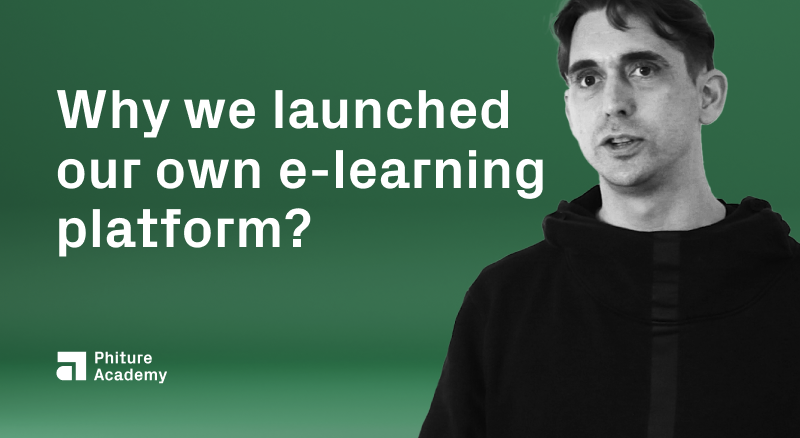 Phiture Academy is now open and welcoming its first learners. The first course is 'ASO for beginners' and features Andy Carvell, co-founder of Phiture, as the teacher. We sat down with Andy to discuss the Academy and Andy's hopes for this exciting new chapter for mobile growth and online learning. 
Why did you create Phiture Academy? 
Phiture from the very start was built on the premise of knowledge sharing and this is very much in that tradition. Phiture began when we published the Mobile Growth Stack, which was an effort to synthesize experience and knowledge on mobile to help other growth practitioners. 
Back then, I shared this at a conference while I was still working at SoundCloud. It really captured the zeitgeist of working in mobile. As a result, folks from all over the world reached out to ask: "can you help?" That's how Phiture started, and the business very much grew out of a spirit of collaboration and learning that has remained part of our DNA. Since then, we've written ebooks, published frameworks, and built Slack communities. Phiture Academy-  and e-learning – is the logical next step and the next medium where we can share our knowledge. 
Why do you think e-learning for mobile marketing is important? 
Look at it this way: this is really a new industry. Mobile marketing is rapidly evolving and it's not a discipline that has either a long history or long established ways of working. Everyone is figuring this out in real time. At the same time, mobile is also exploding in importance while the field is evolving so rapidly that no-one knows everything. 
E-learning is the ideal medium in this environment. Mobile growth practitioners, on the front line of the field, can put together learning materials in a much more agile way than traditional, taught courses. It has been a premise from Phiture's foundation that we should always be transparent about what we know and invite comment and discussion, and the Phiture Academy will provide this platform. Such an approach has been great for our development; it's kept us honest and it's been good for business. 
Who is the intended audience?
It's really for anyone who wants to learn more about mobile growth topics. That could be somebody just starting out, such as bedroom developers building their first app or someone studying a more traditional taught course such as software or marketing but who would like to branch out into a more specialist area. Or it could be a growth practitioner at an app publisher, who wants to broaden or consolidate their knowledge into these topics. It might also be a CEO or founder or CMO, who is interested in working better or achieving better business results. 
The first course is an introduction to App Store Optimization. Why did you choose this for the first course?
We wanted to start with ASO, because it encapsulates the growth of mobile marketing. Today ASO is a field in its own right and a legitimate career choice for marketing professionals. It's gone from one person figuring it out in the marketing team, to being a crucial part of app marketing. Therefore it's ideal as a starting point for the Academy. 
Looking back six or seven years ago, Moritz, my co-founder at Phiture, recognised store presence was super important and there was a distinct need to be more systematic about how to merchandize an app in a store. This sat within the Mobile Growth Stack. Back then, it was a brand new thing. Moritz learned on the job what was crucial for optimization, he had to, but since then we've accumulated so much knowledge on this topic. 
Today, most companies now understand they have to do ASO just to stay competitive, whether that's in-house activity in their key markets, or they're bringing in agencies to help them do it for them. At the same time, an ecosystem of tools has developed as more established processes have become the norm.  
What will the next courses be?
We want to build a broad syllabus of courses that addresses the practical mobile growth topics that we are experts in. Ideally, we'll both be broadening the base of knowledge on offer, but also getting into much more detail so those who take the courses can progress and specialize and carve out their path within the field. 
Certainly though, in the future we will also cover more engagement, retention and monetization topics, with plenty of actionable tips from our knowledge base, and we will generally be increasing coverage of other topics within the Mobile Growth Stack that our team at Phiture has profound experience of. 
What's the long term vision for the Academy?
We want to become a learning hub and over time provide a resource for anyone who wants to do more structured learning with a bias for practical application and skills development in the field of mobile growth. There's already lots of content out there but we want to streamline this into a structure with a clear learning path which has practical value that participants can apply in their day-to-day work. 
We'd also love to host guest teachers and augment that syllabus with topics that aren't necessarily Phiture's core competencies. If anyone is reading this, and wants to get involved in teaching, they shouldn't hesitate to reach out to us. We'd love to leverage our fantastic community and bring in experts from other areas within the framework and within the domain of the mobile growth stack. 
How was it for you presenting these materials? 
I've become fairly comfortable getting up on stage and presenting though it doesn't come completely naturally to me. However, since the early days of the Mobile Growth Stack, I've gotten used to getting up there on stage and talking. 
Presenting on video was a different challenge, learning lines and running with a script that you want to flow. I'm incredibly grateful to the patient crew and it was very much a team effort to get things together, from the material to the script to the shooting. It was a fantastic experience to see the Phiture team coming together to produce something like this. 
There are so many experts and practitioners in this field that we can really work together to consolidate the subject of mobile growth. I'd be thrilled if others joined in to help Phiture Academy share this knowledge, as well as teach and present the materials they have expertise in.
Be sure to enroll in Phiture Academy and try out our first course, ASO for Beginners. Please do get in touch if you have any feedback, or you'd like to collaborate on our upcoming courses!
Explore other recent articles