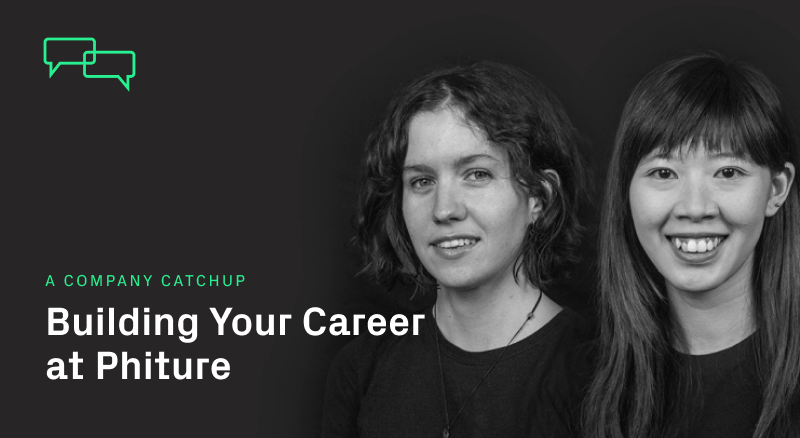 Here at Phiture, we're passionate about our team's success, and we prioritize their progress above all else. In the past year, the company has almost doubled in size, and most of our new hires have joined as juniors. Our focus on being people-centric means that building these juniors' skill sets is one of our top priorities. 
But many of our leads began in the same position new-joiners find themselves in now: starting their careers at Phiture. I spoke with ASO lead, Maggie Ngai, and retention lead, Tessa Miskell, to discuss their growth out of junior, mid, and senior roles to leading our core services. We talked about the skills they had to develop when transitioning from a technical position to a leadership role and what advice they'd give juniors looking to break into the mobile growth industry. 
When did you join Phiture and can you tell us a bit about your progression into your current role? 
Maggie: I started at Phiture three years ago in August 2018 as a junior ASO consultant. I was the third consultant at Phiture. We weren't even 10 people on the team when I started, and we were based out of an old bakery. I then moved into a mid role, then senior, and I became the ASO lead in February 2021.
Tessa: I began at Phiture in October 2017 when the company only had six employees (and was also based in the old bakery). I was hired in a sort of dual role as both a data analyst and growth consultant. I was a CRM analyst at a bank in New Zealand before and had experience analyzing user behavior to inform CRM strategy –– I'm still someone people can come to for analytical questions and inhabit a role as an analyst to some degree. I quickly moved into the growth consultant role because the company needed me there. I worked myself up to a senior position and then became the retention lead in February 2021.
View this post on Instagram
How has your job changed since becoming a lead? 
Maggie: When I was an ASO consultant, I was working on bringing value to our clients. Now I work to empower my team to do the same. When I was in a senior position, I built technical procedures for ASO, but now I create more people-based strategies. People are the most important asset at Phiture, and when I empower my team, I can also grow and empower myself. I still enjoy client work and try to work on it as much as I can so I can keep up with ASO trends.
Tessa: As a lead, I don't spend nearly as much time on client work, but instead need to create structures within the team. This means shuffling around accounts so we can think strategically instead of just working on the day-to-day –– we really need to think long-term. I've realized that if I'm going to be an effective leader, I have to build a team of effective leaders. So it's a lot of figuring out what everyone's strengths are and how to use them for one greater goal. And to also make sure everyone's happy and feels valued while moving the team forward. In past positions, I've always developed concrete skills, while as a lead, it's more about learning through experience and trial and error. You have to learn to be a cheerleader for the company, to be confident in your strategy, and communicate that confidence clearly.
How do you think working at Phiture has helped you build your career? 
Maggie: I learned everything I know about ASO at Phiture. I had years of marketing experience in both general and digital marketing, but I didn't have any previous knowledge of ASO. I also had a keen interest in performance marketing, and when I was a mid-level consultant, I actually helped set up the performance marketing department at Phiture with a few colleagues. Phiture really allowed me to explore all my interests. 
As I said, Phiture's people are its best assets, and I've been able to learn a lot from my colleagues. I have a very data-driven mind, and they've taught me to look at things from a qualitative perspective. At the same time, I've shown many colleagues how to break issues down by looking at data and building hypotheses from them. That really helps the team understand how and why they're doing what they're doing so they feel motivated. 
Tessa: I was keen on a client-facing role when I first started; I felt boxed in by only working in analysis and wanted to hone both creative and analytical skills. 
I think I was also quite lucky to join Phiture when it was so small; it started slowly at first and now it's just exploded. Because I was there from close to the very beginning, I was involved in some of the new processes, and I've really had the chance to develop and improve my leadership skills. I had the opportunity to build new processes, but it's still an exciting time to be here because we're still growing. I've seen how a company can go from 6 people in an old bakery to a big agency with plans to expand across the globe. 
View this post on Instagram
What advice would you give to juniors looking to build their careers as you have? 
Maggie: My advice for juniors would be to look into the latest ASO trends and become familiar with those topics –– really think outside the box because ASO is constantly changing. The ASO we know today will not be the ASO of tomorrow.  
Also make sure to explore other aspects of marketing so you know where your skill set is most valuable because, as I mentioned, ASO is always changing. 
Tessa: I would advise juniors to talk to as many people as they can. Also, don't be afraid to reach out to upper management.
Use your onboarding period to learn as much as you can. You're expected to spend that time learning rather than producing, so soak up as much information as possible.  
Finally, get used to things changing and be excited that your job won't be the same every day.
Want to build your career at Phiture? 
Check out our open positions and join the team!
Learn how user surveys and pricing…
---
September 20, 2023
by Pierre Neau
Explore Phiture's AI Labs: Shaping the…
---
September 14, 2023
by Moritz Daan