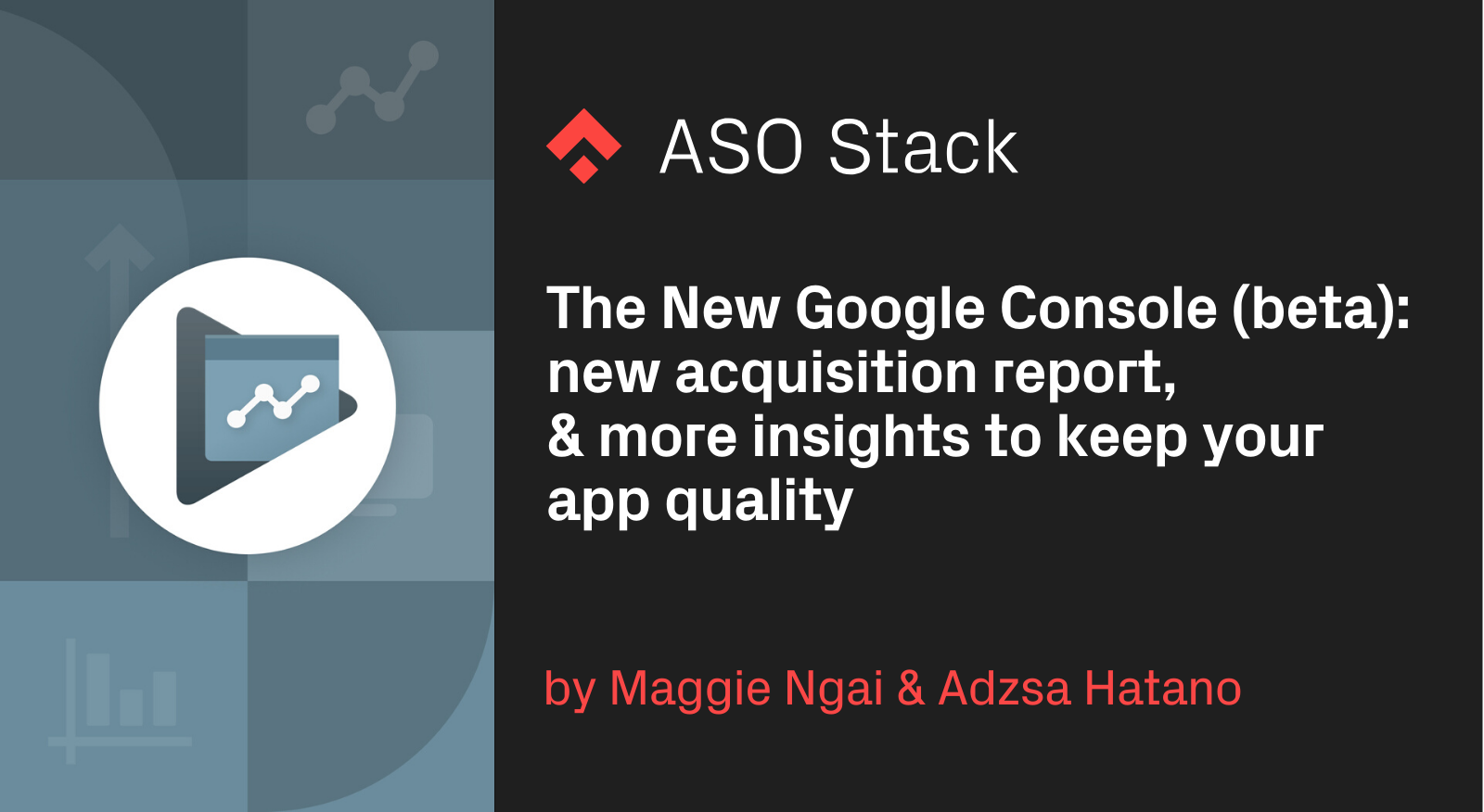 On June 10th, 2020 Google launched Android 11 Beta, which focuses on People, Controls, and Privacy. As a part of the launch, the new beta Google Play Console has been introduced. It has supposedly been designed to help the console users access all necessary information, including performance insights, policy changes, release statuses, and so on. The new structure has Dashboard, Statistics, and Managed publishing placed on the top, followed by Release, Grow, Quality, Monetize, and Policy, allowing you to easily reach relevant insights. In addition, a lot more educational content has been added, so you can empower yourself with these tools. 

The Release tab allows you to manage your pre-launch and launch processes more easily and smoothly within a team. It offers a new guided setup to prepare launching apps and allows you to inspect each version of your app.
Among many new/updated features, perhaps the most insightful and in demand is the country/region or language breakdowns in major KPIs for the ASO in the Acquisition Analysis. 
In the new Grow tab, you can set up acquisitions to optimize store listings, as well as monitor user acquisitions. There are a few significant changes in the acquisition report, which are very beneficial — but also problematic — for ASO practitioners.
Acquisition analysis: Monitor user acquisitions from your store listing and other sources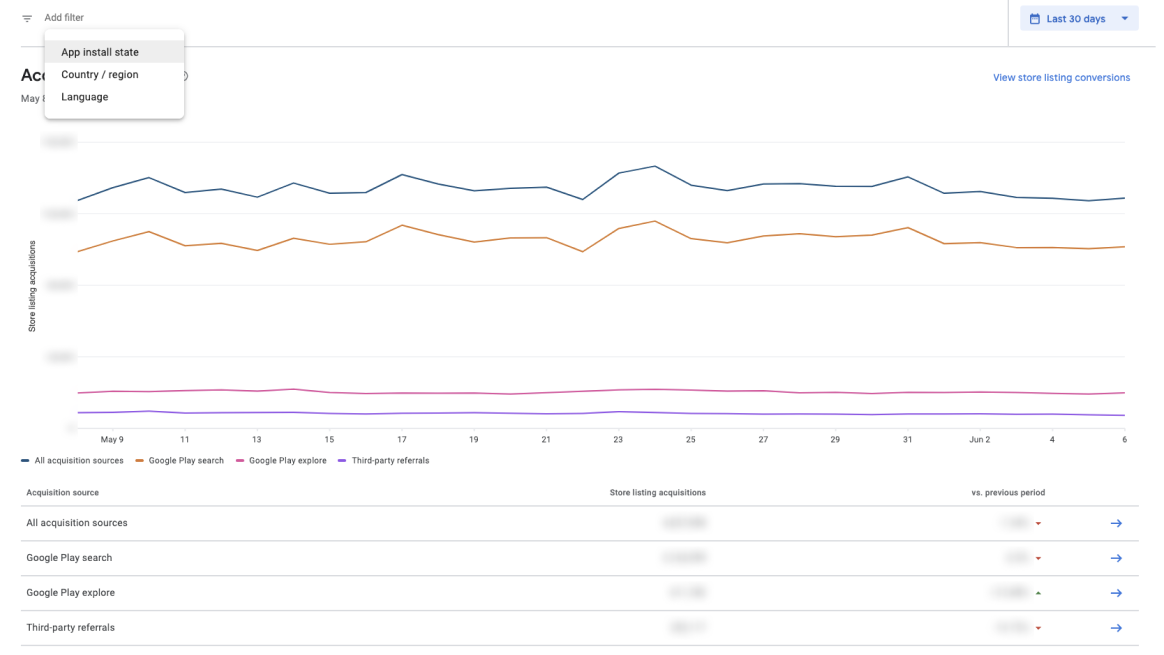 1. Time series graph
With the new console (beta), you can see trends of acquisition sources with a time series graph. This enables you to understand the daily trends at a glance.
2. Advanced filters
The time series graph is viewed with advanced filters: App install state (new users, returning users) and Country/region and Language (country). This enables you to break organic installs down into search and explore in the levels you filter by.
These filters are also applied to language, search teams, UTM sources/campaigns as well as store listings (main store listing or custom store listings). Understanding search terms per country/region and language is very beneficial for your ASO strategy.
3. The report focuses on store listing acquisitions only
Whilst the acquisition report in the classic console breaks acquisition channels into 6 for store listing visitors and first-time installers, the new console only does it into 3, in order to focus on "Store Listing conversion, and does not include visitors or acquisitions from other surfaces on Google Play (such as editorial content) or acquisitions recorded by Google Play that happen through other mechanisms (such as back-up and restore)." (Source) 
The tricky part for ASO practitioners is the Google Play search metric, since it includes acquisitions from Google Ads, and thus volume can be heavily affected by the activity in Google Ads.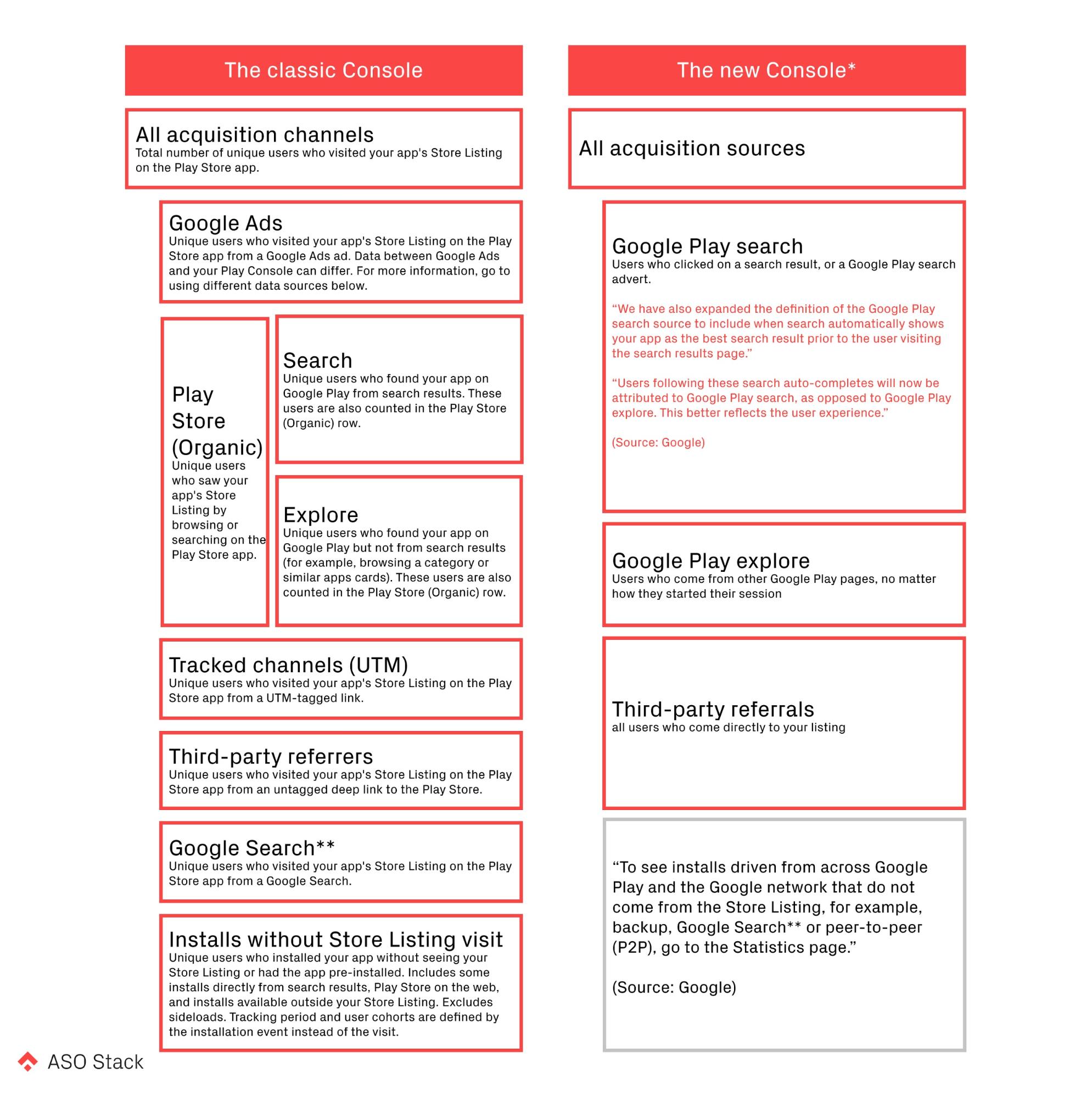 * We see a discrepancy between data from the classic console and the new console, likely due to treating new users differently. E.g. 1) The sum of Tracked channels (UTM) and Third-party referrers. 2)Third-party referrals, likely due to differences to treat new acquisitions.
** Considering the user journey, users from Google Search should arrive in the app's store listing on the Play Store.
4. Terminology
Since the app install state can be filtered, the metric in the new acquisition report is named "Store Listing Acquisitions", which only counts "acquisitions that happened shortly after visiting the store listing." Google states that it could lead to a decrease in acquisitions for some apps, and we indeed see a discrepancy between first-time installers and store listing acquisitions filtered by new users. This is also likely due to some parts of metrics being allocated to other metrics.

Store listing acquisitions can be broken down between new users and returning users.
Conversion analysis: Understand how your store listing is performing by monitoring impressions, user acquisitions, and conversion rate.
Whilst metrics on store listing visitors have been excluded from the acquisition analysis, data is still accessible through conversion analysis, where you can also apply extra filters and see data with the time series. This enables you to easily monitor changes, and also see the impacts from your ASO efforts. You can directly measure impacts from your experiments per language or country/region.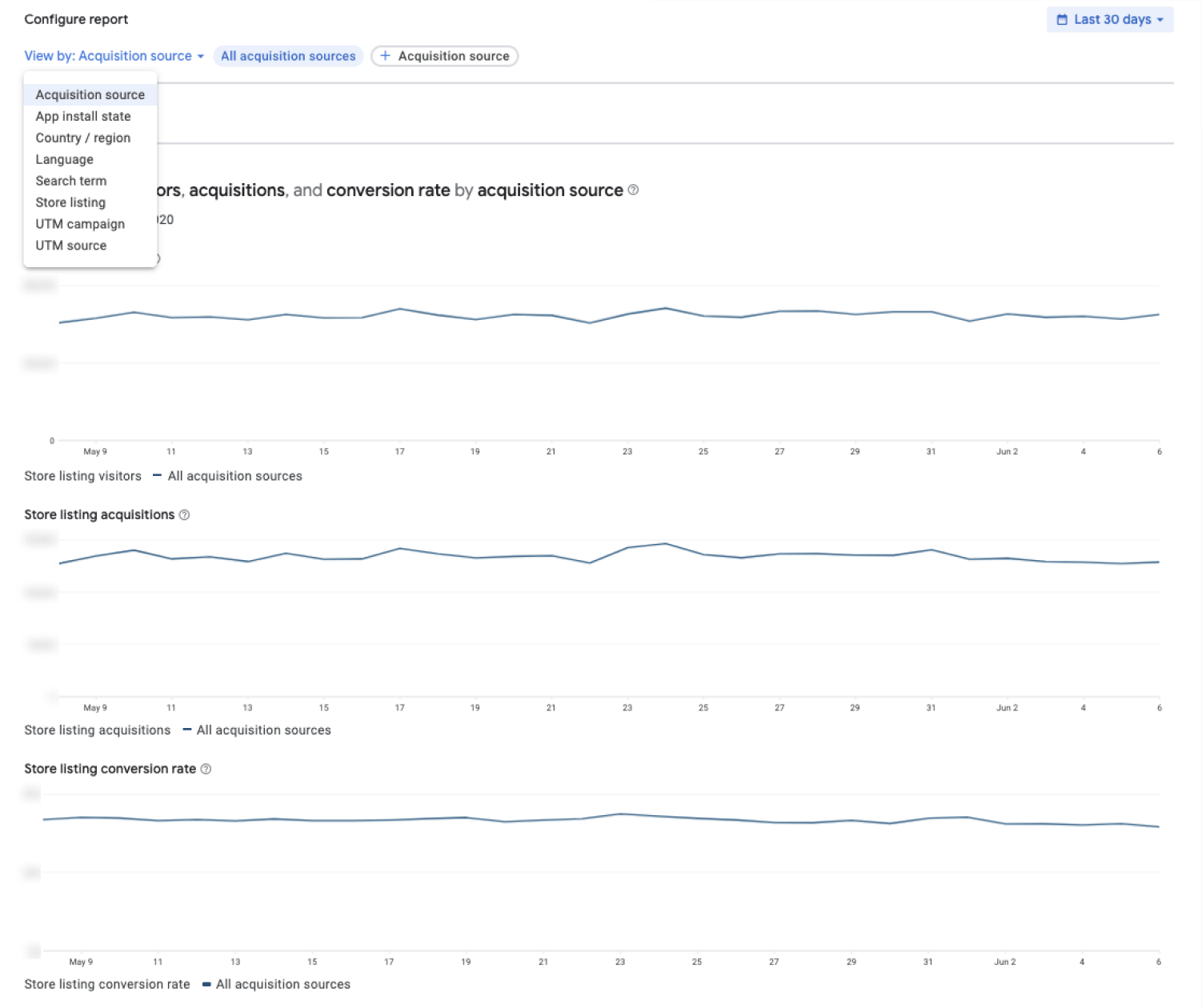 Store listing experiments
Creating store listing experiments is now a step-by-step process, in order to ensure you can fill in all the necessary information and target the right audiences.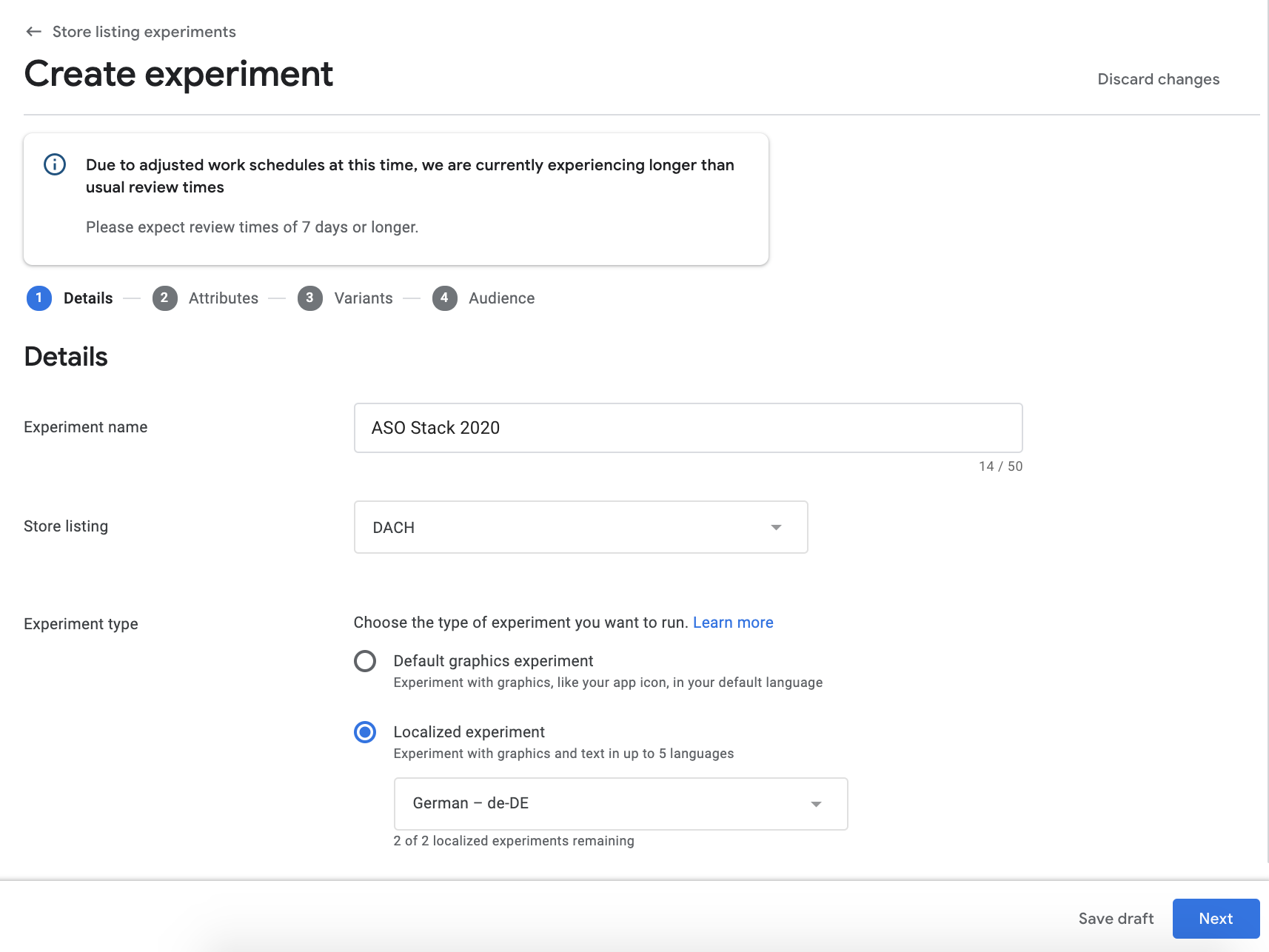 *In the new console, we have seen that the experiment status in the experiment overview page does not mirror the classic console yet.
Quality
Google has been focusing on the quality of apps in Google Play. ASO practitioners should always monitor the ratings and reviews from actual users and ensure the health of the app. 
The current User Feedback and Android Vitals tabs are placed underneath the new Quality tab, in which you will find the metrics about ratings and reviews together with the performance of Android vitals. 
The metrics in the classic console are pretty advanced. Google still managed to add more depth to the Android Vitals tab by flagging the bad behavior of non-core vitals and adding a tab called Insights, highlighting the importance of app quality and stability. 
More in-depth performance in Android vitals
ASO practitioners will receive alerts about non-core vitals, such as slow cold start and excessive slow frames. 
In the classic console, only core vitals that will affect your app's visibility and ranking on Google Play will be flagged when they go beyond the bad behavior threshold. In the new console (beta), other critical issues are signaled on top of the page.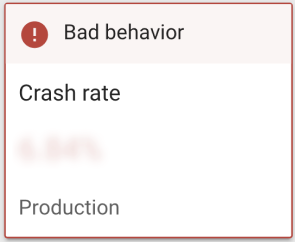 ASO practitioners and developers will immediately see the details by scrolling to the end of the page.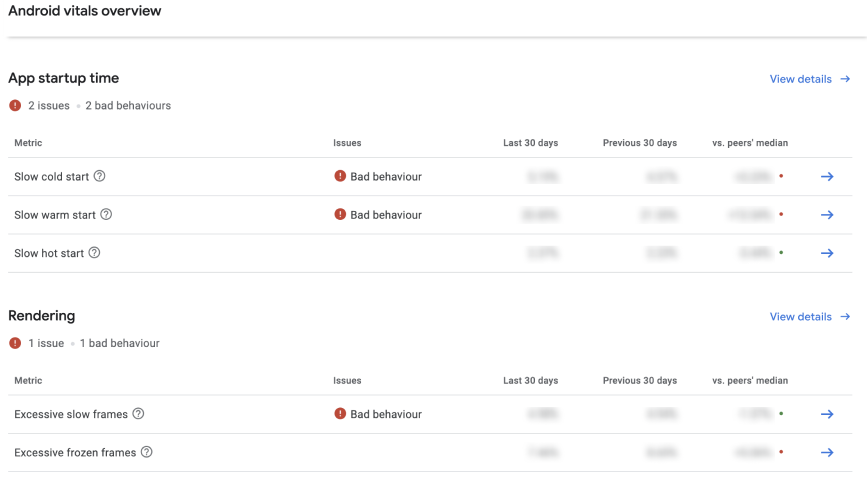 New Performance insights
Optimize your frame rate and graphical fidelity across many Android devices, powered by Android Performance Tune.
According to Google Play, developers can dive into the performance insights with Android Performance Tuner. This will help developers to measure and optimize the frame rate's stability and graphical fidelity across Android devices at scale. 
To get performance insights, developers must integrate Android Performance Tuner into the game or app and then publish it on Google Play. Android Performance Tuner records live time frame information alongside the scene annotations and fidelity parameters that you provide. This data is uploaded to the Play Console to generate insights.
Monetize
Google rearranges some tabs under the new tab called Monetize. It facilitates ASO practitioners and developers to evaluate the app's financial performance against the pricing strategy in one place. 
ASO practitioners will have to get familiar with the new directory in order to monitor their ASO impact on financial performance. A few new graphs and metrics are added and updated to these tabs; but in general, no significant changes were made.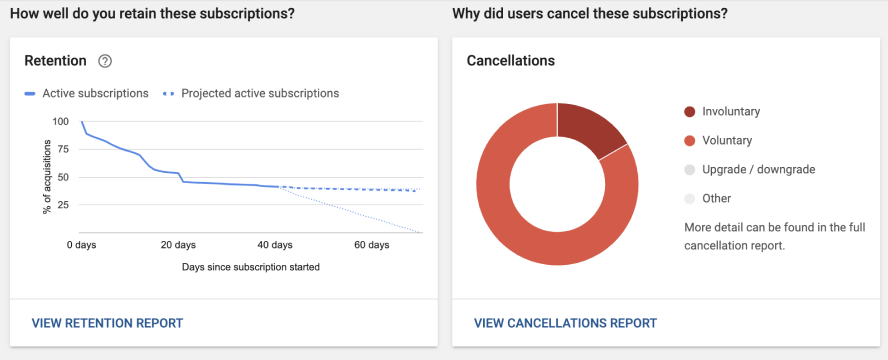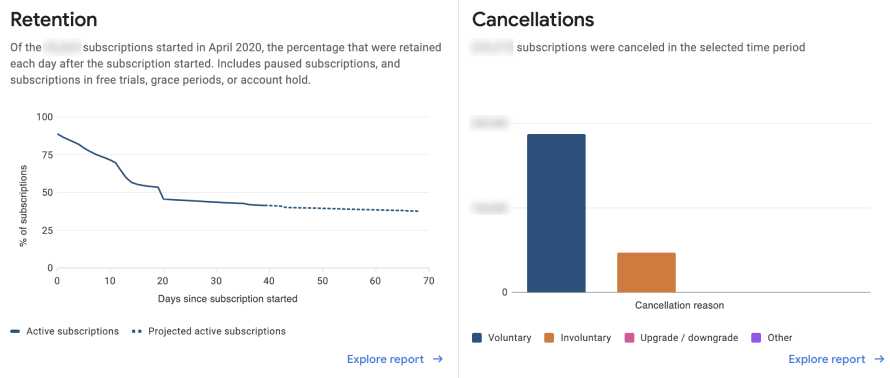 Rearranging tabs
Google gathers different tabs from 3 sections — namely the Store presence, User acquisition and Financial reports — from the classic console and places these financial-related topics in the Monetize section in the new console (beta). The summary table below will help you to find the tabs in case you are lost in the new console.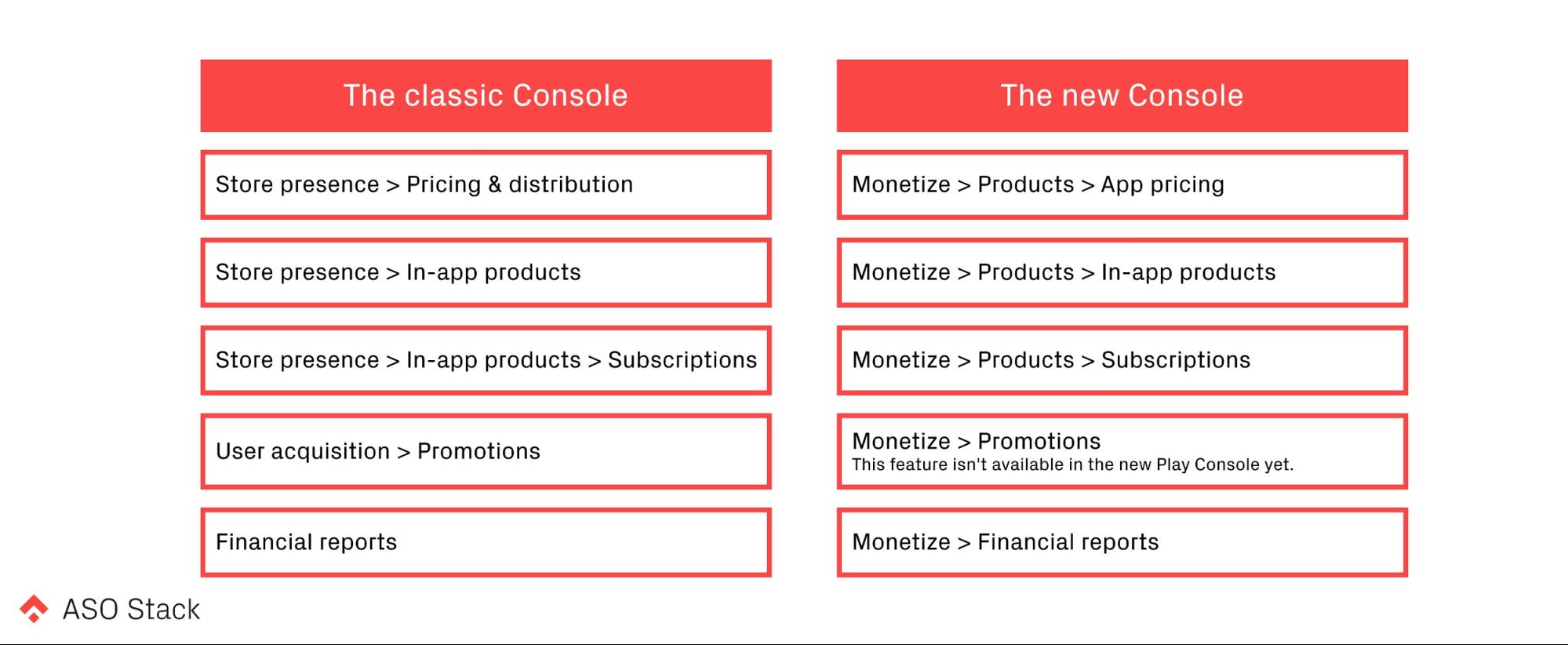 Conclusion
The new console further supports you with the pre and post launch phases of your apps. Whilst there are a few concerns around analyzing your ASO efforts due to data being blended, there are a lot more insights in terms of maintaining your apps to a high standard.
Potentially added features (Source)
1. Search for specific features or pages
2. Play Console Inbox
3. Benchmarks from over 100 app and game categories, as well as countries/regions in acquisition analysis.
Google now allows registering .app…
---
June 4, 2018


by Oksana Iarosevych
At the beginning of March, it was…
---
April 4, 2018


by Mantvydas Lisauskas