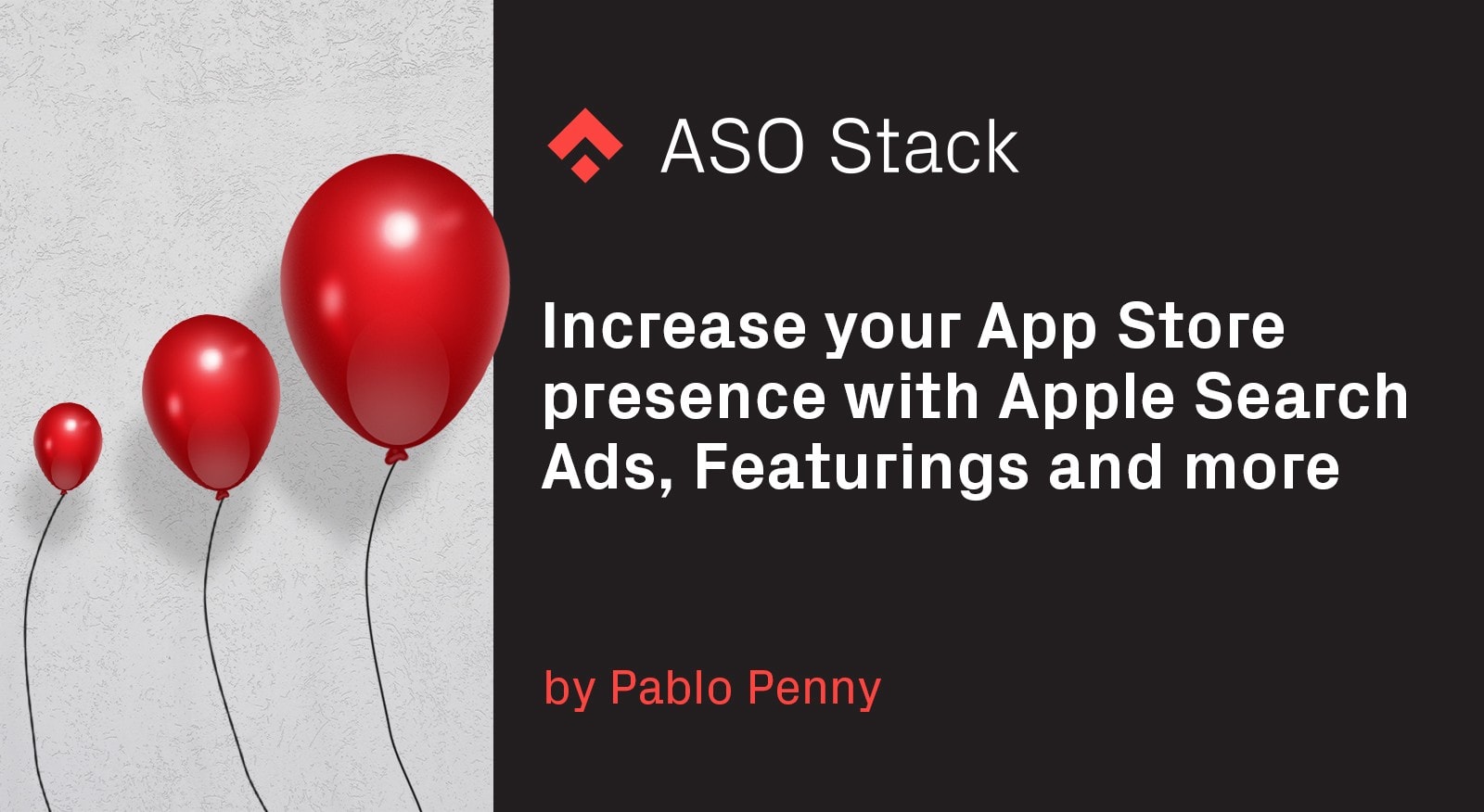 According to Apple, 65% of downloads occur directly after a search on the App Store (2018). This is much higher than on the Google Play Store where browse installs dominate. The large share of search installs on the App Store means that enhancing an app's placement in search is essential for visibility when visitors to the store search for an app.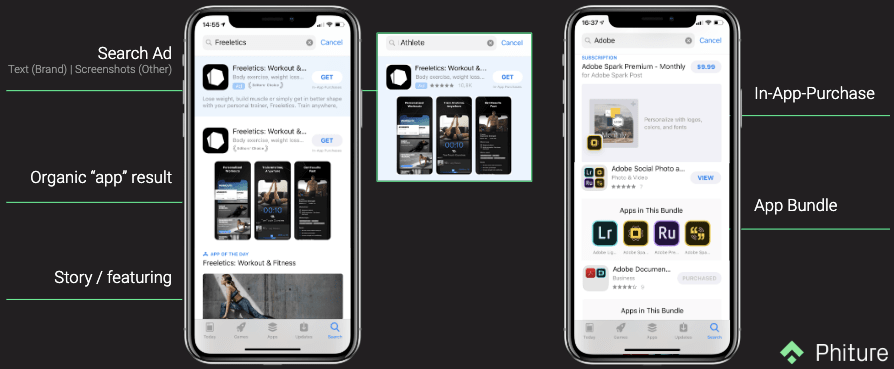 The five different search results placements on the App Store
High keyword ranking in search results plays an important role in increasing your app's visibility in the search results. Getting as many search placements as you can helps to push competitors down in the search results and increases the likelihood of a user installing your app. There are five different types of search placements:
Search Ads:

An ad placed in the top search placement for a keyword search via which the respective app can be downloaded.

Organic app results:

The organic search placement of the app appearing for a keyword in the search results.

Story / featurings:

A story or collection of apps being featured in the Today tab appearing in the search results.

In-App-Purchases:

An IAP/subscription ranking for relevant keywords in the search results.

App Bundles:

Include several apps or games from one developer that can be installed and purchased in one go.
1. Apple Search Ads — leverage paid search results
With Apple's Search Ads platform, you can place bids in order for your app to be displayed in the ad at the top of the search results. Users coming directly through a keyword search already come with the intent of installing an app, so Search Ads can provide highly engaged users and high ROI.
With Search Ads Basic being limited in terms of spend (max. $ 10K per month) and automated by Apple, Search Ads Advanced provides more possibilities. On Search Ads Advanced, advertisers can bid on keywords relevant for their app, with an ad being displayed when winning the auction for the ad display/ impression. Campaigns can be optimized for 59 different countries (also multiple storefronts) and different demographics. Search Ads offers search match, broad match, and exact match keyword campaigns.

Text vs screenshot ads: Ads can display with (mostly generic keywords) and without screenshots (brand keywords)
In terms of maximizing your search presence, optimizing for Search Ads is essential, in particular as protecting your brand will give your app more real estate in the search results. Your app may not show up with screenshots for your branded keyword search results. Apple still does this pretty arbitrarily (see example) and for many longtail brand searches your app may be displayed with screenshots. However, for most generic searches as well as competitor searches, your app should show up with the first three App Store screenshots in the ad.

One way of structuring your campaigns is by brand, generic and competitor keywords
Search Ads also provides the option of displaying different screenshots for different ad groups with Creative Sets. Although this is not a native A/B testing tool, it allows for testing different screenshot variations vs the default screenshot ad. One small caveat is that the screenshots selected for testing need to already be uploaded to the App Store page. Incipia has provided some great strategies on how you can make the most of the 10 screenshots uploaded to your App Store page for Creative Set testing. If you're running Creative Sets to test different variants of screenshots, you can use Phiture's Creative Set results calculator to simplify the process of computing winning variants and calculating statistical significance.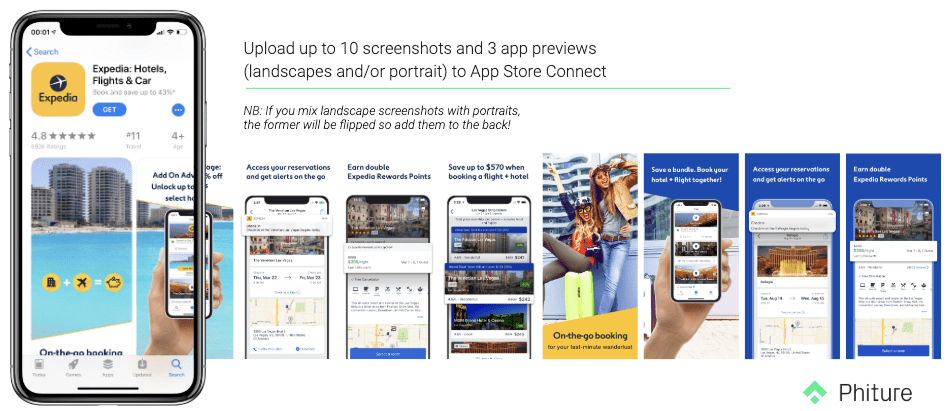 Expedia example of different store listing screenshots that could be tested with Creative Sets
2. Organic app results — rank for high volume & relevant keywords
Optimizing your app for keywords that users search for when looking for your app and ranking high organically is an important aspect of ASO. One thing to mention is that getting your app displayed in ads for keywords can also increase the organic ranking of those keywords, at least while you're running Search Ads. Also, Search Ads tap through rate and keyword conversion rate can inform your keyword optimization strategy and therefore which keywords you should consider including in the app's title, subtitle and keyword set.
In terms of other ways of optimizing your App Store metadata, Phiture has developed a systematic process for conducting keyword optimization as various complexities should be considered. This process will be outlined in depth, including access to tooling, in a soon-to-be-published article by Phiture.
3. Story / featuring — have a featuring strategy
Being featured in the App Store can be one of the most effective ways of getting large volumes of installs for your app. While different types of featuring include the Today, the Games and the Apps tab, features in the Today tab can usually get your app the largest number of installs. However, featuring impact should be measured pre-post optimization. Check out this Phiture article on different types of featuring, its effectiveness and how to measure featuring impact.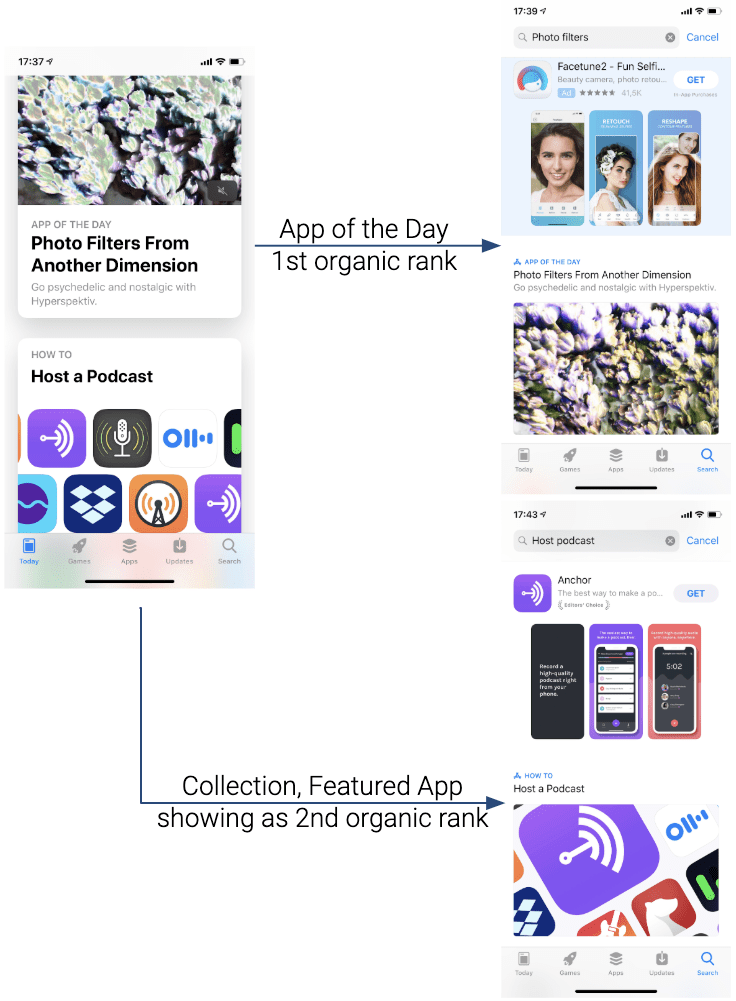 Today tab featurings are also displayed in the App Store search results during and weeks after featuring, giving your app additional real estate in the search. Therefore, rather than just increasing your app installs from browse for a few days, a feature can have a longer effect on your app installs. Rankings of featurings in the search results likely depend on the number of installs which the app gets through the featuring:
We've seen both App of the Day featurings and collections positioned 1st and 2nd in the search results.

App of the Day featurings were often placed 1st.

In cases where the app featured also had an In-App-Purchase display in the search results, the feature sometimes ranked 3rd.
The featuring will appear for keyword searches that include keywords of the featuring title (not the subtitle) and the app title. Some keyword tracking tools such as AppFollow allow you to see search rankings of featurings, In-App-Purchases and App Bundles.
4. In-App-Purchase — show IAPs/subscriptions
Since iOS 11, In-App-Purchases or subscriptions can be displayed in the search results. This is an effective way to showcase purchasable items or subscriptions of your app or game in the search. By adding a name, description, and image on App Store Connect, up to 20 In-App-Purchases can be displayed in the search.
As the In-App-Purchase ranks for keywords in the app's title (which becomes its own subtitle) and keywords in the IAP title, keyword rankings can be increased by optimizing for different keywords. The ranking of the In-App-Purchase for keywords also depends on the number of purchases through a keyword search, similar to app installs.

Adding IAP information on App Store Connect
One important decision when adding an In-App-Purchase to the search is whether to display it with a free trial (if a subscription is available) or with the direct price. The advantage of the free trial may be that visitors will not be put off by the price. However, this can be tested as performance can be measured on App Store Connect, and IAP conversion rate and purchases can be compared pre/post promotion in the search.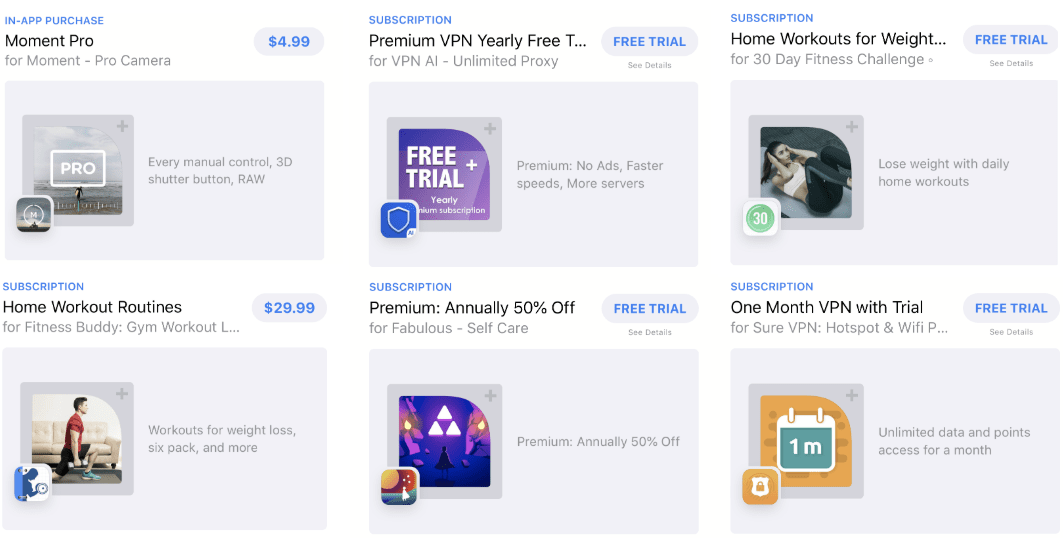 Examples of IAPs with subscription and directly purchasable items
The IAP icon plays an important role for its conversion and should be visually optimized. As can be seen in the examples above, some apps include "free trial" or the trial length ("1 month") right in the IAP name, which may help with conversion. IAP variants with photography or illustration etc. can also be tested. Another advantage of adding IAPs to the search is that Apple features these in the Apps tab in the "Our Favorite Subscriptions" section.
5. App Bundle — create collections of apps/games
If you're a developer with several apps or games you might want to consider leveraging Apple's app bundles. This allows you to include up to 10 of your apps in a single-purchasable collection which is then included in the search results and has its own bundle product page. Apps or games included in a bundle should be paid apps or free apps with a subscription. The combined purchase of the bundle has to be cheaper than the combined single purchase of items.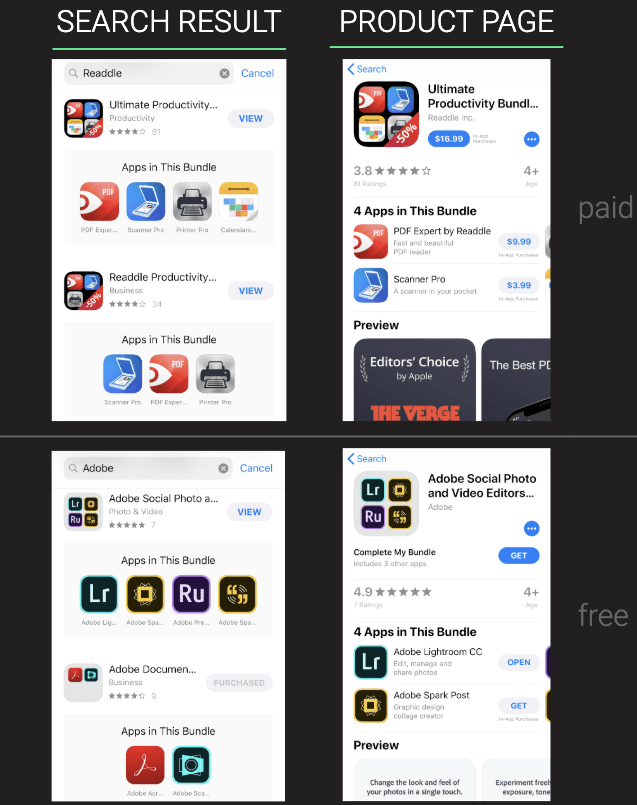 Examples of app bundles in the search result and product page
App bundles are displayed almost as a separate app on the App Store. They have their own ratings and reviews and a product page with screenshots that are automatically taken from the individual apps/games. Naturally, this limits customization of their store page. However, an individual icon can be displayed for the bundle or the first four app icons of the bundle are displayed. It makes sense to choose the four most popular apps/games to maximize recognizability and conversion. Similar to the IAP, the app bundle name can and should be optimized with keywords for the search results. Keyword rankings of the app bundle can be checked with a tracking tool like AppFollow.
Since the app bundle is treated as an individual app by Apple, bundles have their own analytics on App Store Connect. These look almost the same as an app's analytics, however, app units are termed "bundle units." Individual installs through the bundle are counted in the bundle analytics section and not under the individual apps' analytics. The search conversion rate of the bundle can easily be measured:
Bundle Units (Search) / Bundle Impressions (Search) = Bundle CVR (Search).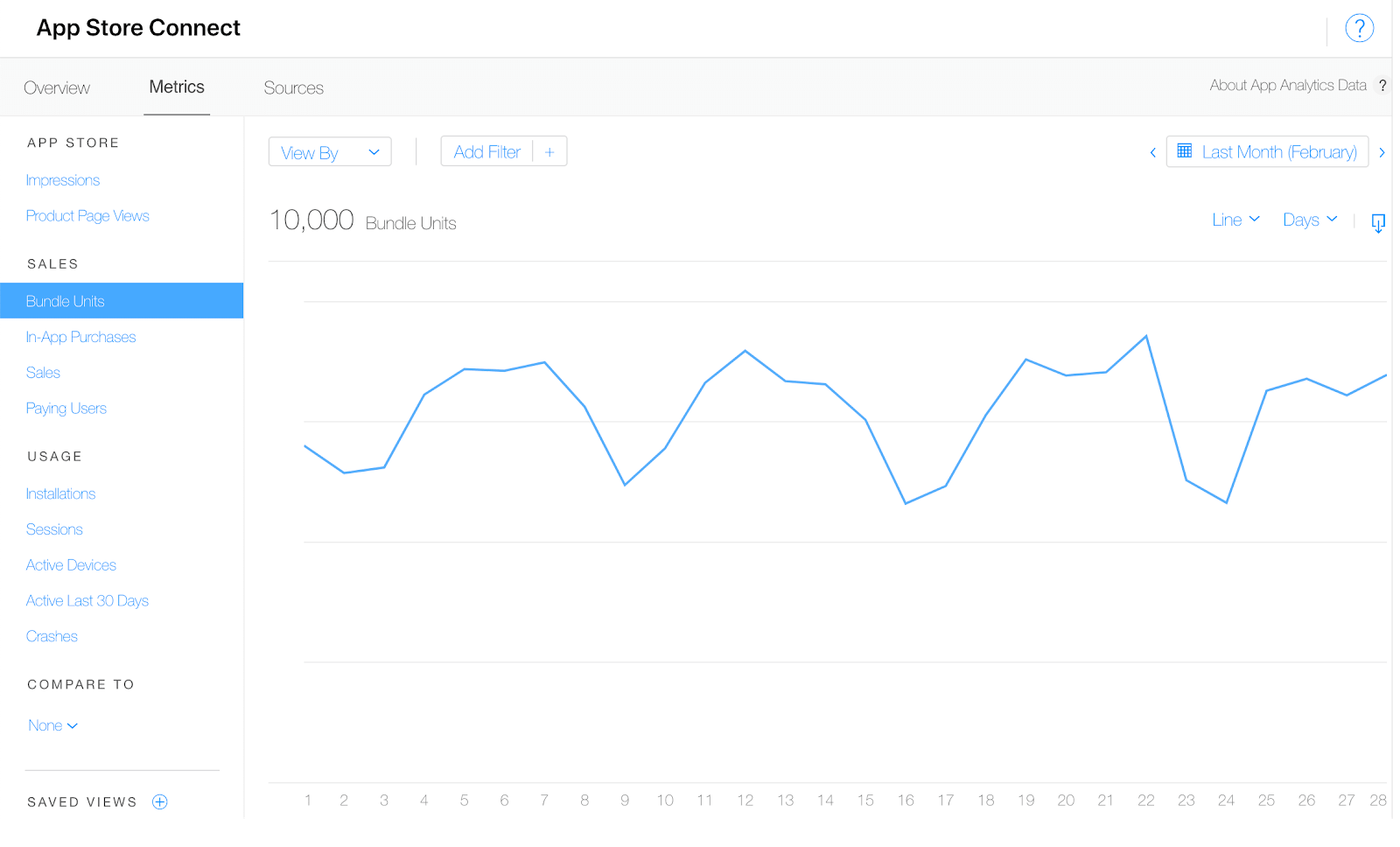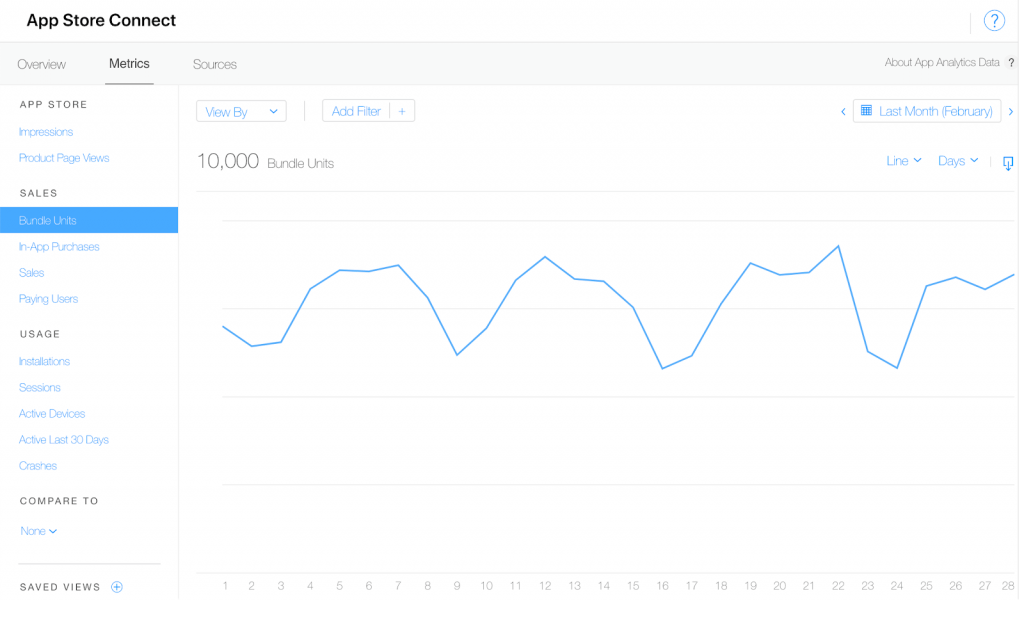 App bundle analytics section on App Store Connect
Get as many search placements as you can
We've provided an overview of five different possibilities by which your app or game can be displayed in the App Store search results and how to optimize for each placement. With strong competition from apps in the App Store search results, fully leveraging your possibilities in the search will increase your chances of App Store search result visitors installing your app. It might not be possible/make sense for you to use every search placement for your app and game. However, considering which placements can still be added and also focus on optimizing the placements you already have will help increase your app's installs via the search. We look forward to reading your thoughts in the comments!
Abdul Majeed Alkattan works as Engineer…
---
December 10, 2019


by Merlin Penny
Mobile marketers and developers can as…
---
May 29, 2018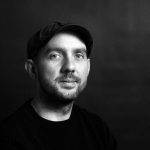 by Moritz Daan