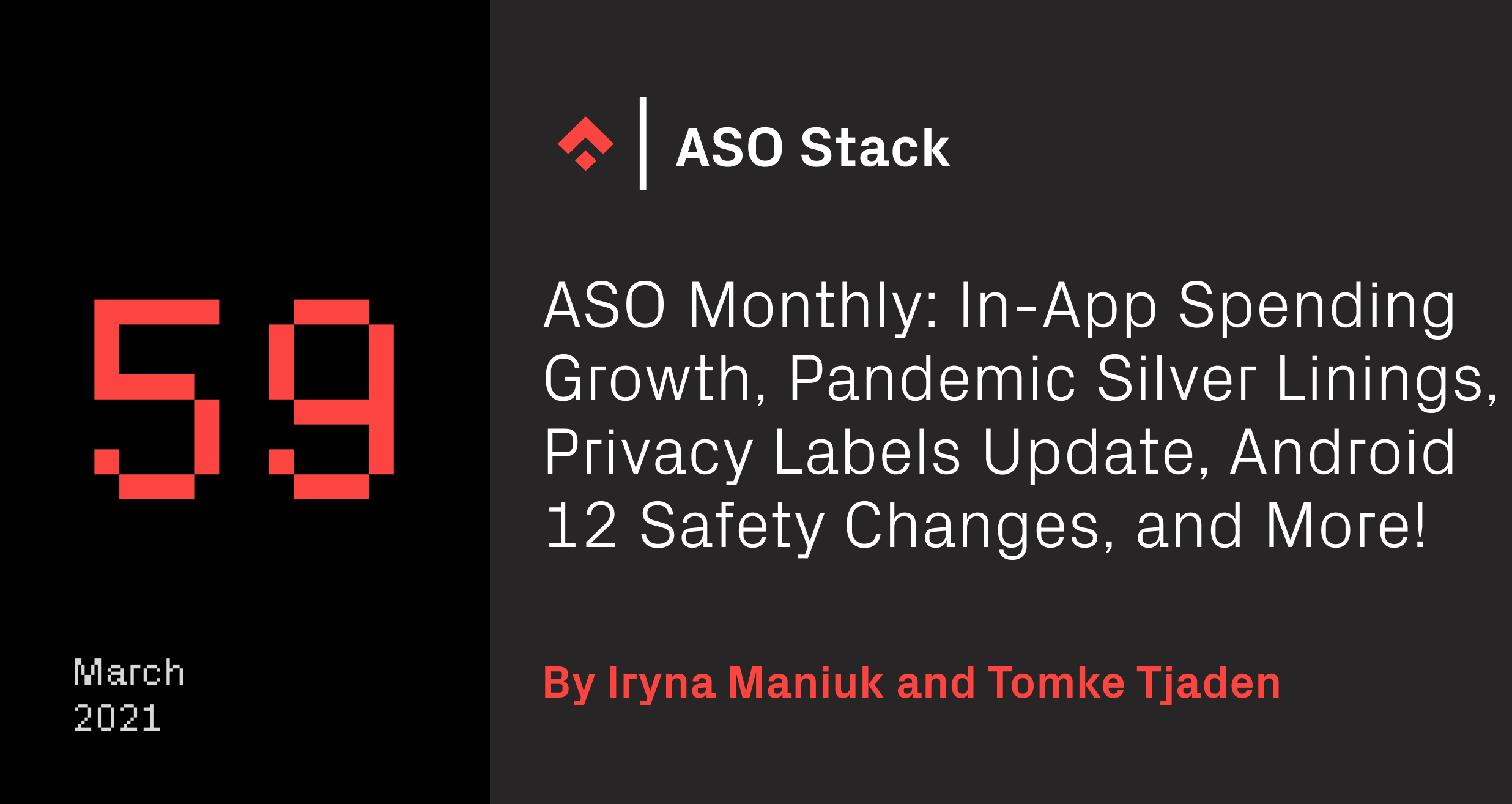 In this ASO Monthly series, the Phiture team reflects on the previous month and sheds light on trends in app store optimization, algorithm changes, privacy changes, insights into conversion rate optimization, and tool updates.
NB: Phiture is hiring! You'll have the opportunity to join Phiture and help us lead the way in mobile growth. Check here for current positions.
This update was written by ASO Consultants, Iryna Maniuk and Tomke Tjaden, at Phiture.
ASO Conference 2021 Online
We are happy to announce that our next online ASO Conference 2021 will take place on June 3rd. Register and find all the necessary information about the speakers and the event on asoconference.com. Stay tuned for updates on the ASO Stack Slack group!

February 22 – Global consumer in-app spending increases 2.5 times by 2025
Sensor Tower came out with a new mobile market forecast that predicts a 2.5x increase in global consumer spending on premium apps, in-app purchases, and subscriptions across Apple's App Store and Google Play.

Global spending in mobile apps is expected to reach $270 billion by 2025 with the App Store and Google Play accounting for $185 billion (20.7% YOY growth) and $85 billion (16.9% YOY growth) respectively.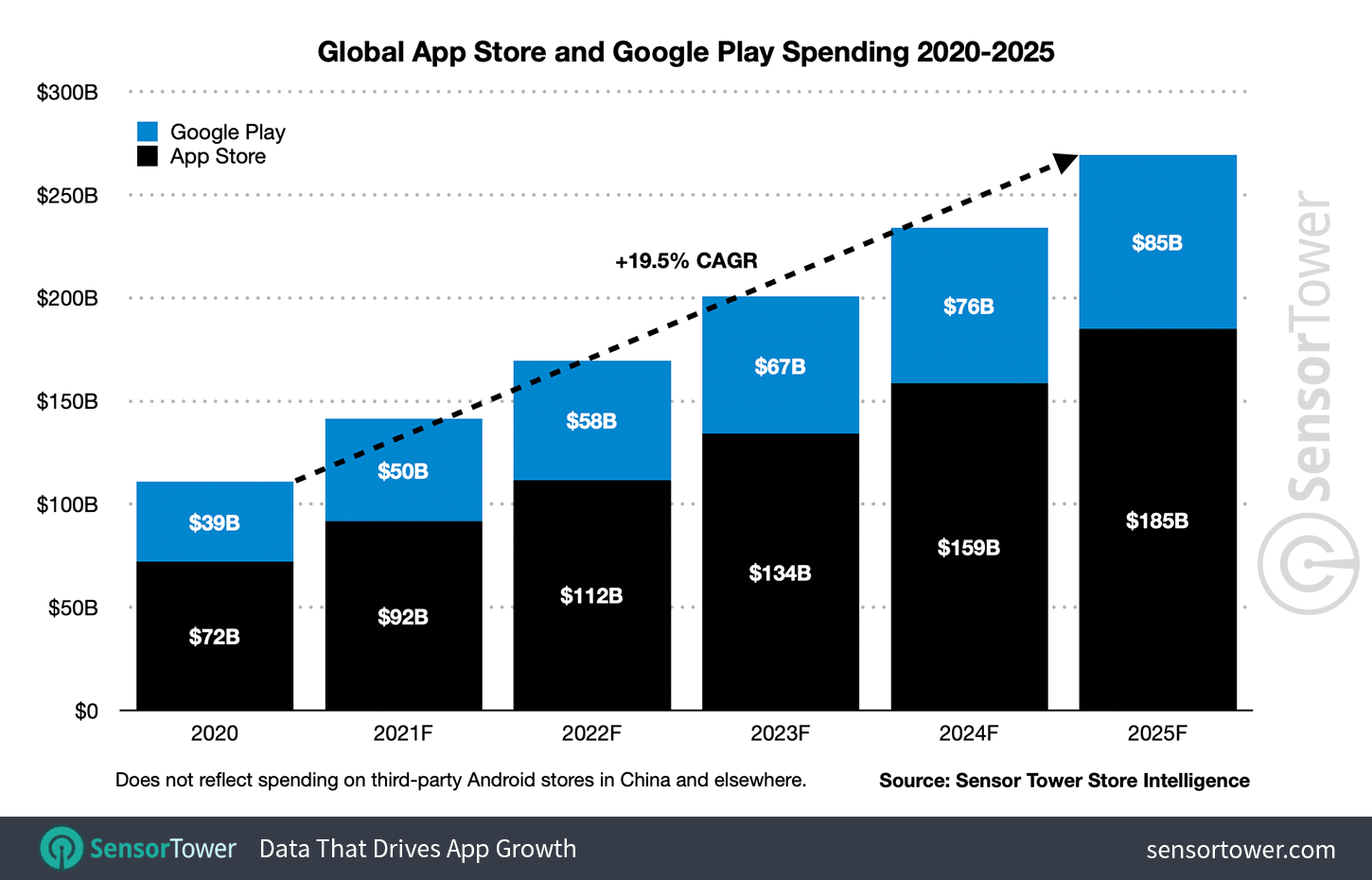 Source: Sensor Tower
In terms of installs, both the App Store and Google Play will continue to see stable YOY growth, reaching 230 billion downloads by 2025.
While in 2020 users spent twice as much time on mobile games over non-gaming apps, this ratio is expected to change by 2025, with spending on non-gaming apps projected to reach $107 billion versus $78 billion on gaming apps.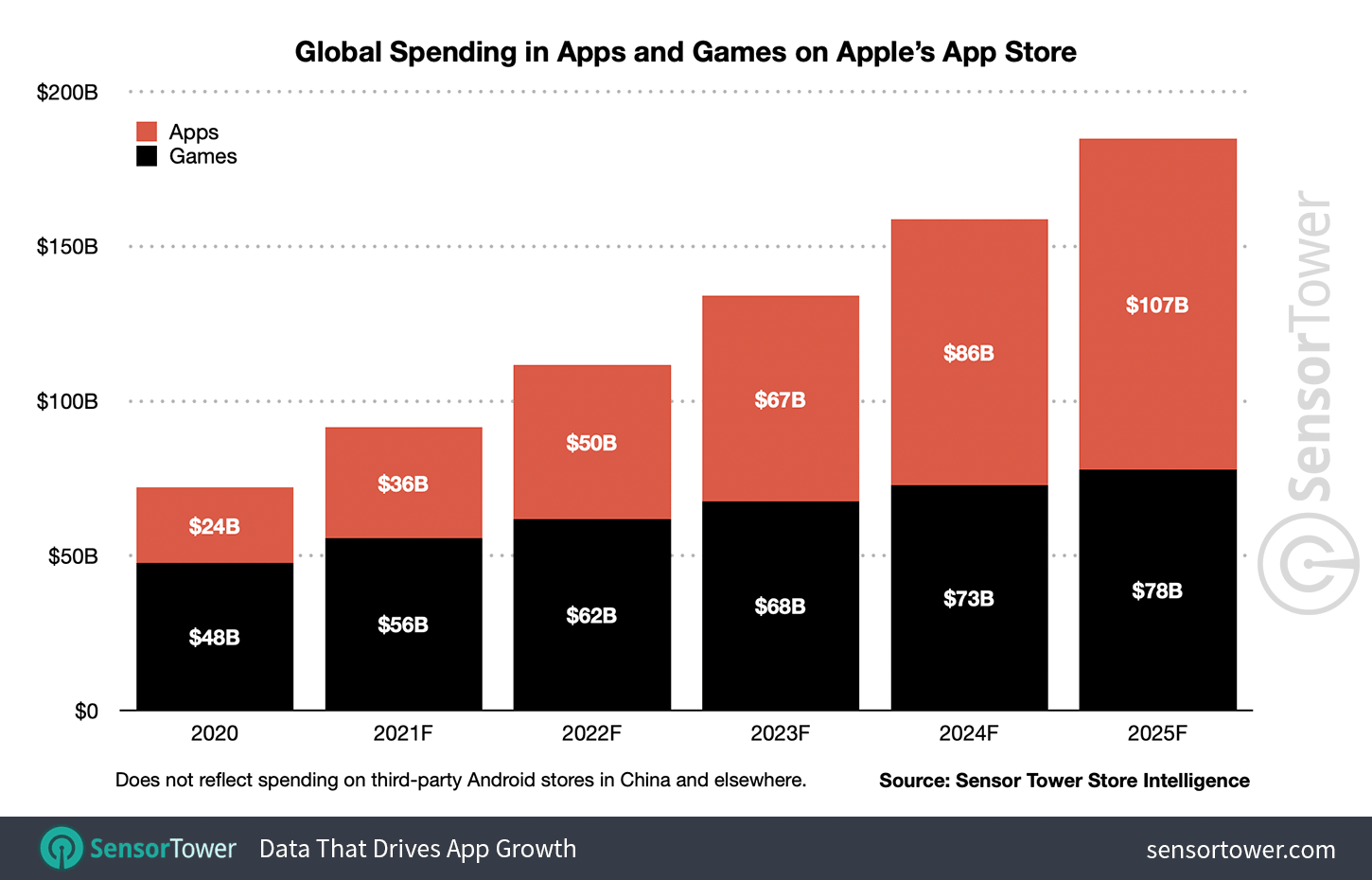 Source: Sensor Tower
Europe will see higher revenue growth than Asia and North America over the next five years, reaching $42 billion by 2025. The United Kingdom will continue to lead the region in spending on the App Store and Google Play.
February 23 – App Store reveals additional details on completing privacy labels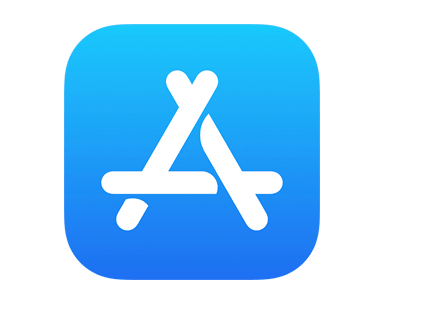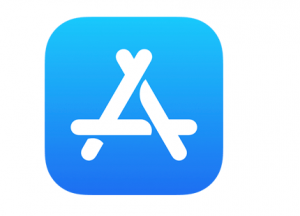 Source: Apple Developer News and Updates
On completing App Store privacy labels, additional information about data types like email, text messages, and gameplay content has been published in Apple's Developer News & Updates. More details are also provided regarding data collected in web views and data entered by users in documents. 
According to the App Store's details on privacy labels, the additional data types provided by Apple that developers should be mindful of when overseeing their data collection practices include:
web views

IP address (precise location,

coarse location, device

ID)

in-app messaging (email and text messages)

gameplay content (

game saves, multiplayer matching, gameplay logic)

the use

of Apple frameworks or services

on-device sensitive data (

not collected off-device)

other user content (generic free form text fields) and audio data (voice recordings)
and more. 
As users can learn directly on the app's product page about the data types the app may collect and whether the data is linked to them or used to track them, it is expected that conversion rates will be affected. 
March 9 – Expanded storage capacity allows mobile games to increase the average game size
Based on the analysis of the top 100 revenue generating mobile games in the US App Store, the average game file size has increased by 76% over the last five years to reach nearly 465 MB in 2020. In 2020, we observe a significant rise of 30.3% YOY.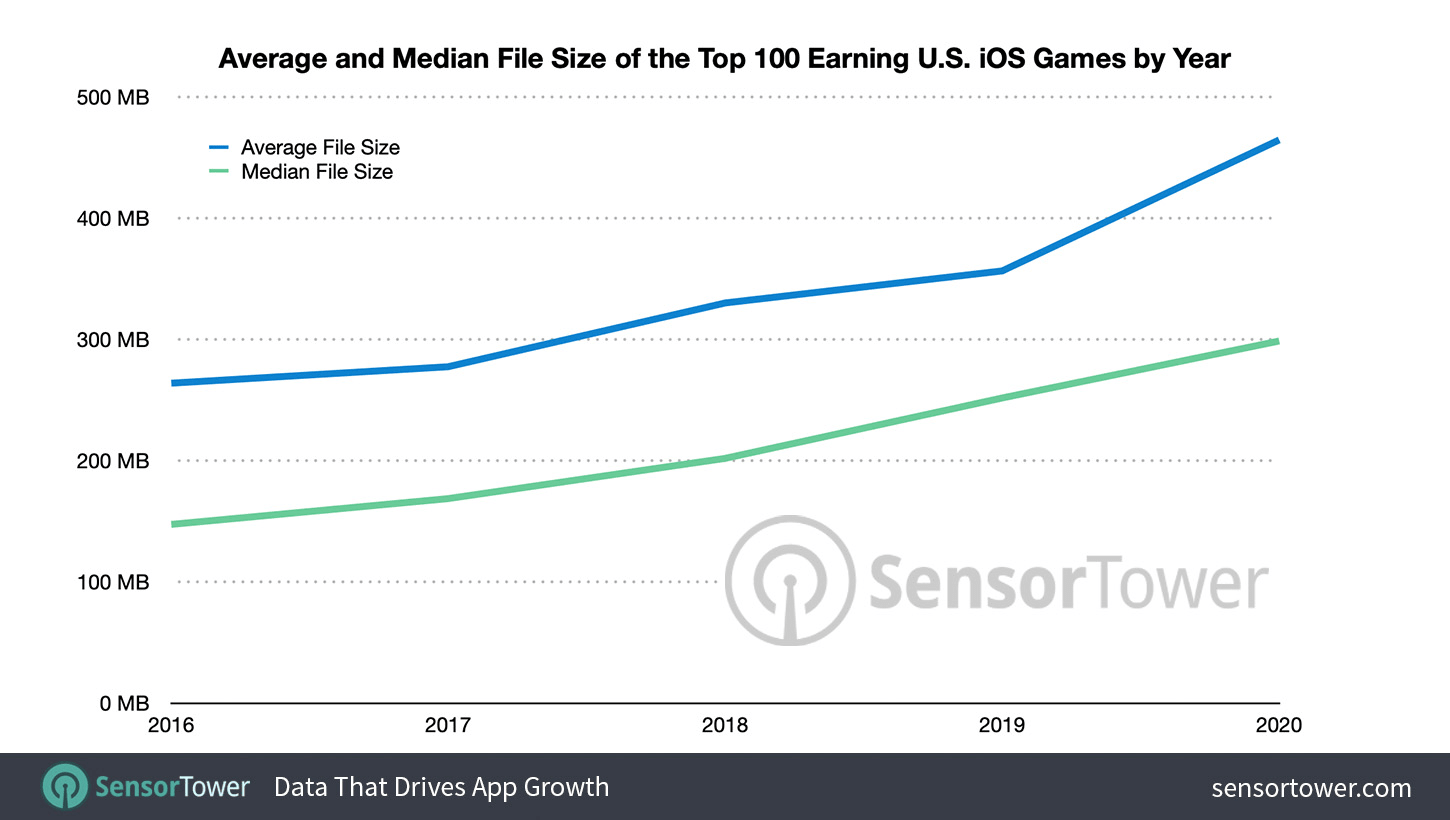 Source: Sensor Tower
The expanded storage capacity in iPhones and iPads, improved performance, and rising player expectations for in-game experiences have led to publishers releasing more content without fear of taking too much space on users' devices, thus creating a more engaged player base.
However, it should be noted that app size impacts conversion rates in both the App Store and the Google Play Store. The rule of thumb is the larger the app size, the lower the conversion rate, especially in markets with low-end devices and small storage capacity. Therefore, it is essential to keep in mind how your app size compares with that of your competitors.
March 12 – 35% YOY growth in downloads for business & productivity apps and 105% YOY boost in in-app sessions for food & drink apps due to COVID-19 restrictions

Business and productivity apps have benefited from COVID-19 lockdowns as millions of employees were forced to work from home starting March 2020. App Annie reveals that business and productivity app downloads spiked in spring, reaching 35% YOY growth in 2020 with 7.1 billion downloads worldwide.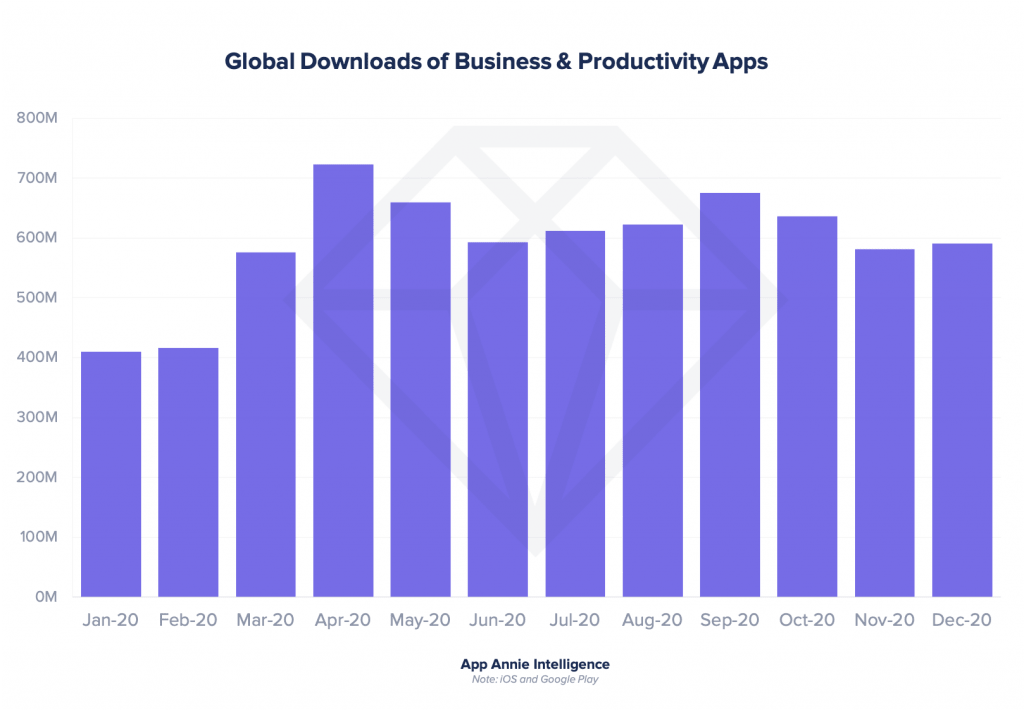 Source: App Annie
Furthermore, the type of top-installed apps in the business and productivity category has changed. Lockdown restrictions have boosted the need for apps allowing video calls in order to socialize and collaborate from home. In 2020, Zoom Cloud Meetings, Google Meet, and Microsoft Teams made it to the top of the most downloaded business and productivity apps list, in comparison to 2019 where Whatsapp Business, Gmail, Chrome, and Microsoft Word had the lead.


Source: App Store: Zoom Cloud Meetings, Google Meet, Microsoft Teams 
COVID-19 lockdowns also helped boost app sessions of food and drink delivery apps from 1.81 billion in March 2020 to 3.02 billion by the end of December 2020. The US, Argentina, the UK, Indonesia, and Russia grew 60%, 65%, 70%, 80%, and 105% YOY respectively. China has also tripled weekly sessions up to 368 million; however, India saw a decline due to logistical impacts from 908 million in January to 660 million by December.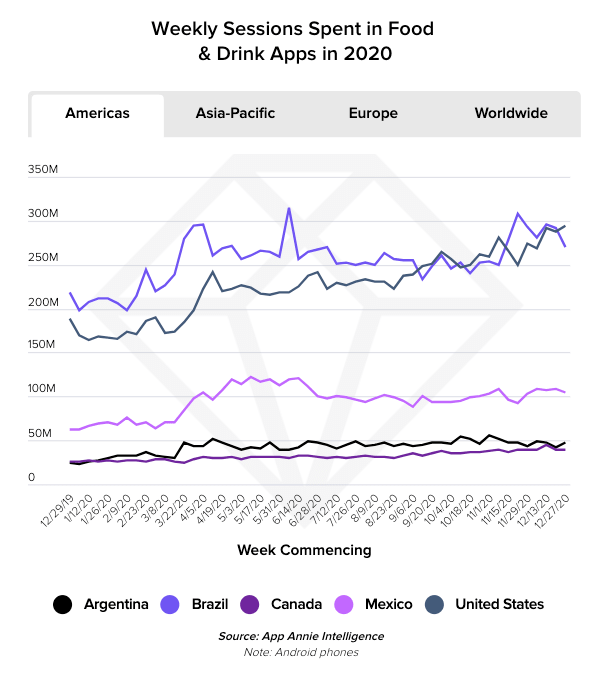 Source: App Annie
A vivid example of the continuing growth of food and drink delivery apps can be seen in the launch of the burger chain MrBeast across the US on Dec 14, 2020. The app ranked #1 in iPhone downloads in the US on December 19, 2020 and was downloaded nearly 750,000 times in 2 weeks.
March 17 – Google highlights more safety features and usability improvements in Android 12 Developer Preview 2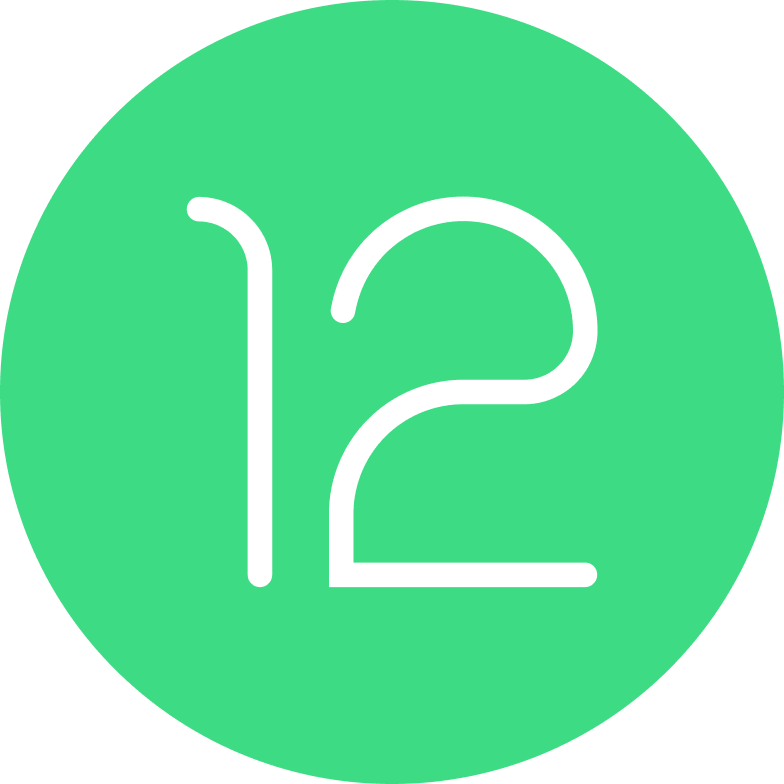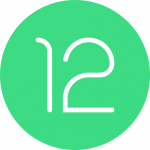 Source: Android Developer's Blog
A month after releasing Android 12 Developer Preview 1, Google is releasing a follow-up and making Android 12 Developer Preview 2 available for coders. 

Safety and trust are strong focus points for the new release. Google continues giving users more transparency and control while keeping their devices and data secure. New features include app overlay controls, extended security for lock screen notification actions, and access to app digests.

For example, app creators can now require authentication for tasks even from the lock screen. They can also prevent system overlay alerts from masking their content. On the security side, Android 12 has a new API to determine the integrity of an installed app and is intended for developers wary of unapproved modifications, such as those working on banking apps, or building software with built-in DRM.
Additionally, Google introduced new features concerning UX tools, including support for rounded corners, PIP improvements for people using gesture navigations, and more. Complete update information can be found in the Android 12 Developer Preview 2 blog post.
March 18 – Search continues to be the largest source of App Store downloads
Based on the latest SensorTower report on App Store download sources, search accounted for 59% of downloads in 2020 with specific apps and brand names accounting for the main search terms versus generic terms. For non-game downloads, the percentage of search installs reached 70% in 2020.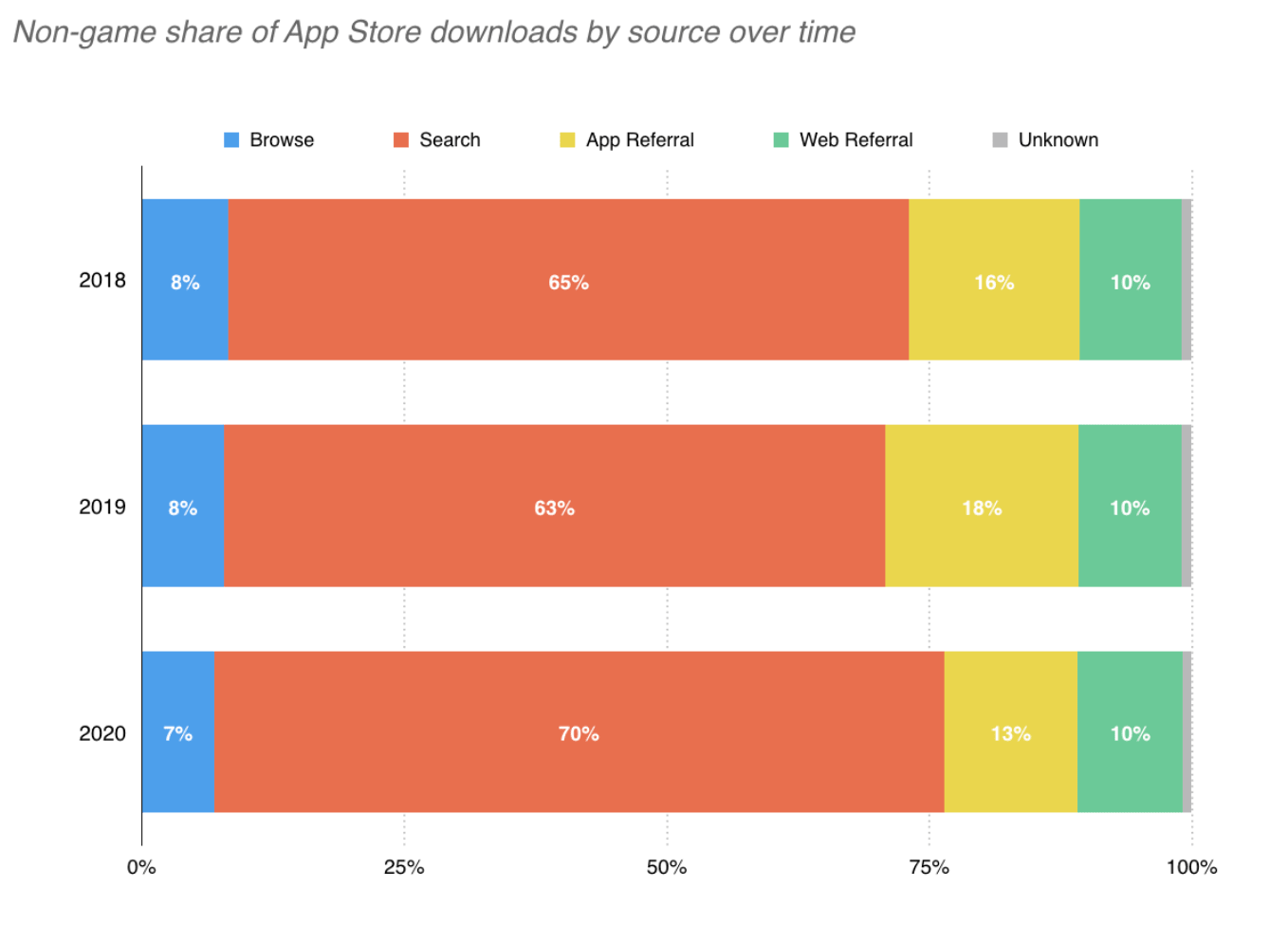 Source: Sensor Tower
In turn, mobile games have seen an increase in app referrals as a source of downloads, reaching 38% in 2020. One of many possible drivers is related to consumers being interested in only specific game genres, thus depending on referrals for recommendations. 
The influx of new users to mobile games during COVID-19 has also strengthened in-game advertising. It appears as though consumers are more open to trying new games presented to them through those they're currently playing; thus, they are less likely to look for new titles through browse and search.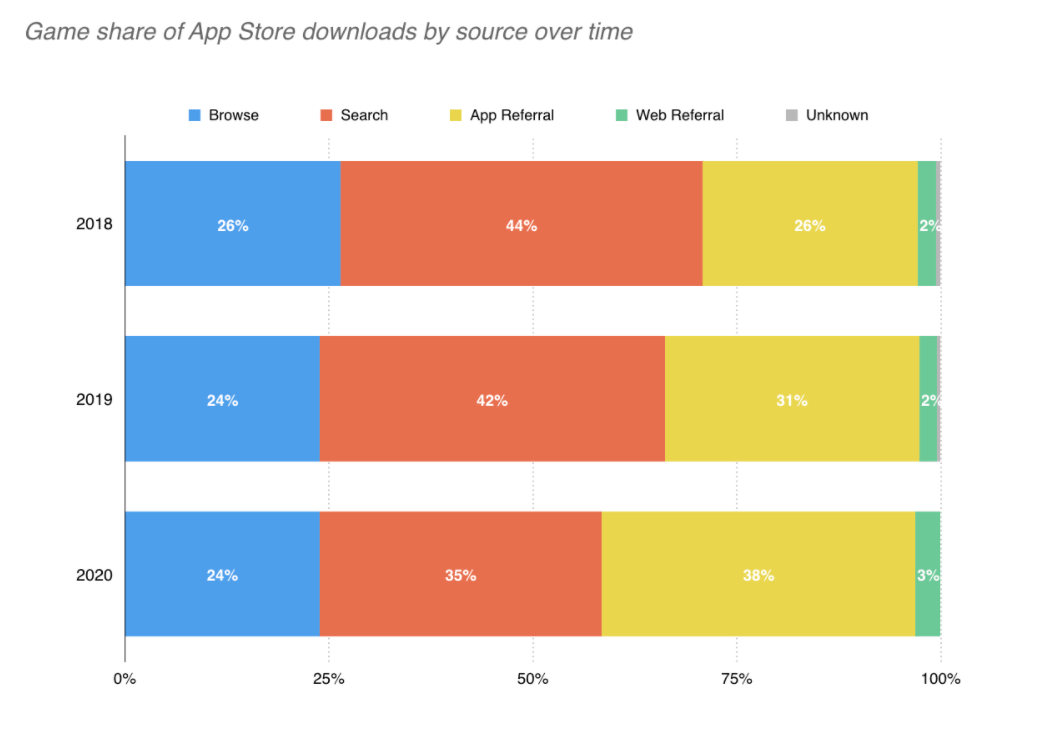 Source: Sensor Tower
March 22 – App Clips, Location Anchors, and authoring tools impacting the fast adoption of AR
Augmented reality creations have gained popularity due to a year of spending most of our time at home. People have become more open to exploring a new virtual reality, unlocking the potential for art, education, and retail in the mobile app space.  
App Clips, Location Anchors, and authoring tools play an important role when it comes to the rapid adoption of AR by modern customers who value speed and easy-to-activate experiences. For example, App Clips, introduced in iOS 14, are becoming popular as a quick, handy way to access what the app has to offer without downloading it or setting up an account. 
However, App Clips are not the limit. A special version of "New Nature" by Scavengar is an example of modern apps that make AR truly transformative by combining App Clips and Location Anchors. No need to download the app or files from the webpage; AR experiences are created straight from your iOS device in seconds.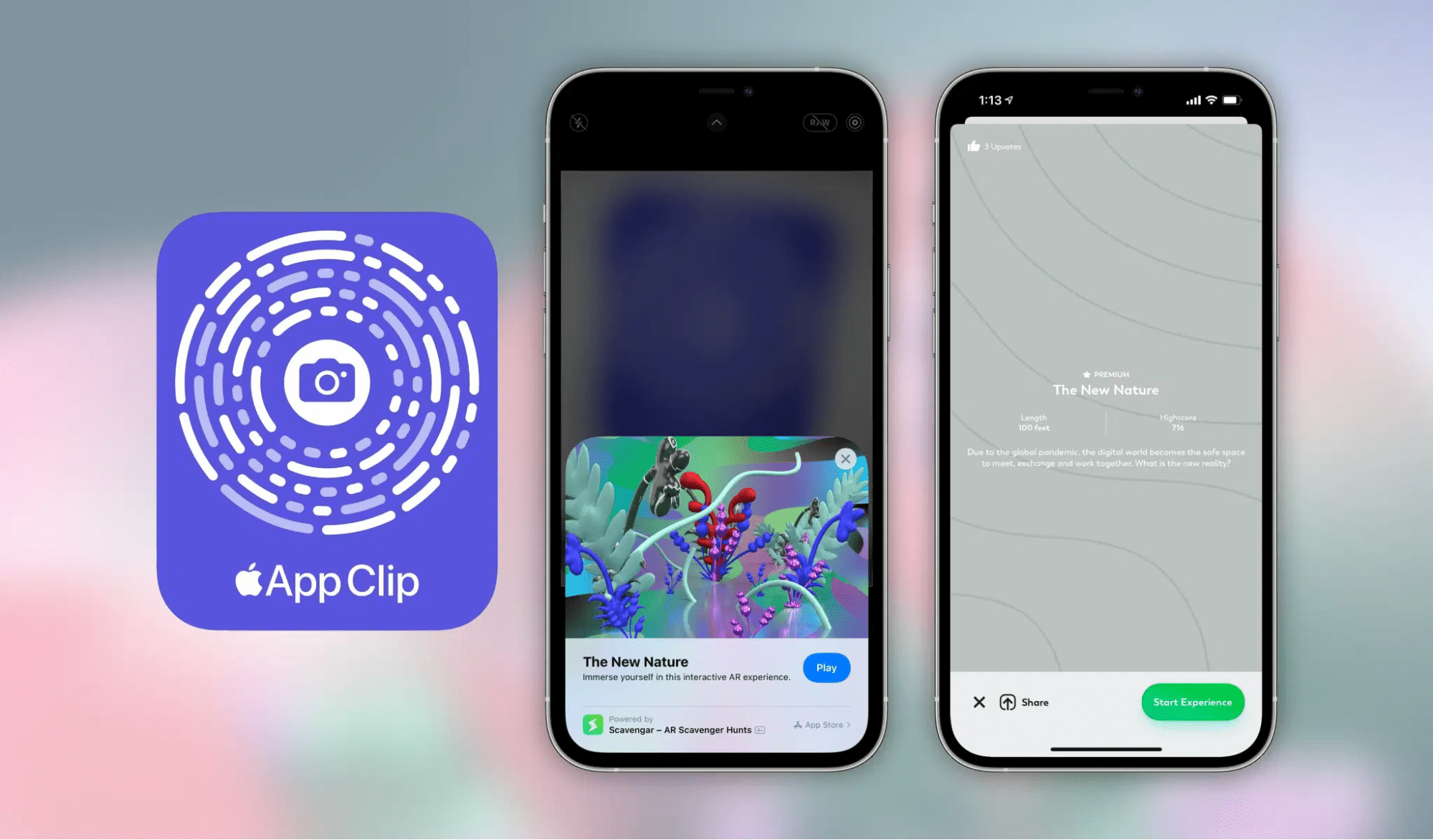 Source: 9to5Mac
March 25 – Google's share of non-organic app installs rose by 15% while iOS declined by 20%
According to the AppsFlyer latest Performance Index, the share of organic iOS installs was unchanged during the second half of 2020 while the share of non-organic installs declined by 20%. As a result, the number of apps with over 1 million iOS attributed non-organic installs also decreased by 25%.
The reason behind the drop is the increasing number of users enabling Limited Ad Tracking (LAT) and Apple's privacy policy changes. And in the light of the upcoming IDFA deprecation, it's becoming more important than ever for brands to choose the measurement partner wisely to make sure they comply with all the privacy requirements. 
On the contrary, Google extends its share of non-organic app installs by 15%. The reason behind the uplift is attributed to the growth of Android in developing countries like India.
Before we go: did you notice?
One of our

ASO Stack Slack group

members,

@ilyakuh

, pointed out that there may have been an algorithm change in the US App Store on March 06. He stated that the change appeared to be connected with the Spanish (Mexico) keyword field, which started indexing better in the US.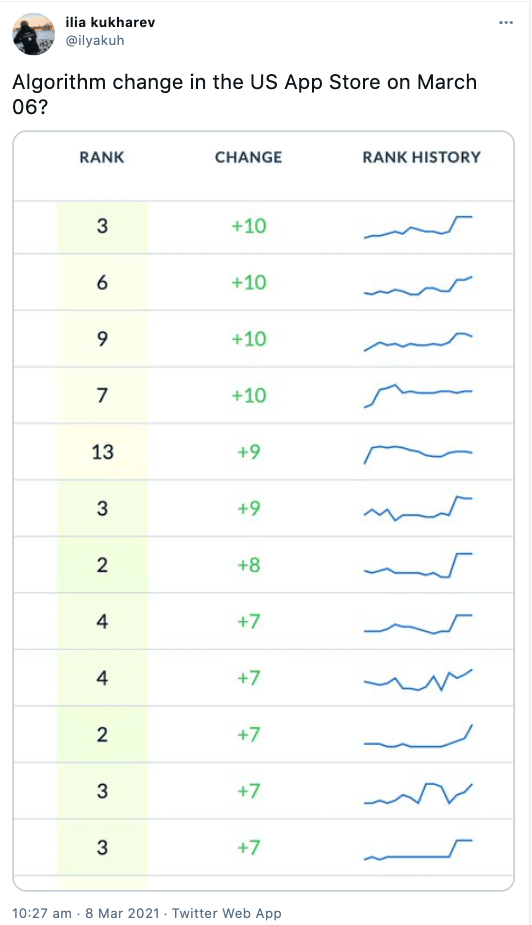 Source: @ilyakuh on Twitter
As spotted by

@Nadir

, the Play Store has added a notification in the store listing experiments section to emphasize the importance of landscape screenshots for game promotion.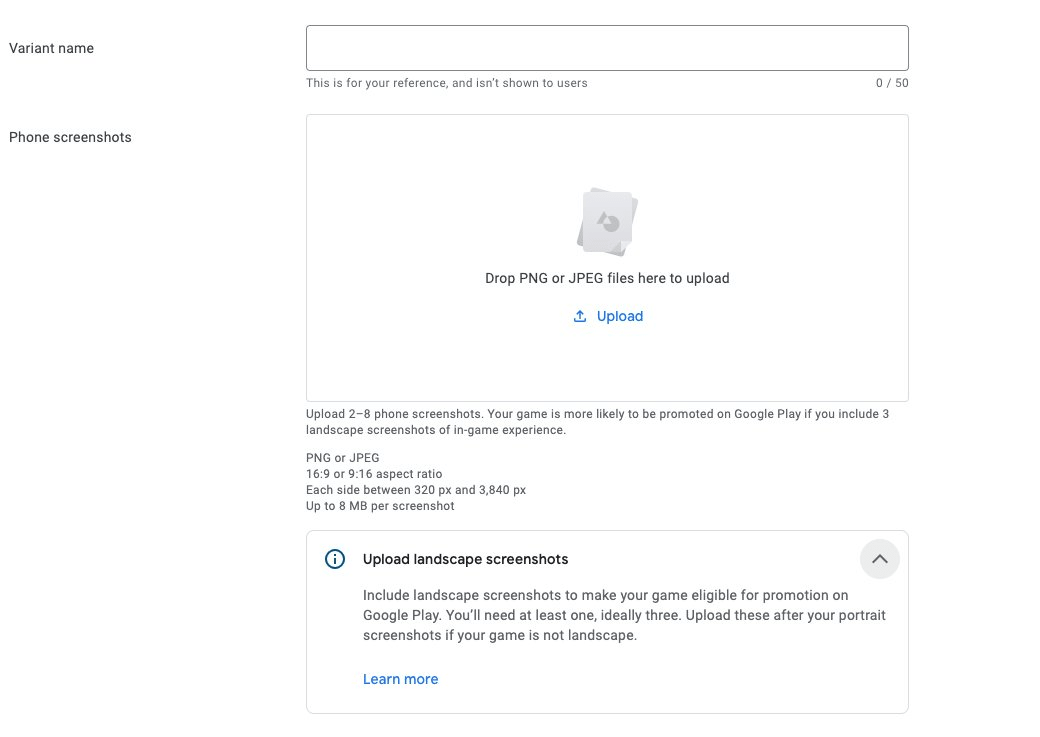 Source: @Nadir on Twitter
Upcoming events in the next month
Find more events at the Mobile Conferences & Events 2021.
Events planned as offline may suffer changes due to Covid restrictions. Check the event website to be up to date about the latest news.
Tool Updates
Interesting Reads
At the beginning of March, it was…
---
April 4, 2018


by Mantvydas Lisauskas