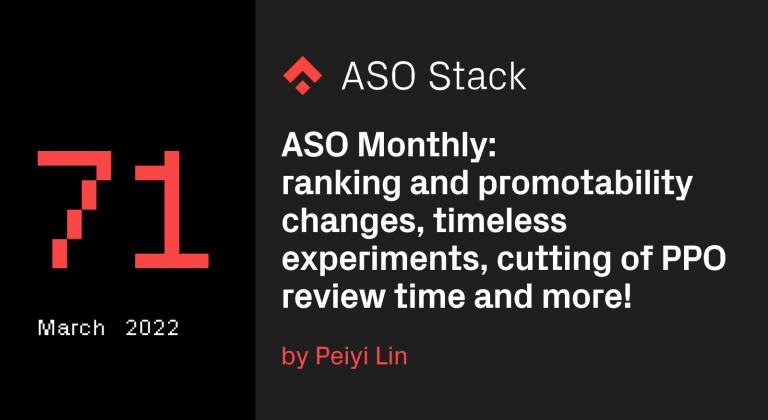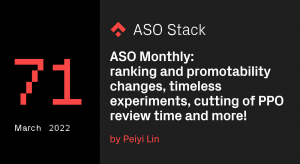 In this ASO Monthly series, the Phiture team reflects on the previous month and sheds light on trends in app store optimization, algorithm changes, privacy changes, conversion rate optimization, and tool updates.
This update was written by ASO Consultant Peiyi Lin at Phiture
Don't miss our ASO eBook which was released on  March 7th and be part of the ultimate ASO event this year! ASO Conference 2022 will be hosted on May 11 with a dynamic and exciting format for knowledge-sharing. See you soon!
March 8 – In-app events not only help with metadata extension but also with your retention
Apple announced back in October 2021 that in-app events will feature in the App Store. Since then it has been utilized by many ASO practitioners as part of their broader strategy. ASO Slack Channel Member Ann Kulneva has shared how she sees this relatively new feature affecting ASO strategy. As is already common knowledge, the metadata in the in-app events is indexed by Apple, allowing your app to appear on related search results. This, Ann argues, may serve as a tool to improve your app retention rate as it will also be seen by those who downloaded the app or those who downloaded and deleted the app.  (ASO Stack).
March 9 – iPad's landscape screenshots are shown in the search results even if it's at the end of your creative set
Displaying landscape screenshots on portrait screens has always been a struggle for some App developers. As there's no exact right and wrong answer after you roll out a test to your audience, some ASO practitioners have tried to mix up the creative set in the iPad storefront. A member of the ASO Stack Slack community, Roopesh Shenoy, shared his experiences which may help other ASO practitioners to test and figure out what will be the best for their app.
Roopesh said, "The first landscape screenshot always gets shown in the search result," and even if you have placed the landscape screenshot at the end of iPad storefront, it will get shown in the search results. (ASO Stack)
March 10 – Google Play limits functionality in Russia
On March 10 Google Play limited its functionality in Russia. Only free apps and games can be downloaded, while no payments (including subscriptions) can be made, likely because of the restricted access to payment providers in the country.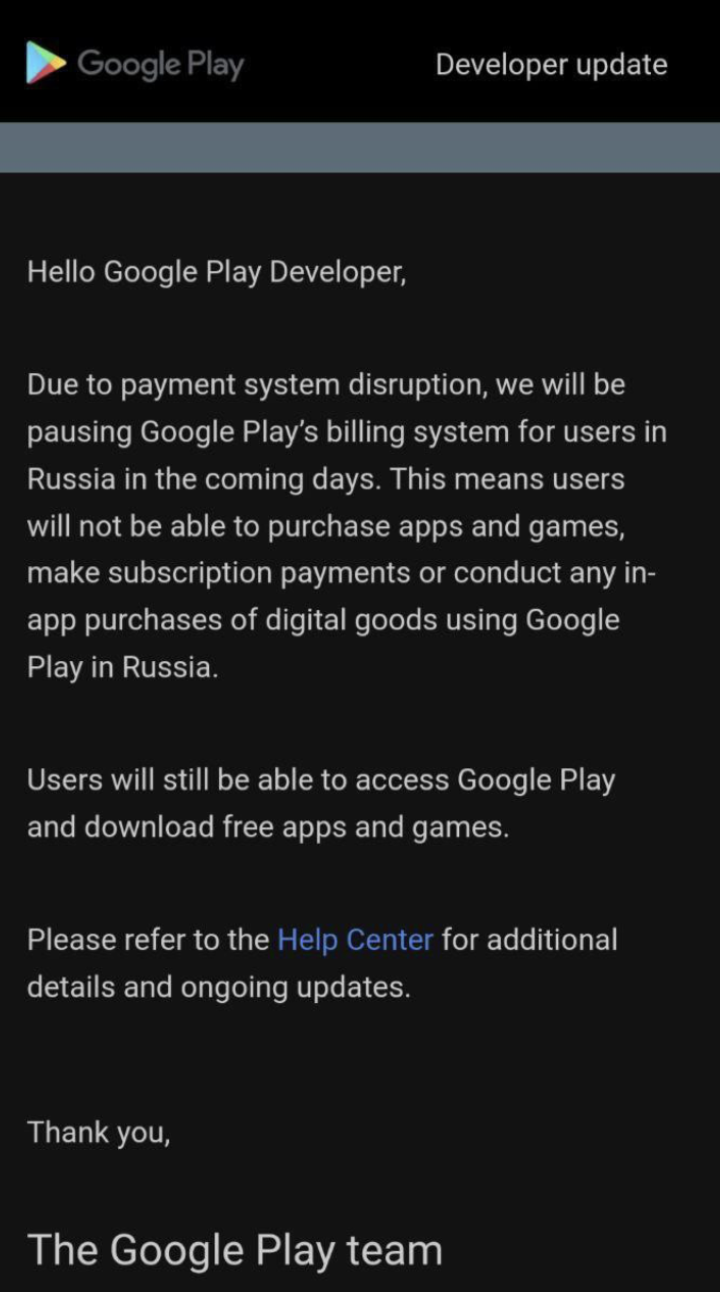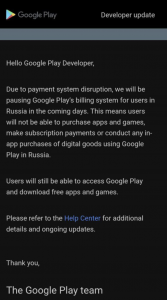 Screenshot credited to Anton Tatarynovich
March 10 – Games rank in Google Play's Top Charts without any installs
On March 10, ASO Stack Slack community member Muhammad Adnan noticed apps that had no installs ranking in the top positions of the US games arcade category of the Google Play Store. The similarities between these apps are that they have similar store listing pages and around $400 of in-app purchases.(ASO Stack)
In doing so, it is believed these apps manipulated the market and category ranking. Furthermore, this is not an independent event. Ilia Kukharev shared their observation that similar manipulations have happened several times a year previously in the Google Play Store.

Screenshot credited to Muhammad Adnan.
March 14 – Play Store experiment plateau 
Thomas Bcn pointed out that the Google Play Store experiment line graph showed a plateau during the testing period. A similar occurrence was recorded that day by fellow ASO Stack Slack community member Marina Roglic, who had seen several experiment line charts perform the same way. (ASO Stack)
The cause of the plateau line in the line graph remains unknown but acts as a norm in the Google Play Store A/B test. As it won't impact or skew the experiment result, it should not be an issue for most ASO practitioners.


Screenshot credited to Thomas Bcn.
March 14 – A new way to shorten PPO review times on the App Store
It is common knowledge that releasing a new version of an app will automatically stop ongoing Product Page Optimization tests. Careful timing of these two aspects of app management is therefore essential to ensuring fair results. However, last month it was reported by ASO Stack Slack community member, Raneal Engineer, that their PPO test had been stuck in the reviewing phase for more than seven days. 
Others reported they had experienced similar problems and gave tips to shorten PPO review times. One method mentioned several times in the thread is to cancel the current submission and resubmit the PPO. Another way, shared by Narendra Purohit, is to contact the Apple review team. 
March 16 – New Google Play policy on using special characters or words is limited to the title and short description
An updated Google Play policy was released on April 21, 2021 and came into force during September 2021. This new policy stipulated that you could not include special characters or specific words in the app title. Usually, these special characters and short words would be allowed in the short description, however this could lead to difficulties in promotion by the Google Play Store. For this reason, as summarized by Marina Roglic; "using special characters and words such as first, best, new or free is allowed in the long description. Adding them to the short description will give a warning that you won't be eligible for promotion, but it won't get you banned." A more detailed discussion can be found in the ASO community (ASO Stack) and it is advisable to have a proper contingency plan to avoid any possibility of breaking Google Play policy. (ASO Stack)
March 16 – Ranking and promotability changes in the Google Play Store
Writing in the Android Developers Blog, the Android Team announced three main updates to the store:
Ranking and promotability changes
Google has recently published large screen app quality guidelines in addition to the core app quality guidelines to provide guidance on creating great user experiences on large screens.
Alerts for users installing low quality apps
Low-quality apps which are not adjusted to different modes of display (those that don't meet basic compatibility requirements) will be the focus of the Google Play Store team. This could mean such apps are not promoted in the Google Play Store. While this is not certain at present, further updates can be expected later in the year regarding this topic. 
Device-specific ratings and reviews
Apart from the two changes mentioned above, users will soon be able to see ratings and reviews split by device type (e.g. tablets and foldables, Chrome OS, Wear, or Auto). It is believed that this can help users make better decisions about which apps are best-suited to them.
The default rating will be shown in the Play Store and in the format of the device type the user is using, providing a better sense of the app experience on their devices.
ASO practitioners can preview your ratings and reviews by device or view your device-type breakdown in the Play Console.

Source: Android Developers Blog
March 17 – Bugs in App Store traffic source attribution
As flagged by Mathew Parry in the ASO Stack Slack community, the App Referrer and Search switched their impressions volume with Browse. Thomas Bcn, as well as other practitioners, mentioned they experienced a similar bug previously in their App Store Connect, and that it should be kept in mind when evaluating performance. (ASO Stack)
Upcoming events in the next month
April 12 – App Excellence Summit 2022
Tool Updates :
Interesting Reads
March 1 – Apple has seeded iOS 15.4 developer beta 5, here's what's new 
March 7 – Advertising suspended on the App Store in Russia
March 15 – Russia's App Store lost nearly 7K apps since its invasion of Ukraine, but some Big Tech apps remain
March 22 – A few screenshots from Apple's webinar on Product Pages and Product Pages Optimization (Recording) 
March 23 – Exploring User Choice Billing With First Innovation Partner Spotify
Before you go
Did you know that you can change the display of metrics in the App Store's PPO? 
Just click on the improvement or the conversion rate number, and it will change into the interval, similar to Google Play Experiments.

Screenshot credited to Bárbara Souza
Endless Google Play experiments can increase the keyword coverage
Ilia Kukharev shared this month that he has had a Google Play Store experiment running since 2020. Other ASO practitioners like Laurens Elderman also shared their experience of running experiments since 2018.

Screenshot credited to Ilia Kukharev
In our 2018 ASO eBook, we curated methodology in relation to A/B tests also being indexed. This was first publicly reported by Lukas Ballé in the ASO Stack Slack community. What's more surprising is that members of the Slack community pointed out that while Google detects brand infringements in the title, short description, and long description, this doesn't seem to be the case in the A/B test variants. 
Moreover, this is a breeding ground for Black Hat ASO, due to the fact that you can run the A/B test on a 0.1% audience. That means that virtually very few users need to see the keyword-heavy description. 

Screenshot depicting a black hat A/B test purposed for keyword stuffing. Only 1 in 1.000 Store Listing Visitors would see the keyword-stuffed variant. (ASO Book 2018)
Thank you for reading this far!
Discover more ASO hacks & insights by joining the ASO Stack community
In our ASO Monthly July review, take a…
---
August 10, 2022

by Ritwik Arya
Brand awareness stands at the very top…
---
July 22, 2022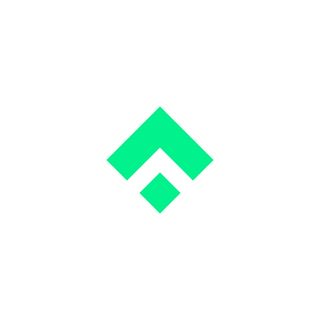 by Gizem Akgül