The ASO Conference official recap is live! For those who couldn't attend, read the article and get the principle takeaways. Stay tuned: the video recordings will be available at the beginning of June
This update was written by Bárbara Souza, ASO Specialist at Phiture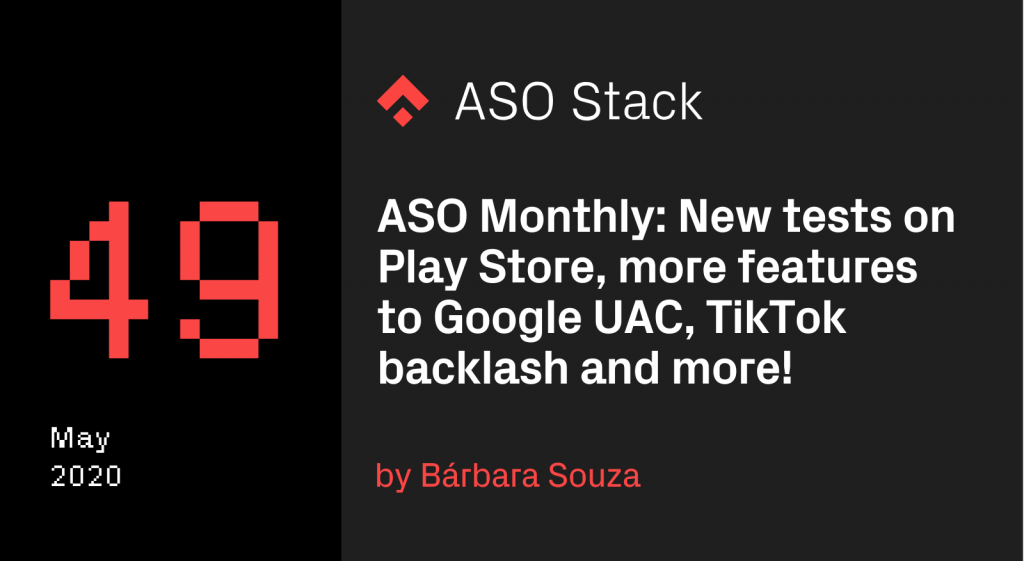 4th May – Mobile Gaming Industry is rising despite COVID-19
Based on the Yellowhead research, Mobile Gaming Industry installs, sessions and in-app spending are all increasing as people are spending more time on their phones due to  COVID-19. 
Research around user acquisition has shown a drop in CPM as companies pull their advertising. In addition, a further increase in impressions can be attributed to advertisers having a larger database to target as people spend more time online. This resulted in an increase of approximately 70% on ROI D3 and ARPPU D3 Worldwide.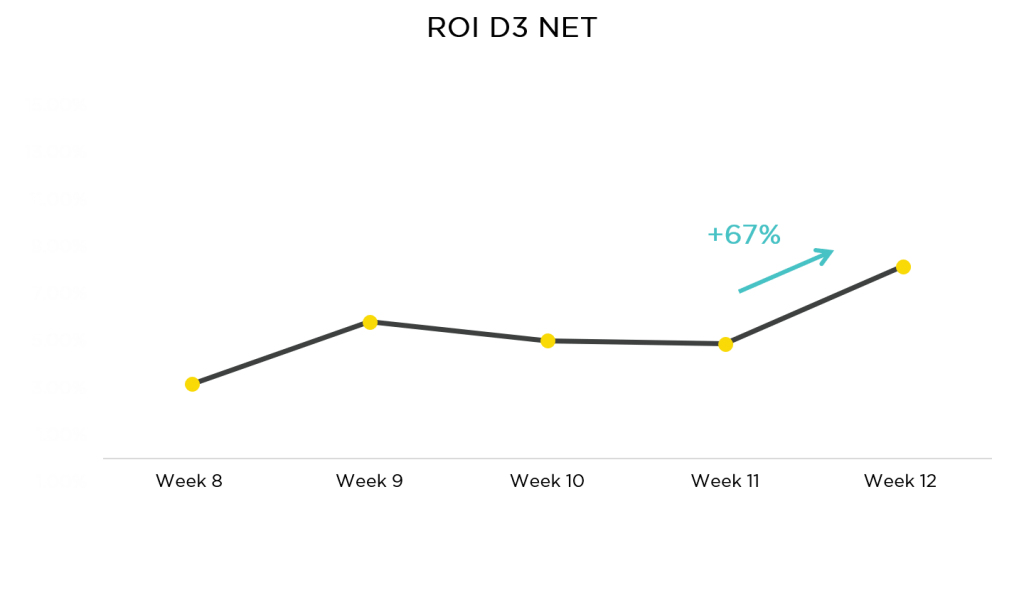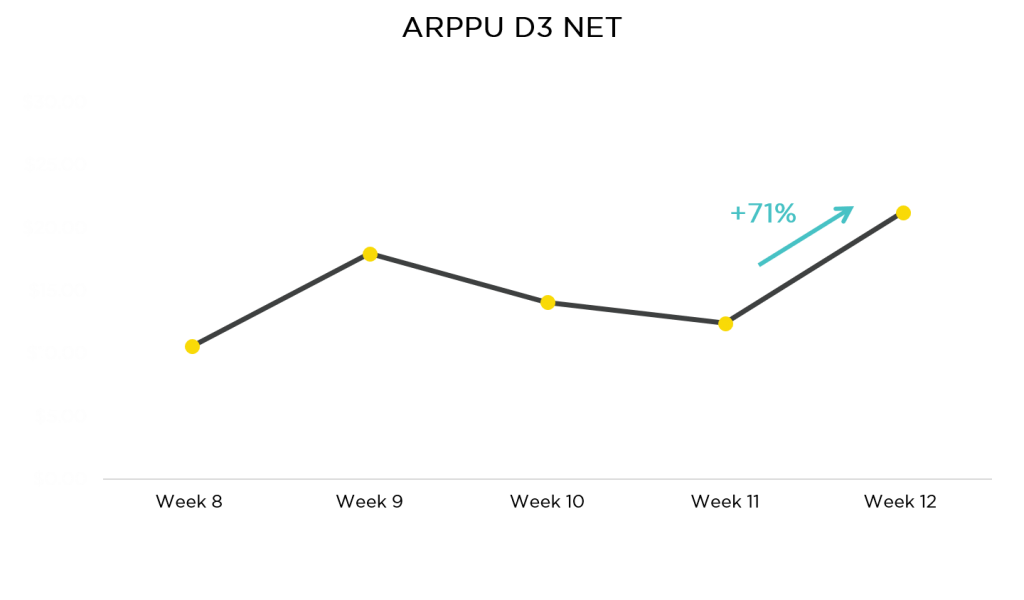 This is a great time to start experimenting cross channel strategies with ASO and paid advertising, since users are searching organically for new gaming apps and the costs of paid campaigns is lower now. Go ahead and A/B test!
5th May – Apple will host virtual Worldwide Developers Conference
For the first time, the event will be online on June 22 and free for all developers, who will get early access to learnings from Apple engineers and their latest products. In addition, Apple announced that student developers could show their coding by creating their own Swift playground and submitting to the Swift Student Challenge.
The challenge consists of creating an interactive scene in a Swift Playground that can be experienced within three minutes. Winners will receive a WWDC20 jacket and a pin set. To join the Conference, download the Apple Developer app or access the Apple Developer website. 
6th May – #Android 11: The Beta Launch Show 
Google will organize an online event at 11AM ET on June 3 for all the developers who want to find out the latest news about Android 11. At the end, it'll have a post-show live Q&A, which you can tweet "#AskAndroid" and take your chances to get answered live.
Google also decided to add extra time to the Android 11 release schedule to meet the needs of the ecosystem. Therefore, the Beta 3 (the final version of the test) will be moved to August. 

7th May – Isolated Europe countries shows a much faster changing on App Store rankings than Sweden 
The ASOdesk, mobile marketing platform, conducted research analyzing how the App Store rankings change before and after the coronavirus outbreak in European countries. It was found that the market behavior is different between Sweden and isolated countries in Europe.
Sweden was one of the countries that didn't apply any quarantine measures and yet, an increase of rankings on the Business Apps was noticed as well as Medical, Fitness, Education, Books and Social Networking categories. Even without any harsh restriction, the Swedes decided to implement social distancing and used mobile apps to kill the time.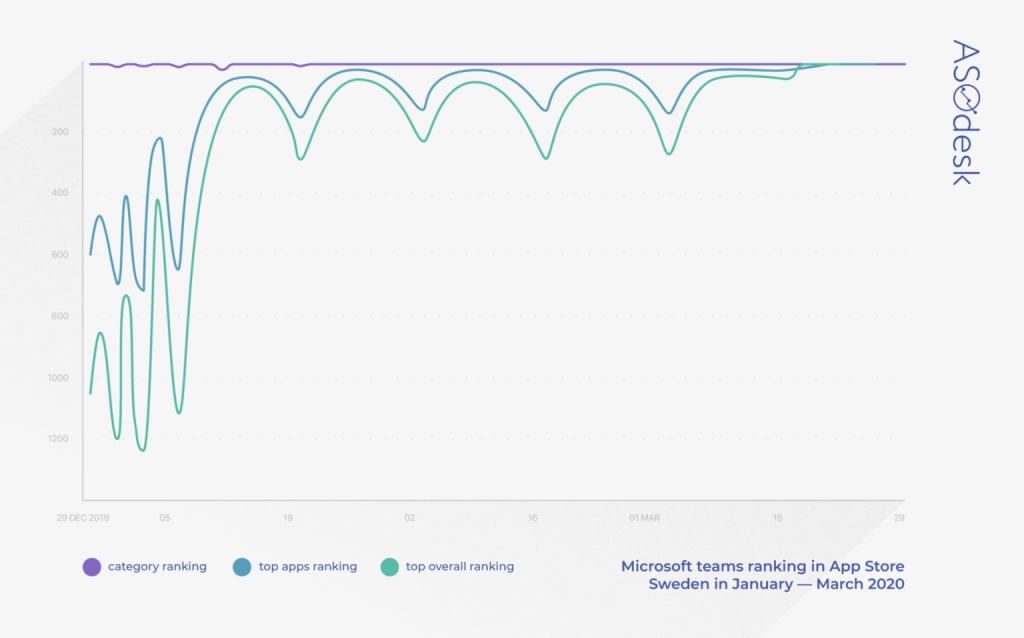 On the other hand, Entertainment Apps have been losing monthly positions in Sweden. Netflix, having been in the top 10 overall apps since January 2020, was progressively going down and at the end of March ended amongst the top 40.
The research also says Italy and Spain, countries that experienced strict quarantine rules, showed a much faster gain in positions for Business, Medical, Education, Health & Fitness, and Social & Networking categories in comparison with Sweden.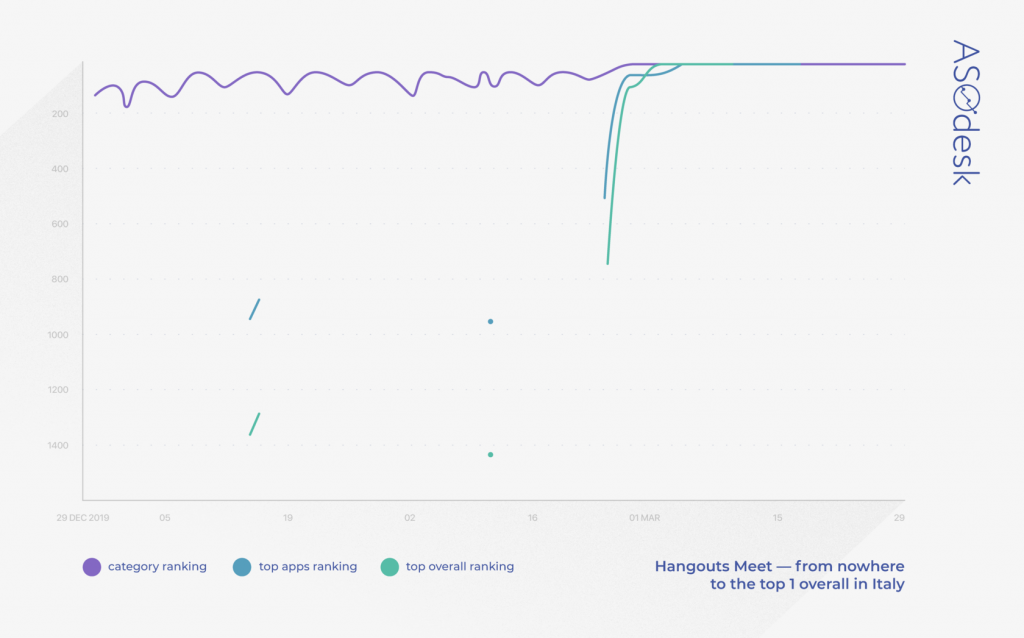 Compared to Sweden, the effects of COVID-19 on Entertainment apps in Italy and Spain were unique. After quarantine, apps such as Netflix, Now TV and Infinity, lost positions and PlayStation App and Xbox almost doubled.
In the ASO perspective, the most important takeaways on this research is to understand the impact of the user routine on your strategy and to localize it. Since the world changed, people have other interests and this is the perfect time to use your app strengths to catch their eyes. After all, you have less than 5 seconds to create a good impression.
8th May – Apple fixes the misattribution from App Referrers to Browse
Ilia Kukharev flagged on his Twitter personal account that Apple corrected the issue that was attributing App Referrers to browse traffic. 

It's common to experience a decrease on Browse App Units, since the bug was fixed and the attribution will progressively come to a normal level, as it's shown on the example. 

Although the problem was solved, the historical data continues waiting for correction, which will impact on further ASO analysis. 
11th May – Play Store new experiment uses Editor's Choice, new apps and ratings as filters on Search results 
Google is currently testing new filters on Play Store for search results based on better-rated apps, Editors' Choice and new applications. The new filters can be used on the search page results, letting the user choose one or more options, as Nitish Rai showed on the ASO Slack group on May 22.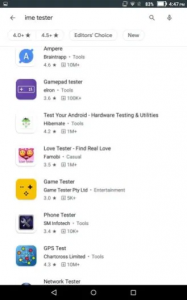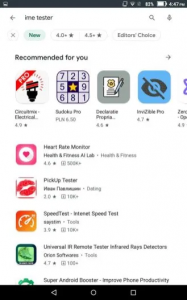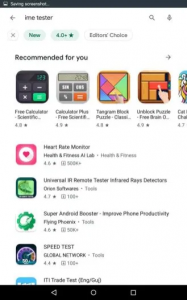 This test demonstrates Play Store's attempt to drive more potential to those segments, therefore ASO practitioners and mobile developers: heads up! Google's advice could be to maintain or improve the app's quality metrics and ratings, as well as keep up with developing the most complete user experience on new apps. But for now, let's just follow the news. 
13th May – Outage on Google Play Store on Android and the web prevent users to access homepage, My Apps & Games section and other home screen tabs
Flagged by 9to5google website, The Google Play Store on Android and the web saw a partial outage around 4 p.m. to 7:15 p.m on May 13. One of the problems occurred on the homepage which was down, but users were downloading apps normally. Also, the home screen tabs for Games, Apps, Movies & TV and Books were answering server error messages.
"My Apps & games" were affected too by not allowing users to see the "Updates" or "Library" sections with applications that were already installed or purchased. App recommendations suffered issues too.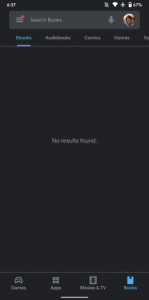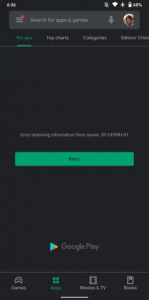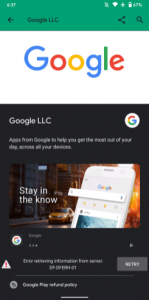 Screenshots from the 9to5google article
Although there were no reports regarding the app downloads and the problems were fixed in three hours, if you noticed any specific drop on downloads or impressions on May 13th, this outage should be considered on your hypothesis. 
18th May – Search terms shows matched keywords with a dynamic description on Play Store
Flagged by Álvaro Boyadjian on May 18, a new type of search results was found on the Play Store. On the left side, the search term was "breaking bad" and the first result shows the matched keywords with a dynamic description. Same happened for the series "Ozark".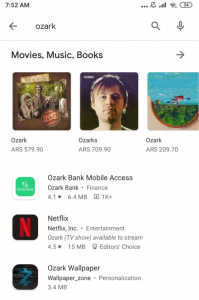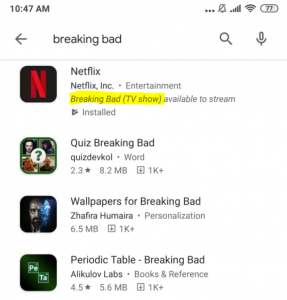 Until now, there's no further information if that strategy works on other apps and categories, how it's done or what are the impacts on the search page results. Thus, if you noticed any other examples, feel free to share your thoughts on the ASO Stack Slack group. 
20th May – TikTok got backlash and sees its rating drops from 4.9 to 1.3 on Google Play 
Users on India gave 1-star rating to the app on Play Store following a trend #banTikTok on Twitter, as explained The Quint website. 

The backlash was an answer to a TikTok star with 14 million followers who posted a video that seemingly promoted acid attacks on women. Other users were calling out the platform for apparently promoting rape too. 
In addition to that, on May 25 Ilia Kukharev mentioned on his personal account on Twitter that Google started to remove those 1-star ratings because rating attacks are against Play Store rules.

21st May – Product feed ads and Custom Details pages on Google App Campaigns 
Some members of the ASO Stack Slack group spotted exciting news on Google App Campaigns. With those new products, the expected results are to improve performance campaigns and offer more options to the users, thus the chances of them clicking on your ads will be increased.

27th May – New experiment on Google Play test cross-platform integration with YouTube 
Play Store is testing the new section "Watch other plays" on the store page
on some of the biggest selling games in the store: PUBG Mobile. Although it seems to be a very limited experiment, the test consists in showing gameplay videos powered by YouTube, says 9to5Google.

The hypothesis is to offer different reasons to download the app and then analyze the user reaction to those. Will it increase or decrease the game conversion rate? Let's see in the coming months. 
Upcoming events in June:
2-4th June — MGS Global Virtual Conference 1.0, Online
10-11th June — Virtual 3D conference for mobile developers, Online
17th June — SpeakHer Virtual Summit, Online
24th June — The Virtual Growth Marketing Conference, Online
Interesting Reads
How COVID-19 changed the App Store in Sweden and isolated Europe
The ASOdesk mobile marketing platform has conducted research and analyzed App Store rankings changes in European…asodesk.com
Improving A/B Tests reliability in Google Play – ASO Blog – Mobile Growth & App Store Optimization…
A/B testing has become a standard practice in mobile marketing with ASO being no exception to the rule. The principles…www.apptweak.com
How to find keyword trends when doing ASO research
What a time to be alive. With COVID-19 lockdown around the world, everything is online, and the competition on the app…appfollow.io
Data Used by Mobile App Downloads Surged 52% During COVID-19
A sharp rise in consumer adoption of mobile apps during the global COVID-19 pandemic precipitated a significant…sensortower.com
Economic Headwinds Prompt Demand for Finance Apps | App Annie Blog
Consumers are turning to finance apps at record levels amidst volatility in the market and uncertainty over the…www.appannie.com
How is the mobile economy changing during the coronavirus pandemic? | App Annie Blog
Amir Ghodrati and joined Peggy Anne Salz on the Mobile Presence podcast to discuss the novel impact the coronavirus…www.appannie.com
Mobile Minute: Apps Get Flexible to Meet Timely Consumer Demands | App Annie Blog
In the last month, Uber has a number of initiatives to help local restaurants by eliminating customer delivery fees…www.appannie.com
Average App Conversion Rate per Category [2020] – ASO Blog – Mobile Growth & App Store Optimization…
When talking about app conversion rates, most ASO experts refer to the 'App Page Conversion Rate' or percentage of…www.apptweak.com
How smaller apps use ASO to rise in fitness category – ASO Blog – Mobile Growth & App Store…
The last few months have seen a change in how we go about our personal fitness. With movement restricted and people…www.apptweak.com
A/B Test App Screenshots with Apple Search Ads Creative Sets | LaunchMatic
A/B testing gives you insight into what screenshots convert the best and is an important part of the conversion rate…www.launchmatic.app
Google Purged Almost 1,000 Abusive 'Creeperware' Apps. Now Some Are Coming Back.
Catch a Cheating Spouse now has more than 10,000 downloadsonezero.medium.com
Tool updates
Discover our New and Improved Keyword Tool – ASO Blog – Mobile Growth & App Store Optimization |…
Keyword optimization has been the core of AppTweak since the early days. In the past years, new features have been…www.apptweak.com
NEW: Text Editor + Improved Welcome Pack + 4 Locales
Every month we present new features. This May isn't an exception. We've prepared something really huge! It's the Text…blog.checkaso.io
Discover our new export system and customize your reports! – ASO Blog – Mobile Growth & App Store…
We just revamped our export system and it is now easier than ever to export all your data from AppTweak. You won't need…www.apptweak.com
A new free tool for collecting semantic core Keyword Shuffler
We are glad to present the free Keyword Shuffler tool, registration is not necessary. This tool is perfect at the stage…asodesk.com
Google now allows registering .app…
---
June 4, 2018


by Oksana Iarosevych
At the beginning of March, it was…
---
April 4, 2018


by Mantvydas Lisauskas