In the ASO Monthly-series by ASO Consultancy Phiture, we reflect on the previous month and highlight trends in app store optimization, algorithm changes, insights in conversion rate optimization and tools updates.
Subscribe to receive the ASO Monthly via email.
This update was prepared by Adzsa Hatano, an ASO Specialist at Phiture.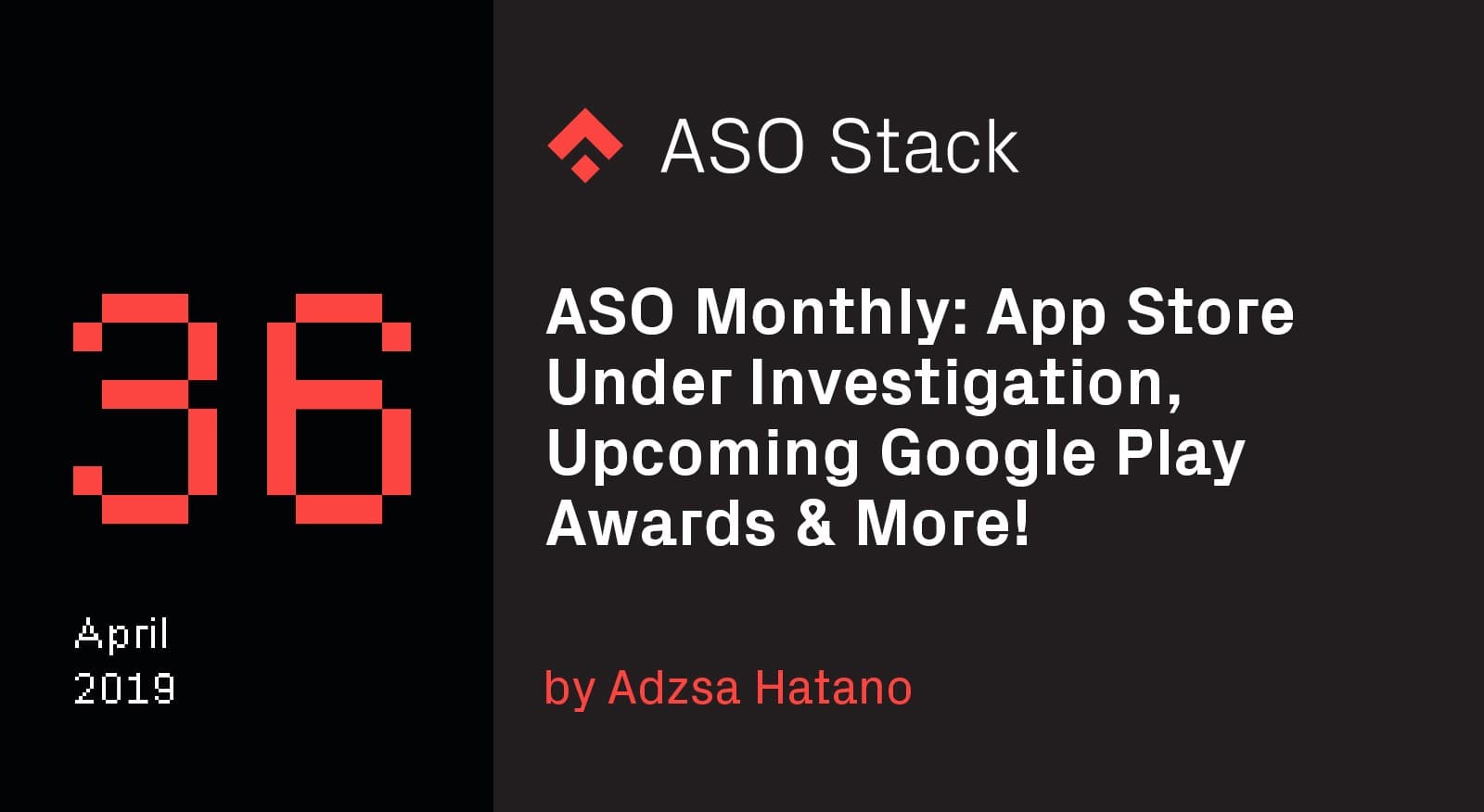 It is less than a month until the App Store Optimization Conference 2019 in Berlin on 22nd May!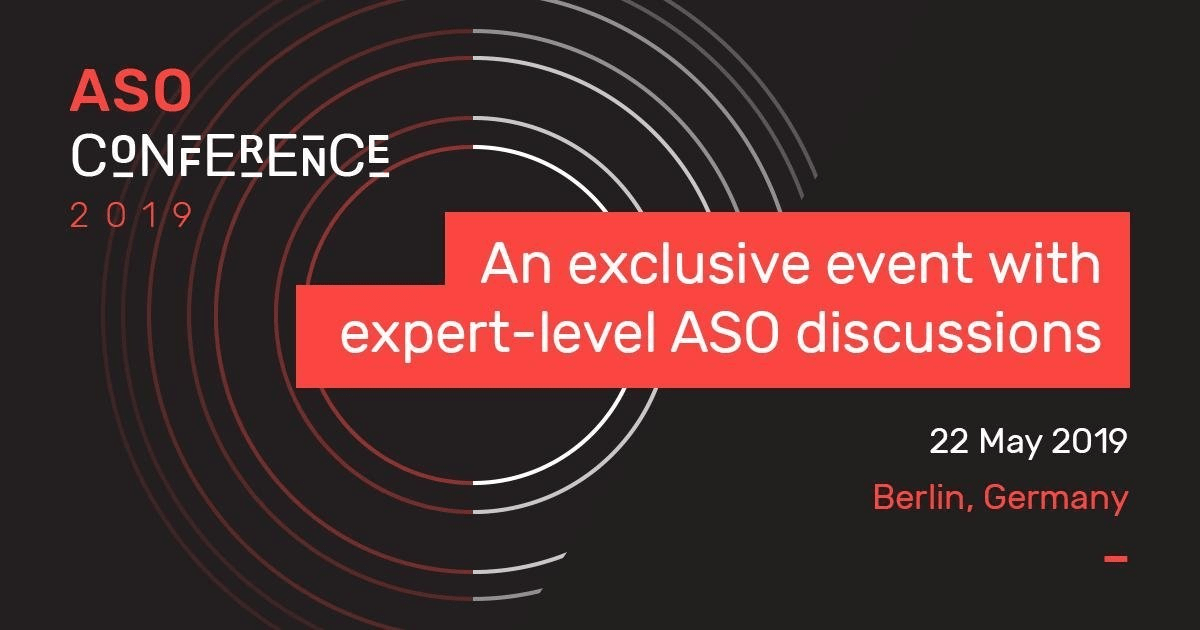 Over 8 Hours: Of pure ASO knowledge sharing.
Over 12 Speakers: The ASO Rockstars who will share the most exciting ASO strategies and tactics.
Over 100 ASO Experts: Meet and exchange with the brightest minds in the industry.
Register before the limited number of tickets sells out! Find out more details here!
4th April — Decrease in downloads on App Store: FY Q2 2019
Kif Leswing, a technology journalist, reported that the App Store is seeing a decline in the total number of downloads in FY Q2 (30 December 2018–30 March 2019) 2019* for the first time in four years. Downloads have dropped 5% in comparison with the same period of time in the previous year. Original data by Morgan Stanley has not yet been published, however, the App Store revenue is expected to remain robust.
The recent disputes with streaming providers (e.g. Netflix and Spotify) who have stopped subscription offers from their apps could be one cause of the decline, as well as a scaling down of downloads in China.
On 30th April, Apple announced the results of FY Q2 (30 December 2018–30 March 2019) 2019, and its quarterly revenue dropped by 5% to $58 billion. Sales in iPhone/iPad/Mac declined, but sales in services including the App Store saw an increase, reaching a record high of $11.5 billion, according to Apple. It seems that services are the driving force of Apple's business as the announcement of Apple Arcade's launch last month shows.
*Apple's fiscal year for 2019: from 30th September 2018 to 28th September 2019.
8th April — More insights into your Android App on Search Console
Google Webmasters tweeted that Search Console provides with more data for the linked app, such as impressions and Click-through rate.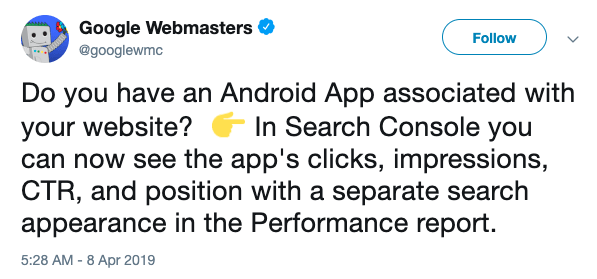 Source: Google Webmasters
Integration between a web page and an app is the first step. Google allows Android apps to be associated with the web page and appear in Google Search results. Android users can then be directly guided to apps. This indicates that indie developers would benefit from access to more data on their traffic sources.
10th April — Keyword dances on the App Store
Keyword dances happening between 6–8th and 10–12th of April on the App Store have been flagged by a few members of the ASO Stack slack. An official announcement of algorithm changes has not come yet.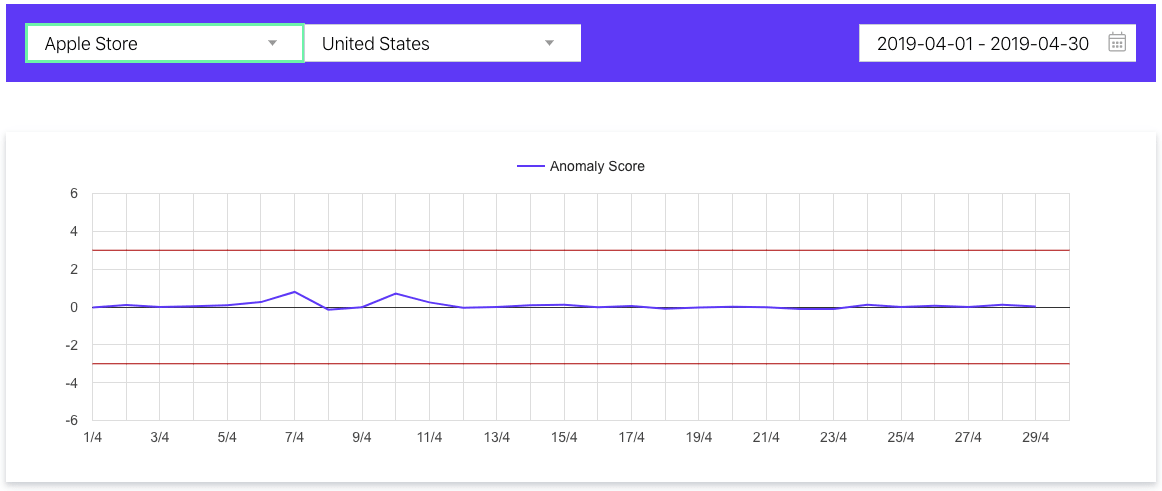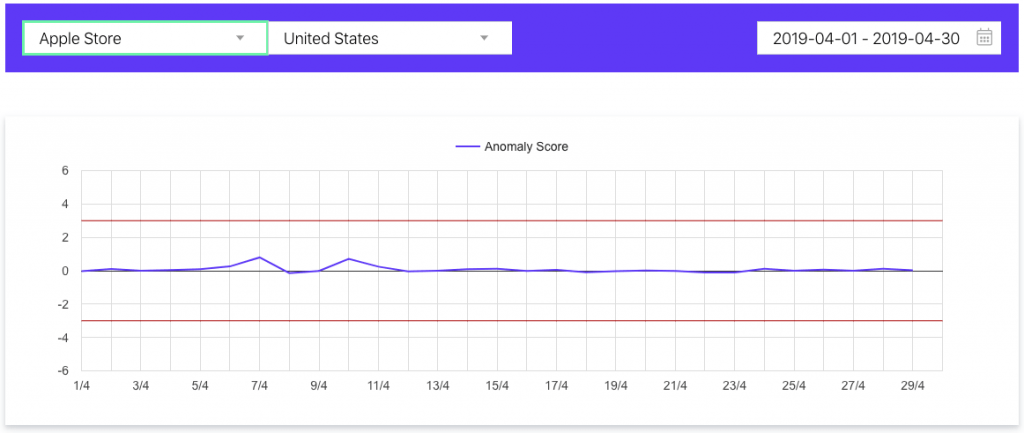 Source: AppTweak's Algorithm Updates Tracking Tool
11th April — Apple is targeted by the Dutch authorities.
The Netherlands Authority for Consumers and Markets (ACM) published the report in the App Stores and will start an investigation into Apple abusing its power by favouring its own apps on the App Store. It was only a month ago that a complaint about Apple's business practices was filed by Spotify and the European Commission. The report suggests that app providers do not always have a fair chance, based on the fact that the Store managers push their own pre-installed apps, enforce the Store's payment system and take a commission. The ACM states that "ACM will investigate, among other aspects, whether Apple acted in violation of the prohibition of abuse of dominance, for example, by giving preferential treatment to its own apps." Currently, the investigation is only targeting Apple due to the high volume of complaints from app providers, but it is expected that Google will also come under scrutiny.
While Apple comments that all app developers are treated equally, many app providers remain sceptical about this. Apps that have given up certain keywords because of Apple's domination will be grateful for these interventions by third party authorities. The ACM is open for indications from app providers.

Screenshot of the search results for "music" in the US. Apple holds the first positions.
11th April — Apple added an extra confirmation for subscription plans
David Barnard reported that Apple implemented an additional step in order to confirm the subscription, which is expected to protect users from accidental and fake subscriptions. The pop-up message will show up once users verify identifications by Face ID or Touch ID, which is often the case when an accidental subscription occurs.
Confirm Subscription
The subscription will continue unless cancelled in Settings at least one day before a subscription period ends.
Earlier this year the subscription guidelines were updated. Now the subscription plan must be clear and comprehensive for users in terms of prices, plans, renewals etc.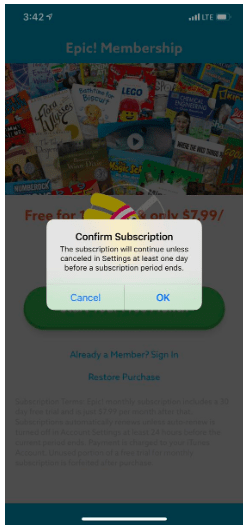 A new additional pop-up for confirming the subscription (via David Barnard Twitter)
13th April — Store listing layout test on the Google Play Store
Ankur Shrivastava reported Google has been testing a potential new store listing layout. Currently, the Google Play Store conducts A/B test for a "new" layout with these changes:
・ Feature graphic/ promo video is back and placed at the top.
・ The short description is left-aligned and moves up to screenshots, with "READ MORE" extension for description.
・ Ratings and the number of reviews go below the screenshots.
・ Editors' choice is placed between the screenshots and ratings.
・ Category and the number of downloads are not displayed at the top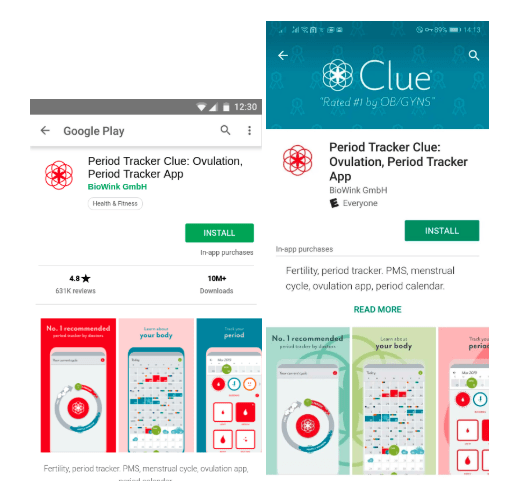 Store listing comparison: current (left) and new (right) (Clue)
Since the feature graphic was removed from the store listings last year, Google has conducted this type of test several times. We expect that the current store listing without a feature graphic, which is the most impactful asset for conversion, may not have achieved the desired result.
16th April — Applications open for Indie Games Accelerator program 2019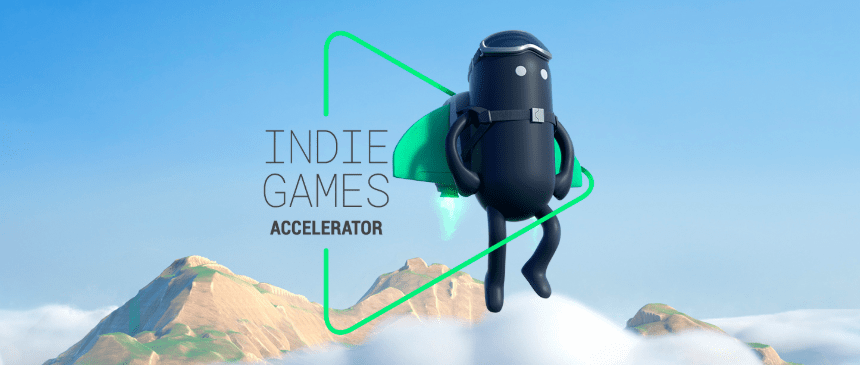 Source: Google Play
Google has opened applications for Indie Games Accelerator program 2019. This is a part of the Launchpad Accelerator program that supports startups to build great products in their regions, and exclusively targets top indie game startups in some countries in Asia, Middle East, Africa and Latin America who are keen to boost their growth on Android.
The curriculum will cover "a broad variety of game topics including technical development, design, gameplay, user retention, user acquisition, monetization, and team leadership," which could inform your ASO strategy going forward. Applications will close on 19th May 2019. Find more details on the program page!
17th April — Google has removed 46 apps for fraud and service abuse
BuzzFeed News has revealed an investigation for "large-scale ad fraud and abusing user permissions" by DO Global, Chinese developer owning 46 apps with more than 800 million monthly active users overall on the Google Play Store. The apps were consequently removed from the Store.
According to the article, at least six of their apps are generating revenues through dishonest means. A few of them "contain code that could be used to engage in a different form of ad fraud", says BuzzFeed News. Its investigation has named 4,889 popular apps as problematic apps which use unnecessary permissions and "dangerous permissions."
The findings develop the discussion of Google Play's controls on the Store.
"The findings demonstrate how Google's Play store, the largest app store in the world, has been exploited by developers who easily conceal who they are from users, offer apps with invasive permissions, and use these permissions to commit ad fraud — all while collecting huge amounts of user data. The result is an app ecosystem that's easily taken advantage of to abuse users and steal money from advertisers."
Further details on the investigation can be found here.
23rd April — Google Play conducts a survey for feedback and shows some potentially new features
Moritz Daan spotted that Google Play has conducted a survey in order to "help us organize Play Console pages better by telling us your opinion. (Currently only available in English)."

Screenshot of Google Play survey by Moritz Daan
It ranges from reports to products. Some of the questionnaires address potential new features, such as:
・ Permission declarations — Declare the use cases that are served using sensitive permissions whose usage Google Play restricts
・App size report — Understand and analyze your app's size over time and compared with peers (including download size and installed size)
・Uninstall report — Identify user segments that are more likely to uninstall, and get insights into actions you can take to reduce uninstalling
This suggests that there will be updates on the Google Play Console with additional functions but it remains unknown as to when this will happen.
24th April — New app icon specification for the Google Play Store can now be implemented
Flagged by Ondrej Veverka on the ASO Stack Slack, new app icon specification can be applied on the Google Play Console now.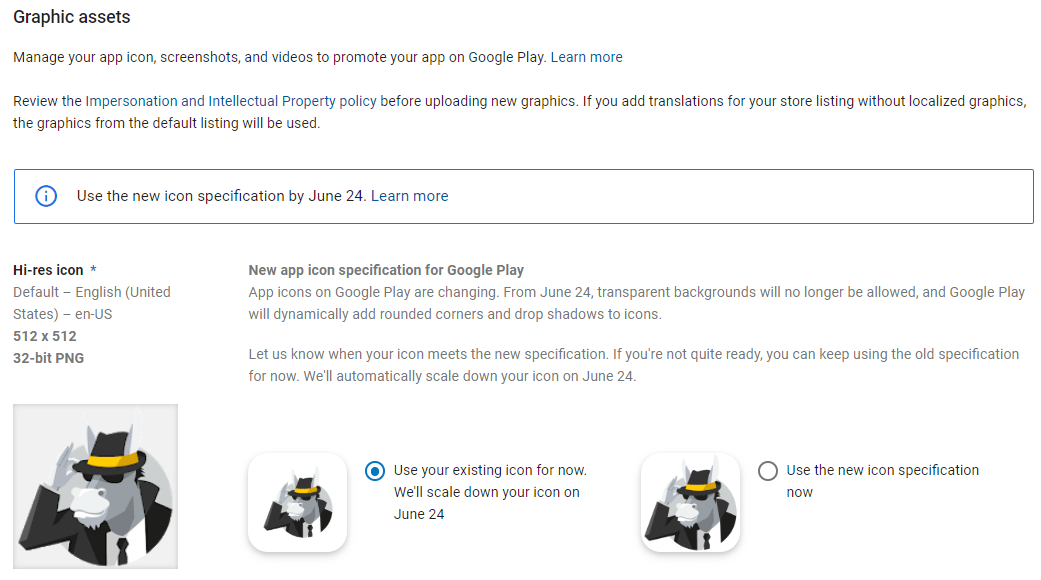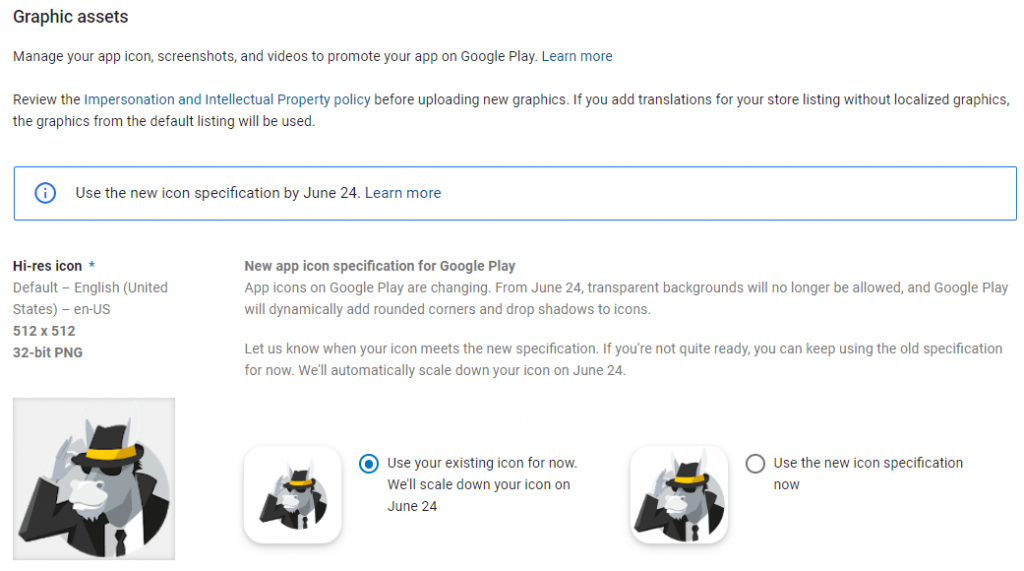 Source: Ondrej Veverka via the ASO Stack slack
This allows you either to:
・ Use your existing icon for now. We'll scale down your icon on June 24
・ Use the new icon specification now
Last month, Google announced uniform app icons with an expectation that "these updates will help us all provide a more unified and consistent look and feel for Google Play, allowing us to better showcase your apps and games and provide a higher quality user experience." App icons on the Google Play Store is one of the most powerful assets for the first impression as it is the only visual asset shown before arriving at the store listing for many apps. From 1st May onward, a newly uploaded icon must follow the new icon specification, while you are still allowed to use the original app icon until 23rd June.
25th April — Nominees for the 2019 Google Play Awards are announced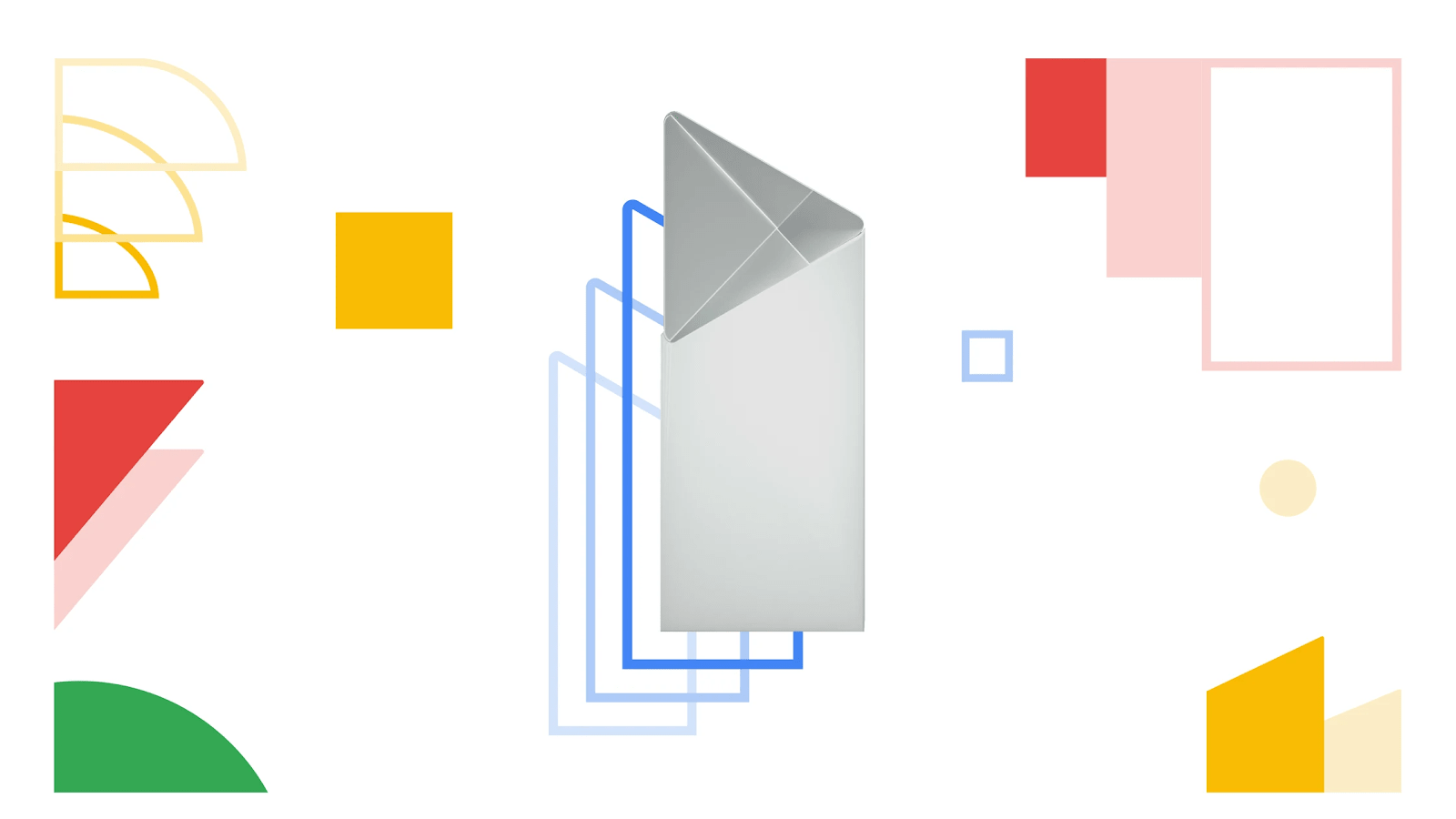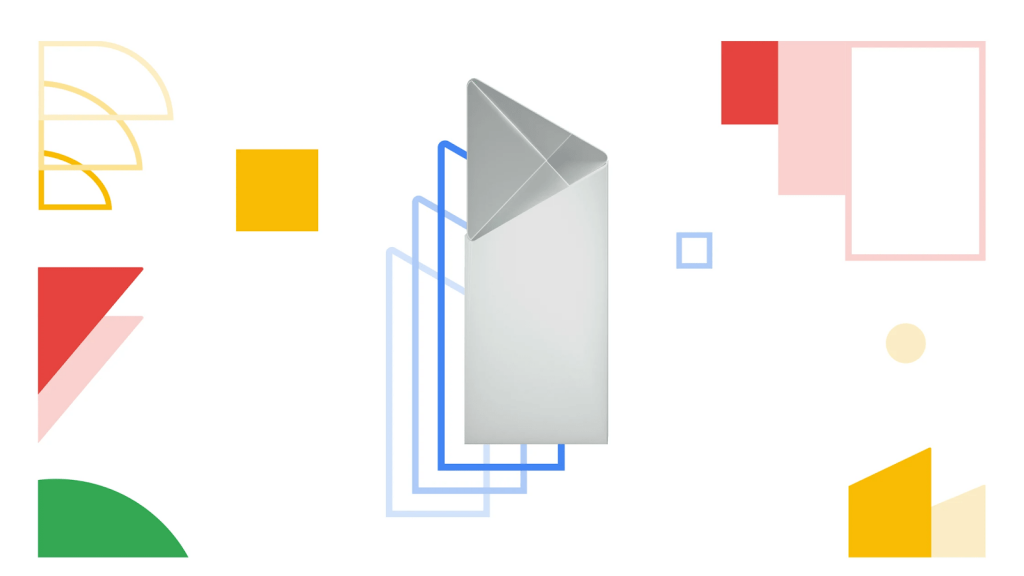 Source: Google Play
Google has announced 45 apps as nominees of the 2019 Google Play Awards, which "highlight developers who strive for quality and drive innovation on Android." The nominated apps were selected based on certain criteria including a high star rating, Android vitals and release/ major updates since April last year, according to Android Developers Blog.
Who is excited to know which apps will pick up awards? The winners will be announced on Monday, 6th May (8:15 PM PST)!
25th April — App Store bug: Endless prompts to accept the Terms and Conditions
9to5Mac reported that a small (unknown) percentage of iOS users are affected by a bug that prevents them from downloading new apps or updating apps on the App Store by asking to agree on the Apple Media Services Terms and Conditions numerous times. While TechCrunch, later on, reported that Apple has fixed the bugs, it might explain the slight decrease that ASO practitioners could see in their app units.
Upcoming events in May
Mobile Apps Unlocked (Las Vegas, US, 1st -2nd May)
App Marketing Summit London/ New York (London, UK/ New York, US, 9th May)
App Store Optimization Conference Berlin 2019 (Berlin, Germany, 22nd May)
App Growth Summit Berlin (Berlin, Germany, 23th May)
More Mobile Growth events can be found in our list here!
Tool updates
Interesting Reads
This update was written by Skylar…
---
October 2, 2019


by Skylar Grabecz
At the beginning of March, it was…
---
April 4, 2018


by Mantvydas Lisauskas