… Apple's new attribution SDK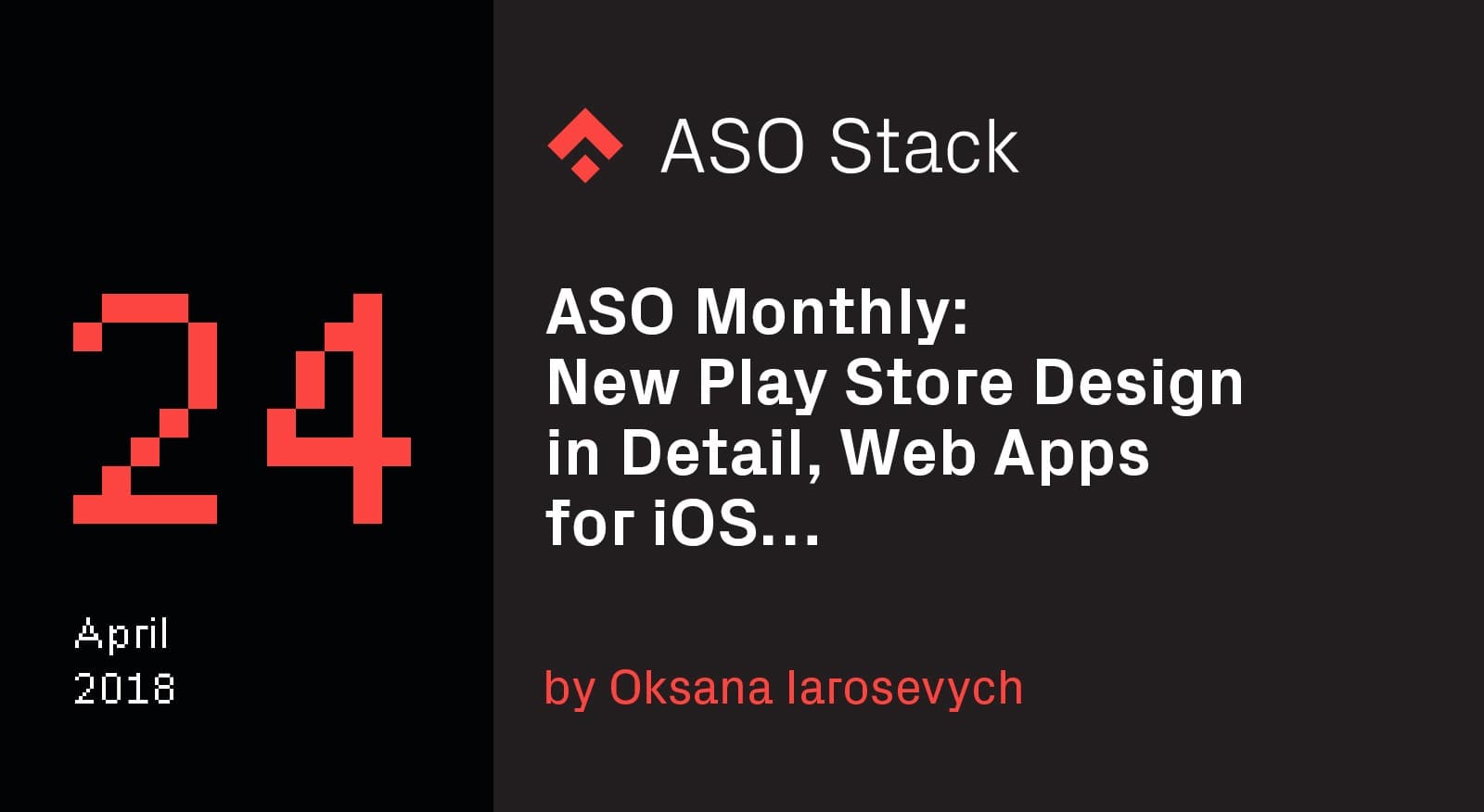 In the ASO Monthly-series by ASO Agency Phiture, we reflect on the previous month and shed a light on trends in app store optimization, algorithm changes, insights in conversion rate optimization and tool updates.
Subscribe to receive the ASO Monthly via email.
April 1 — Progressive Web Apps available on iOS
The web apps were made available for iOS in 2007, introduced back then by Steve Jobs, and long forgotten and not supported. Now, with their iOS 11.3 update, Apple makes Progressive Web Apps available for iOS users.
Such apps have been long adopted by Chrome users on Android, but yet are new to iPhone users. They will be available for download only through the Safari browser and are referred by Apple as "web apps from the home screen". Applications will lack some of the Apple native features though, like Face ID on iPhone X or ARKit etc., but at the same time, they do not have to be approved by the App Store team.


More information on PWAs and their features and restrictions, can be found in the detailed Medium post by Maximiliano Firtman.
April 9 — Q1 2018 Report highlights new records of app store spend
AppAnnie reported Q1 2018 to have set a new record of app downloads and consumers' spend in the app stores (in the form of paid apps, in-app purchases or in-app subscriptions). Both stores combined added 10% YoY to 27.5 billion downloads and an additional 22% YoY in consumer spend.
According to AppFigures, 2017 was the first year for the Apple App Store during which the number of apps in the Store declined after consistent growth over the past few years.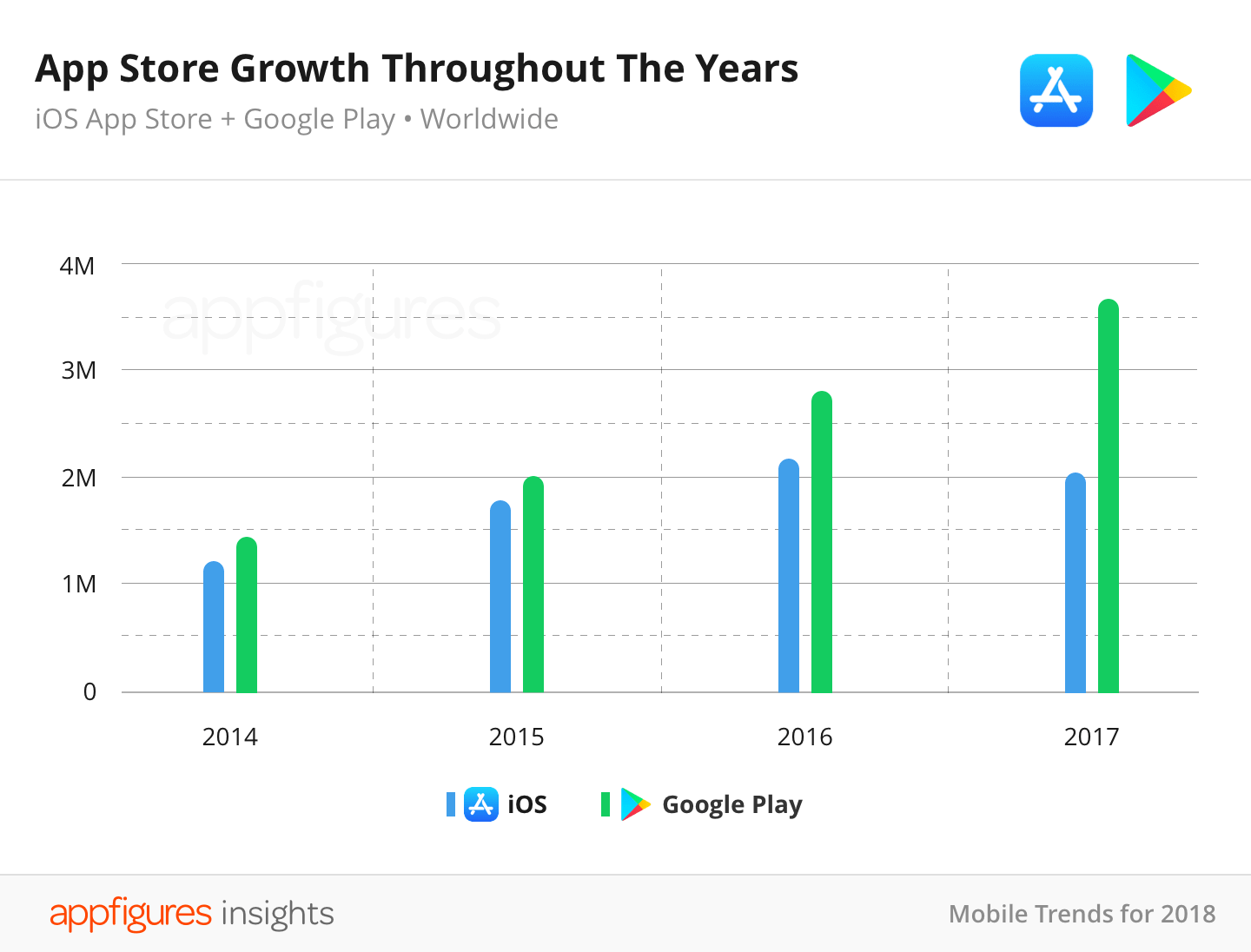 App Stores Growth through the years by AppFigures
One of the reasons for this is that Apple has been enforcing stricter guidelines and has been removing older apps. Also, less apps (namely 29% fewer apps) were initially submitted to the store by developers last year.
April 10 — Google Play Store to-be-released design in details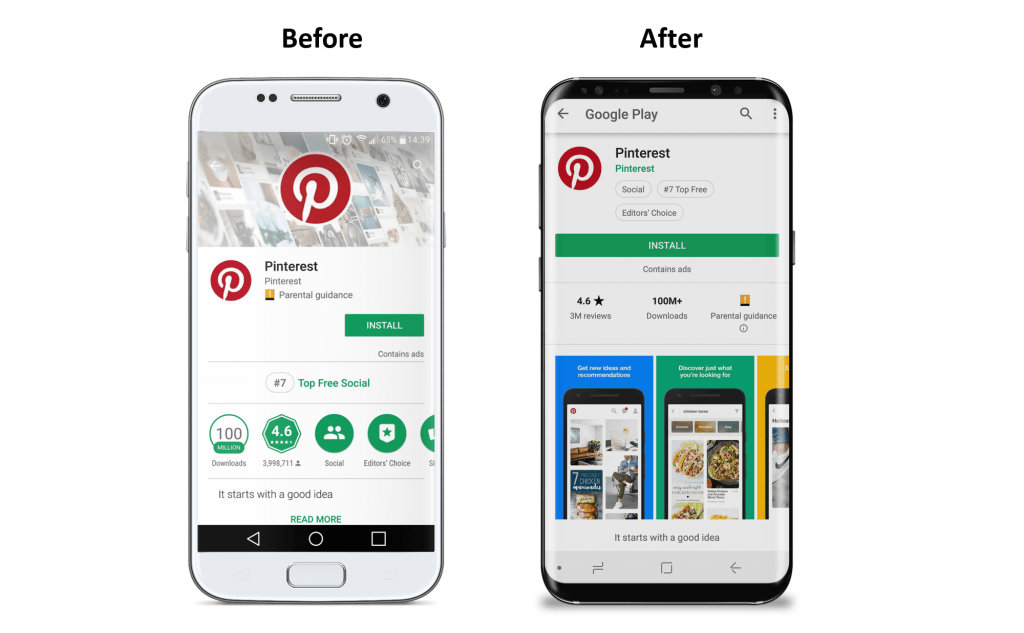 Before and after changes that are being tested In the Play Store
Let's have a look at the new accents on the new Google Play listing design, that Google is steadily rolling out. While the feature graphic is to be removed, the app promo video will be placed in the screenshots section, giving it more prominence. According to StoreMaven, only 10% of store listing visitors watch the Play Store video with the current design. This should change with its new positioning on the page. Screenshots will also play a greater role for conversion after the update. So far, they have been placed below the fold and did not appear on the first screen.
Speaking about the textual assets: The short description has been moved below the screenshots (meaning below the fold), which will decrease its impact on store listing CVR. However, the short description might be shown in the Play Store search which would be quite impactful.
More factors, not directly developer dependent will be highlighted on the Play Store page, incl. app ranking in top charts, Editors choice tags, etc.
The upcoming changes will strongly affect App Store Optimization strategies for many app developers and ASO specialists. Nevertheless, Google is constantly testing out new features, designs and functionalities of its Play Store and introducing new app ranking factors (e.g. Android Vitals), which will bring new challenges, depending on which will eventually be implemented.
Let's wait and see what #io18 brings us!
April 11 — Google Play: Changes in reflecting user reviews
Not only is Google changing the game for ASO marketers, but also for users, enhancing their experience in reading Play Store reviews. Instead of swiping through the app reviews with an arrow on the app page users can read all the reviews for an app on a separate page.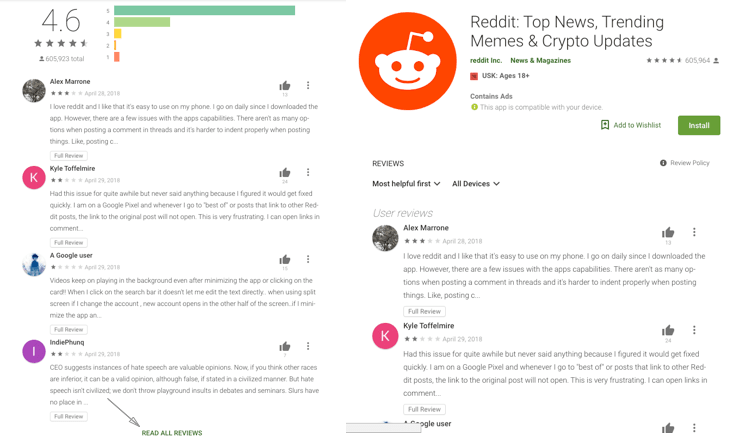 "View all reviews" page
Visitors are now also able to see the Edit history reviews edited by users. This feature can be helpful for seeing how users react to an app's new version.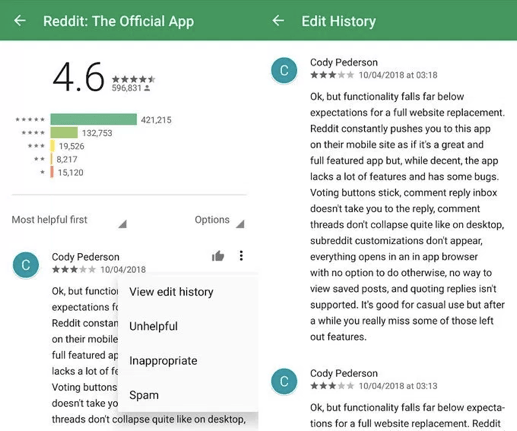 Reviews Edit history
April 12 — Apple released a new attribution API
On March 29th, Apple introduced a new set of APIs within its iOS 11.3 update called SKAdNetwork
The new SKAdNetwork API has been introduced by Apple with its iOS 11.3 update, as reported by MobileDevMemo. It will allow networks to attribute installs directly through calling the API, without third-party attribution networks. This big mobile marketing game changer has been released before the new GDPR regulations.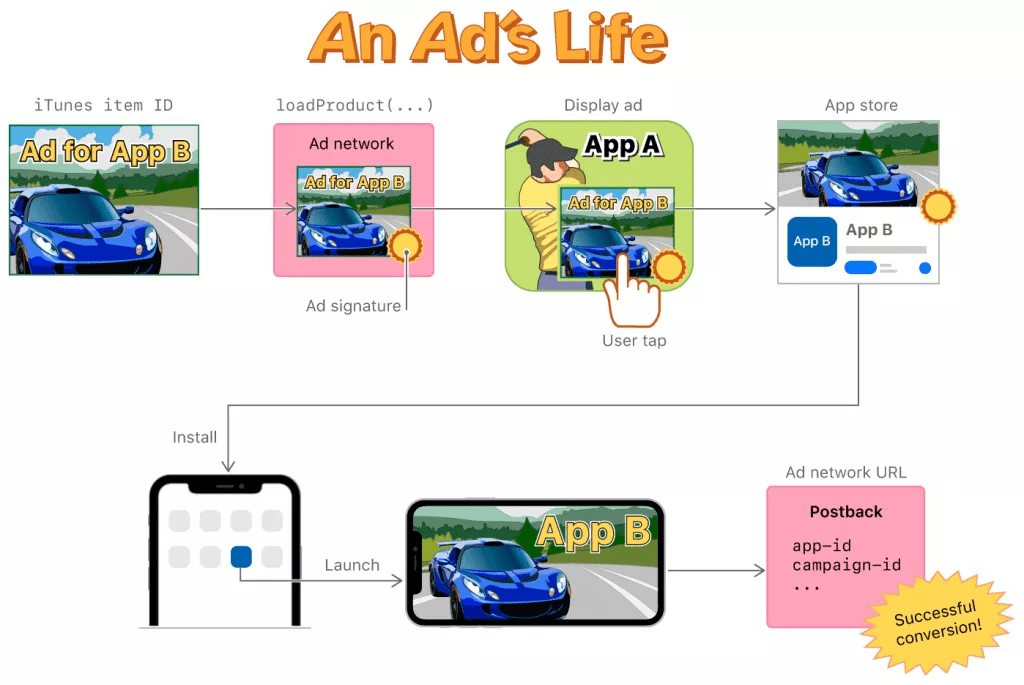 Image source: MobileDevMemo
April 18 — Playable game demos on Facebook Ads
Not only Google is testing new things to drive & engage users more. VentureBeat has informed that Facebook has started testing a new advertisement format of playable game demos inside the ads. This way the users can get a preview and feel of a game before they decide to install it. Who knows, maybe such a feature will come to the App or Play Store soon.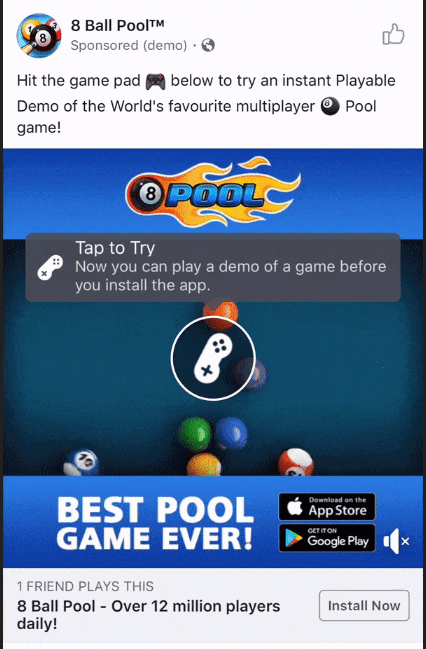 Playable ad format (source: VentureBeat)
April 23 — Changes in Google Play User Acquisition report

Google Play Console, Acquisition report
User acquisition in the Play Store has changed from "Installers" to "First-time installers", however, the historical data seems to be the same as found by ASO Stack Slack member Faith Price.
April 25 — App Store featuring stats by Sensor Tower
Sensor Tower analyzed the potential impact of the Today tab (introduced in the iOS 11) for games and apps on the App Store and shared some insights:
iPhone apps received download boosts of up to 800% by being featured in Today

Hero Banners increased installs by 236% for games and 111% for apps week-over-week

According to Sensor Tower's study, median weekly downloads of featured games at least doubled, while one feature type more than quadrupled installs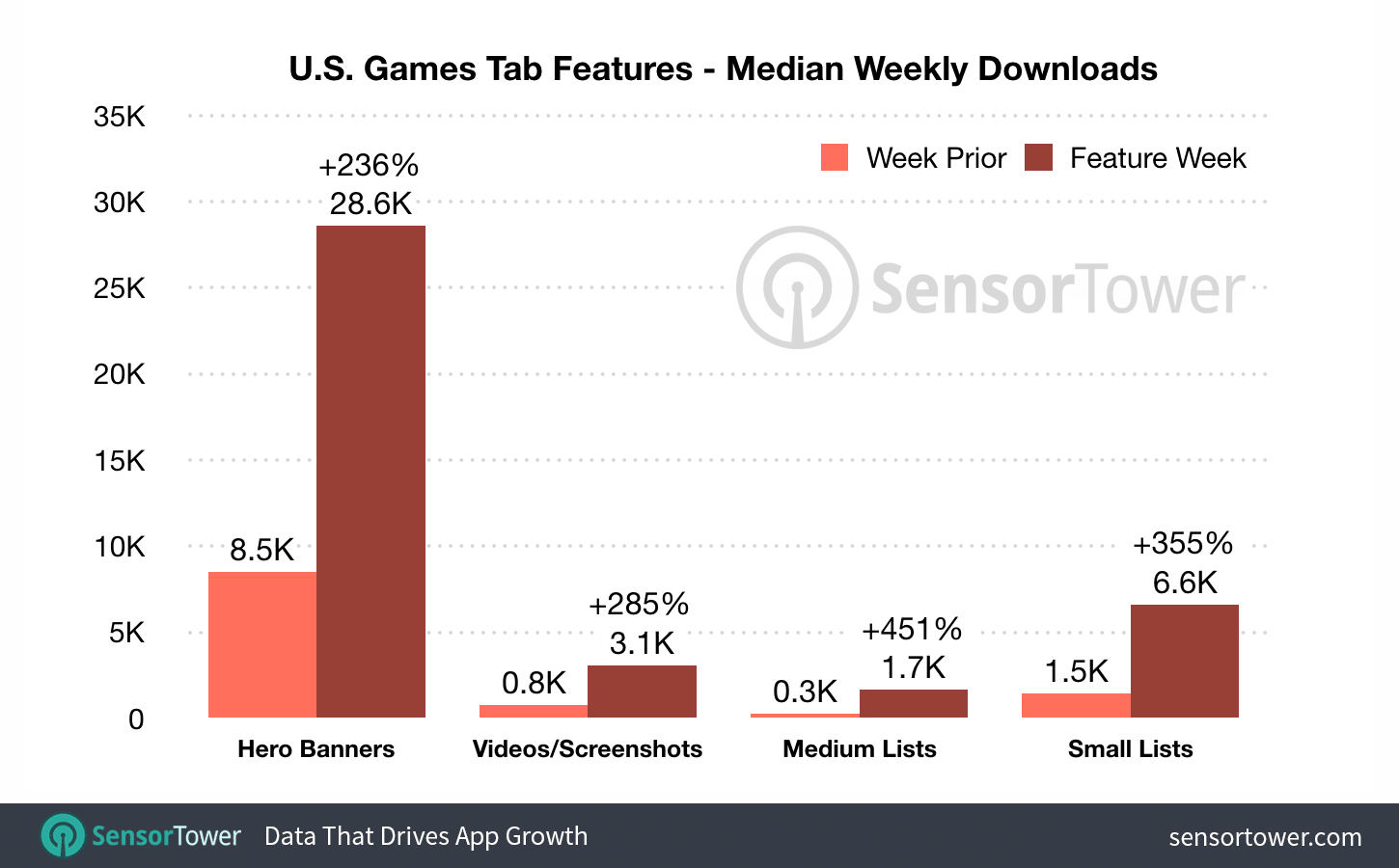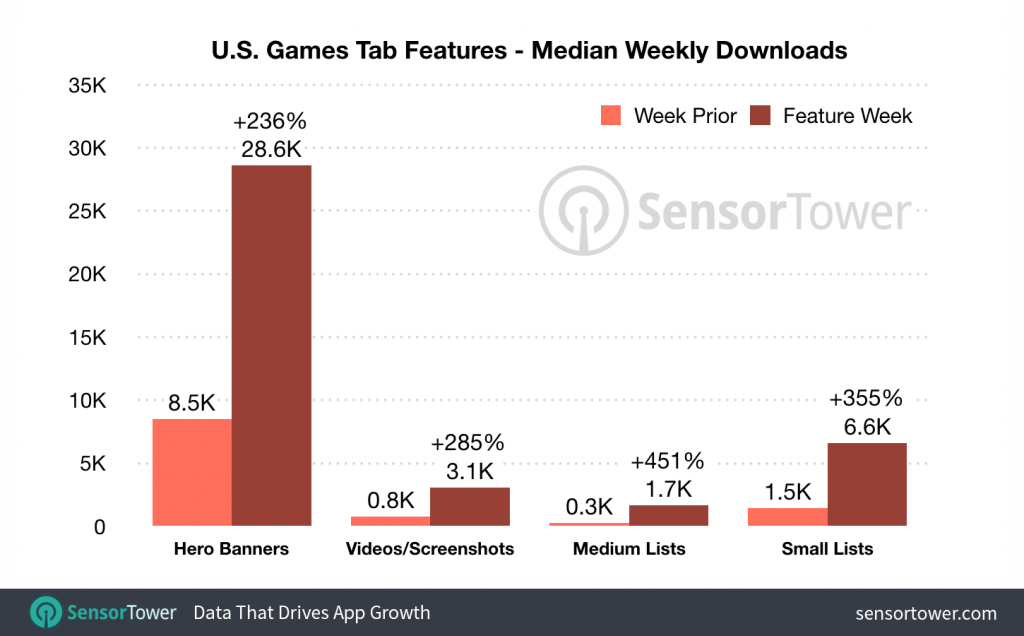 Potential impact of other types of featuring by SensorTower
Some more stats on the characteristics of apps that usually get featured in the App Store: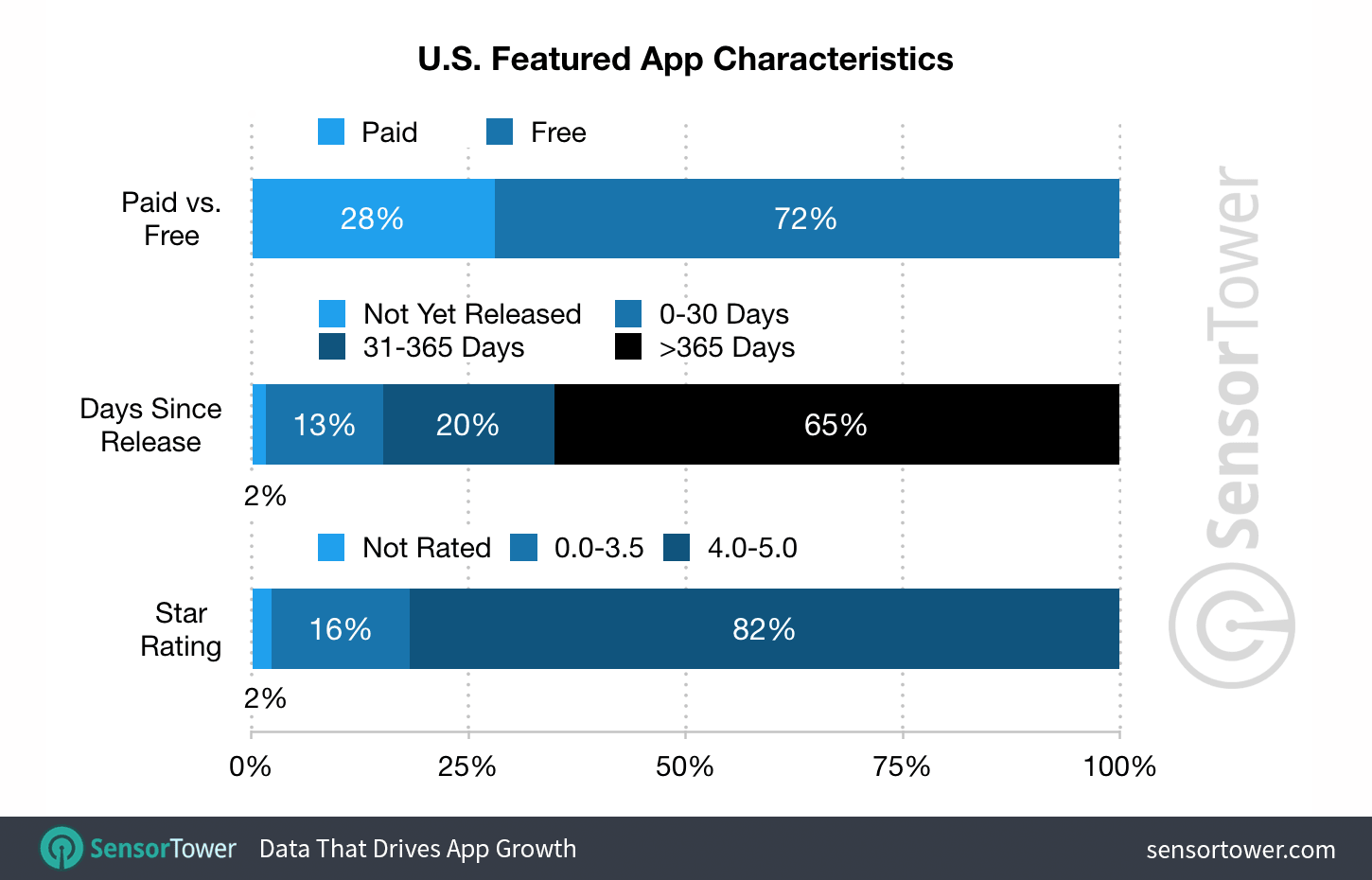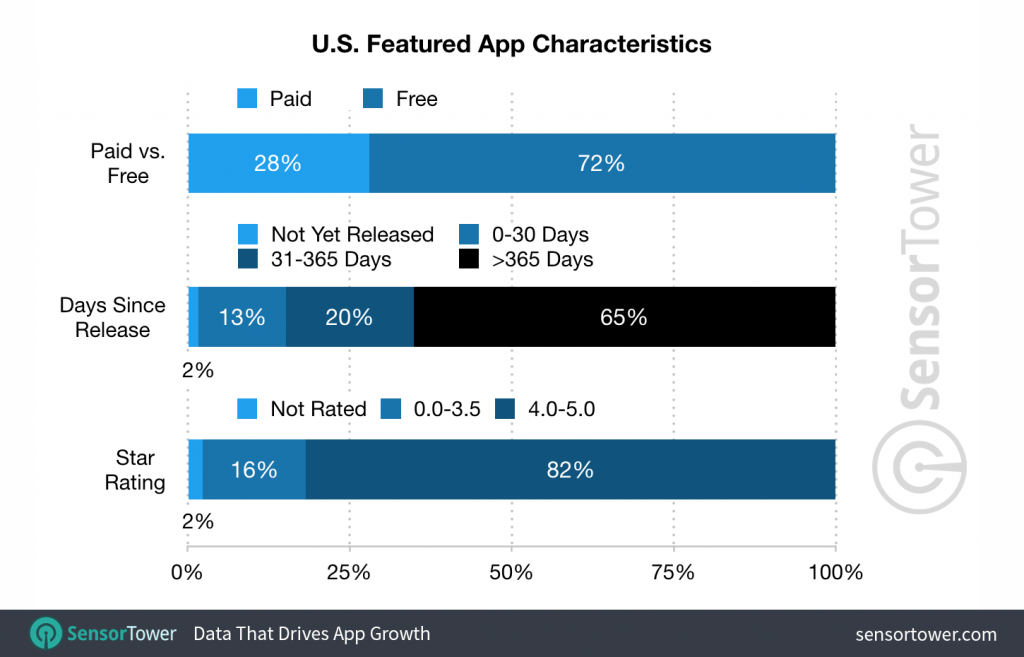 U.S. Featured App Characteristics by Sensor Tower
April 29 — Happening Now on Google Play
New little detail in Google Play store listing has been spotted by ASO Slack community member Rafal Baranowski — Happening now tab. Being similar to the App Store Promo Text this text informs the user about new events in the app or game.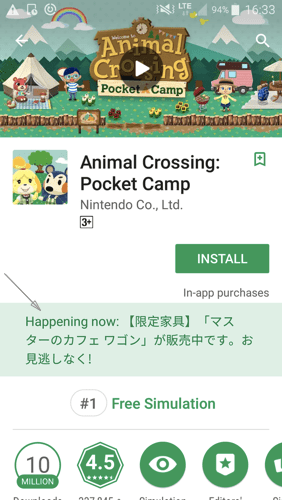 screenshot by Rafal Baranowski, ASO Slack group member
April 30 — Store Maven release their ASO chrome extension
A very helpful ASO Tool Box Chrome extension has been released by StoreMaven, that helps the ASO marketers see the mobile Play Store listing page on a device on the Google Play and App Store web listings. The tool also allows changing the store listing language, as well as downloading all the media assets with one click.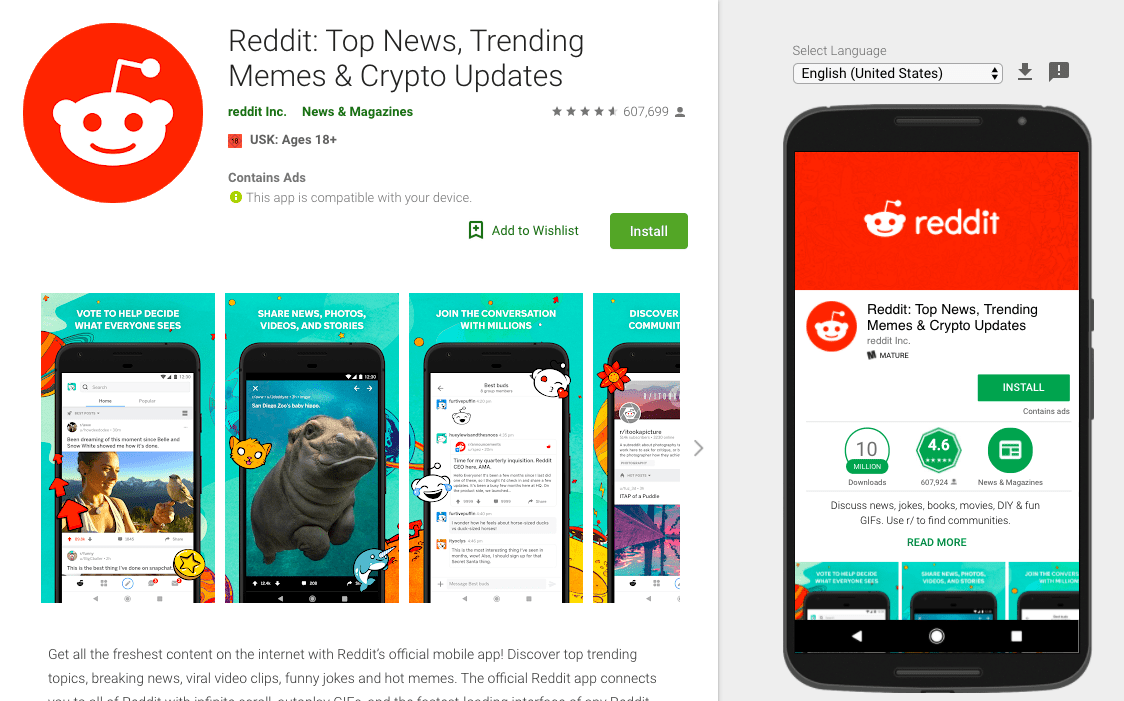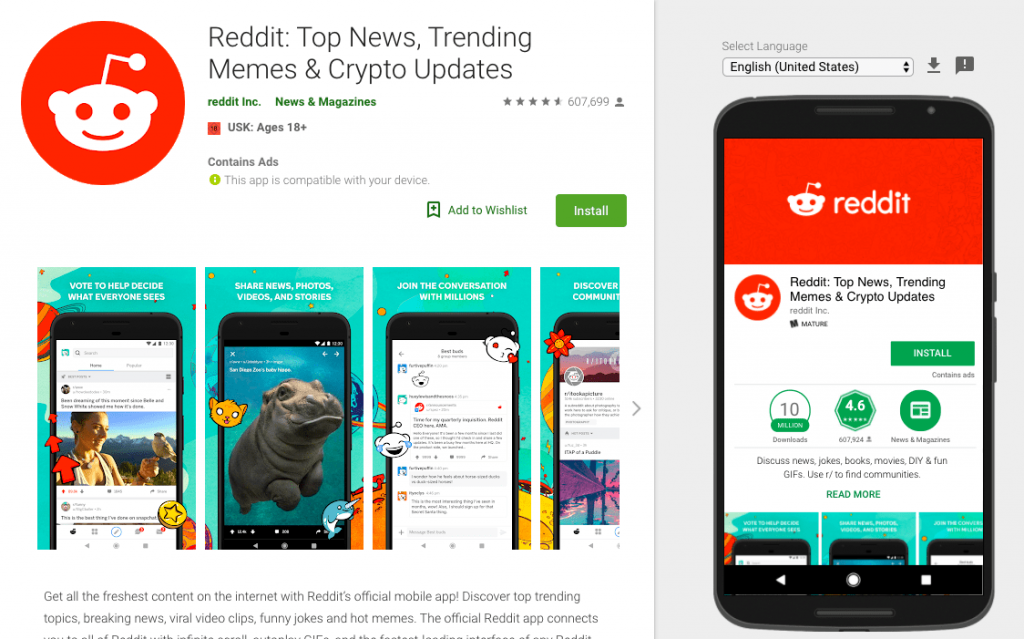 Store Maven Chrome extention
Events
Fellow marketers, we'd love to meet you at:
where Moritz, Andy, and Ed from Phiture team will be speaking together with other experts from the industry!
Links worth reading:
A/B Tests Results Analysis: Statistical Significance, Confidence Level and Intervals
How to use misspelled keywords to increase search visibility 
App Preview video testing by Apptamin
ASO tool news:
Thanks, that's it from us for April!
If you like the ASO Monthly series, please click the 👏button. Also make sure to follow the ASO Monthly-series.
If you would like to get ASO Monthly delivered directly to your inbox via email, please sign up above.
Previous ASO Monthly editions:
The ASO Conference 2019 is coming to…
---
August 1, 2019


by Alessandra Izzo
It is less than a month until the App…
---
May 2, 2019


by Adzsa Hatano