… Markets Retrospectives 2017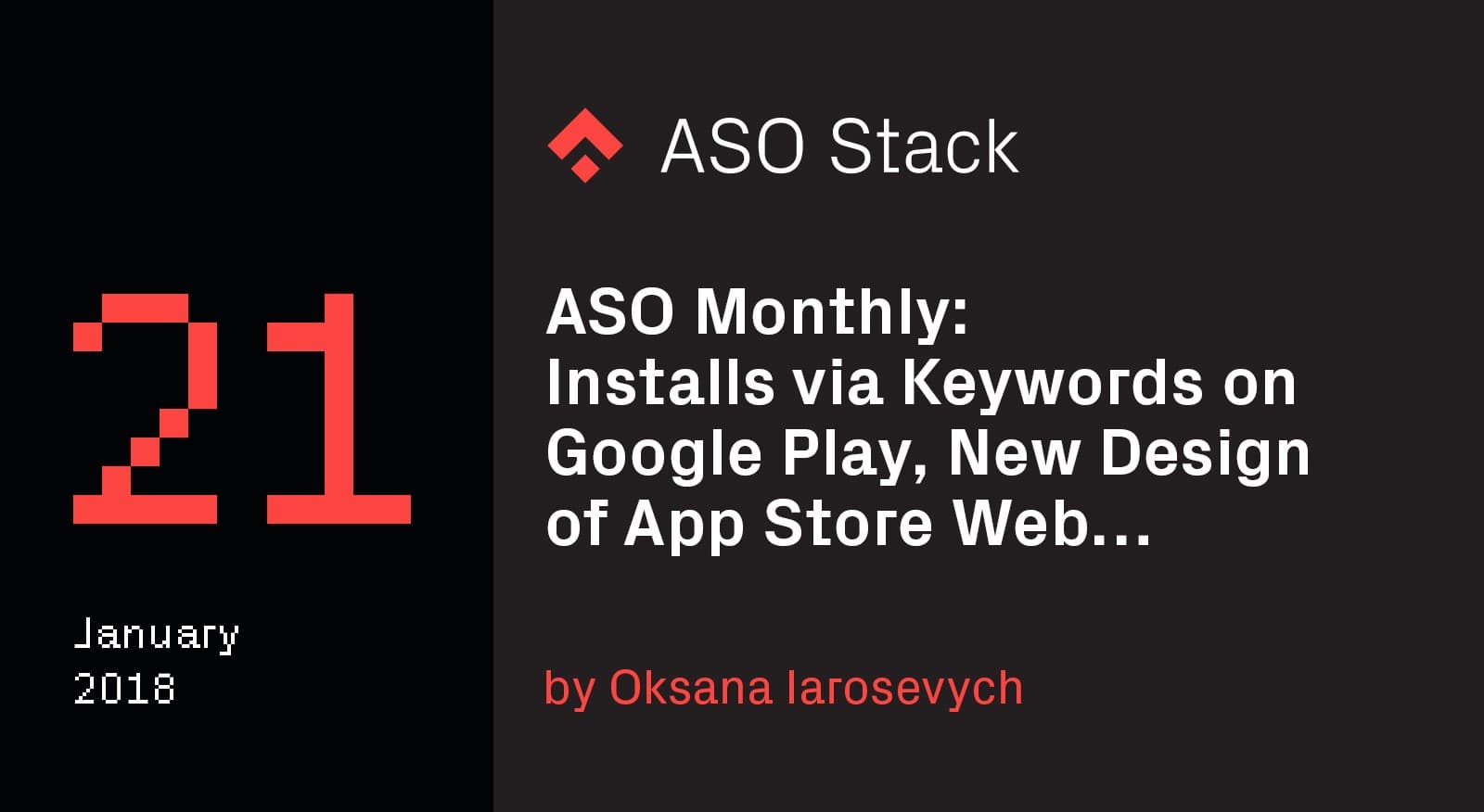 In the ASO Monthly-series by ASO Agency Phiture, we reflect on the previous month and shed a light on trends in app store optimization, algorithm changes, insights in conversion rate optimization and tool updates.
Subscribe to receive ASO Monthly via email.
January 8 — App Store: Record-breaking holiday season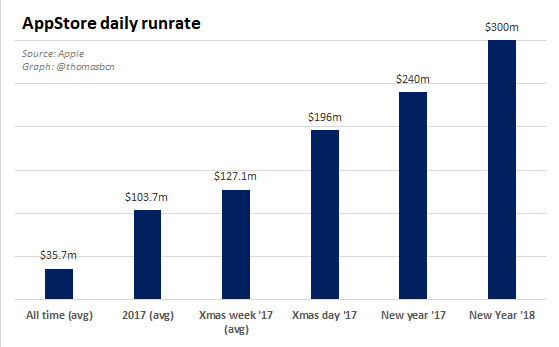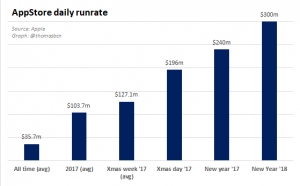 As Apple reported, App Store kicks off 2018 with record-breaking Holiday season of $300 Million in Purchases. Altogether over $890 million in Christmas seven-day period was spent by App Store visitors.
It was also mentioned that developers have earned around $86 billion since the launch of App Store in 2008.
January 11 — Google Play: Installs broken down via keywords
A real ASO earthquake! Google has released new organic search data on the Google Play Console.
Organic installs are now split via Search and Browse. Previously, only the total number of store listing visitors, along with organic installers, buyers and repeat buyers were available.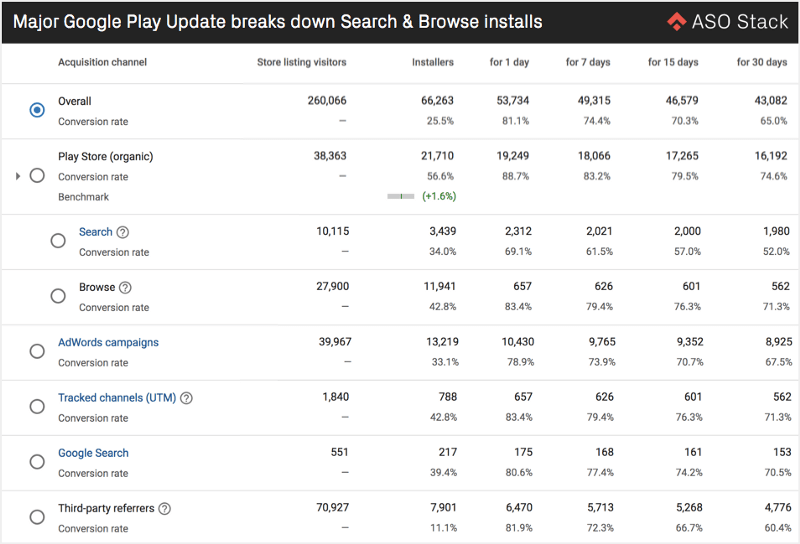 Play Store organic installs split into Search and Browse (dummy data)
Even more exciting news is that downloads are now also broken down via keyword. Data for up to 1,000 search terms displayed in User Acquisition tab.
Features are available in User Acquisition tab of the Developer's Console for some beta testers. Even though the data is considered to be not fully reliable at the moment, the feature is a major game changer in ASO.
January 14 — App Store: Promoting free trials for Subscription apps
As reported by iMore, Apple now promotes free trial subscriptions by apps who offer those. Tapping on the "Apps" tab browsing the App Store and scrolling down to "Try it for Free", user gets to a list of subscription apps that are currently being offered with free trials under "See All". This addition indicates that Apple is really doubling down on the promotion of in-app purchases and subscriptions in the App Store, and that a successful ASO strategy should therefore include In-App Purchases.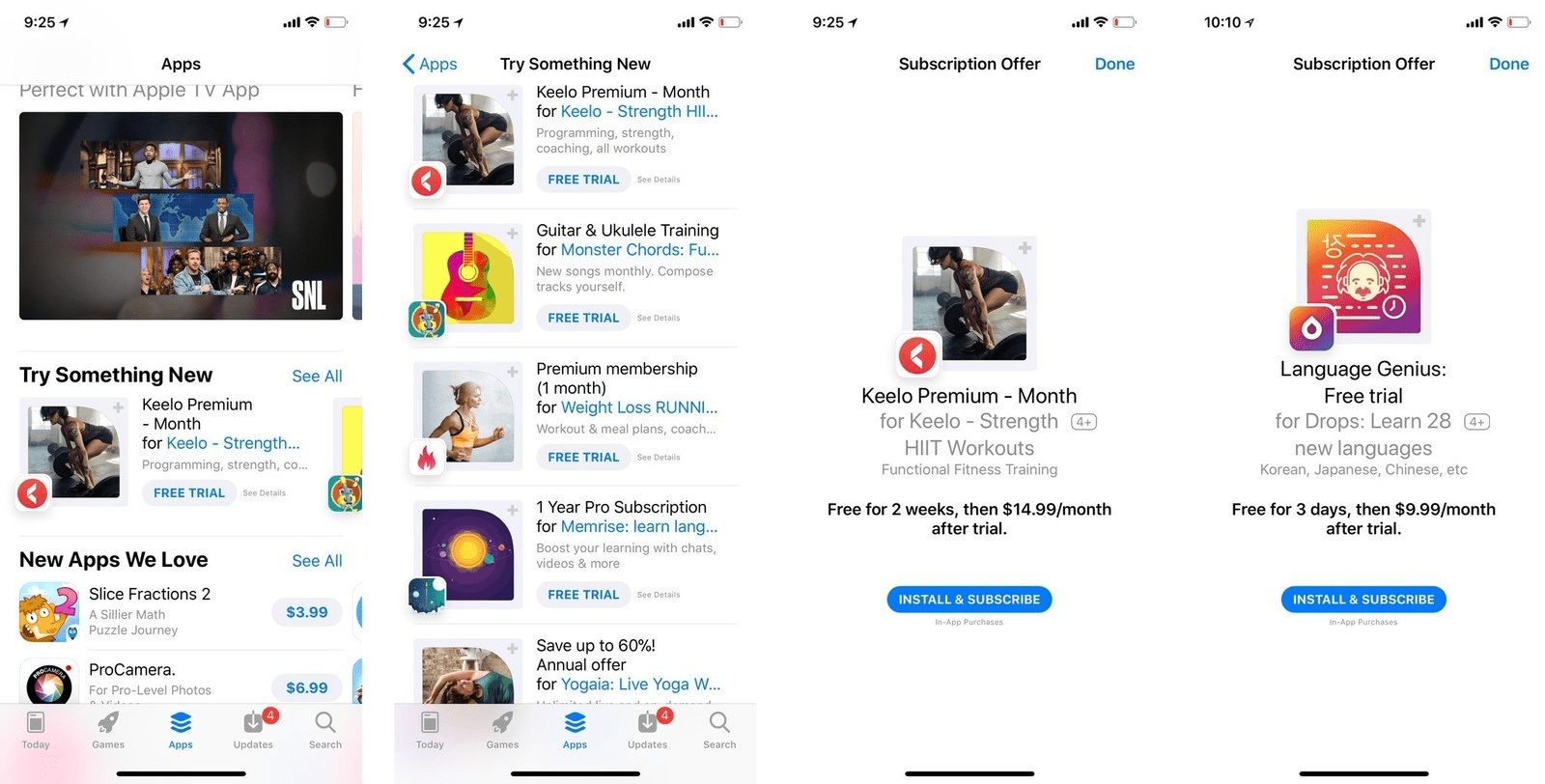 User flow for discovering free trials (via iMore)
January 18 — App Store: Redesigned web version
A major redesign of the Apple App Store desktop has been rolled out, looking closer to mobile version of the iOS 11 page. The new web listing now also includes Subtitle.
The message about app availability across the devices is placed on top of the page: "This app is only available on the App Store for iOS devices."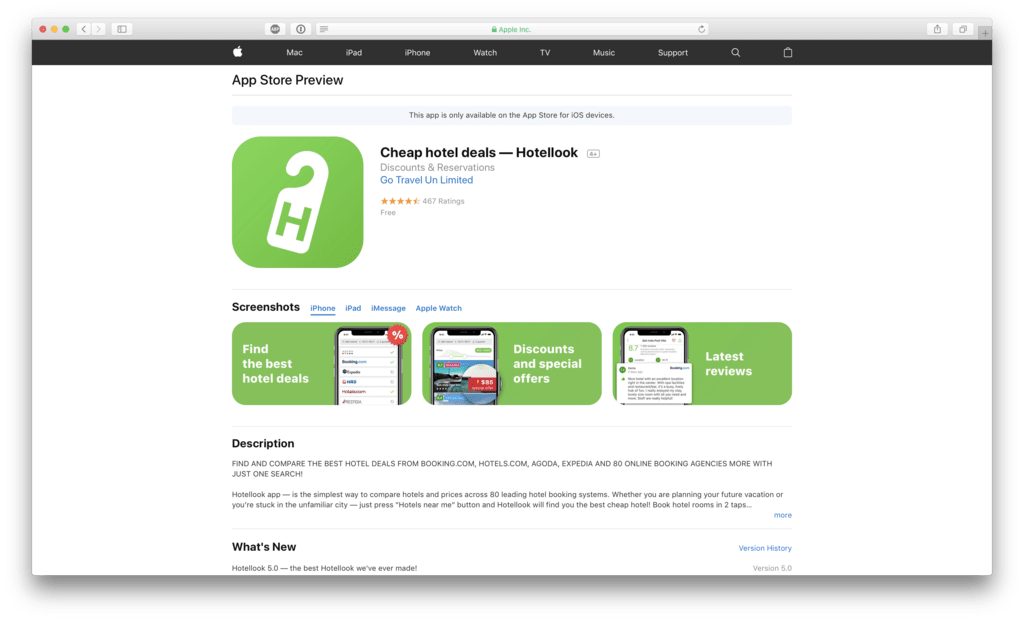 Screenshot of web App Store page by Ilia Kukharev
January 25 — App Store: New Features in iOS 11.3 Beta
A new iOS 11.3 beta version has been seeded by Apple to developers and will soon be followed by the public release. Together with other new features there are some small but important changes for ASO included into this version:
Featuring references have now been placed on the application App Store listing;

Users can see the recency of the application update and its size in the App Store Search. With the addition of the size in the updates list, size does matter even more, and bloated apps could become victim of an increase in uninstall.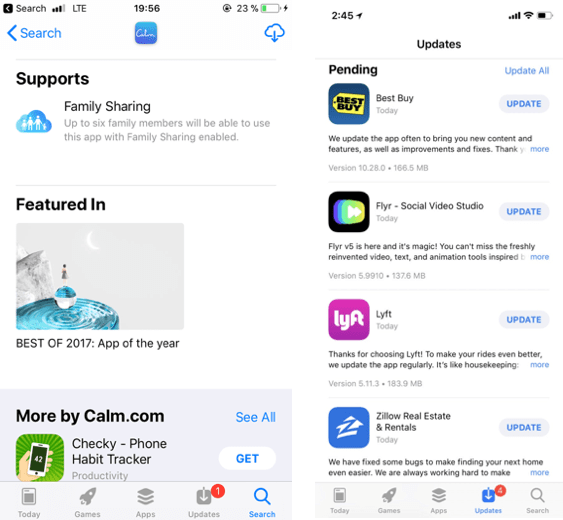 New App Store features
User reviews can now be sorted by different criteria: Most Helpful, Most Favorable, Most Critical, Most Recent. This feature is particularly important for the user (and for a developer, too) as old and irrelevant reviews used to appear on application's store listing.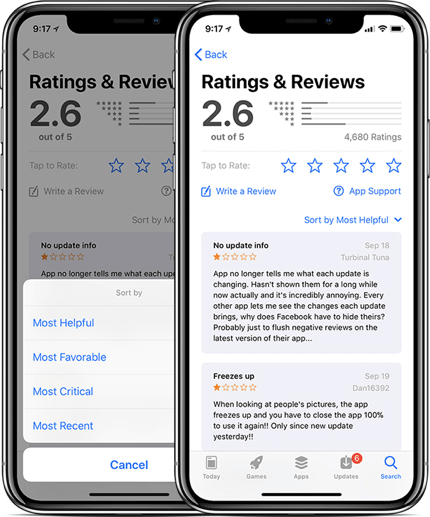 Reviews sorting feature (via Macrumors)
January 25 — Google Play new Search in beta, Google Play Console updates
In an A/B test spotted by Slack group member Aude Boscher, Google seems to be testing displaying the short descriptions in search app cards. Also noteworthy is the appearance of not one, but two app cards, giving more weight to the competition.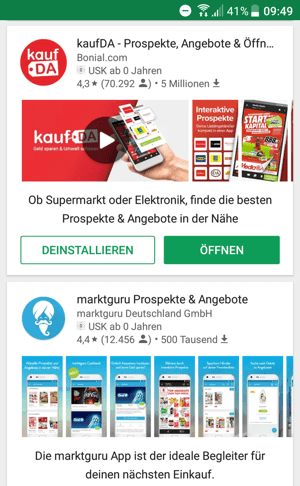 Google Play search screenshot by Aude Boscher
New features have also been added to Google Play Developer's Console:
Retained Installers Benchmarks has been added to Google Play Developer's Console. Now developers will be able to see the retention for 1,7,15 and 30 days.
Ido Schoonen from LabCave Games has come up with the retained users graph for Games subcategories in the USA, November 2017: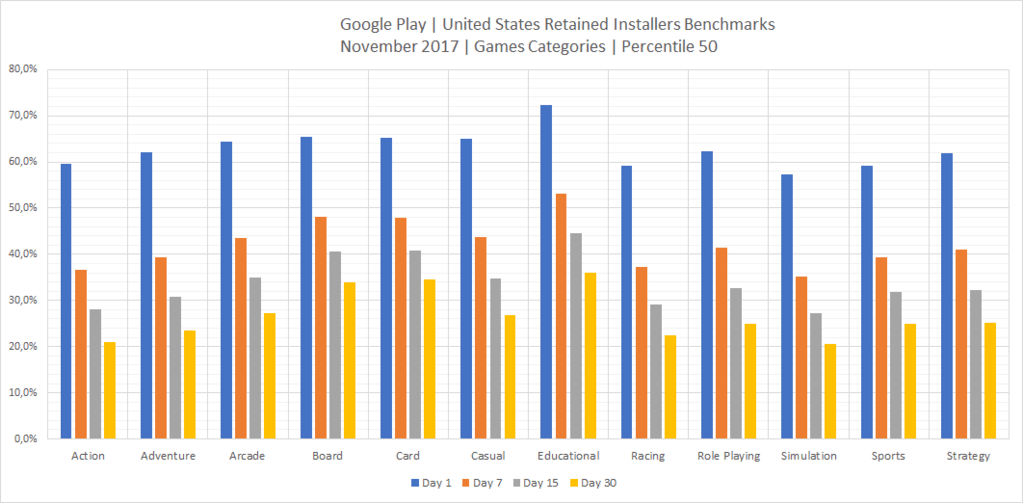 via Ido Shoonen (LabCave Games)
Google also introduced updates affecting project management, namely new "Admin" role in Console permissions, being able to manage users and permissions.

Billing cycle for test subscriptions was made more frequent, which will speed up application testing process.

The latest reporting metrics on the Play Console statistics page allowing developers to track Android Instant Apps launches by events and devices, in addition to conversion rates.
More information on Google Play updates can be found here.
January 30 — Google Play reports on Fighting fraud by removing malicious apps.
700K malicious apps have been removed from Google Play as reported on Android Developers blog. The following app types have been affected by the algorithm:
Copycats

: apps impersonating famous apps;

Apps with Inappropriate Content

: inappropriate content, such as pornography, extreme violence, hate, and illegal activities

Potentially Harmful Applications (PHAs)

: SMS fraud, act as trojans, or phishing user's information

The newly developed algorithm resulted in taking down 100,000 bad developers in 2017.
This update has a strong impact on ASO game, too, as developers who play dirty publishing apps, also do so when promoting them. Mimicking store assets, using incentivized campaigns, doing keyword stuffing, all this stealing installs from fair players. Hopefully, new Play Store Policies updates will go together with algorithm improvements, as the first steps have already made there.
Interesting blog posts:
Thanks, that's it from us for January!
If you like the ASO Monthly series, please click the 👏button. Also make sure to follow the ASO Monthly-series.
If you would like to get ASO Monthly delivered directly to your inbox via email, please sign up above.
Previous ASO Monthly editions:
This update was written by Skylar…
---
October 2, 2019


by Skylar Grabecz
It is less than a month until the App…
---
May 2, 2019


by Adzsa Hatano