The launch of the ASO book, the launch of iOS 11 and more…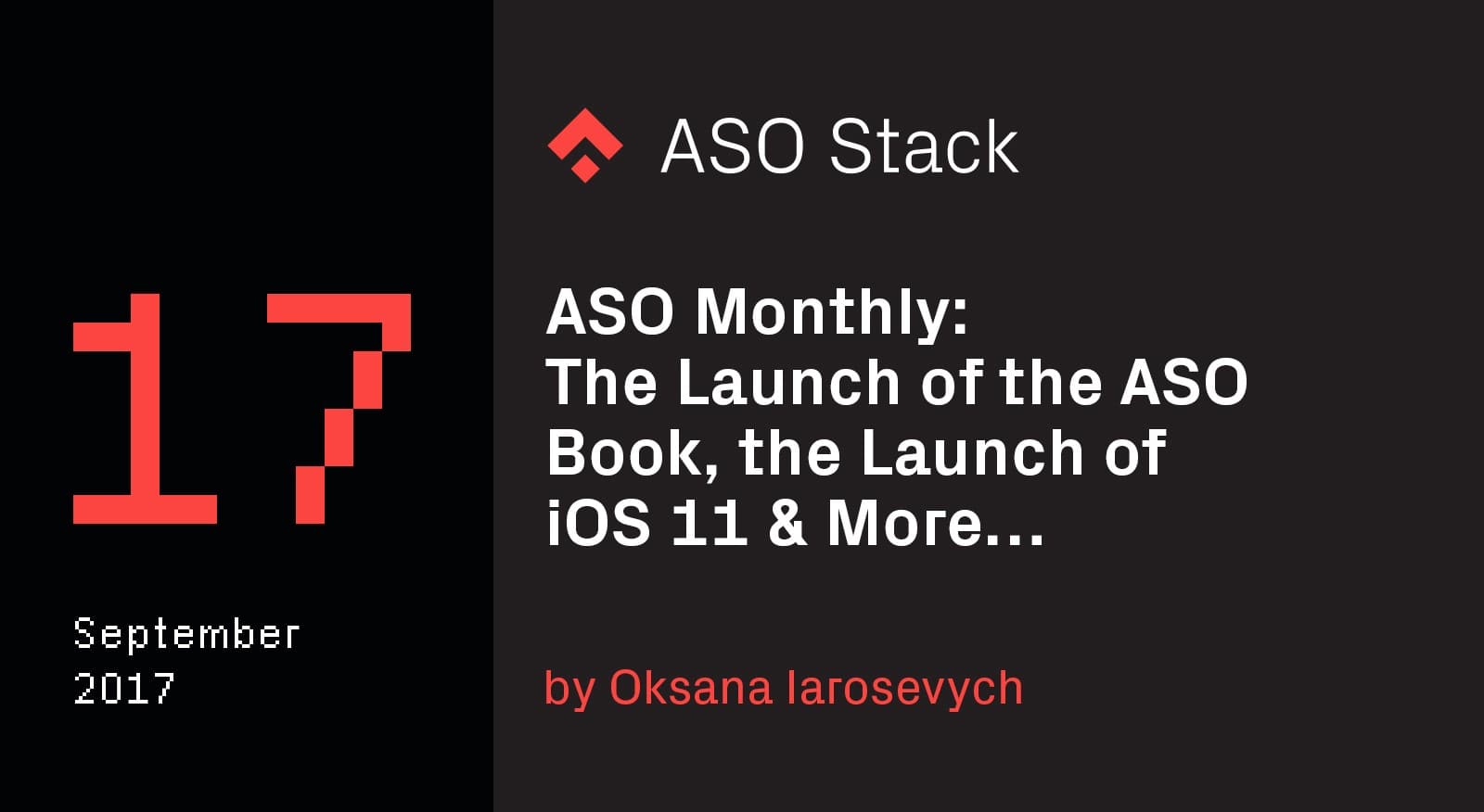 In the ASO Monthly-series, we reflect on the previous month and shed a light on trends in app store optimization, algorithm changes, insights in conversion rate optimization and tool updates.
App Store Optimization News from September 2017
September 7
The complete 370-page guide to App Store Optimization (ASO) by Moritz Daan and Gabe Kwakyi has been published. Experience of top experts in the mobile marketing industry, and particularly ASO, spiced up with some pro-tips for advanced optimization, form a proper core for creating ASO strategy.

September 9
Following Apple's App Store update, Google Play is testing some changes for a worldwide rollout, namely new navigation bar. Its key update is the For You tab placed equally among other elements of the navigation bar, which might draw more users' attention. Later on, TheTool also blogged about Editor's Choice and its organization in Google Play whose update includes improved categorization by interests, not just a general scope of apps and games marked by Google Play, as it used to be.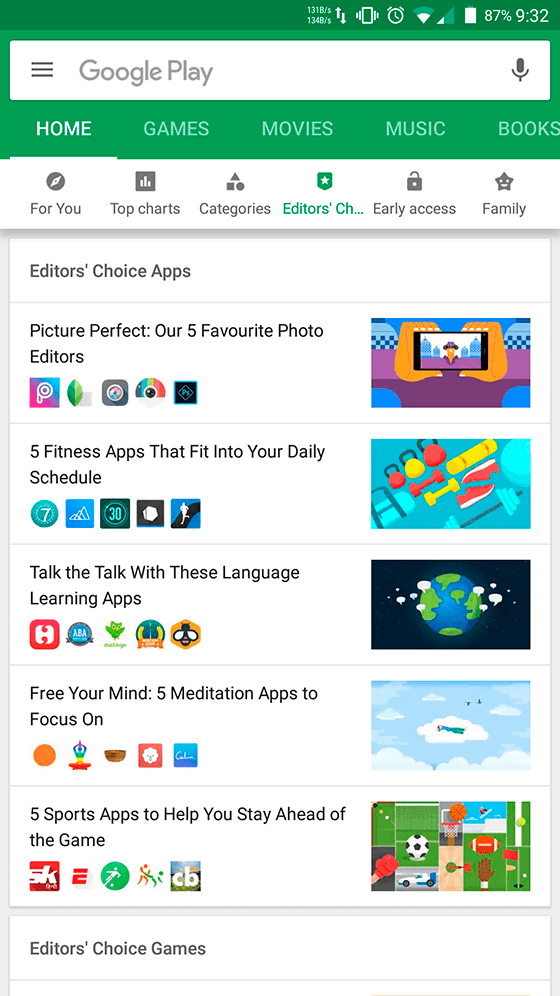 New Google Play Editor's Choice layout
The day before, Google Play also announced on their Android Developers blog about their plans to help Indie developers grow by adding Indie Corner to Google Play for better discovery.
September 13
iTunes Connect gets prepared for iOS 11 update, and now only allows 30 character titles.
It's been also noticed in the ASO Stack Slack chat that the Description field gets locked in "Ready For Sale" status, also confirmed by Deniz Gur, that the change happened with iOS 11 beta release, which was considered as a prompt for its indexation. That has not yet happened though.
Our Slack member Peter Smith noticed changes in new iTunes for MacOS. Some inconveniences may be caused by Apple removing the option of browsing the iOS apps for MacOS, which prevents ASO managers from checking their apps' localized rankings easily etc.
September 14:
iPad apps top charts back to normal again (via Mithun Jhawar, ASO Slack).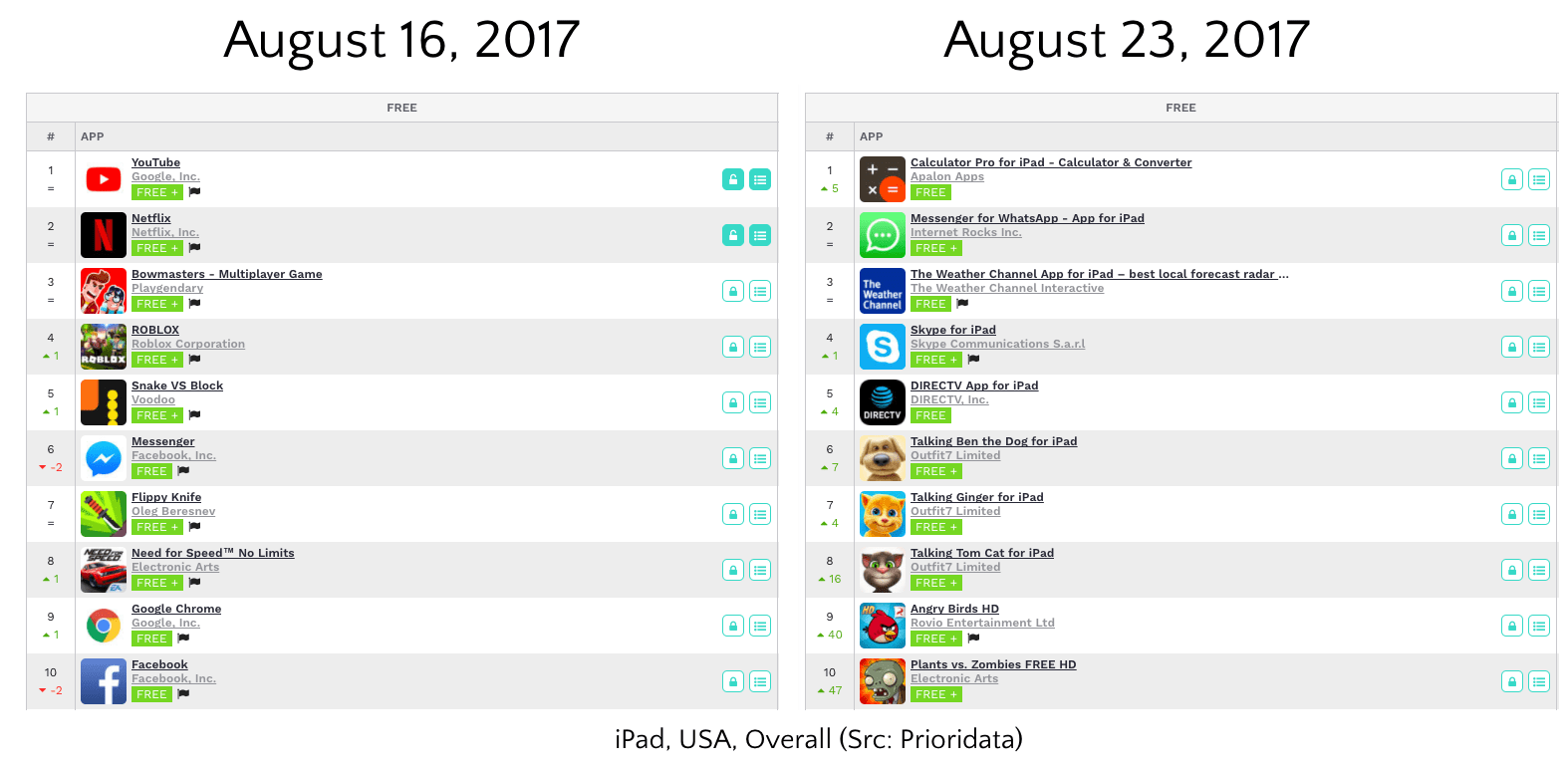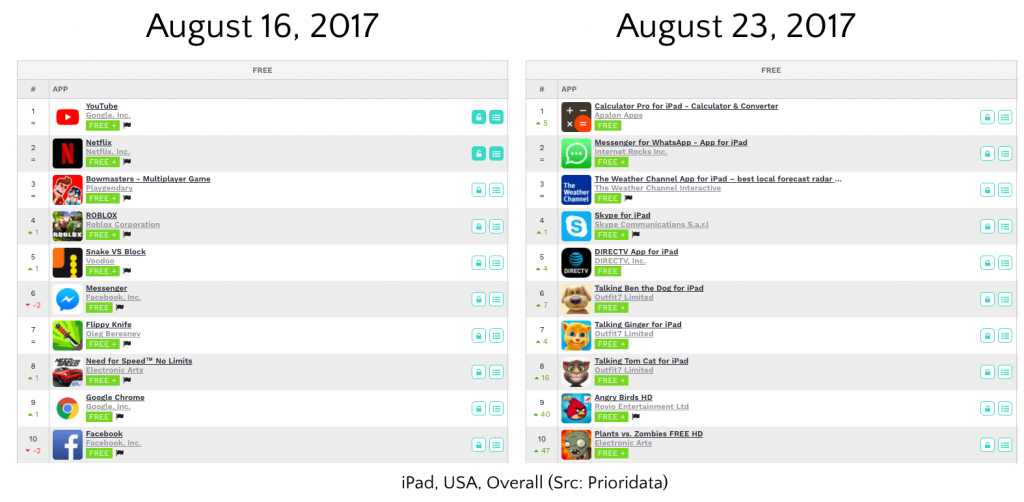 Somewhere around August 22/23, the App Store changed the top ranking apps on iPad to primarily show iPad specific app builds, penalizing universal apps. Our Slack community member Mithun Jhawar reported on September 14 that it seems back to pre-August 22 rankings again.
September 14:
Gessica Bicego (Blinkist, and member of our Slack Channel) shares more information around the mystery bug that causes apps that have an app preview on the iOS 11 App Store to only show the 2nd and 3rd screenshot next to the app preview in search. Especially developers with app preview who use a tilted device in their first two screenshots (such as below screenshot of HBO Now) likely face a drop in conversion because of the disjointed experience. Gessica confirmed with Apple that this was a bug and that this should be resolved with the iOS 11 release (September 19).
At the moment of publishing, in October, this issue has not yet been resolved.

September 15
After MobileAction has launched their Search Ads intelligence in August, AppTweak follows suit. SA Intelligence provides insights in which apps are showing up in search ads for certain keywords, and how big a piece of the pie they get when it comes to impressions. They also show a list of keywords you and your competitors bid for. Adding customized alarms will get you a real-time control over any changes on your account like budget exhaustion etc.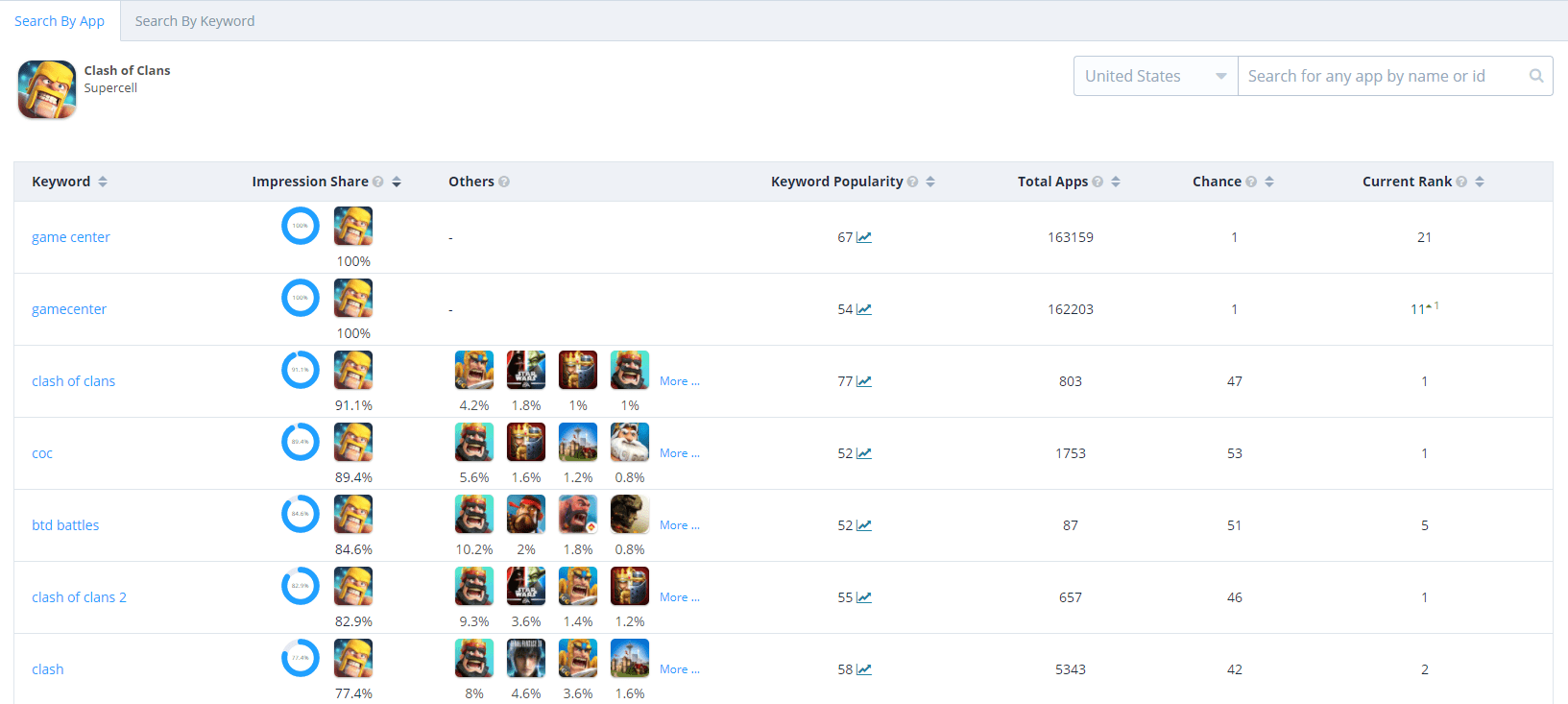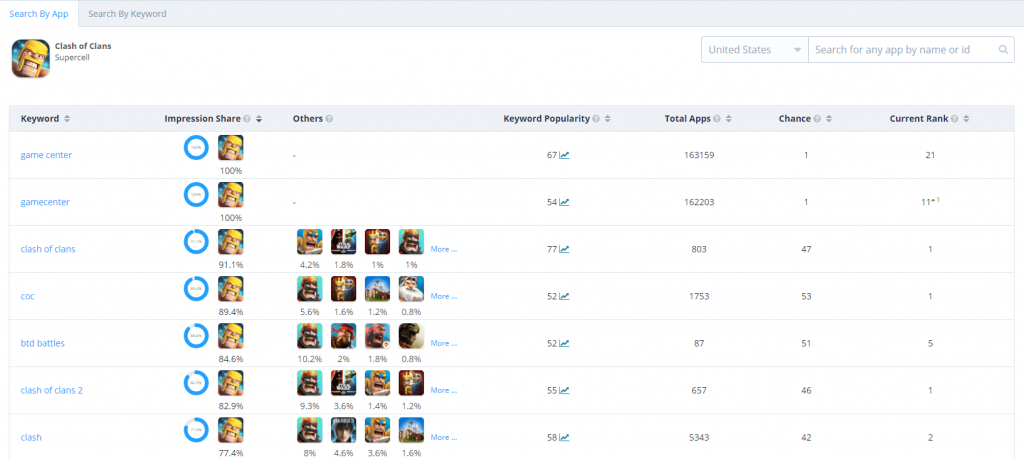 Impression share in Mobile Action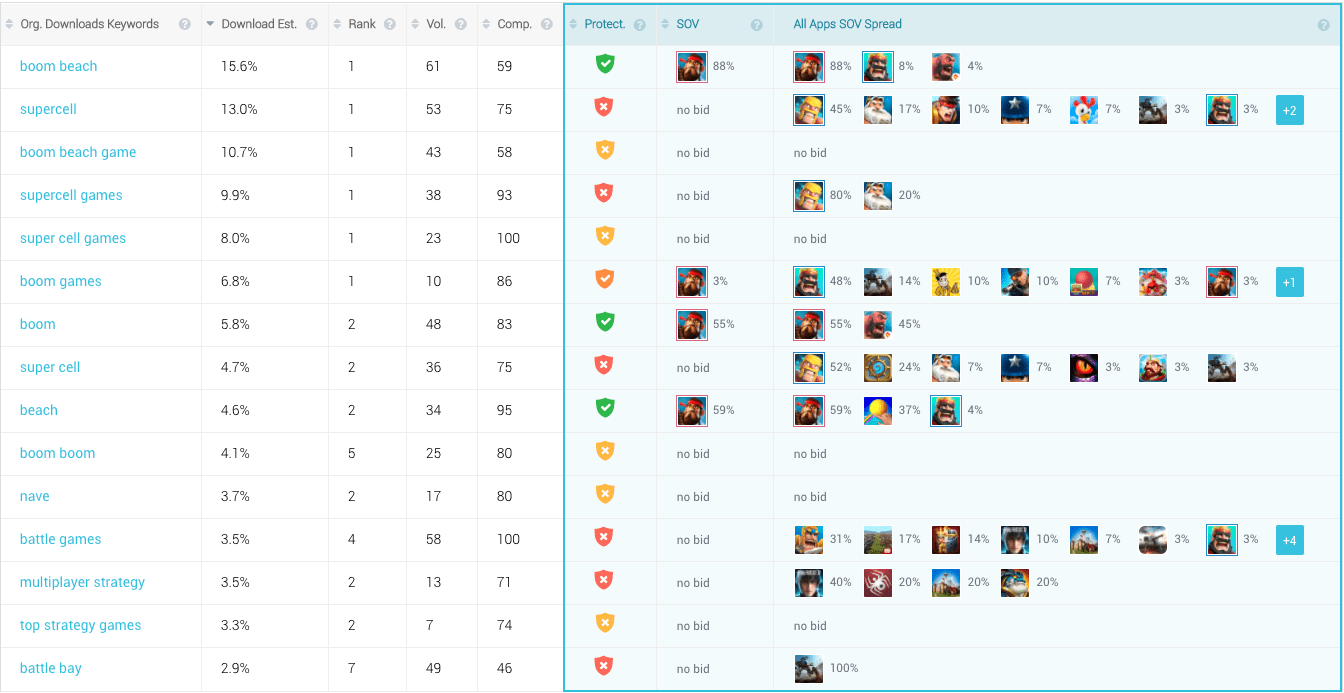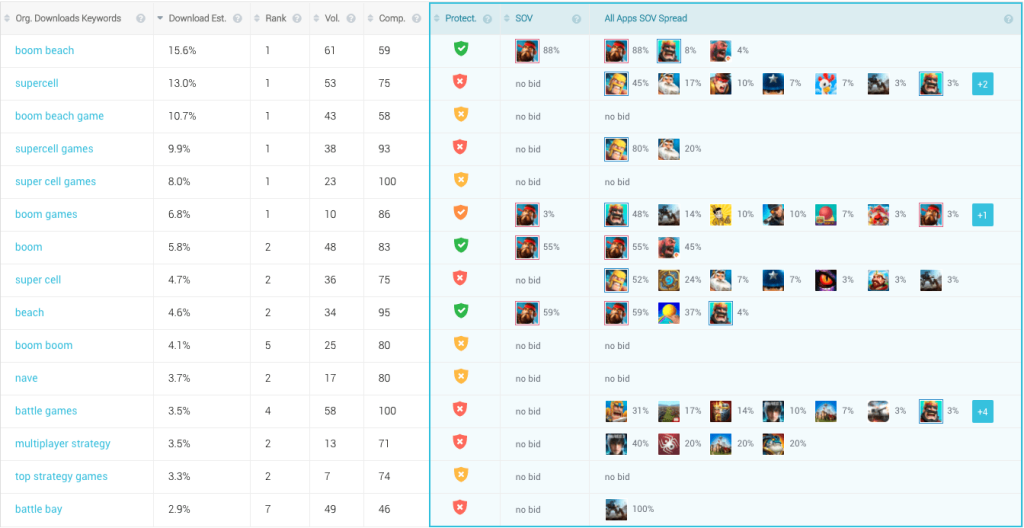 Share of Voice feature by AppTweak
September 19
The day of the great release.
iOS 11 changes have become publicly available. Most of them have already been previewed in detail in our July digest.
What's news is that with the iOS 11 release, Apple also bumps up the App Size limit for over-the-air downloads from 100 to 150 MB. (via Ilia K)
Today also AppTweak adds subtitles and promotional text to their interface. Now ASOs can estimate their optimization level up to the latest changes. Also, the service allows comparing these elements among competitors, which is particularly important for analyzing the competition and adjusting your strategy.
September 20:
Daniel Peris published a blog post in which he shows surprising experiment results that SEO links and their anchor texts have a direct impact on Google Play ASO. He plays with the 301 redirect from a domain to his app Play Store URL.
September 22:
Thomas Petit (8fit) reports that developers now have the ability to keep or reset their ratings in iOS 11. Unresolved yet is that some developers unintentionally have lost their ratings & reviews already before this option was available.

Gabe Kwakyi, later on, reported more on the issue of the unintentional rating reset:
Further interesting blog posts on ASO that appeared last month:
Thanks, that's it from us for September!
If you like the ASO Monthly series, please click the 👏 button. Also, make sure to follow the ASO Monthly-series or sign up to the left so that you're the first to hear when the next edition comes out.
Other ASO Monthly editions: