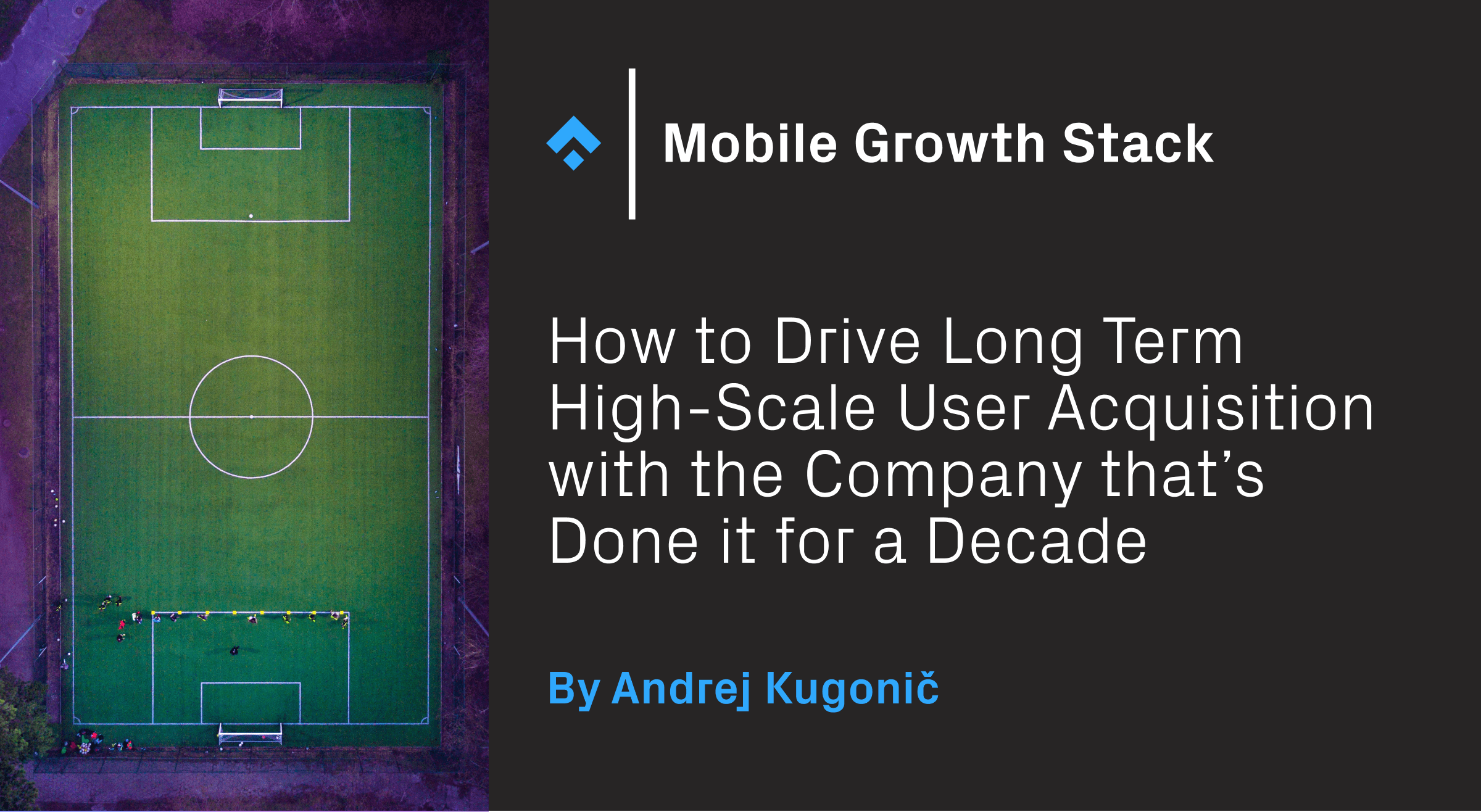 Editor's Note: Andrej Kugonič is a veteran of the mobile gaming industry with experience in global media management. Currently, this data-driven user acquisition and ASO practitioner leads Marketing at Nordeus maintaining their flagship game 'Top Eleven.' You may know him from his conference appearances at the likes of Google GameCamp or App Growth Summit Berlin and he's here to share his over nine years of experience with us.
Here's what I often hear from companies hitting a plateau or decline with user acquisition: 'It was great at the start! We grew super quickly and our user acquisition was really profitable. But now we've hit a wall—profitability is going down, with budgets, DAU, and revenue in decline.' 
Sound familiar? You may be experiencing some version of this problem. You're not alone. Many of my peers from other mobile gaming companies have experienced something similar. It's really one of the most critical challenges of user acquisition and ASO: not only to make a successful game but to keep it running with a high DAU (daily active users) and revenue over an extended period of time, eventually becoming evergreen.
At this point, most of you would expect a deep dive into elements of user acquisition like data, creative assets, tools, and media buying ( to name a few). There's no doubt that these aspects are important, but I want to focus on something even more foundational—brand.
Brand is often overlooked, but it's absolutely necessary to reaching evergreen status. There are some great examples of companies doing an amazing job with it, but these companies are still in the minority. I noticed that one of the most neglected activities in the mobile gaming industry is brand building, even for those games with high yearly revenue, and available marketing budgets. 
There are so many reasons and excuses not to invest in brand building. Every company probably has its own unique combination. I'm going to highlight a few of the common reasons that may resonate with you.
A need for short-term results

: Performance marketing/user acquisition campaigns give instant results that immediately—if you have proper LTV (loan to investment ratio)/ROI (return on investment) projection models—justify the money spent on marketing to the leadership. Whereas brand-building budgets, for many non-marketing people, can look too abstract, and therefore it's hard to justify them.

The effort needed is to build a brand overwhelming

: big effort is needed to build a brand properly. This is not only a financial investment but also people and time resources from your teams, be that current or new hires with relevant branding experience. 
There is a simple answer to both of these problems: Dedicate part of the marketing budget and team towards building a brand, while still investing in larger-scale user acquisition campaigns—which is essential for healthy growth in mobile gaming. These two teams need to work closely together (brand & user acquisition) in order to yield valuable results, both short and long-term.
However, before you act on this advice you may want a stronger understanding of how brand can help user acquisition.
How does brand support profitable user acquisition and profitability in the long run?
You may be wondering how the concept of brand and long-term user acquisition actually connect. Here are some touchpoints that will help you understand and make the argument to your team if necessary.
Competition barrier

:

Positioning your brand as a category leader, or among the best in a certain category, then new competitors will have a much harder time taking over your market share;

Copy-cat barrier

: Here is an area where a strong brand can really win out. Once your users know who "the number one" is, then any copy-cat products will have a hard time competing with you;

Franchise

: The possibility of creating a strong franchise is a dream to most product teams. Do you have a great game with millions of users? Then building that strong brand can only help you in the long run when you want to spin off into new ventures and markets.

Organic registrations

(

ie

the 'k-factor'): There are many examples in the industry that had strong organic growth on mobile from the start. Why? Because they had adopted strong brands from console/PC or some other medium, like movies. If you build and nurture your brand, organic traffic will keep coming.

Product metrics

: People tend to stick with games and brands that they love, or their friends and other people love them. So they are more willing to give them a chance if they know that the game is a category leader.

Re-registrations

: Many users churn from games, and that is normal nowadays when you have so many entertainment options. However, with a strong brand, a lot of people will come back to you when they get a desire to play that game or genre of game again. If you positioned your game to be the best in the category with a strong brand, then this will be a signal to some of them to give it a go again, and not go for some other less-known games they didn't play in the same category. Re-registration strategy can be a very powerful type of long-lasting user acquisition strategy since they tend to have better LTV.
How Top Eleven used brand to create long-term user acquisition and profitability
As I already mentioned, there are many great examples in the mobile gaming industry doing branding properly and using it to the fullest. Today we'll dig into our strategy with Top Eleven as this is where I can give you the most insight. We had great results and some of you may be surprised to learn that we didn't have short-term user acquisition as the main metric:
1. Mourinho as our brand ambassador: Back in 2013 when we started working with Jose Mourinho as our brand ambassador, that practice was not usual in mobile gaming. This enabled Top Eleven to stand out from the 'crowd' on app stores and provided a long-term brand association with one of the best football managers of all time. During the years, we had a lot of PR activities that all received media coverage such as the Mourinho Prank Campaigns.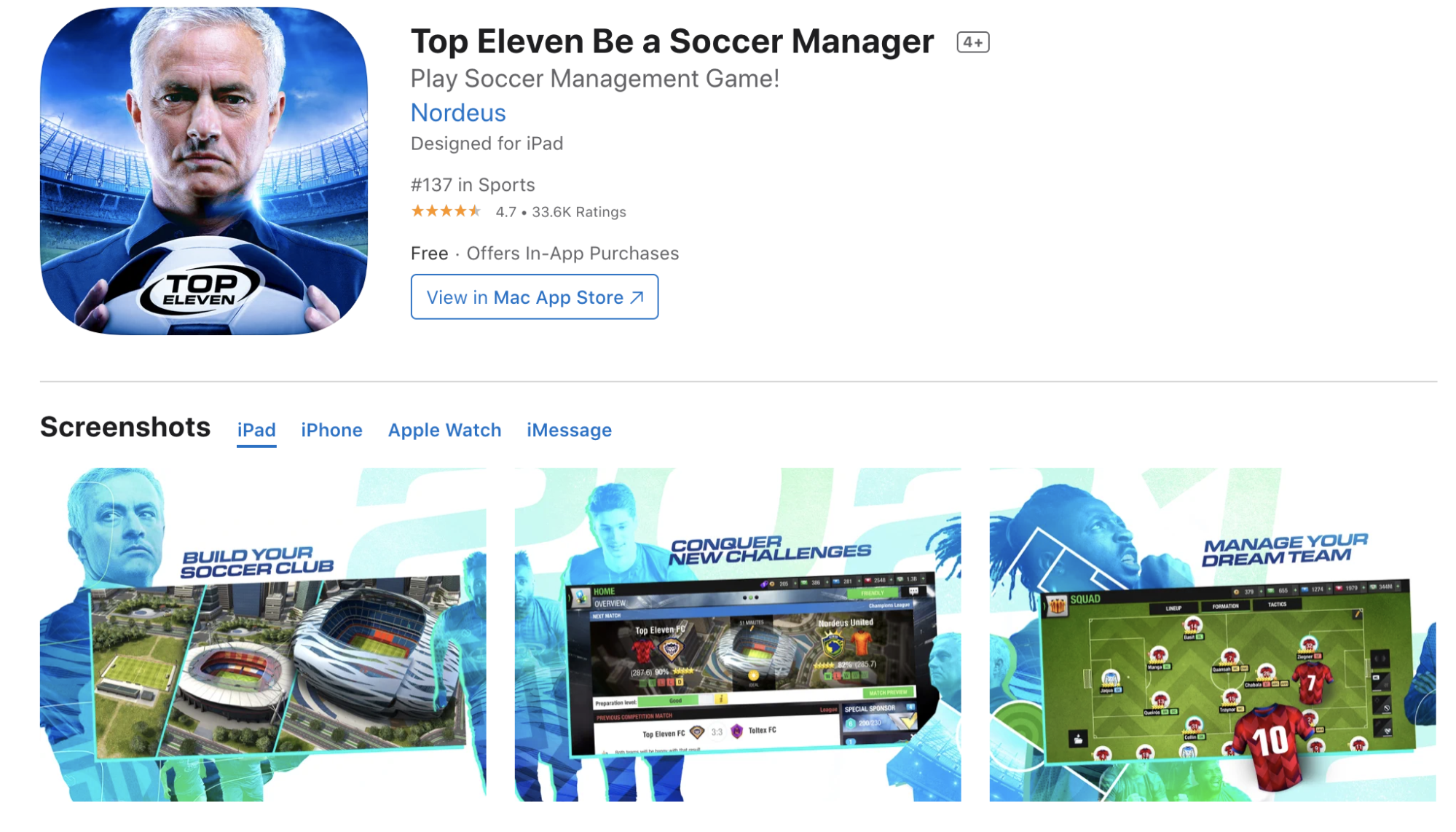 2. Euro Cup 2016 campaign: During Euro 2016, we decided to go with a funny campaign to entertain football fans across the globe, with our Mourinho pranking some well-known influencers. It got decent media coverage, earned media, and views, which all resulted in upticks in some of our key brand metrics throughout that period.

3. Working with top-talent: such as YouTube comedian, Connor Moore, and YouTube content creators and football club, Hashtag United. These activations were about creating brand activations and engaging Top Eleven with their audience as the main focus, rather than any performance-based marketing.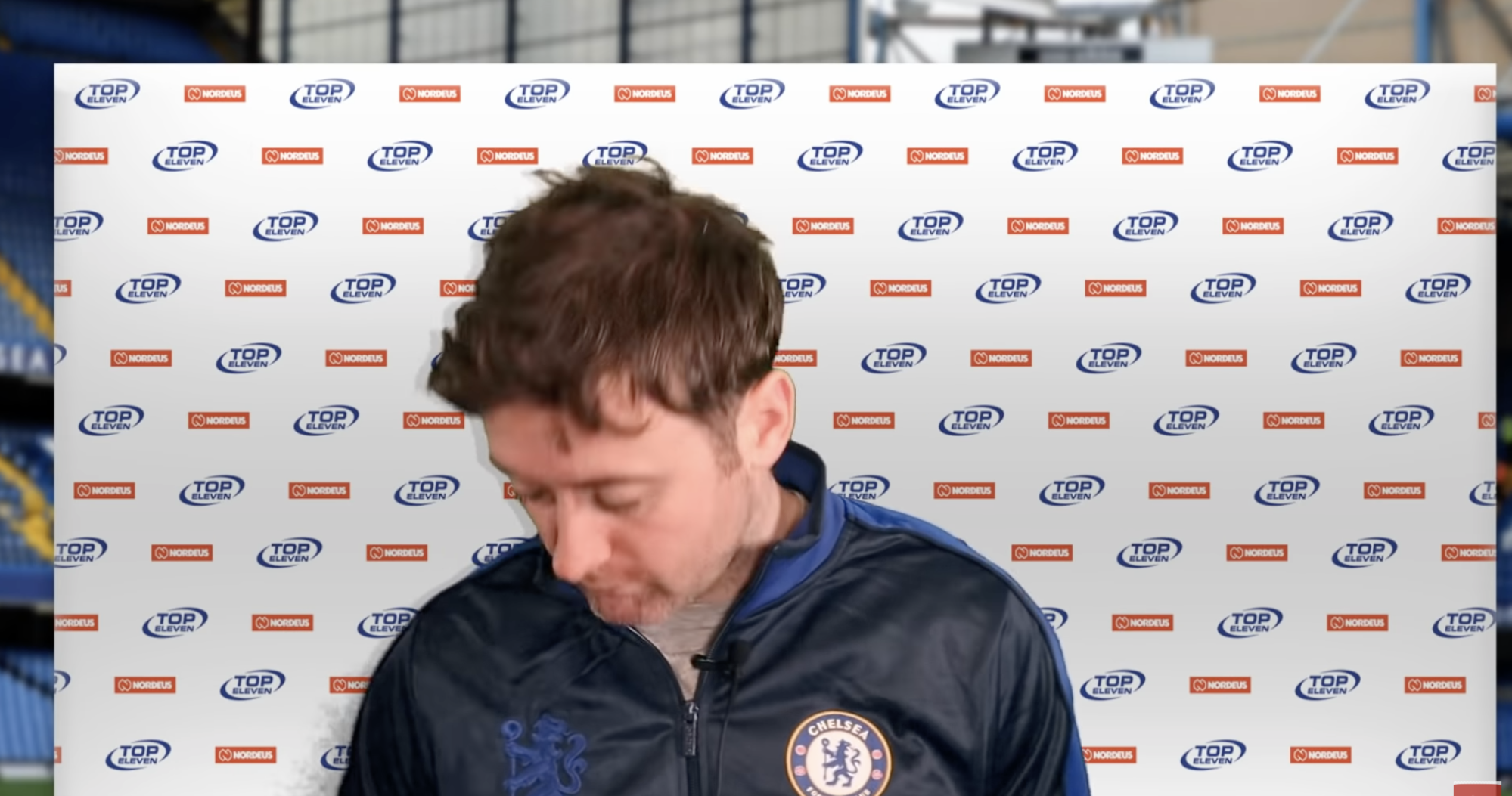 4. Stoke City sponsorship: As we are a football management game, what really made sense to us is to try some more traditional methods of brand marketing. What better way to do so than in the English Premier League! In 2017 we became the first shirt sleeve sponsor of Stoke City FC. This brought a lot of media exposure to the Team Eleven brand through matches shown on TV, pitchside LEDs during the games, social media/communication enablement, and player public announcements—all helping us build awareness among our most relevant target group.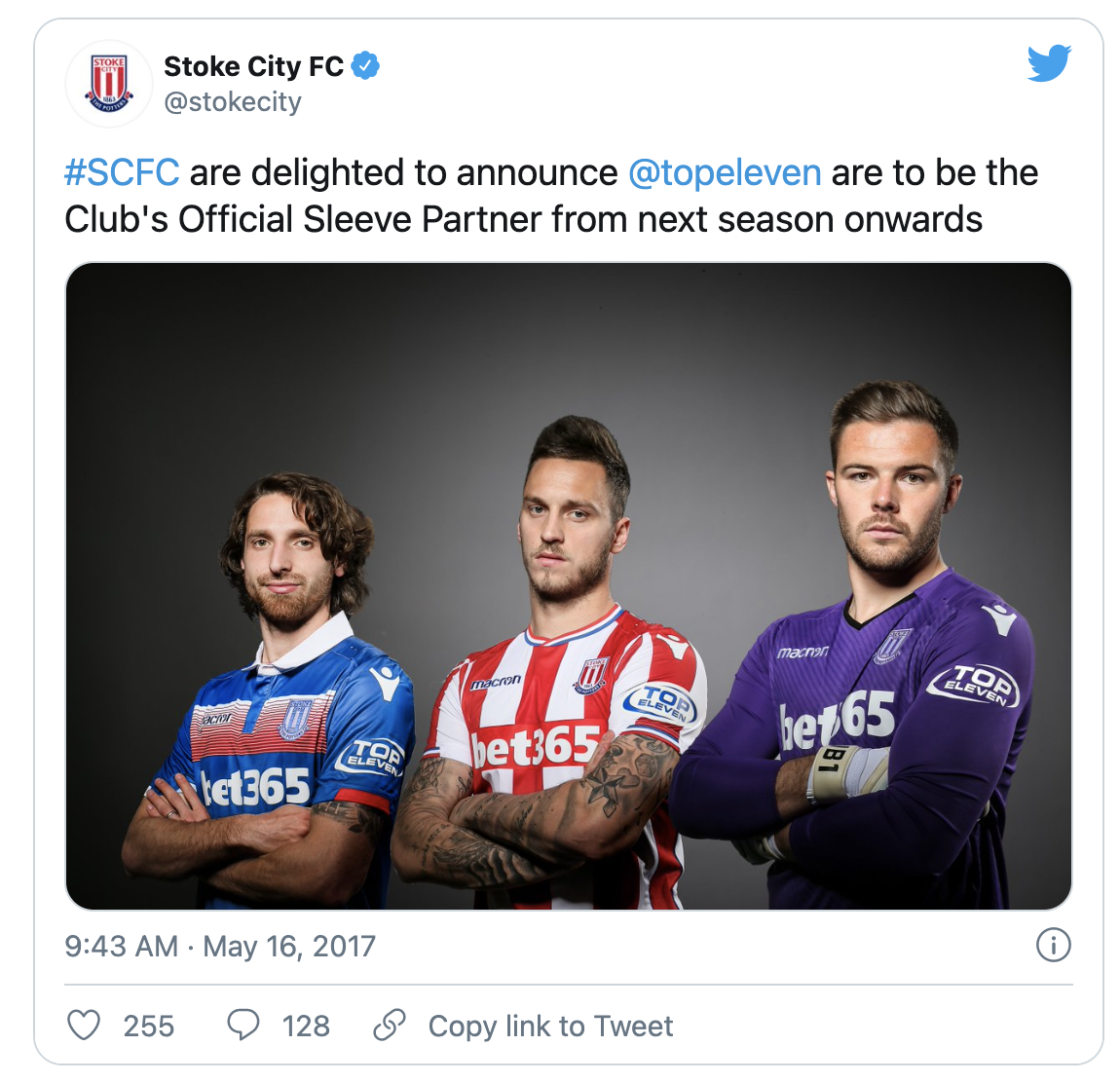 Lessons to Consider for Your Next Steps
There are many other small activities I could talk about (and believe me I could go on and on), but I want to make time to share some of the lessons our team learned along this almost decade long journey with Top Eleven. Hopefully, these takeaways will help inform your user acquisition and profitability efforts going into the future.
When we think about user acquisition, a 'best-in-class' differentiation is essential to sustainable long-lasting user acquisition. Of course, to stay in the sun certain data models, tools, creative assets, talent types, and processes are necessary. However, these efforts must be coupled with brand building activities for long-term growth.
When you want to develop a hit game, brand must be a primary consideration from the start. Think of the development of the product and marketing strategy as a connected effort both in terms of a budget and time.
My final piece of advice which is last but not least is to not obsess over the numbers immediately when you are investing in a brand. If a user acquisition campaign is a sprint, then brand-building is a marathon.
WANT TO GROW YOUR APP?
---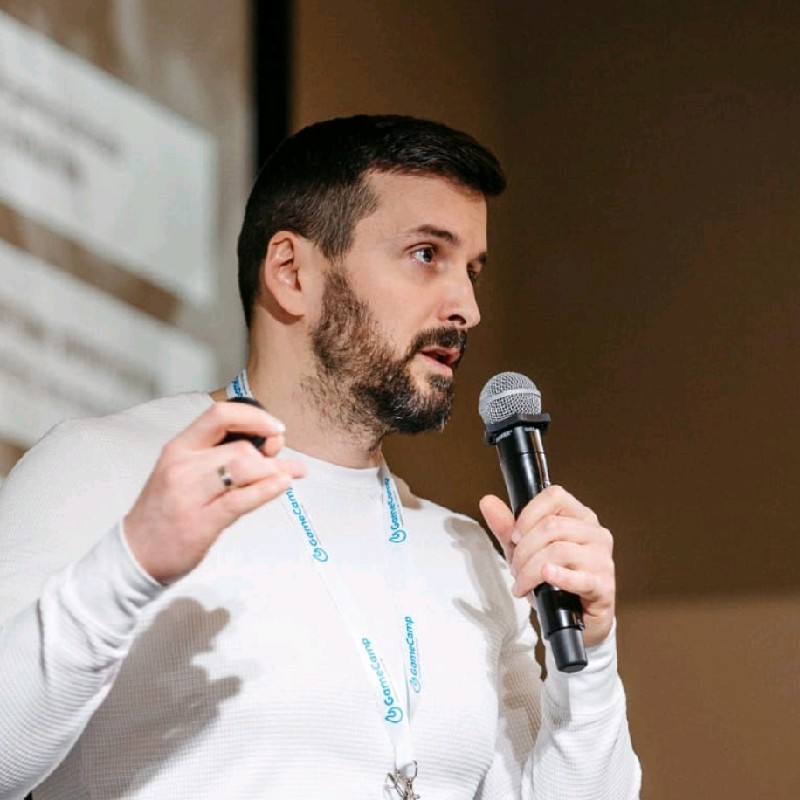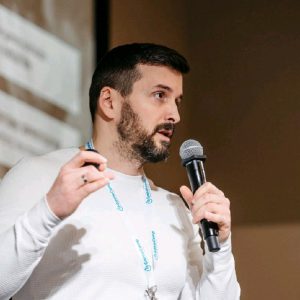 Marketing/Growth Lead at Nordeus
Andrej Kugonič is an experienced and data-driven marketing professional with a demonstrated history of working in the mobile games industry and global media agencies leading performance marketing/growth teams. He currently leads Marketing at Nordeus, managing a team of over twenty people and maintaining Top Eleven's best-in-class status.
All author posts
Phiture has acquired ASO Giraffe, now…
---
November 29, 2022

by Wolfgang Peters
In this article we outline how to…
---
November 9, 2022


by Kit Kuksenok