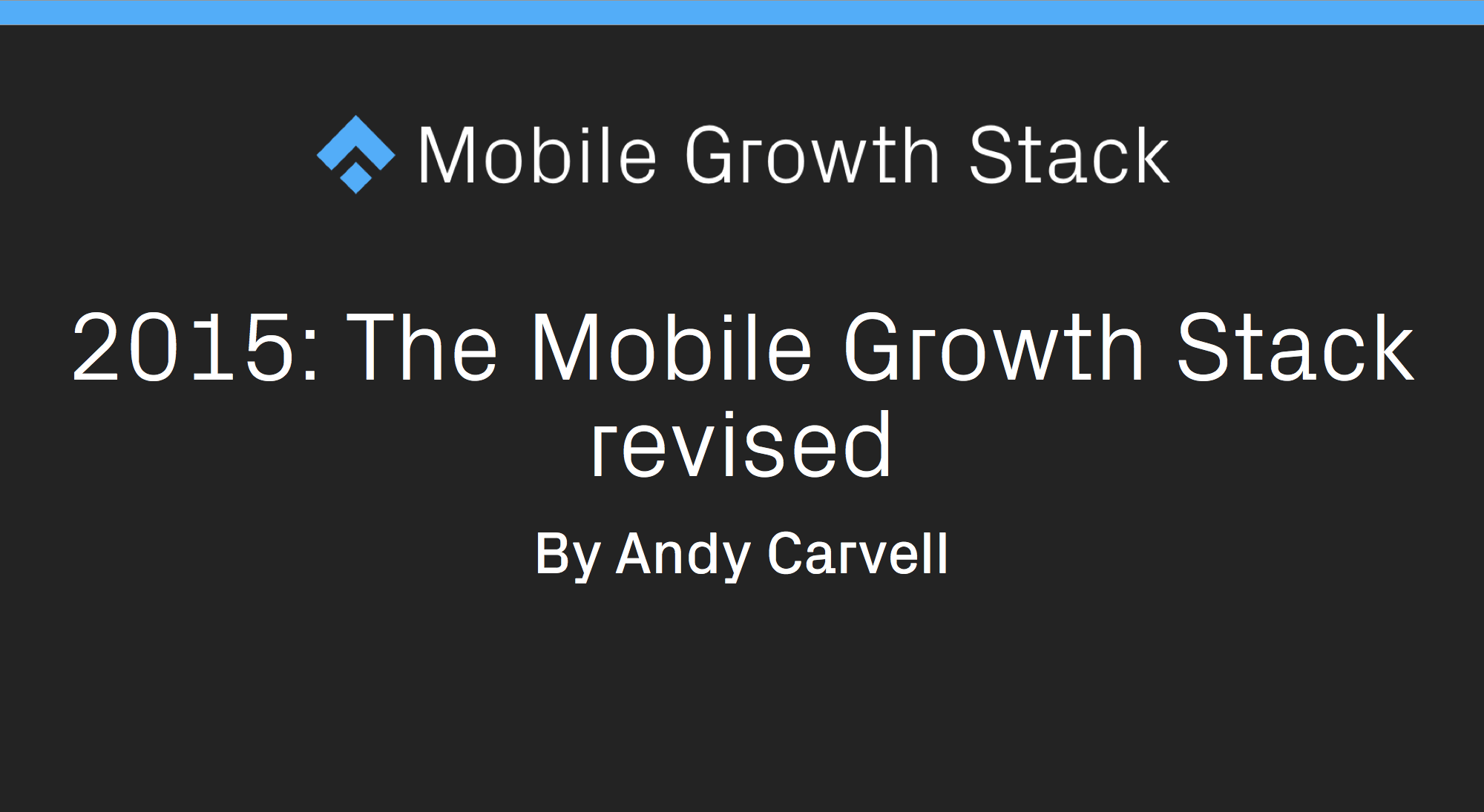 (Disclaimer: I wrote this article while leading a growth team at SoundCloud, but the views expressed are my own and not of my former employer.)
2016 Update: You can always find the latest version of the stack, along with information and articles about mobile growth here
It's been just over a year since I published my original Mobile Growth Stack post on Medium. I'm continually humbled and delighted to see how growth marketers, CMOs, VCs and entrepreneurs building companies around mobile products have adopted the stack as a framework for their strategic thinking around growth.
Highlights included Greylock Partners using the stack as a basis for a growth tools workshop and being approached by the CMO of Gram Games at a conference, who showed me how he was putting the stack into action. They have a huge printout of the stack on the wall next to the Kanban board at Gram, which released the hugely successful 1010 game last year: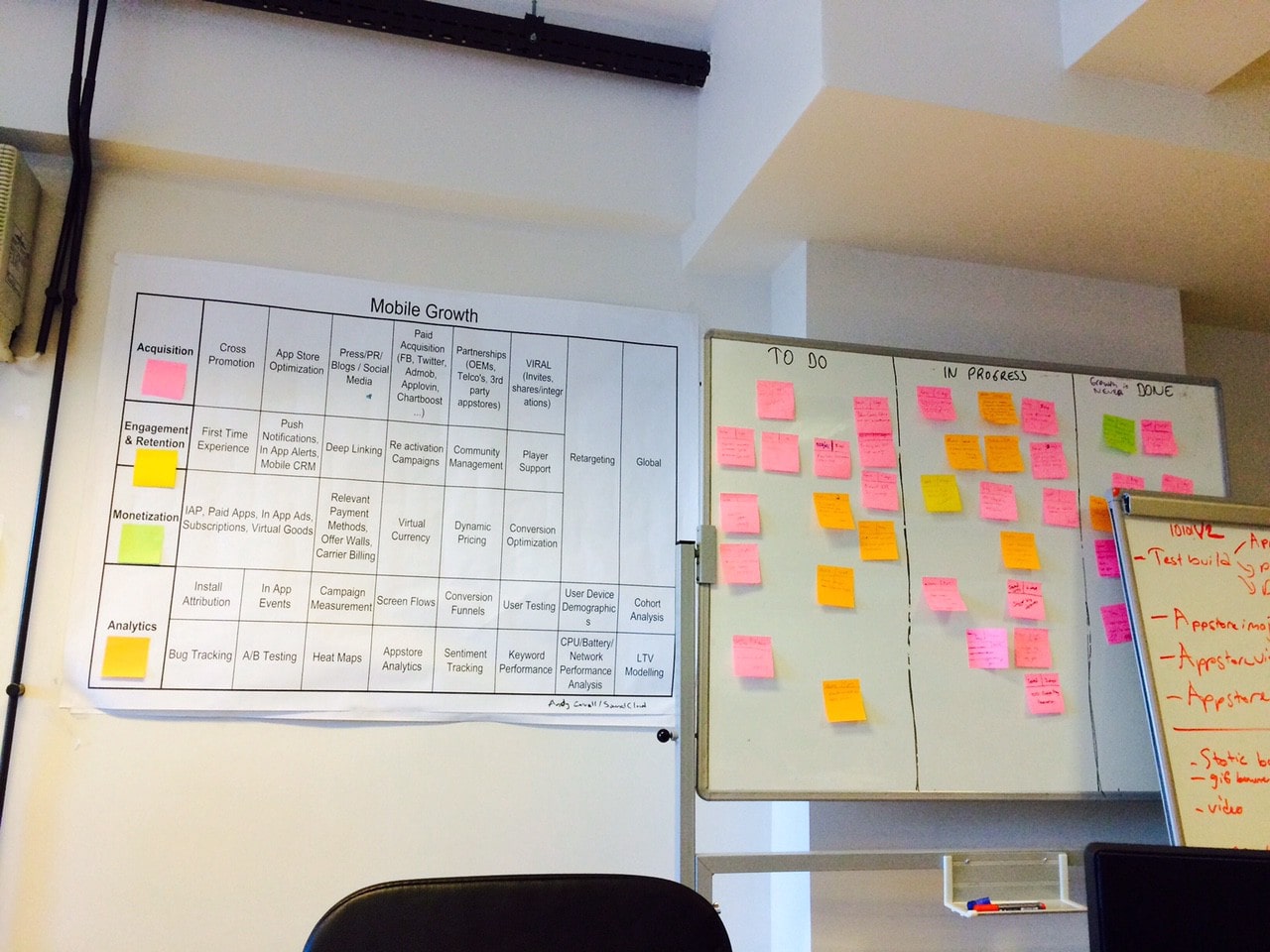 Gram Games putting the Mobile Growth Stack to work (photo credit: Gram Games)
Mobile moves fast. In the past 12 months, I've had the benefit of working on multiple mobile growth projects and learning from many experts along the way. I've received valuable feedback on the stack and input from many growth professionals and online marketers. Finally, I've taken into account the big developments in the mobile space over the past year. In this post, I'll explain how the stack has been updated to increase relevance and keep pace with the industry.
Here's the 2015 edition of the Mobile Growth Stack: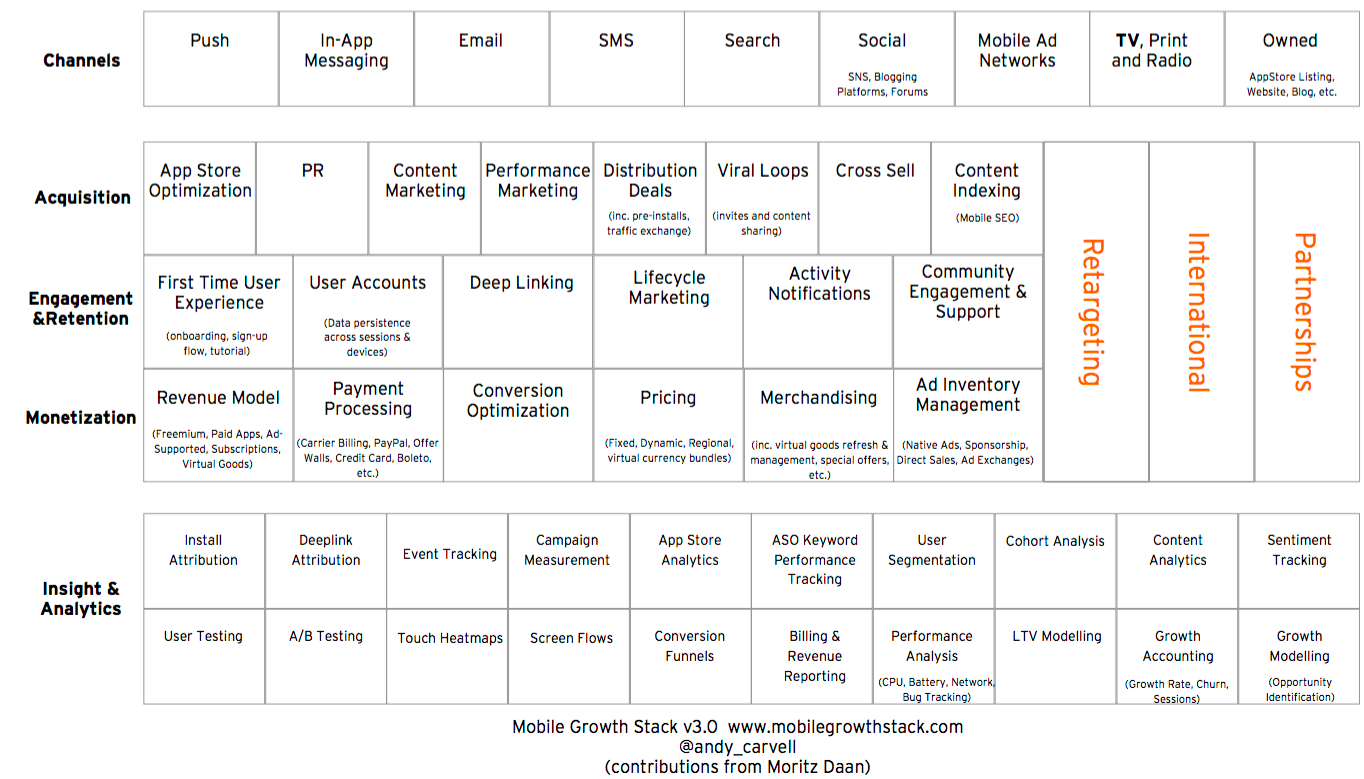 Deciding what not to work on at each stage of growing a business is as critical as choosing what to do; the stack is a framework to aid this strategic planning. The framework encourages consideration of all the included elements when devising a growth strategy, but it does not follow that all elements are necessary or equally valid for every business at every stage; quite the opposite.
De-Coupling Channels from Tactics
At its core, Growth is driven through measurement and iterative experimentation, with an obsessive focus on impact. Whilst the mobile space is replete with technological complexity, all to often core growth activities are conflated with the channels or enabling technology used to implement a specific initiative. This can lead to poor organizational understanding of the initiatives in question and resource misallocation.
Take Push Notifications: Whilst Push as a channel can be very effective in reaching existing users, so can email. A phone call, SMS or even direct mail may also be effective in some scenarios. The growth lead should be clear in his/her own mind what metrics they expect to influence with a particular initiative; choice of channels/tech is secondary (if important), and may evolve with iteration.
For this reason — and the fact that tech evolves faster than core growth practice — the revised stack draws a clear distinction by unbundling channels from the activities in the three main layers:

Key channels employed by mobile growth marketers to reach their audiences
Although certainly not exhaustive, the above list includes the channels that the majority of growth practitioners are using today. As with all elements of the stack, some channels will prove more or less effective in reaching a particular target audience for a particular business.
Ever fans of experimentation and optimization, growth marketers tend towards channels that are highly measurable and support multivariate testing, but others may be effective nonetheless and should not be discounted (see the Retrica example further down).
It's often worth experimenting with the channel mix itself; a reactivation campaign might yield poor results when delivered over email, yet drive high impact when the message is refactored for push, or vice-versa. More likely still, greater impact could be gained when lapsed users are reached via a multi-channel campaign, possibly including re-targeting them in other apps.
Really smart CRM implementations employ machine learning to develop a better understanding which channels are most effective for different user segments. The channel mix can then be adjusted to better drive impact, possibly even down to individual user level, on a programmatic basis. Even without such an automated system in place, manual experimentation and adjustment can deliver significant gains.
Channels and tools are secondary to the core activity; they can — and often should — be swapped out or augmented over time.
Television advertising has seen a remarkable resurgence over the past year, as CPIs from popular channels such as Facebook have risen sharply due to saturation and marketers hunt for more economical acquisition sources. New TV attribution partners have sprung up to help mobile advertisers match app installs with TV campaigns and — despite the inherently noisy data — many marketers are reporting strong results and favorable CPIs (i.e. actual performance, rather than a brand boost) from this traditional media channel.
Partnerships as a new column in the stack
Partnerships are a new vertical column in the 2015 stack: BD and partnership activities can drive impact for acquisition, engagement & retention, or monetization, depending on the nature of the deal.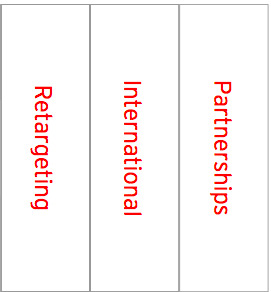 These three vertical layers cut across the stack: activities in these areas can reap benefits in acquisition, retention, monetization, or perhaps several of these at once.
Sometimes partnerships deliver value across multiple layers of the stack at once, as is the case with Uber's integration with Google Maps, which delivers both new user acquisition and existing user re-engagement for Uber, plus of course revenue from rides booked.
Acquisition

The Acquisition Layer: Driving traffic and installs to your app

Analytics competencies most relevant for acquisition (shown in green): emphasis on attribution, optimization of campaigns & understanding LTV
Updating the Acquisition layer from last year, PR has been separated from social (which is a channel) and Content Marketing has been given a place as a core activity. This reflects the fact that PR and Content Marketing are valuable and distinct activities. Content marketing is a great way to generate traffic and downloads via content published and shared on social networks and owned channels, indexed by search engines.
Content marketing takes time to scale and to zero in on the ideal mix of channels to engage a particular target audience. Media attention may generate more immediate (but likely short term) buzz around your product or service. PR activity involves generation and pitching of press-worthy stories with the hope of enticing journalists to cover them instead of the glut of competing stories on any given day. Ultimately, well-executed content marketing is likely to deliver more dependable returns over time, but creative PR can provide a significant — if linear and tough to attribute — boost to organic growth.
App Store Optimization (ASO) is a critical activity for any consumer-facing app, since the store listing is a critical conversion step between discovery and install.
Measurement and testing on the app stores became easier in 2015, with the advent of improved analytics in both iTunes Connect and Google Play, particularly the rollout of full A/B testing support in the Play Store. At a minimum, Screenshots and App Icon are key assets to experiment with in any ASO effort, followed by the app description. Whilst not possible to A/B test it in the Play Store, choice of app title is also important for conversion and discovery.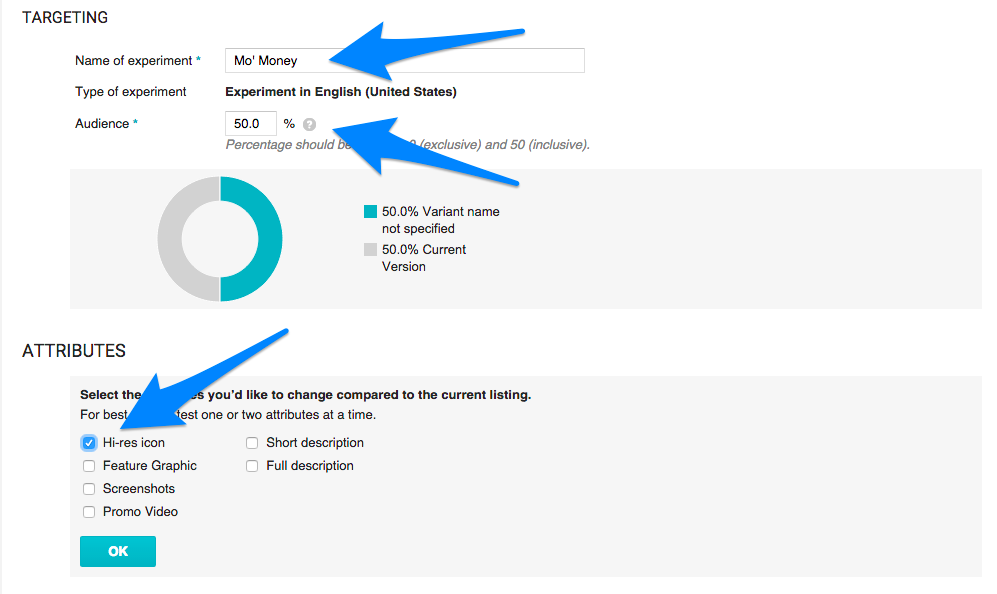 A/B Testing app icons directly in the Play Store. Image credit: App Annie. Src = http://blog.appannie.com/how-to-ab-test-your-app-icon/
Content Indexing of deep-linked atomic content, principally via Google App Indexing and the improved Apple Search that rolled out with iOS 9 provides new opportunities to drive app discovery as well as referrals of existing users directly back into the app.
Both performance marketing and distribution deals such as pre-installs on devices with a carrier or OEM will both likely cost money and deliver users for a certain CPI (cost-per-install).
Some distribution deals may not involve money changing hands; value-exchange can be achieved if the partner (often a carrier or OEM) values associated with an already-successful brand in a particular content vertical. Traffic exchange or cross-promotion arrangements may also achieve value-exchange without money changing hands.
Paid user acquisition (either through performance marketing spend or a distribution partnership) at scale is usually only advisable once a strong product-market fit (evidenced by healthy — and improving — retention rates) has been established.
An early-stage mobile startup will benefit from focusing first on retention before attempting to scale acquisition with marketing spend.
Even in early stages, however, limited performance acquisition with small test budgets can be useful for testing hypotheses around targeting, the viability of marketing channels, product messaging/positioning, etc. and is often used to acquire early cohorts of users to gain early quantitative data about product usage. Early-stage companies should note, however, that paid-for users are often far tougher to retain and could lead to unduly negative conclusions about the product's stickiness; examining paid-for cohorts by acquisition source is essential to understanding these dynamics.
The topic of virality was covered in my previous growth stack post. When attempting to cultivate viral content sharing, it's important to consider what content could be sharable from within the app, how to make it as easy as possible to share to large networks and to consider the sharable object itself and how it can be fashioned or tweaked for higher viral potential.
A great example of growth thinking comes from photo-sharing app Retrica, which enjoys significant viral growth through the larger network of Instagram by embedding its logo onto every image shared. This is a smart growth hack that sidesteps the inability to embed clickable links on Instagram: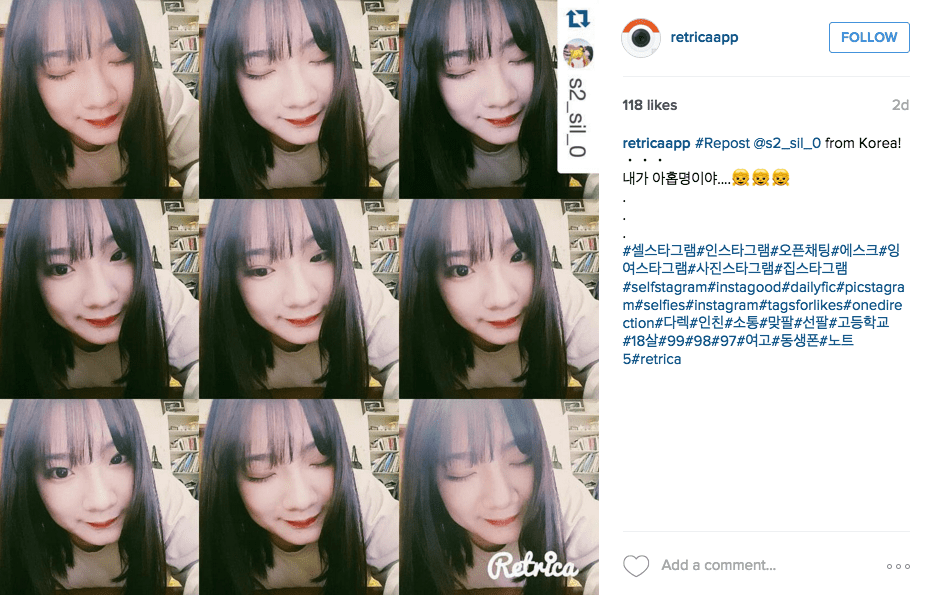 Retrica Virality in action. Source: https://www.instagram.com/p/-trpI8zc1L/?taken-by=retricaapp
Such a growth loop is hard to quantify, due to the difficulty in attributing the 'organic' traffic that doesn't come from a direct link referral, but significantly accelerated growth for Retrica. Growth hacks such as these should not be ruled out purely because of attribution difficulty, particularly when they are quick to implement and have no downside.
Engagement and Retention

Engagement and Retention are inextricably linked: product-market fit and some inherent engagement is necessary for retention efforts to pay off

The analytics elements most relevant for driving Engagement & Retention
First Time User Experience (aka New User Experience / NUX) is inordinately critical in the lifetime of a user; if a user doesn't 'get' the proposition and reach a moment of delight — or at least appreciation — during their first few minutes using a freshly-installed mobile app, the session will probably be their last.
The majority of user churn occurs in the first few days. Cohort decay graphs all take fundamentally the same shape, regardless of the app. New user onboarding efforts should aim to flatten out the curve at a higher retention rate (see example below). If this can be achieved, compound growth gains follow.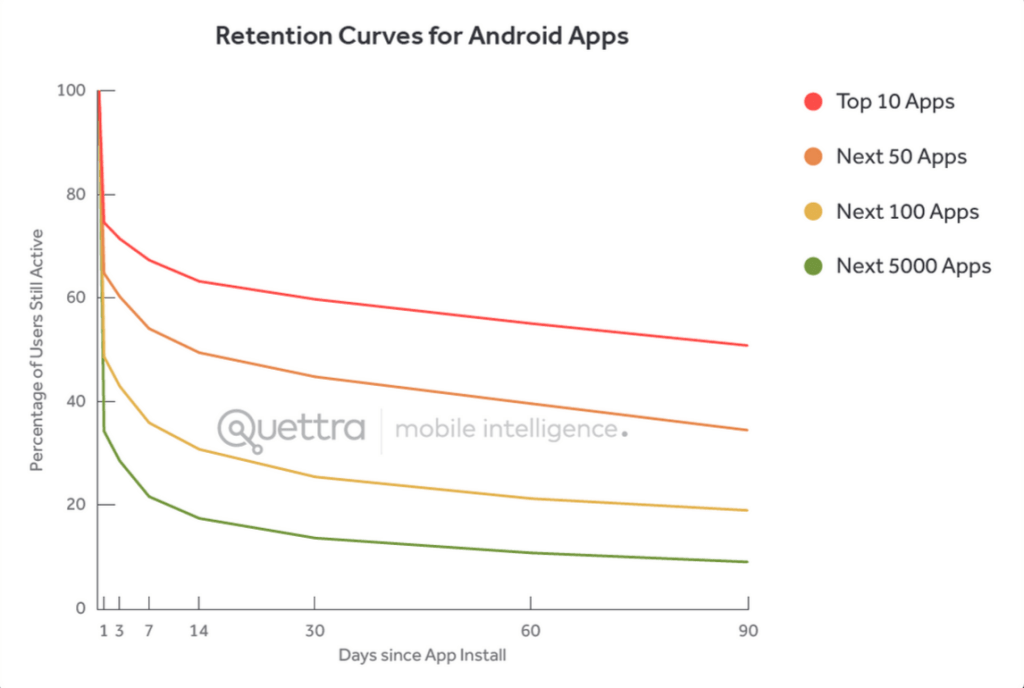 Source: http://andrewchen.co/new-data-shows-why-losing-80-of-your-mobile-users-is-normal-and-that-the-best-apps-do-much-better/
Retention rates vary by app category and it's important to understand when benchmarking against peers precisely how the retention rate is calculated before comparing against internal data. Some recent benchmarks (Q3 2015) from Adjust give an indication of average D7 retention rates for different app verticals: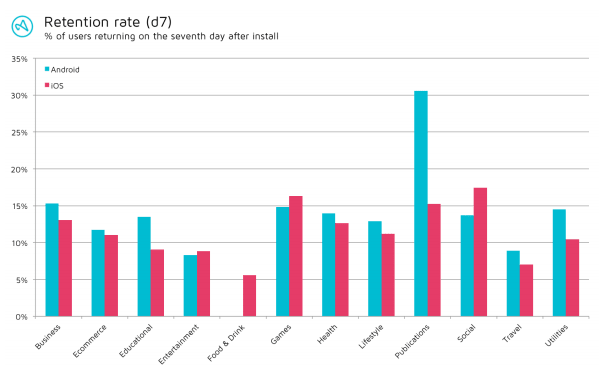 New in the 2015 edition of the stack is the 'User Accounts' cell. This encourages consideration of data persistence, both to assist usability and as a retention tactic. US prepaid smartphone users upgrade every 7–8 months (post-paid a more moderate 18–20 months) and break them far more often than that. Thus, the challenge for retention is not just to increase session frequency, but also to incentivize users to re-install the app onto new devices, or to initiate sessions on borrowed or desktop computers (assuming a web experience exists) when their main device is not available.
Providing continuity of experience and user data across devices and — more crucially — between sessions on the same device — increases the chances that a user will return to the app, since the experience becomes more personalized and provides a sense of permanence.
Facilitating user collection and storage of content (music tracks, todo-list items, gold coins… whatever content is native to the app) by means of a user account or profile increases the user's psychological investment in the experience and raises the barrier to uninstall or abandonment. Persisted social connections with other users will amplify this effect.
In the 2015 stack, Mobile CRM (a.k.a. MMA) has been broken out into the separate activities: Lifecycle Marketing and Activity Notifications. Whilst both utilize the same channels (e.g. push, email, etc.), they are distinct tactics.
Activity notifications are real-time or time-boxed updates that should be highly relevant and interesting to the user. New content, real-time traffic alerts, football scores and breaking news are typical examples. They can be a great driver of additional app sessions and hence retention, but when done badly (typically through flooding with too many or not-relevant-enough alerts), users opt-out or uninstall in droves. Common channels include push, email and SMS (though the latter is declining in relevance) and are often complimented by an in-app activity feed: a sort of inbox for notifications.
Lifecycle marketing is less real-time, though campaigns could still be triggered when a user performs a certain action or qualifies for a certain set of pre-defined segmentation rules. Example lifecycle campaigns include onboarding series, reactivation campaigns, special offers, upsell to in-app purchases, and so on. Lifecycle campaigns often utilize multiple channels (push, email, in-app messaging, SMS, re-targeting, etc.)
Identifying the best trigger-points, channels and message content to drive maximum engagement / conversion involves iterative testing and learning. Abstracting the measure-test-iterate process for user lifecycle management away from the app code via a Mobile Marketing Automation (MMA) framework (either developed in-house or licensed) enables the parallelization of this process side by side with core app development. This approach can deliver significant gains in velocity of iteration and frees up marketers to do marketing: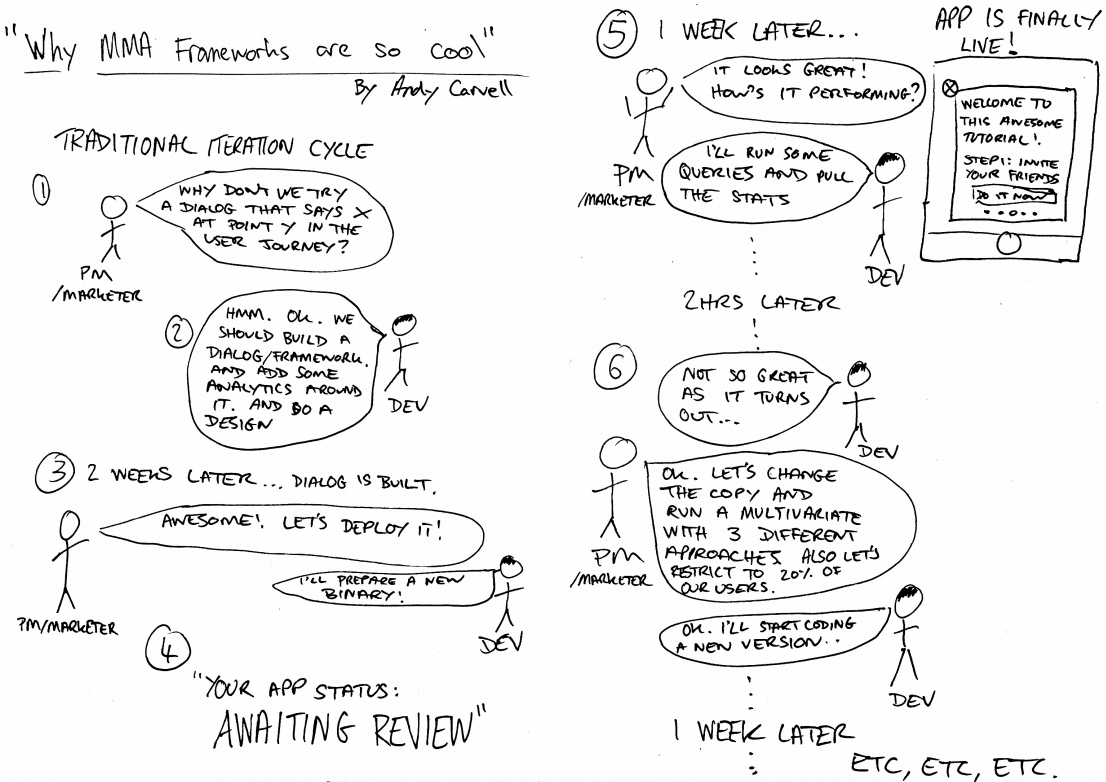 Building custom dialogs for every user interaction: not the best use of precious dev resources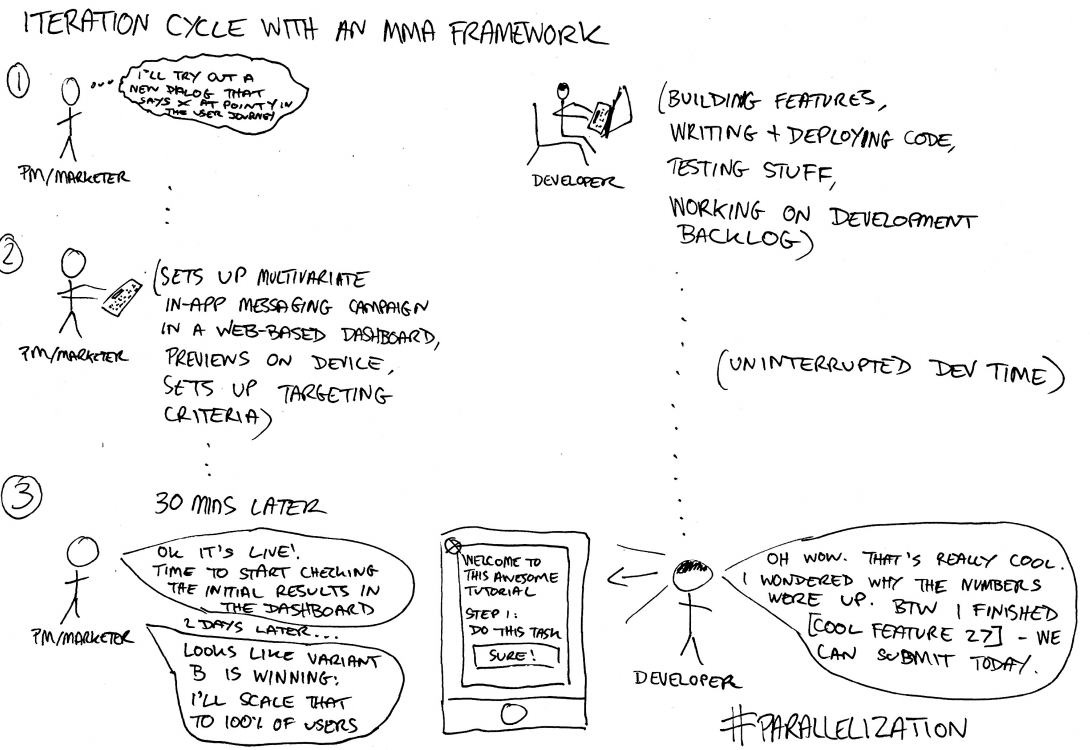 How to iterate fast on mobile in 2015
Monetization

How and when an app monetizes its user activity will likely have a significant impact on growth trajectory

The analytics competencies most relevant for monetization
Mobile apps typically monetize via the Freemium model (free access to the core product, with additional functionality or content available for purchase), by serving ads (sourced either via direct sales or more likely through an ad exchange), or some combination. Nevertheless, charging for apps on a per-download basis still provides many developers with a steady — and predictable — stream of revenue.
Given the overwhelming popularity of the freemium model, merchandising (virtual) goods — releasing, refreshing an retiring items or product lines, releasing special or limited edition goods, running seasonal promotions, etc. — is a core activity for many mobile apps and games. Crossy Road does a great job of monetizing its user base through a mix of in-app purchases for those who can pay and incentivized video ads for those who can't. A thorough and impressive analysis of Crossy Road's monetization tactics can be found over at PocketGamer.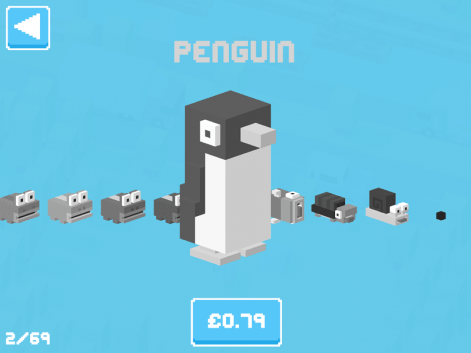 Crossy Road sells virtual avatars as in-app purchases. Image credit: Hipster Whale / PocketGamer. Src = http://www.pocketgamer.biz/stateside/60697/what-can-you-learn-from-crossy-road/
The ability to monetize some percentage of the userbase (typically around 5% for games; other verticals may vary) opens up a whole new world of options for both acquisition (Performance Marketing becomes a viable strategy for acquiring users at scale) and Retargeting. Retargeting users (locating existing or lapsed users and serving them targeted adverts whilst they use other apps, deep-linking them on click to a specific location in the advertiser's app) can be an expensive business but can be economical if high-propensity-to-buy users can be re-engaged and pulled back into the monetization loop.
Monetizing users also enables revenue-sharing partnerships to be inked; new distribution deals and affiliate programs suddenly become possible, which in turn accelerates growth. If virality is high, it may make sense to acquire some users at zero or even negative margin, knowing that they will recruit more profitable users.
The Analytics Layer… Evolved
Analytics is the cornerstone of a successful growth strategy
The analytics layer of the stack has been augmented to include several new additions, including Content Analytics, Growth Accounting and Deeplink Attribution.
As deep-links come of age, it becomes increasingly important to understand the referral flows that bring users into the app; no longer does everyone come in via the 'front door', clicking on the icon on their home screen. A better understanding of these flows — combined with Content Analytics to gain insight into what content within the app is driving the most engagement — should inform product and marketing decisions to optimize for the highest-engagement use cases and audiences, or to cultivate similar ones to drive the next phase of growth. In some cases, this insight could also influence content acquisition or creation strategy.
In an early-stage startup, frequent user testing is especially valuable; bringing in real people to interact with prototypes and early product versions challenges assumptions about product-market fit and wrenches teams out of the myopia and groupthink that can manifest itself in enthusiastic founding teams.
Growth practitioners need to be clear where growth is coming from and how many users are being acquired and retained each month (Growth Accounting). To become more strategic, a growth model is needed; a spreadsheet or similar live document which facilitates the evaluation of potential initiatives by projecting the effect of changes to acquisition or retention metrics on user number development. Even a relatively crude model is a good starting point in understanding the impact on overall growth from optimizing different areas of the funnel.
For some help getting started with growth & revenue modeling, I recommend checking out this blog post (with Excel spreadsheet) by Eric Seufert.
A/B testing still under-utilized as an optimization activity for the majority of native mobile apps; few companies are doing it well, or consistently, in 2015. PMs and developers often decry the additional time and resources involved in building whole features that could be discarded due to poor split-test performance; it's a psychologically difficult exercise that requires a commitment to impact above all else.
The complexity of administering statistically sound split tests on native apps can also be daunting, although numerous commercial frameworks are now available to help with this, albeit at additional cost.
For small teams in early stages with few users, there are likely to be plenty of quicker wins than A/B testing core native features (e.g. regular user testing and rapid iteration on the basic product experience, A/B testing lifecycle comms and notifications), but a commitment to the idea of ongoing testing & learning is important from the outset.
Further Evolution of the Mobile Growth Stack
The stack is still very much a work in progress. I'd love to hear your feedback on the framework and suggestions on how it can be improved in future iterations.
This post covered just a few of the topics in the stack, but I will be publishing some more in-depth coverage of specific elements of the stack in 2016.
Please get in touch if you'd like to discuss growth topics in more detail, or to see a post about any particular element of the stack which I didn't cover above; you can reach me on Twitter (@andy_carvell)
Behind every success, there are…
---
September 20, 2018
by Andy Carvell
To provide orientation on tools within…
---
June 12, 2018
by Andy Carvell