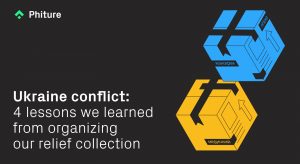 Interested in supporting humanitarian efforts for Ukraine? To help you hit the ground running with your own relief strategy, here's what we learned from our company-wide collection effort at Phiture. 
Like many, we were shocked by the unfolding events in Ukraine. The feeling in our team was we could go beyond our initial cash donation to UNICEF's campaign and be more proactive. Although still a distance from our home in Berlin, we decided we have the ability to get resourceful and transport required materials urgently to the conflict zone. We even considered driving goods to the border ourselves. But with the help of our Ukrainian colleagues, we identified the best approach and set about organizing a collection of useful items with volunteers from the Phiture team. Here's what we did, our top learnings to consider, and how you can get involved yourself. 
Our top learnings to consider:

1. Contact the professionals
We were recommended to contact the NGO Ukraine Hilfe, and we called them directly to ask how best we could help. This was a great start. Ukraine Hilfe has 25 years of experience distributing aid and a pre-established network of contacts between Germany and Ukraine. We knew that through this organization, our collection would end up in the right place. Right now, Ukraine Hilfe is focusing on getting essential items to people in need in the region. They were easily able to give us clear instructions on what was needed most and where to bring the supplies.

2. Shout about it
We let our local community know we were collecting donations by putting posters and flyers around our neighborhood. Ultimately, most of the donations we collected came from members of the public who dropped by our office. Some young people who had just arrived in Berlin from Ukraine even saw these posters and called in to ask for help. Internally, we set up a Slack Channel to organize the collection and invited staff to volunteer for shifts in the office and accept donations. We were able to use Phiture's office space to collect items together — and we needed a lot of space. 

3. Label, label, label
We were advised to label very clearly what was in each package we prepared and the weights involved. This was to help the NGO save time at the borders and help them prioritize packages for those in need. Luckily, we were able to use our multi-lingual staff to write the labels in Russian, Ukrainian, English, and German. When we dropped off our packages to the collection centre, the workers there were delighted that we had brought so much in good condition and perfectly packed up — saving them time.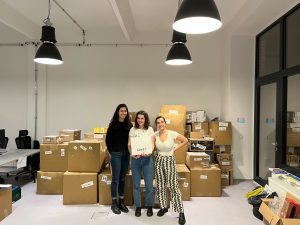 4. Be flexible
Through Ukrainian colleagues, Telegram channels, and LinkedIn, we had direct contacts with people organizing relief on the ground. Through these contacts we were able to react to what was most urgently required. For instance, we were told medical equipment was in urgent need (and not to focus on collecting clothing). This meant we could be selective about what members of the public were bringing to our collection and prioritize certain items. As warm clothes are no longer being accepted, we'll find a new way to make sure these donations contribute to humanitarian relief.
How you can get involved: 
If you're interested in volunteering, a number of organizations are collecting items in Berlin. 
Ukraine Hilfe Berlin has an updated list of items that they collect at different centers in Berlin. There are also various initiatives that aim to help those arriving whether that's at the central train station or in collection centers.
If you are based outside Berlin, or even Europe, Ukraine Hilfe also need donations to help pay for the transportation from Germany to the EU-Ukrainian border. You can find all the details here for Ukraine Hilfe Lobetal or here for Ukraine Hilfe Berlin.
Interested in growing your app or becoming a Phiturian? We want to hear from you. Contact us by sending an email to [email protected].
Explore other recent articles