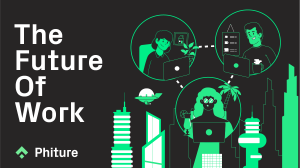 As we near the end of 2022, slowly emerging from the height of the lockdowns and into a global recession, it's clear the past couple of years have introduced new challenges for us all. Yet, being able to work remotely has made things much easier for many. Since new models have been introduced, workers are reporting greater productivity, work-life balance, job satisfaction, and increased mental health. 
The pandemic has ignited conversations about the fundamental nature of work on a global scale. Digital nomads and cloud-based mobile workers are demanding flexible workspaces. We're witnessing what is perhaps the next evolution in workers' rights, akin to the establishment of the 8-hour workday and other pivotal labor movements.
Phiture implemented its remote-first and flexitime policies as early as July 2020. By September of that year, were already being noticed, which we explored in a series of interviews with the Phiture team. Now, more than two years later, let's take a fresh look at the impact these policies have made at Phiture, the future of work, and what that means for companies everywhere.
How remote work works at Phiture 
Phiture is a remote-first company. This means that everything necessary to fulfill your role – all forms of communication, video meetings, onboarding, and information – is accessible online. You're always welcome to reserve a desk and come to work at the Berlin headquarters, but it's never mandatory. 
And, because we have so many people working across different time zones, we have core daily working hours between 11 am and 4 pm. The agreed window lets us align on important projects and collaborate effectively with one another, regardless of where we are in the world.
Today, all Phiturians enjoy either fully remote or hybrid work – that is, a combined in-office and work-from-home schedule we choose for ourselves. As Phiture's Managing Director Pablo Penny states: "Our people are smart – they understand in which ways they work best, and we want to accommodate that and give them flexibility." 
In Owl Labs' 2022 hybrid work report, 52% of European job seekers said that flexible working location and hours were their top priority. And some companies are now responding by reevaluating their policies in order to stay competitive and attract top talent.
How work can fit around your schedule 
When I spoke to a few Phiturians to get their thoughts on the company's policies, two common themes kept appearing: trust and choice. Performance Marketing Consultant Jorieke van den Broek says she prefers a more flexible model, "no questions asked". Though she tends to work more in the office, she values being able to decide on her own what she prefers.
Says Jorieke: "With constantly having to quarantine and test, traveling has been difficult during the pandemic, so it was super nice to be with my parents for a full month last December. As an expat, your holidays always go to visiting your family. It's nice to combine remote work with family visits, so you don't eat up too much of your holiday budget and can actually use your holiday as a time for yourself to relax."
Having flexible hours is also a priority for parents and other caregivers, giving people time to pick up children from school, run errands, or schedule doctor's appointments without sacrificing time at work. 

Work & travel
In May 2022, Phiture expanded its international remote work allowance to 90 days per year, a welcome change that many Phiturians have used to literally expand their horizons. Being able to change up your working location is an advantage in today's mobile growth industry. Everyone benefits from an international workspace, no longer just by traveling to conferences or work events – but from the greater perspective that life abroad can provide. 
Graphic Designer Dimitra Karagiannakou, who worked earlier this year from the Canary Islands, has seen significant benefits. "Working from abroad, you can experience different cultures and countries without having to take a vacation. My work as a designer is better – last year I visited Mexico, and it gave me a nuanced cultural insight and a deeper understanding of how to appeal to the audience there. It gave me a completely new perspective of the people and the advertising landscape, which really helped me translate my ideas into richer localized designs for that region."
Senior Copywriter Nick Fraser, who has recently worked from Italy, agrees. "I'm someone who likes to travel a lot, so I really enjoy the freedom and flexibility. Shaking up my normal routine and diving into a completely new environment lets me break old thinking patterns and approach creative work from a totally different angle, which has been a big positive for me this year."
An international outlook
Currently, 31% of Phiturians work remotely full-time from 18 different countries: Germany, Spain, the UK, the US, France, Brazil, South Africa, Turkey, Greece, the Netherlands, India, Portugal, Poland, Ukraine, Lithuania, Finland, Pakistan, and Estonia. When location isn't an issue, Phiture can focus solely on finding the best fit for each open position, regardless of geography.
ASO Consultant Ambra Percudani works remotely from Spain. "Working from home has improved the quality of my life. Phiture values the results of my work instead of where I work, and this makes me feel appreciated within the company."
We also have representatives from over 42 different nationalities, resulting in a rich tapestry of diverse insights and perspectives. ASO Consultant Cemre Su Özdemir works from Turkey and says: "Working with people from different cultures is amazing. I like that I can travel, as well as save time commuting to an office, which in Istanbul takes a minimum of 2 hours each day. We're all human, and maybe we need to enjoy the sunlight for an hour in the morning, run errands, or go for a walk." 
Graphic Designer Milla Odor sometimes works from the US and finds that "working remotely and closer to some of my client's time zones allows me to better communicate and respond to them promptly. It saves me valuable commuting time (around 1-2 hours every day), so I'm able to spend more time with loved ones and hobbies, which leads to overall better work-life balance and less burnout."

Virtual vs. in-person challenges
In 2022, it's been reported that 46% of employees surveyed are concerned about proximity bias — preferential treatment that might be given to those who work in the office. To combat this and promote a healthy company culture, Phiture makes a special effort to create opportunities for us to come together and meet in person through team events, company-wide offsites, and in-office meetings throughout the year. This goes a long way to strengthening personal bonds and fostering positive chemistry, which can be difficult to recreate when you're only interacting through a digital interface.
Currently, Phiturians stay connected throughout the day via Zoom video calls, Slack, and email. Moving into the future and toward the metaverse, we're also looking into using immersive video experiences to enhance the ways we interact. With the rise of Google's Project Starline and other similar innovations, many tech companies are working on futuristic solutions that will make collaborating from afar more tactile and interactive.
Mental health benefits
During the pandemic, many people faced significant challenges in their daily lives. Working remotely has affected everyone differently, but having the choice to do so has made things easier for many Phiturians.
"It's liberating to decide where you work. Also, for people with social anxiety, seasonal affective disorder, or anyone going through a difficult time, you can work in an environment where you feel most comfortable", says Dimitra.
Jorieke agrees: "It hasn't been easy coping with the pandemic mentally for a lot of people, and working from home every day was especially hard with no social interaction. We've had sessions on managing stress and mental health, and we have online therapy sessions available through Oliva. There's no stigma about this at Phiture; everyone knows it's been a weird couple of years."
A responsive, global workforce
Phiture's remote work policy has furthered a multinational approach, which means a better understanding of our clients and their target markets. Companies with flexible work policies position themselves ahead when it comes to riding out mass health crises, and having a remote-work system already in place means employees can shift easily from work to home, ready for unexpected situations.
Of course, not every job can be remote – as we saw during the lockdowns, first responders, delivery drivers, essential businesses, healthcare workers, and others don't have the luxury of working remotely. But it can be life-changing for those who can.
Managing Director Pablo Penny: "Everyone at Phiture really values the flexibility we have through working remotely. It's allowed us to be even more productive while collaborating as a team and better support our clients. We believe in progressive work policies and view having an international team, extended visits to family, and international travel as some of the great perks of remote work."
Two years on, the impact of Phiture's remote work and flexitime policies has been overwhelmingly positive. Our robust global network of mobile growth experts, active across time zones, with diverse cultural knowledge, meets the current moment and looks toward the future. 
Explore other recent articles