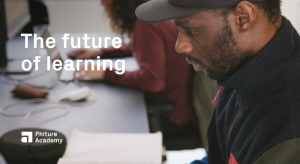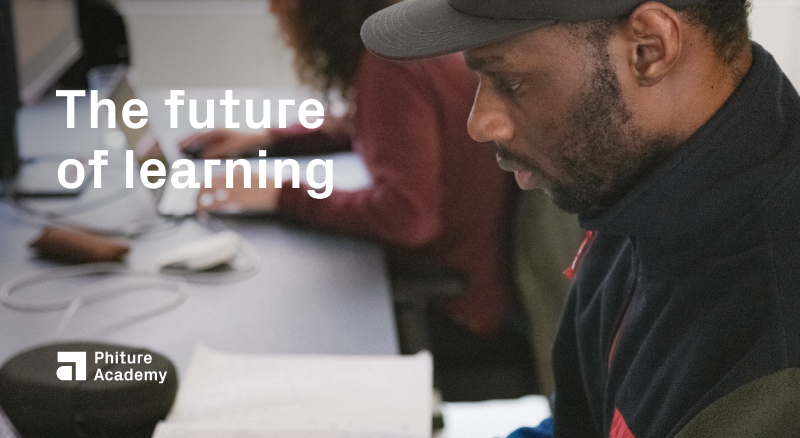 Almost three-quarters of American adults consider themselves lifelong learners. 74% say they have participated in an activity to advance their knowledge in a subject that personally interests them. As a company with personal and professional development at its center, this statistic is very promising for both Phiture and the wider Mobile Growth Industry.
We believe the skills needed to develop and scale valuable mobile products should be available to everyone. Since publishing the Mobile Growth Stack in 2016, Phiture has remained dedicated to giving newcomers an entry point into our fast-moving and dynamic field. Our philosophy is simple: Everything we know, we share. 
In this article we will outline some of the key benefits e-learning can offer organizations inside and outside the mobile growth space, and reveal some insights into what we have learned while building out our own e-learning platform: Phiture Academy. 
What is e-learning?
Before we begin, let's just take a moment to be clear about e-learning. While we're all familiar with the prefix 'E' meaning 'electronic' when added to E-Mail or E-Scooters, what does it mean in this context?
In general terms e-learning is any learning system assisted by electronic resources. In this broad definition the use of a laptop or an electronic projector in a classroom could be considered e-learning. What is widely understood as e-learning (and the definition we are using here) is the transfer of knowledge via an online portal or medium.
So, how can it be beneficial and what did we learn?
Collaboration is key
From the development of the lessons to the experience of the students, collaboration is key. 
Phiture currently has over 100 mobile growth experts with more than 100,000 hours of combined experience, so boiling all that knowledge down into bite-sized lessons involves plenty of cooperation and information sharing between multiple departments; refining and synthesizing the material to be as coherent and easily digestible as possible. 
From our largest team of ASO consultants, to graphic designers and videographers, multiple departments need to maintain strong communication and a shared overview of the objective: to create the most accessible online learning platform for mobile growth there is.
Regardless of the industry, e-learning should be a fantastic opportunity for students to connect and collaborate with those at the very top end of their field. Just like traditional learning, working and developing in a supportive and positive environment always yields the best results. 
Something we learned through the development of Phiture Academy was the importance of collaboration between the students and the consultants, inviting comments, and generating discussion. Using a dedicated Slack Channel we not only provide budding mobile growth specialists with a space to connect with industry experts, but also meet fellow students, and pose follow-up questions concerning real-life examples.

Provide expertise and set the standard 
As an industry leader, having an e-learning platform to share expert knowledge is the most efficient way to establish a reputation as a thought leader in the digital age, and provide value to those directly involved with your industry. Upon launching the first Phiture Academy course 'ASO for Beginners,' the primary goal was to give a boost to anyone interested in mobile growth topics and lay a foundation for developing effective strategies. 
However, with mobile marketing having neither a long history nor an established way of working, it soon became clear Phiture Academy had a second responsibility. As a leader in mobile growth Phiture was in the best position to create a clear, streamlined, agile model for online courses in this area. We look forward to seeing this model becoming the norm in mobile growth learning.
Assist mobile growth as a career opportunity 
The number of smartphone users today is estimated to be almost 6.65 billion, while App Annie found people spent 4.8 hours per day on their phones. With more users and apps to compete with than ever, having someone well-versed in ASO and Mobile Growth is fast becoming a vital role in the marketing team of any app-based product. 
With the demand for marketing professionals expected to rise 10% by 2030, and more people in demand for mobile growth-related jobs, it falls to those at the top of the industry to provide opportunities for personal development and further training. Providing opportunities to learn new skills at little or no cost to the student opens doors for both the individual and the industry.
With students learning remotely from across the globe on e-learning platforms such as Phiture Academy, new talent can be cultivated and harvested from new areas, allowing app marketing teams to cross-pollinate with other industries and skill sets.

Lean into remote work 
Many workplaces are now remote first, if they weren't already. The traditional training day where everyone sits together in a room may be over. With many organizations now conducting some form of training online, e-learning is now an essential resource for many companies.

In some large organizations, up to 60% of training costs are attributed to travel time. By utilizing e-learning courses such as Phiture Academy, remote-based companies can increase employee knowledge (in this case around Mobile Growth), keep training costs low, and keep employees engaged, because… 
Employees want e-learning
Studies show 87% of millennials and 69% of non-millennials consider career development to be an important part of employment. Overall, 94% say they would be willing to stay with corporations that value and invest in career development, but surprisingly only 1% of the average workweek is dedicated to training and development.

In the current 'move on to move up' career climate, staff retention is increasingly important for companies and employees. As of 2021, up to 52% of employees plan to look for a new job. Replacing employees is costly and time-consuming, making e-learning a simple and achievable strategy for improving employee retention.

Flexibility encourages results
Employees often cite lack of time to dedicate towards learning as the primary challenge facing their development. However, the main motivators for employees to begin an e-learning course are the opportunity to learn at their own pace (95%) and no traveling (84%).
The flexibility of platforms such as Phiture Academy give employees the opportunity to develop their knowledge and careers in a self-paced and self-motivated environment. The results speak for themselves, with e-learning participants retaining nearly 5 times more information than traditional learning.
What next? 
Interested in seeing why we are so excited about e-learning? Head on over to Phiture Academy where our free introductory course 'ASO for Beginners' is ready to go. This accessible introduction to ASO topics is perfect for those looking to get to grips with the world of ASO, while those familiar with ASO can update their core knowledge for the most recent app store changes.
Efficiently compare the costs of your…
---
May 24, 2023

by Simon Thillay
Key subscription metrics help growth…
---
May 17, 2023


by Alice Muir and Sameer Ginotra