"How important are ratings and reviews for ASO?" 
On the Importance of Ratings & Reviews 
One of the most influential ASO activities involves maximizing the number of positive star ratings (4 and 5 star) and positive user reviews that your app receives. Having a high star rating and positive reviews are important for convincing users that your app is actually worth downloading, via the wisdom of the crowd.  
Both ratings and reviews are important and serve the same functions for users, by different methods: Ratings convey the quick, quantitative information for measuring an app's quality, and reviews carry the more substantive, qualitative information for measuring an app's quality.
An app's star rating can be thought of as the most important single data point affecting an app's conversion rates.  
This is because the star rating is presented early-on (in store search results, in the app listing, and even in ads) and is easily consumable by users, given that it is a single, aggregated data point. Generally, a star rating of between 3 and  3.99 serves as the threshold for average apps, while a star rating under 3 serves as a warning flag to users to stay away,  and a star rating of 4 or higher indicates that an app is of good-to-excellent value. 

Additionally, because some developers pay for 5-star ratings (see the upcoming chapter on black hat ASO), or have otherwise gamed their star ratings and even their reviews, this means that a perfect 5-star rating may be a suspicious signal. Apps which have a larger number of total ratings and reviews containing more substantive information are seen as more credible and less likely to have gamed rating/reviews. 

Google Play has also began providing additional insights into ratings and reviews for users, including the top keywords found in reviews. Google also asks users to rate specific aspects relevant to the app, such as stability, gameplay or design.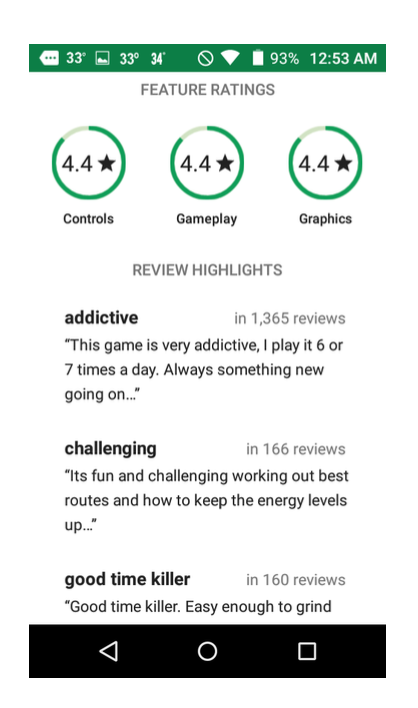 Setting Up a Review Strategy 
While it's easy to add a "rate our app" link into your app's setting screen, a passive prompt like this will result in fewer ratings than an active pop-up prompt or dynamic banner.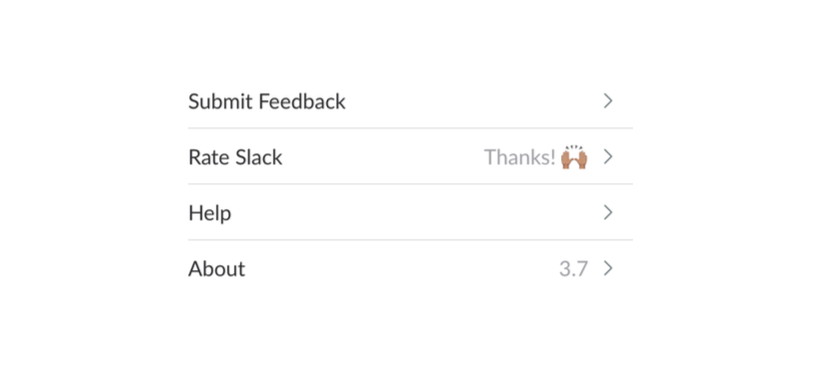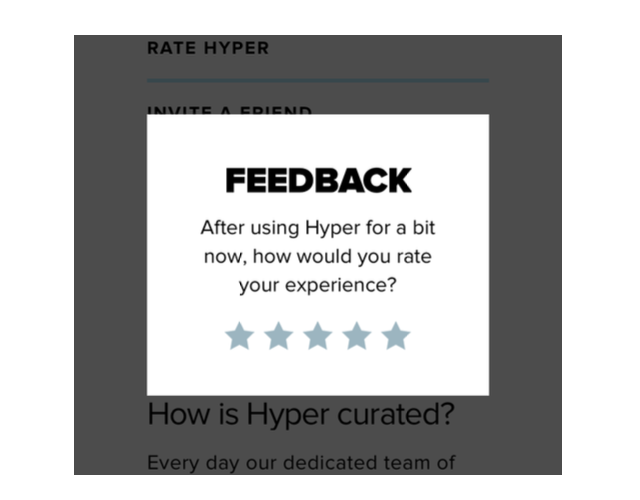 Creating an effective review strategy encompasses three steps: 
Rating prompt

Trigger

 

Dialog

and flow of the rating prompt (Google-only) 

Replying

to user reviews 
You can either manage these activities directly by adding the requisite code to your app or managing reviews through iTunes Connect or the Google Play Console. Alternatively, you can use an ASO tool, such as Appbot, to help manage ratings and reviews. 
iOS: With the release of iOS 10.3, Apple created an ability for developers to request users to rate their app from within the app, rather than sending the user to the App Store to leave a rating/review, which created friction in acquiring ratings and led to the potential for drop-offs along the way. Moreover,  this review is now required by Apple for requesting reviews, replacing custom rating prompts. Keep in mind that Apple's in-app rating prompt can only be presented three times per user per year before it is disabled. To ensure the most efficient use of your rating prompt, use the right trigger logic to identify the most optimized time to prompt users.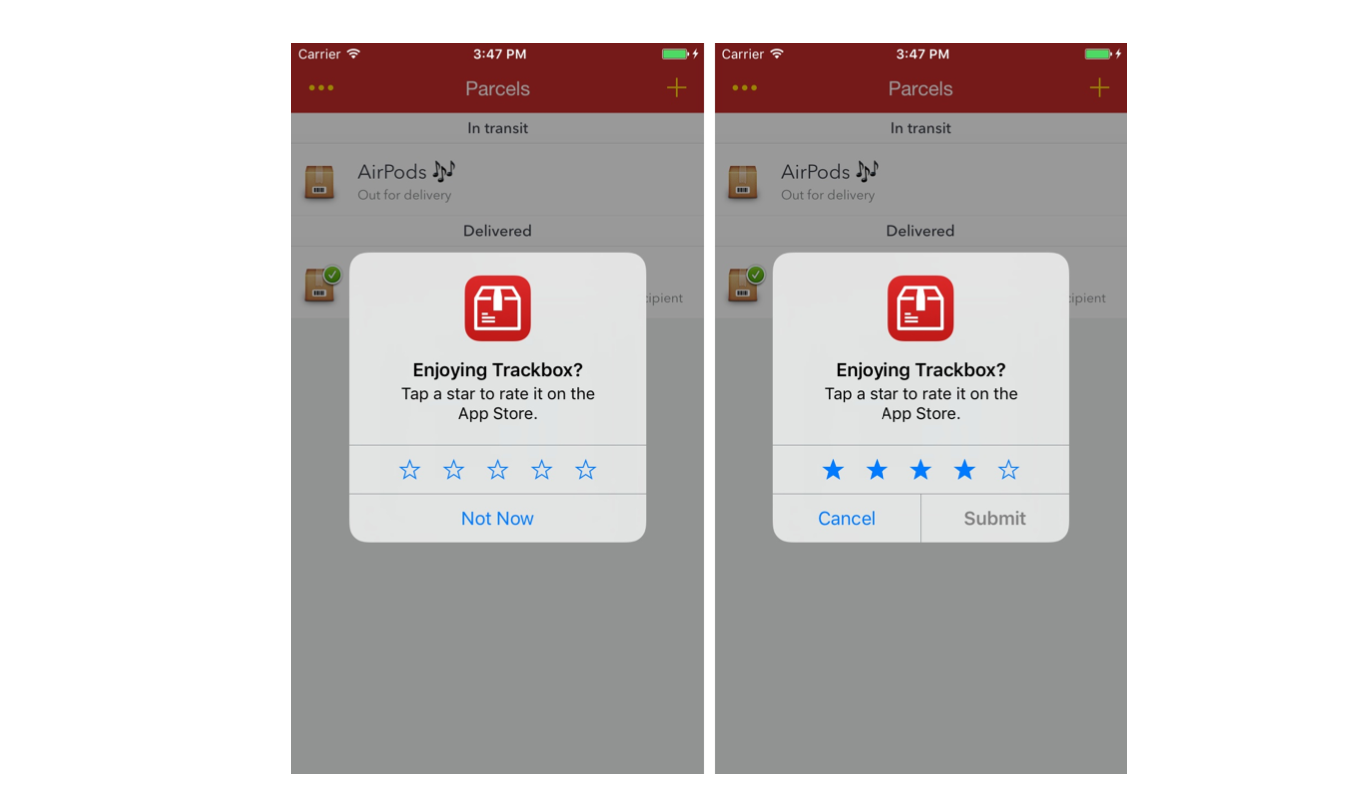 Beware: while it is up to developers whether or not to follow Apple's guidelines, proceed with caution when using custom prompts in iOS 11. Apple has disallowed such custom prompts, requiring developers to solely use iOS 10.3 rating prompt. 
Using the Right Trigger  
The rating trigger is the biggest factor influencing a user's intent to leave a review. Asking users at the wrong moment will waste a precious prompt, whereas waiting to ask users at the right time will drastically increase the likelihood of earning a rating.

USAGE TRIGGERS
Usage triggers are the simplest to set up and therefore the most common, but they are also the least effective at converting new ratings, given time is not as correlated with user satisfaction as key actions. Here are a couple of  examples of usage triggers: 
Prompt users when they have achieved the average number of launches (this ensures users have come back and are regular users before prompting). 

 

Prompt users when they achieve the average number of consecutive days of use spent in-app (this selects only users whose usage patterns indicate a strong attachment to the app). 
KEY ACTION TRIGGERS 
While key action triggers require more effort to set up, they are the most effective method for request a rating from a  user. Here are a few examples of key action-based triggers: 
 

Wait until a user has performed one or more

key actions

(this ensures users have derived some value before asking). 

 

Trigger the prompt once a user has completed some "

happy path

" chain of several key actions (this instills more confidence than a single key action that users have received good value). Thomas Petit points out that this trigger can be made even more effective by prompting users who have gone through one or more "failures"  and have then achieved "success," such as failing a game level three times and completing it on the fourth try. 

 

Wait until after a user has made a

purchase

(it doesn't hurt to ask and a purchase is a significant indicator that they like your product). 
NEGATIVE TRIGGERS 
Add negative triggers to your rating prompt logic in order to avoid asking users at a time which you know will lead to a  poor likelihood of earning a good rating from the user. Try testing one of these negative triggers in your rating prompt: 
 

If you can track

crash-related

data, do not prompt after a user has experienced a crash in the last 7 days. 

 

Do not prompt users who have

already tapped "yes, I would like to leave review" in your custom prompt

in the last 30-90 days (but reset this after a big update). 

 

Do not prompt users who have said they do

not want to

leave a review in the last 180 days 
OTHER TRIGGERS 
Prompt for a rating when a user

updates

your app (combine this with a "what's new" bullet list in the messaging). 

While not as effective as a managed prompt, adding a "rate us" button in the

settings

of your app is an easy way to maximize your potential ratings volume. 
Pro Tip: Store logic for the rating prompt trigger on a server vs client-side, so that you can easily update the logic without requiring a new app version.
Using the Right Dialog and Flow 
While Apple has disallowed custom rating prompt systems, Google has provided no such guidance, meaning that a  custom dialog and flow is still a good optimization step for Android apps. 
The visual design, messaging and implementation aspects of the rating prompt UI that users interact with will also have a big influence on your rating prompt's success. Many apps set up custom triggers, yet neglect to optimize the way their prompt shows, leading to an optimization gap. 
DESIGN 
Design refers to the text and visual UI of each pop-up in your rating prompt. Here are a few tips for improving your rating  prompt design: 
Visually

appealing UIs

grab more attention. Improve engagement with your review prompt by having a UI  designer add an on-brand touch to your prompt window with custom colors, fonts and icons. 

 

Add a fun

animation

for displaying the review prompt to entertain your users. 

 

Explain why you're asking users for a review, but don't

write a novel

to increase the chances that your text will be fully read. 
VOICE 
Voice refers to the messaging and the feel of the prompt that users take away from reading the text in your pop-ups.  Here are a few tips for improving your rating prompt's voice: 
 

Ask users

nicely

("Pardon the interruption – would you mind leaving us a review?") rather than demanding  ("Rate us 5 stars!"). 

 

Refer to your users with a level of

respect

and connection by greeting them as a "power user," "super user,"  "valued customer," or some personable nickname for users that is unique to your app (e.g. Hey Power Redditor!). 

 

Ask users to leave a review telling others about their

favorite feature

or use case. 
IMPLEMENTATION 
Implementation refers to the actual mechanics of how the rating prompt flow operates, once the trigger initiates the prompt. Here are a couple tips for improving your rating prompt implementation: 
Implement the popular dissatisfied 'response to

feedback form

' logic. That is, when you ask whether users are enjoying your app and they reply "no," link them to an email to send feedback directly or open a support ticket, rather than writing a negative review. 

 

Track which

key actions/workflows

triggered the prompt and mention that key action/workflow in the review prompt to call out the value the user received.
Pro Tip: In addition to active pop-up prompts, try placing a constant reminder of your prompt in high visibility locations as a passive banner. These passive prompts can increase the top-of-mind status for users, and also don't interrupt users while they are in the middle of a task.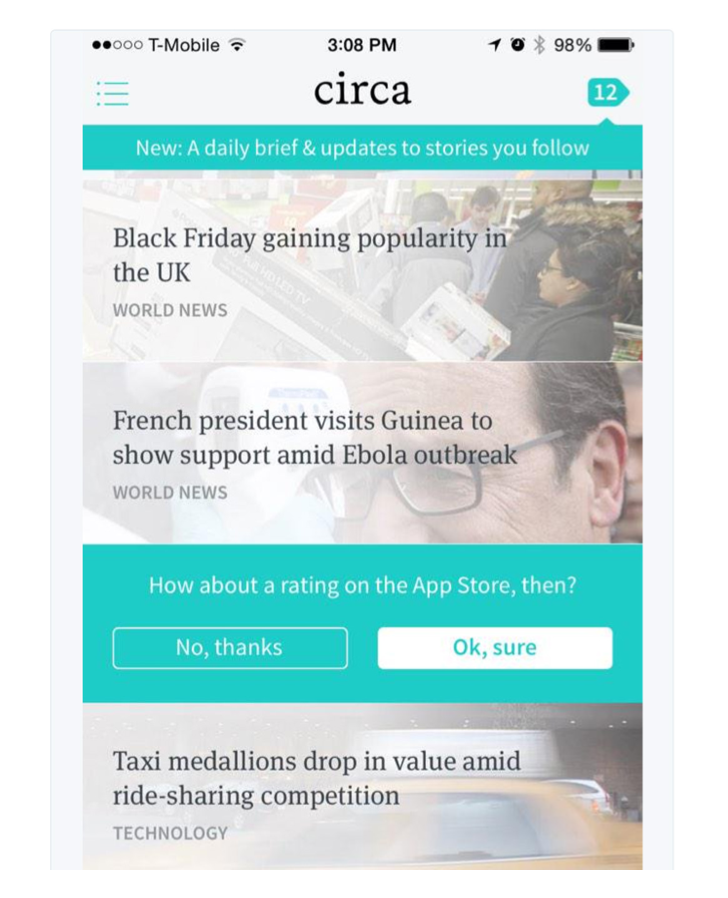 Replying to Reviews 
Replying to user reviews is a must for three reasons: 
The 1-to-7 ratio: did you know that, in order to maintain a 4.5 average star rating after receiving one 1-star rating, you need seven 5-star ratings? 
Social influence: many users read reviews to determine whether they want to download your app or not, and your reply to a negative comment can help influence these users' decisions. 
Re-engaging the individual: with your reply, you may be able to get the user to enjoy your app again. While not  extremely impactful for apps with millions of users, for some apps regaining the individual might be attractive if the user: 
is a high ARPU user (i.e. whale)

 

may turn from a detractor into a promoter (this can influence other users' conversion decisions) 
Viewing, analyzing and managing app ratings, reviews and replies in Google Play is easy to do, thanks to Google's focus on empowering developers since 2013, per below.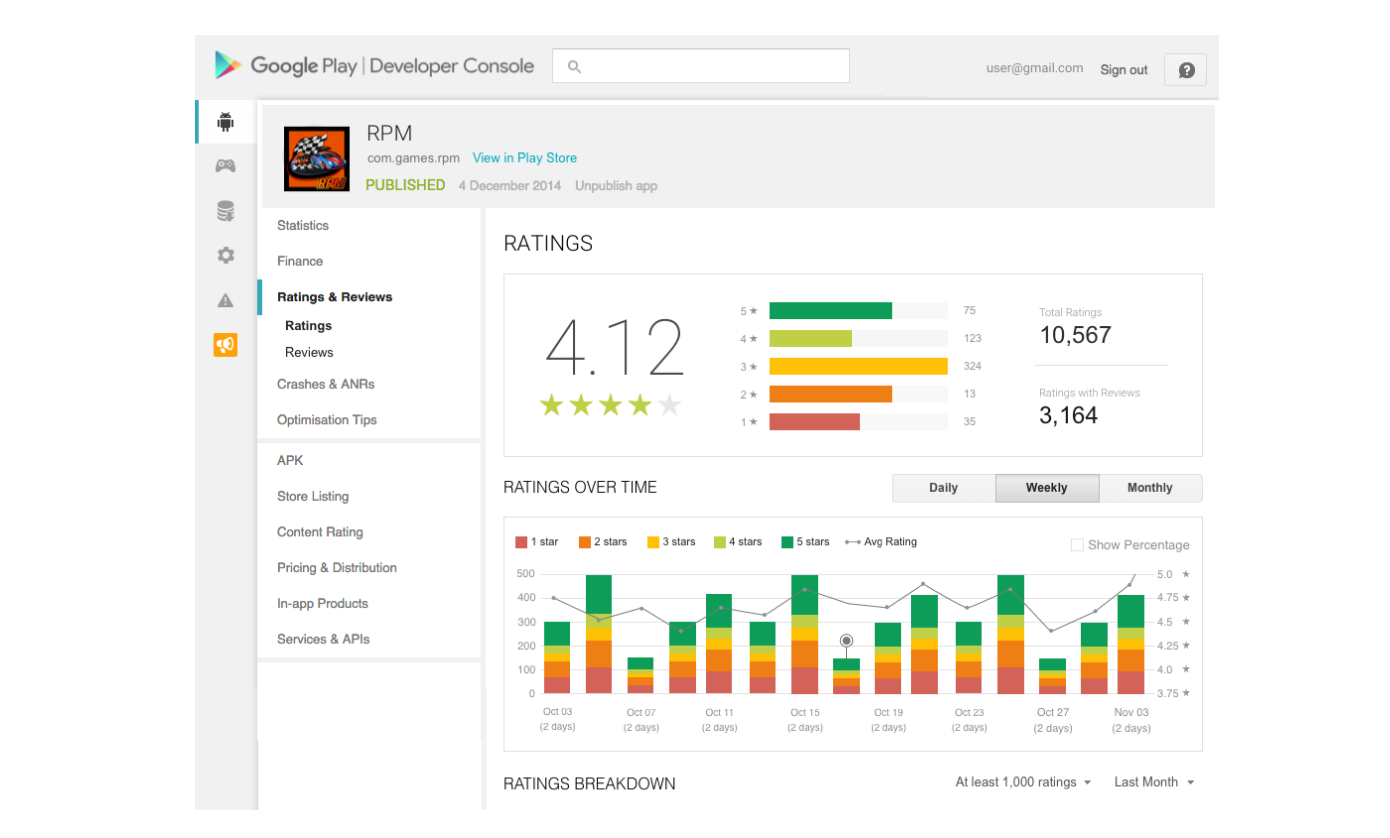 With the release of iOS 10.3, Apple also began allowing developers to reply to reviews in the App Store.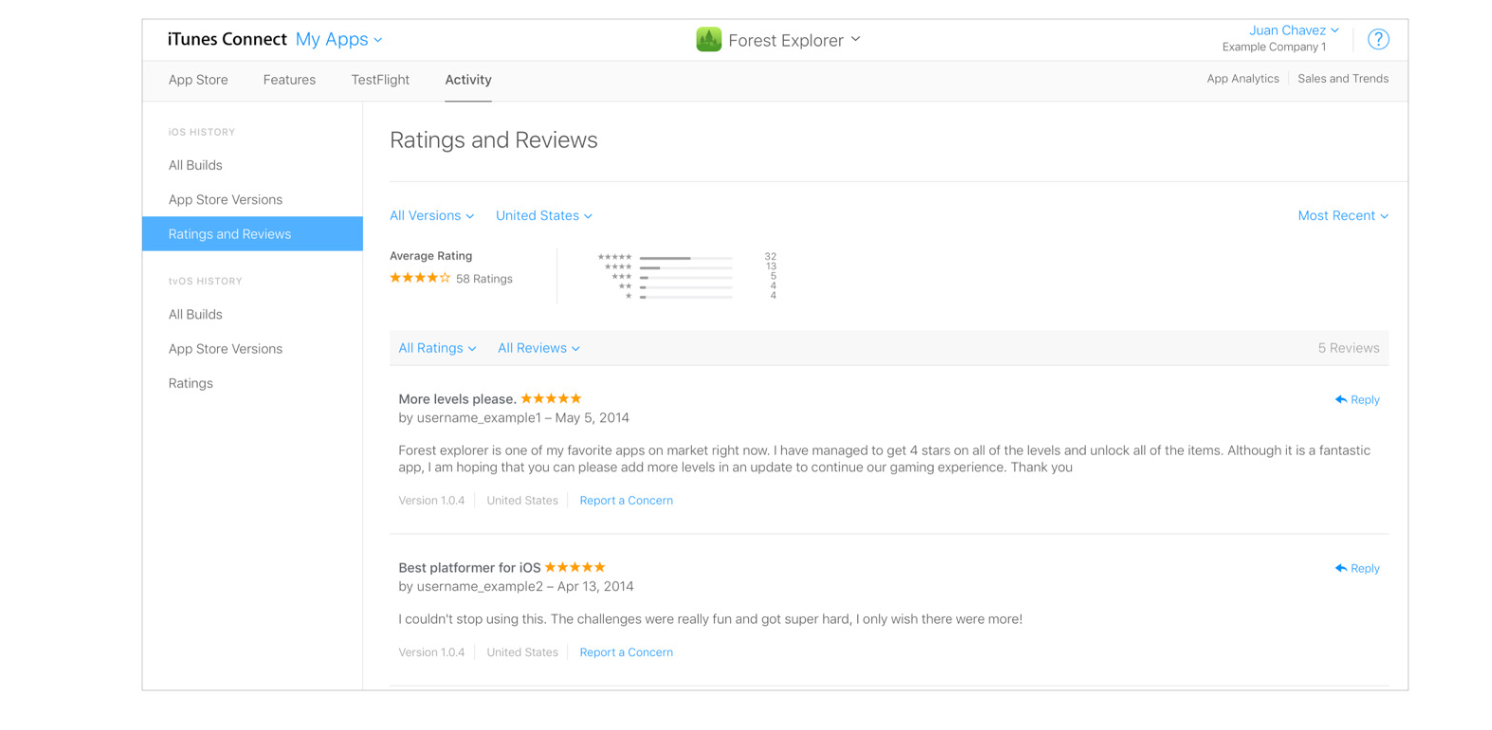 Here are some tips on how to effectively reply to user reviews: 
 

Address your users by

name

and apologize for their inconvenience – be personable!

Address their

concern

directly – help them troubleshoot their issue in your review reply if possible, and tell them whether it will be fixed in an upcoming update or that you are actively looking into it. 

 

Provide a

support email

for the user to provide extra information. 

 

Prioritize replying to the

most useful

reviews first – these are promoted by Google at the top of the list.

 Don't reply to every single review

– this can lead to a templated-reply approach, which will lead to less genuine replies, something that users can and do pick up on. 
Using Your App Listing to Ask for Ratings and Reviews
 In addition to prompting users from within your app, you can also leverage your app listing to ask for app ratings.  
You can prime new users to leave a rating after downloading your app by asking them to do so, towards the bottom of your description. You can even let users know what your ratings triggers are in the description, which can reduce the user's surprise or annoyance of being prompted, and thus increase their receptiveness to the prompt. 
You can also leave a note in the What's New-section of your new version to encourage existing users to leave a rating when downloading updates of your app (especially given that the What's New-section appears higher in the iOS product page for apps a user has already downloaded). This can be a very low effort activity to generate new reviews,  especially when the latest release adds significant new functionality that users are likely to value.