"I feel like I've tapped out on growth in my home country; how can I continue to grow my user base?" 
Addressing a Global Audience Through Localization 
In 2014 when SoundCloud began localizing, they saw a large uptick in downloads in countries where they had localized,  even though they had only localized their keywords. The numbers were presented a few months after the change in the  App Promotion Summit and they weren't lying: for example SoundCloud saw 376% MoM download growth in Russia and 264% growth in South Korea.
This was not just a strategy that worked for SoundCloud, either: in Peggy Anne-Salz's 2016 ASO report for Venturebeat,  she quoted Steve P. Young from App Masters on his findings that localization had brought in a 10x increase in downloads. 
It's not difficult to see how localization of your assets can be a high impact ASO activity, from both a visibility as well as the conversion standpoint.  
While English is often perceived as a global language given that 1.5 billion people speaking English, it's easy to forget that the other 6 billion people don't. Not only does a large portion of the global population search the app stores with local keywords (even in Australia people would search for 'pokies' instead of 'slot machines'), having a  localized app store presence increases conversion as well as the chance of featuring. In fact, some local editorial teams even make localization a requirement.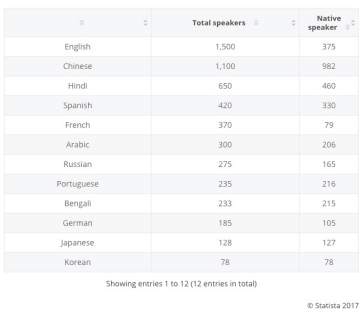 In this chapter we'll take you through several important topics in localization that can inform your visibility and conversion strategy, including how the stores work, figuring out which languages to optimize for, minimal viable translation, and other localization tips & tricks. 
How the Stores Work: Available Languages 
Let's start with the available localizations that you can localize your store presence in.  
The App Store has up to 28 localizations available, whereas Google Play supports up to 77 localizations. This is not to be confused with the number of localizations that you can localize your app into.  
In both stores, you can set one primary language. By doing so, you specify the fallback language for the event that a  user is browsing the store in a language that you didn't localize in. 
Available localizations By Store
APP STORE: 28 LOCALIZATIONS

GOOGLE PLAY: 77 LOCALIZATIONS

Chinese (Simplified)
Afrikaans – af
Chinese (Traditional)
Amharic – am
Danish
Arabic – ar
Dutch
English (Australia)
English (Canada)
Banla – bn-BD
English (U.K.)
Basque – eu-ES
English (U.S.)
Belarusian – be
Finnish
Bulgarian – bg
French
French (Canada)
Catalan – ca
German

Chinese (Hong Kong) – zh-HK

Greek

Chinese (Simplified) – zh-CN

Indonesian

Chinese (Traditional) – zh-TW

Italian
Croatian – hr
Japanese
Czech – cs-CZ
Korean
Danish – da-DK
Malay
Dutch – nl-NL
Norwegian
English – eu-AU
Portuguese (Brazil)
English – en-IN
Portuguese (Portugal)
English – en-SG
Russian
English – en-ZA
Spanish (Mexico)
Spanish (Spain)

English (United Kingdom) – en-GB

Swedish

English (United States) – en-US

Thai
Estonian – et
Turkish
Filipino – fil
Vietnamese
Finnish – fi-FI
French – fr-FR
Galician – gl-ES
Georgian – ka-G
German – de-DE
Greel – el-GR
Hebrew – iw-IL
Hindi – hi-IN
Icelandic – is-IS
Indonesian – id
Italian – it-IT
Kannada – kn-IN
Khmer – km-KH

Korean (Sounth Korea) – ko-KR

Kyrgyz – ky-KG
Lao – lo-LA
Latvian – lv
Lithuanian – lt
Malay – ms
Marathi – mr-IN
Nepali – ne-NP
Persian – fa
Polish – pl-PL

Portuguese (Brazil) – pt-BR

Portuguese (Portugal) – pt-PT

Romanian – ro
Romansh – rm
Russian – ru-RU
Serbian – sr
Sinhala – si-LK
Slovak – sk
Slovenian – sl

Spanish (Latin America) – es-419

Spanish (United States) – es-US

Swahili – sw
Swedish – sv-SE
Tamil – ta-IN
Telugu – te-IN
Thai – th
Turkish – tr-TR
Ukrainian – uk
Vietnamese – vi
Zulu – zu
Google Play Store Localization 
Even if you don't provide any translations yourself, the Google Play Store Listing long description will still be translated via Google Translate and shown to the user in their own language upon, the user's request.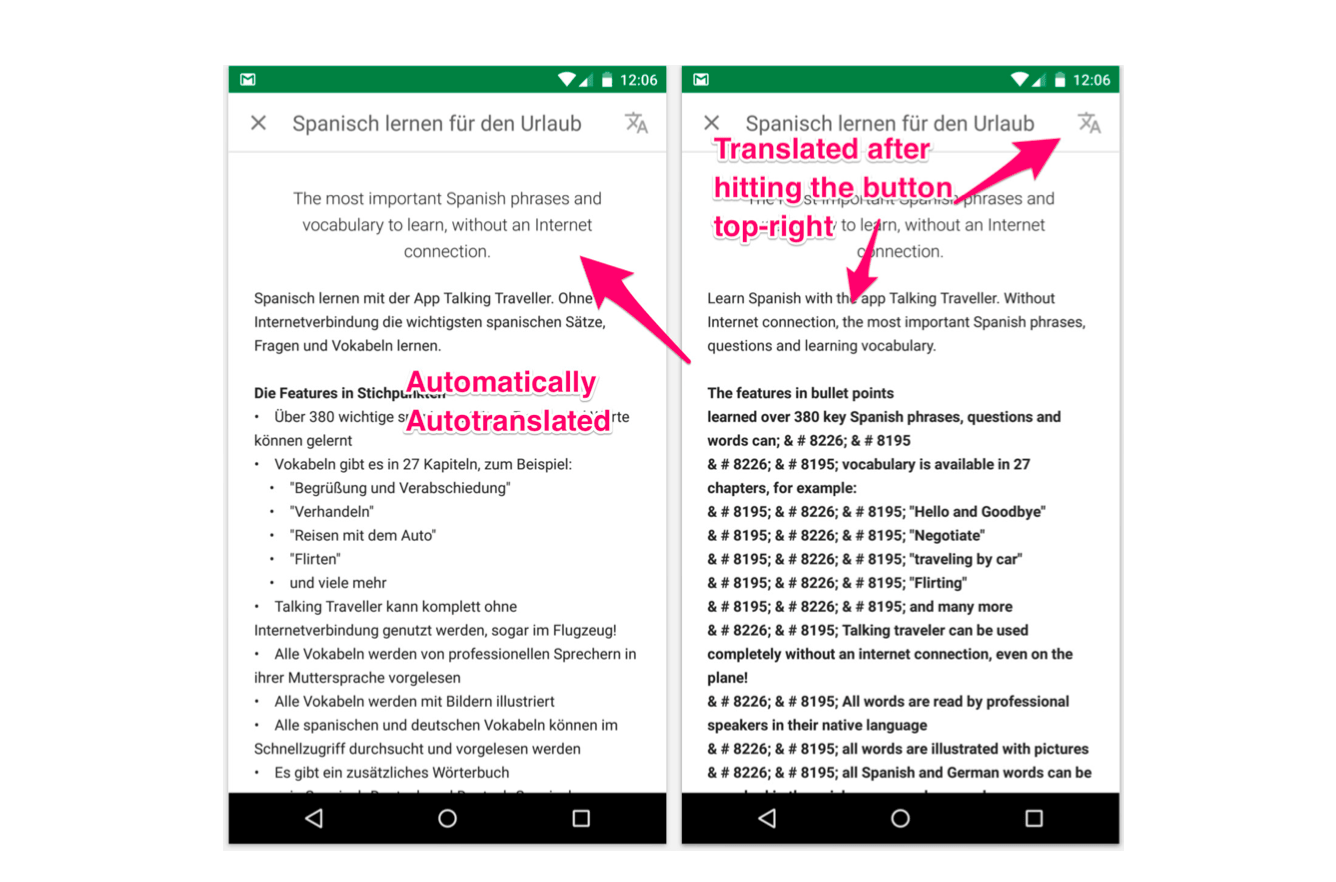 Beware: it's noteworthy that the short description is automatically translated without any user interference. While Google Translate has become better and better, it's not perfect and the automated translations of the short description can lead to weird, undesireable outcomes. Especially for brands: if you decide to stay English-only in your app store presence, it might be worth verifying that these autotranslations aren't poorly translated in your core languages, and fixing those that are. 
Pro Tip: You can use this Google Play Store Spreadsheet to check the auto-translations.  
Google's auto-translate also auto-translates parts of your keyword corpus. If you rank for "shop healthy"  in English, then it's likely that you might also rank for "gezond shoppen" (Dutch) without having a Dutch app or having ever translated and published a Dutch store presence. 
Apple App Store Localization 
The App Store is a bit more rudimentary in that it doesn't provide auto-translations, except for translations of some keywords that you specify in English (U.S.) into Spanish. This isn't visibile to users, but your app can indeed be displayed in the US to people searching for Spanish keywords. 
Even more interesting for ASO is that each App Store Territory indexes for at least 2 or more localizations. You can use this to your own benefit by leveraging keywords in the lower priority localization for the higher priority localization. 
As Apple offers some, but not all, data on which localizations are indexed where, we ran a couple of tests with fake keywords such as 'enuk1201' in the English (GB) localization and then tracked these keywords across the different app store territories. Here's what we found: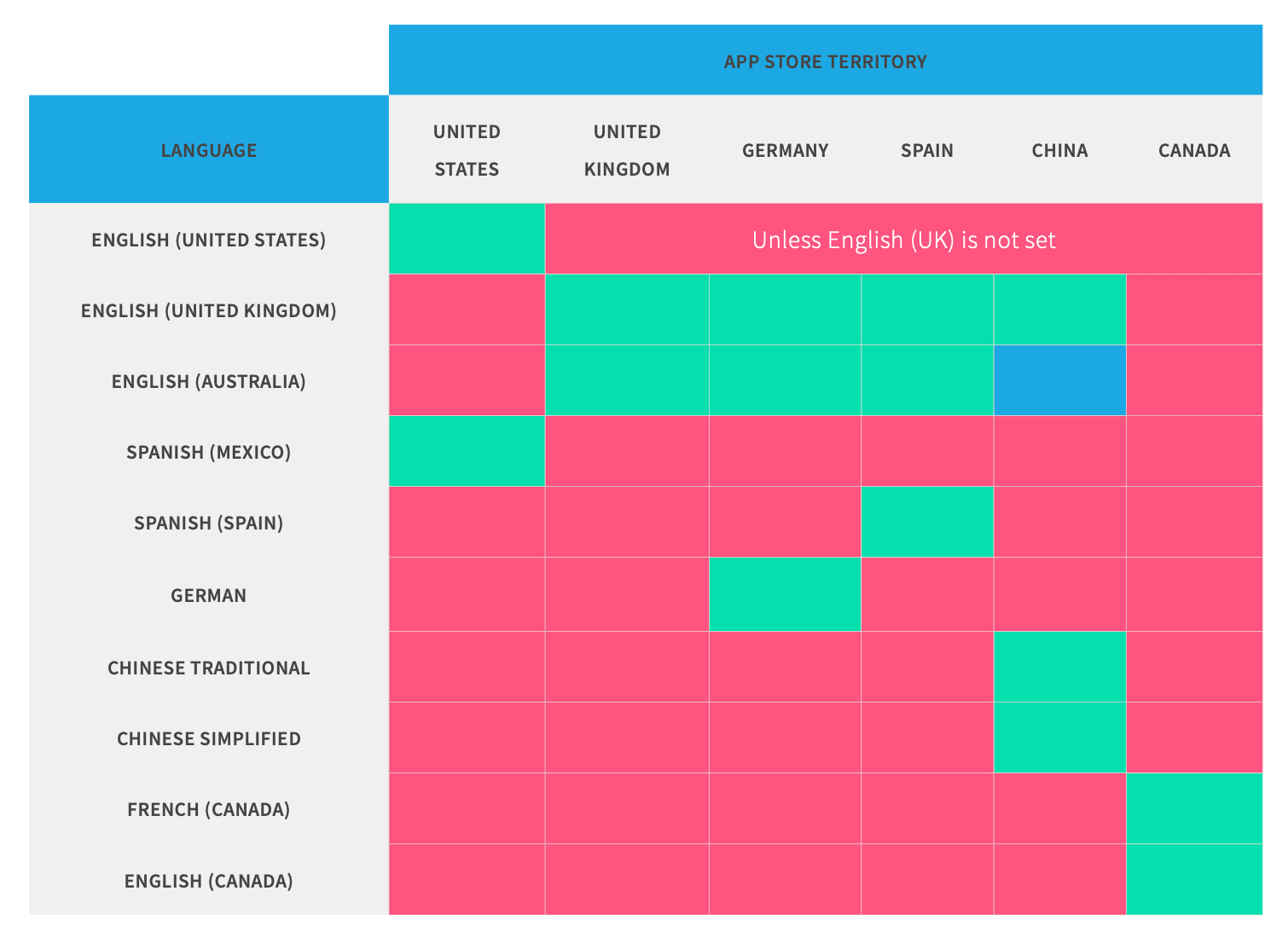 We drew a couple of conclusions from this test: 
 

In the

United States

apps rank for

Spanish (MX)

and

English (US) localized keywords. 

 

Globally

except for Canada and the US, apps rank for at least keywords found in

English (UK)

, except if the  app doesn't have English (UK) specified, in which case the app ranks for

English (US)

or whatever is set to the  app's

Primary language 
What's noteworthy is that you will also rank globally (except in Canada and the US), for English (AU). Why  Australian English would rank worldwide is a mystery and needs to be treated with caution as Apple might revert this phenomenon. 
Keywords are not combined across localizations, meaning that if you have "learn" only in the English (US) keywords field and "spanish" only in the Spanish (MX) keywords field, you will rank for "learn" and "spanish" in the US, but won't rank for "learn spanish". 
The above rules apply to the app title, subtitle and keywords field. 
SETTING YOUR STRATEGY AROUND MULTIPLE INDEXED  LOCALIZATIONS IN THE APP STORE
Say that you have a recipe app with all kinds of recipes from, vegetarian recipes, to christmas recipes, and pasta recipes. The app is in English and the core market is the United States.  
With so many recipes, the 30 character title, the 30 character subtitle and the 100 character keywords field are not  enough to store every keyword you want to rank for.  
The first step is to sort the keywords according to the methods mentioned in the chapter on keyword optimization. In that research you will want to pull data from your own app usage too: what types of recipes do you offer and how are they represented? Next, continue by entering the most powerful keywords in the English (U.S.) metadata: 

Then with the other keywords you will want to make sure to target as many as possible in the Mexican Spanish keywords field. You can also place English keywords into the Mexican Spanish title/subtitle and target more English keywords.  
While frowned upon by Apple, so far no rejections have been made public about reviewers not accepting English in non-English localizations. In general it would be a best practice to at least localize the title/subtitle to target your main localized language, so as to increase conversion. Even if your product is not available in Mexico, keep in mind that even in the U.S. there is a Spanish speaking population that might be more likely to find and download your app if you use  Mexican Spanish keywords. 

Highlighted above you see the newly targeted Spanish keywords in the title/subtitle. You can also see new types of recipes your U.S. users might be looking for in the keywords field. You can also see the keyword "recipe;" while this word is in your English (US) metadata, too, recall that keywords can't be combined across localizations, so in order to target "salmon recipes," you will need to repeat 'recipes' in the Spanish (MX) keywords field. 
LIST OF APP STORE TERRITORIES WITH CROSS – LOCALIZATION BENEFITS:



Picking Your Languages 
As we've seen there are lot of languages to choose from, so where should you start? Of course this will depend on your broader internationalization strategy, which should incorporate many different factors such as total addressable market size, monetization capabilities, your genre and available internal resources. However, if you just want to test, you can start by looking at in which languages your app is already popular in. Look at your app analytics data to see how many new or active app users your app has per language and country. Or, in the Google Play Console you can look at Installs by user by Language (Statistics > Configure Report).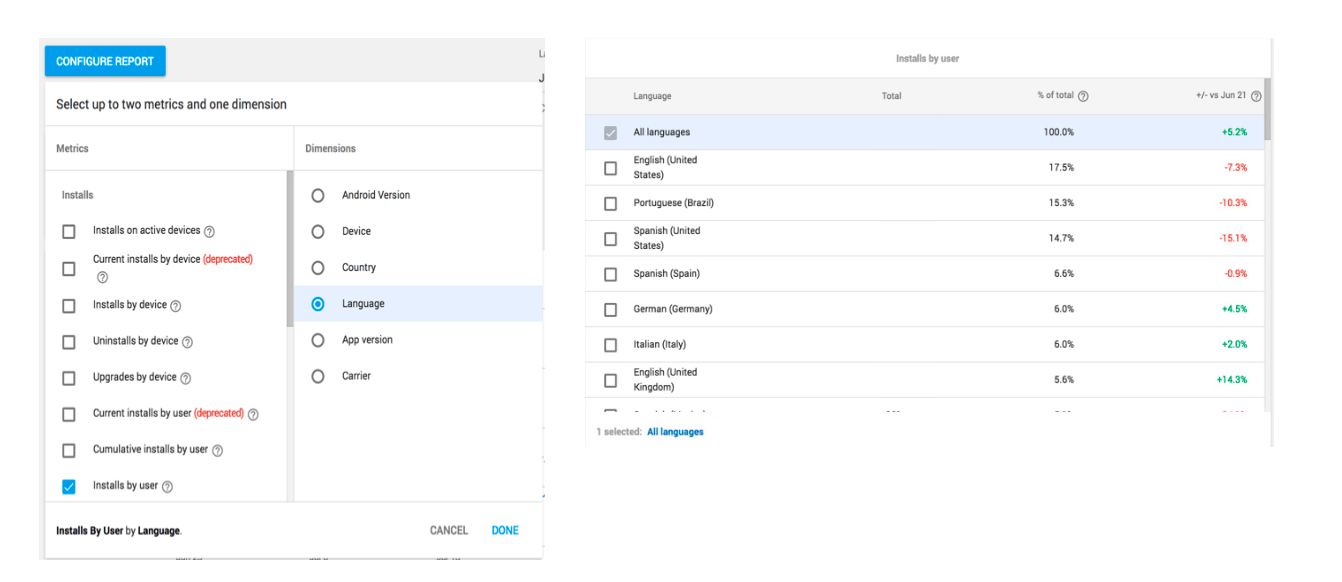 For iTunes Connect a language breakdown is not available, and you would need to base your localization choices on statistics broken down by Territory. 
Minimum Viable Translations 
A minimum-viable-translation is the minimum you can do in app store localization to get initial traction in terms of visibility and conversion, which will give you the signal to divest or invest in further localizing for that market.  
APP STORE 
Frowned upon by Apple as well as your users are automated translations. Still, these automated translations are useful for helping increase visibility in local markets for the App Store. That's what makes them the definition of minimum viable-translations, at least when it comes to the keywords field, which is hidden from users and the public. Adding a  localized keywords field does not impact your conversion, and you also still rank for your primary language. 
If you have a movie recorder/editor and want to gauge if there's any appetite in the German market, you start by going to Google translate and entering the main keyword you've identified in English. 
This specific example is nice as it explains also why you should be on guard about using Google translations in user facing messaging: while the concepts have been translated correctly, the app-specific meaning got lost in the translation.  For example for the keyword movie editor, it was transalted as the person who edits movies (Filmredakteur). You probably wouldn't know this if don't speak German! As an ASO, you should also go one step further to research how each of these translated keywords looks in the App Store using a live search or ASO tool.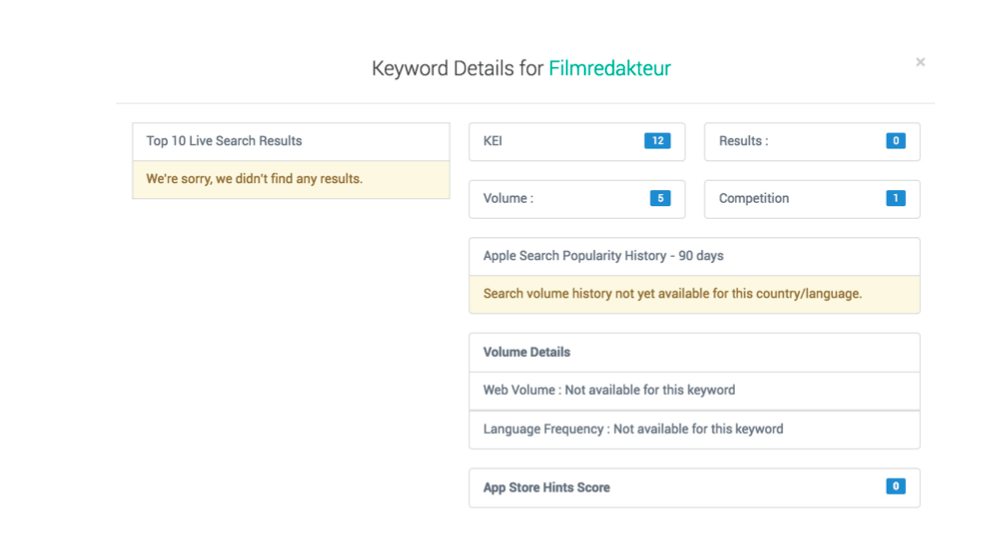 If the keyword is one of your focus keywords, then the research you will want to do is mainly focused on the root  keyword: "Film". Entering this in a tool like Appkeywords.net yields the following: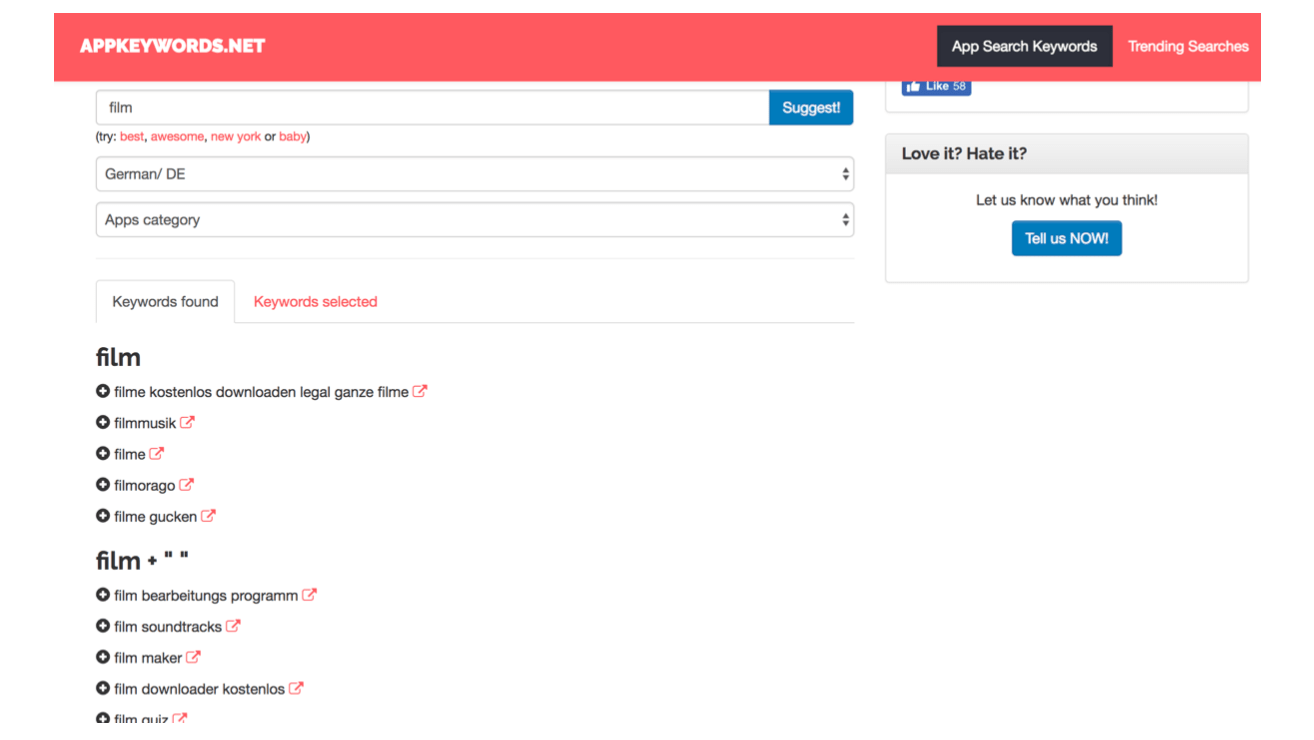 Search one of these high-volume search results to get a good idea on what other apps are ranking for this keyword, and  whether or not you're in good company on this term. 
Once you've assembled your list of German keywords, you can add them into iTunes Connect, leaving all the user facing assets the same (Title, Screenshots, etc):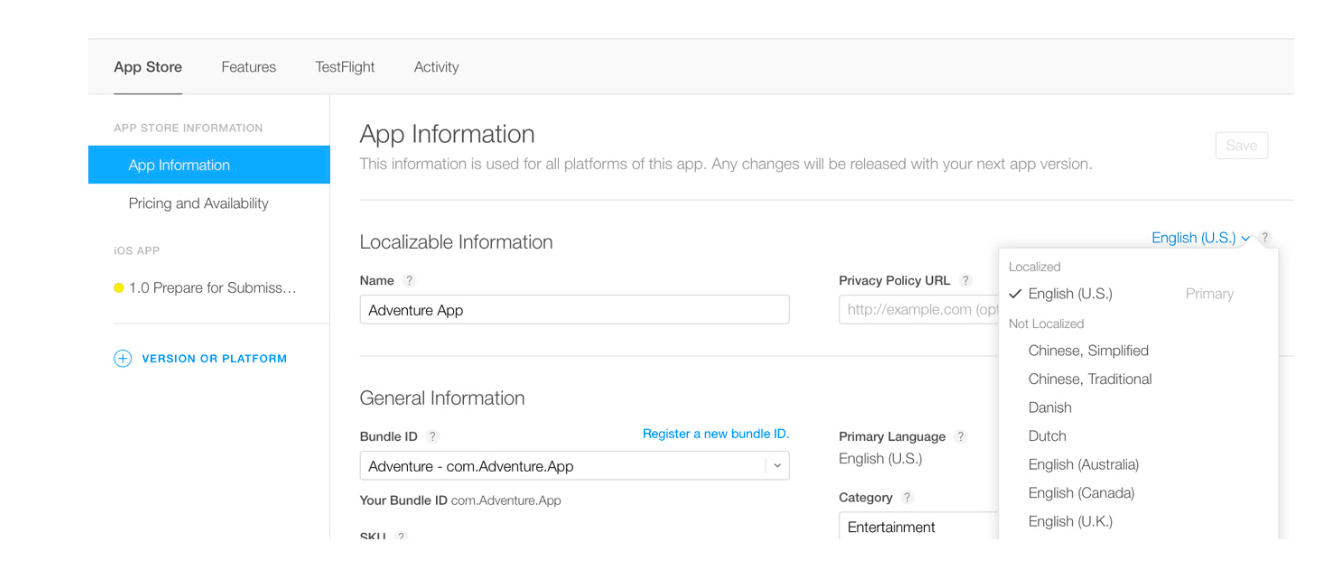 Track your main localized keywords in your favorite ASO tool and also track the number of app store search Impressions,  as well as App Units from app store search. If the translation seems to earn some initial traction, try doing another  round of optimizations or move on to Localization.  
Pro Tip: You can switch to another App Store territory by following the next steps: 
Go to the bottom of the "Featured" tab of the App Store and click on your Apple ID —

iOS 11: in  the Today tab, click on your profile image 

Click View Apple ID —

iOS 11: click on your profile image again 

Click "Country/Region" 

Click "Change Country or Region" 

Select a new country or region and click "Next" 

When asked to accept the ToS, you can safely click "Cancel" 
You're now in another App Store territory, and you'll be able to browse it, but not download any apps. 
PLAY STORE 
With Google Play, on the other hand, you won't want to mess around with automated translations. You are indexed for many keywords in local searches already without translating your metadata, and adding auto-translated metadata as  if it were professional translations can decrease your conversion rate. We therefore advise you to order a translation of  at least your Title and Short description, as these are most visible and influential on your conversion rate. You can use  a service like Gengo for this. 
True localization 
Localizing languages is not just about translation, which is where many ASOs stop. In order to achieve the best CRO  results, consider these tips: 
 

Use language that resonates with the local culture (e.g. slang or other colloquialisms), rather than even logical, 1:1 translations. 

 

Use locally correct references in your graphics and text, such as listing local units of measurement or punctuation in your description (e.g. commas vs periods for prices, like $2,99 in Europe), or including local cities in screenshots.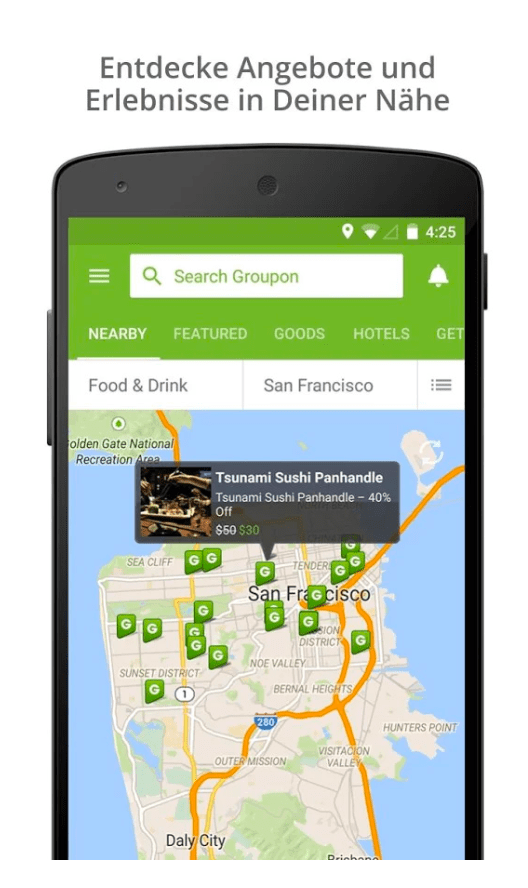 Groupon screenshot depicting Groupon's screenshot with localized captions, but with an English UI (Instead of German), showing San Francisco  (instead of Berlin) and showing $ (instead of a Euro sign) 
 

Use locally understood cultural references and trends. For example, try using the color red in China (the color  of luck), or adding overlaid text into your app icon in Japan, which is a common trend for apps. 

 

Optimize for local holidays and seasonality, such as local independence days, or summertime in the southern hemisphere at the same time as wintertime in the northern hemisphere. 

 

Especially for regionally relevant apps (such as weather apps), it might make sense to address the local  relevancy in the app icon (only available in the Google Play Store).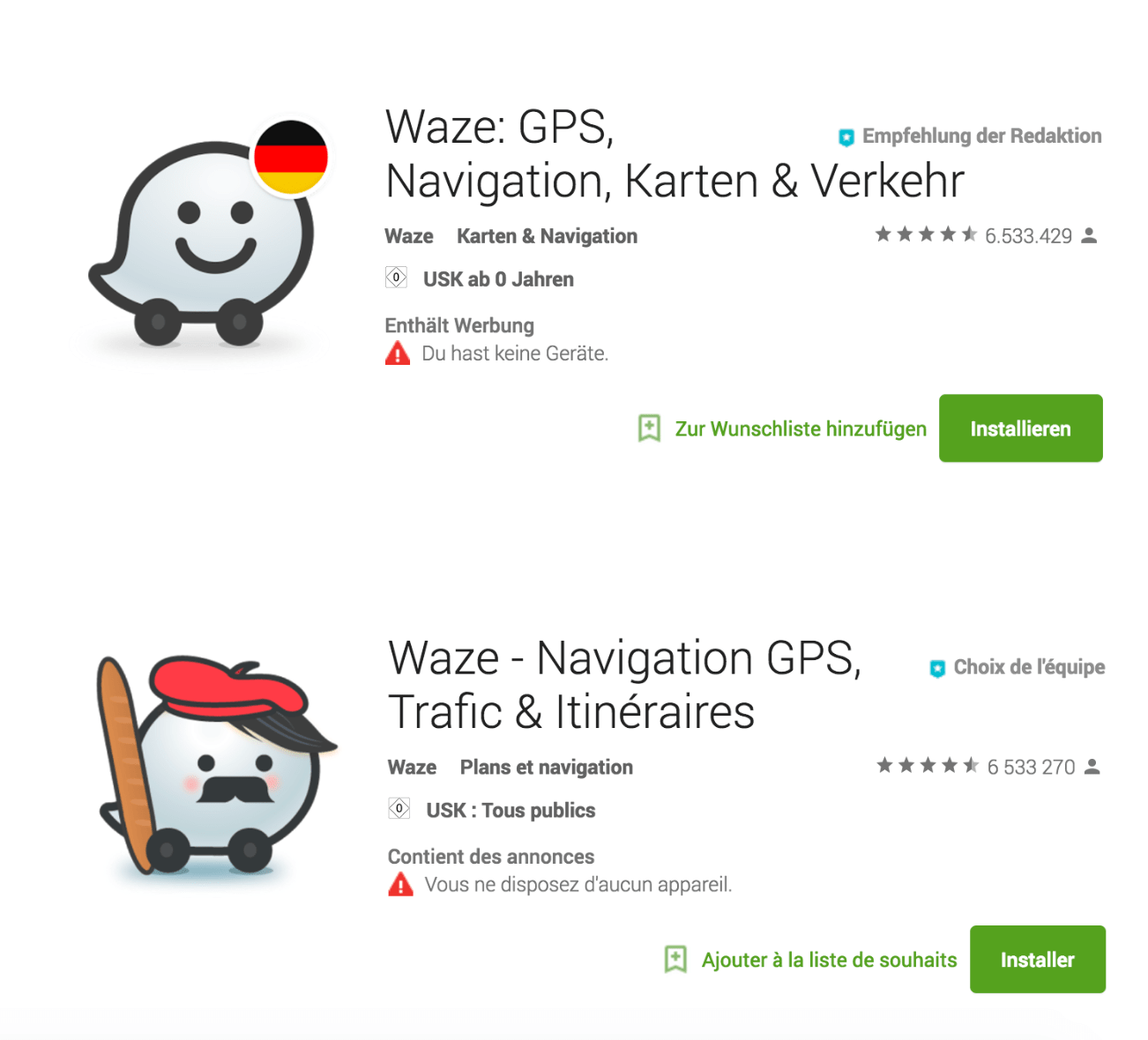 Optimize your listing for the features that resonate most with local users; don't assume that users in each  country will all prefer the same features of your app to equal degrees.  

 

If your app offers customer support in a country's local language(s), call it out! By doing so, you can assure  users that they will be taken care of if they download your app. 

 

Earn local ratings; while ratings in the Play Store are aggregated globally, App Store ratings are visible only from the local country, and additionally users will want to read reviews in their own language. 

 

If your app is newly launched, tell people that you are new to the country. By acknowledging that you are new  to the country and just getting started, you can build a feeling of genuineness and even excitement with local  users. 
Additional Resources for localization 
Localizing your app store presence can add quite a lot of overhead. Teams working with a lot of localizations will want  to ensure you have automated some of that overhead. To reduce that overhead you can use tools such as Fastlane or AppRadar Publisher. 
For more information on screenshots specifically, check out Philip Engberg's post: How I nailed App Store screenshot  automation, which expands on how he automated the generation of localized screenshots with the help of snapshot (a Fastlane tool).