03. Getting Ready for iOS 11
"I know iOS 11 is big, but just how BIG is it?" 
iOS 11 offers app marketers and developers one of the biggest updates to the App Store since its inception. The following is a summary of the broader impact that iOS 11 represents, as well as specific changes between iOS 10 and iOS 11. We will dive deeper into the mechanics of optimizing for iOS 11 throughout the book, with iOS 11 sections  clearly called out with this marker: 
iOS 11 Paradigm Shifts 
iOS 11 truly does herald a fundamental shift in the way that app discovery and ASO work. Here are five paradigm  changes brought by iOS 11: 
The New Search Results Page (SRP) 
The new search results page poses three high-impact changes to be aware of over iOS 10, including: 
Drastically increasing the importance of using a preview video, to a near-mandatory level. Whereas preview  videos in iOS 10 required a user to tap in order to play the video, with videos playing on mute, every user  will see and watch at least a portion of your video, just as users now consume more videos on Facebook and  Instagram. Apps without videos will not only lose the opportunity to tell their story in a dynamic manner, but  also suffer a competitive disadvantage vs apps that do use videos. 

Placing In-App Purchases and editorial content into the search results is Apple further monetizing a massive volume avenue in store-based app discovery. Promoting IAPs not just into the product page in a more visual fashion, but also as a large surface area keyword search result will enable apps to capture more downloads and more revenue by greatly expanding the real estate they earn in the App Store; but, this is only available if an app has IAPs. 

Increasing the size of the screen that

competitive apps

take up, thus ratcheting up the level of competition that apps can expect from peers. With apps creeping more into view while users are looking at other apps  (and preview videos autoplaying once in-view), each app will now have more competition to contend with,  and apps which are able to produce more eye-catching and appealing assets stand to gain. This represents an especially challenging shift for brands, which stand the most to lose from a degrading of their hard-earned branded search real estate. 
Broader Product Page Visuals 
The product page now offers developers a massive opportunity to tell the story of their app with a much wider canvas,  due to the ability to use up to 3 preview videos, plus screenshots and In-App Purchase icons. 
Allowing up to 3 preview videos triples the total video time that developers to sell apps, at no loss to the number of supplemental screenshots. How to make the best use of the three preview videos will take some time to fully uncover,  but the opportunity is a broad one for the savviest of app marketers/branding managers. 
In-App Purchase icons also provide an extra outlet for creativity and for retaining users on the product page for longer,  with each IAP able to tell its own mini-story through a 45 character description, name, and icon. 
Promoted In-App Purchases 
By allowing apps control over promotion of up to 20 IAPs, each outfitted with a name, description, and icon into the rest of the app store and beyond the app's product page, this increases the store visibility an app can obtain by 20x (plus potential for even more visibility via featured placements) and widens the ASO-based acquisition funnel. This means that the ASO's job also expands, to not only maintaining and optimizing visibility/conversion for one app, but doing the same for each of their promoted IAPs through A/B testing and pre-post analysis. 
Additionally, whereas in iOS 10 IAPs would only rank if the user typed in an [exact match search] (e.g. "500 gems"); in iOS 11, IAPs now rank for partial keywords and can rank for permutations of the app's ranking keywords (at least to some degree, such as "gems," or "clash gems" in addition to "500 gems"). 
Feature-First 
By adding the brand-new Today tab plus two more feature tabs and placing editorial copy even in search results,  Apple boosts the share of prime app store impression real estate that featured apps receive. 
Additionally, moving the top charts into an embedded view within the apps/games tabs is sort of like placing the Duty-Free shop at the entrance to the airport. With this move and by continuing to start users off on the Today feature tab,  Apple is able to feature even more apps to users, even if they are only interested in finding the most popular apps or searching for a particular keyword/app. 
Pressure on Google Play 
Not only do Apple's changes bring benefits to iOS apps, but they also put pressure on Google to implement an update to its store and app discovery model as well. In fact, Google released a longer title at a conspicuously similar time to Apple's iOS 11 announcement, and soon after officially announced a move to take more control over AdWords app campaigns by making its UAC product the only app ad product, which was not entirely dissimilar to Apple's concentration of store impressions into its featured content.  
That said, Google did not take action when Apple reduced its revenue rake from 30% to 15% after apps attain one year's worth of subscription charges from a user. 
Keep your eyes peeled for Google's next big move. 
What's New in iOS 11 
Much of the iOS 11 update includes changes to the UX and UI of the App Store itself. These changes represent not just a  facelift in the App Store, but a shift in the way that ASO is managed. From changing the navigation bar, to increasing the number of variables placed in the search results page, to adding brand new ways to purchase digital goods and more,  it is important to understand the scope of influence that iOS 11 has. Here is a side-by-side comparison of changes  affecting ASO in iOS 10 vs iOS 11: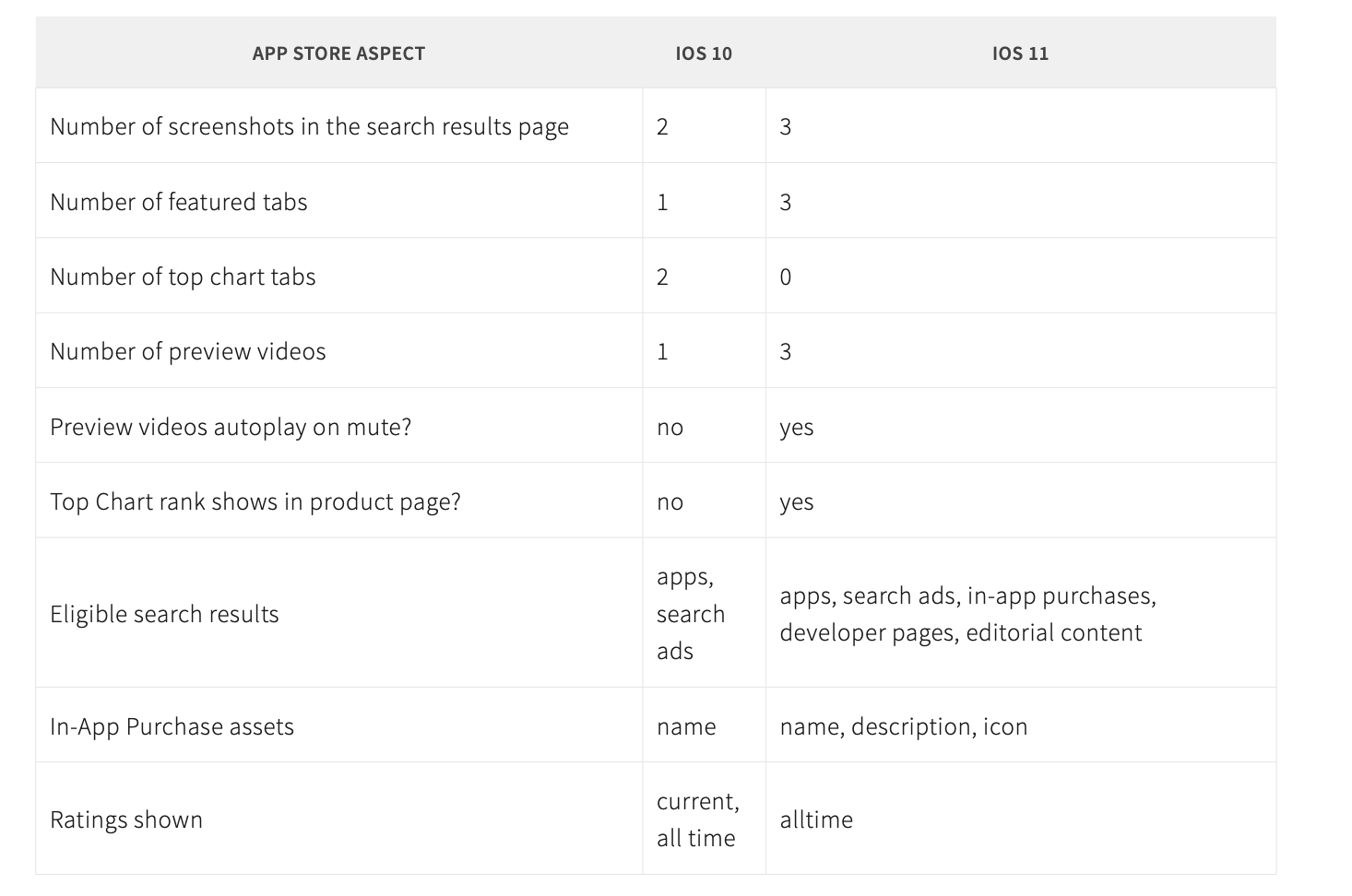 Featured Tabs
One of the most noticeable changes is that the featured tab has been revamped and split from one tab into three  separate tabs: 
Today – a featured tab for the highest feature visibility apps/games. 

Games – a featured tab just for games. 

Apps – a featured tab just for non-game apps. 
Users initially land on the Today tab and have the option to delve more into games or apps in the next two tabs.  
The Today tab allows Apple to call special attention to apps, games, app themes, and developers in greater detail and focus than the other featured tabs. Apple accomplishes this premium experience via placement (the default tab in the  App Store), size of placement (the average feature square size in the Today tab is the size of about 3 rectangles in the games/apps tabs), and an expanded UI that allows the developer to tell a story using lots of text and multiple visual assets. The Today tab also highlights an app or game of the day, and indexes each previous set of Today features in a  vertically scrollable list. 
So far, each day in the Today tab is organized into the following: 
 Editorial spotlight

– a showcase piece on one developer (e.g. the creators of Rick and Morty) that includes images and text, and a link at the bottom to share the story, or download the developer's app. 

Themed app collection

– a set of apps that follow a common theme (e.g. "make parties less awkward."), with a brief paragraph of text explaining the theme at the start. 

App of the day

– a single, showcased app with a few paragraphs of text. 

Game of the day

– a single, showcased game with a few paragraphs of text. 

The Daily List

– a list of generally featured apps. 

Quick Look, optional

– a single app with a story of text and images that includes a link to download the app  (e.g. ride for a cause, Lyft). 

 Featured In-App Purchase, optional

– a showcased In-App Purchase. 
The apps and games tabs contain similar content to the featured tab in iOS 10, but with less content and a horizontally scrollable list. Critically, the top charts are also embedded in the apps/games tabs. Additionally, in iOS 11 featured apps can earn a video placement instead of just a static banner, and In-App Purchases can be featured. 
The segmentation of apps vs games will also allow for a higher conversion rate for the apps that appear in each tab, as users are no longer forced to sift through apps to find games, or vice versa. The same conversion rate boost should also be recognized by reducing the total number of features and increasing the size of each feature placement. 
App subtitles also show in the featured tabs, as well as top charts.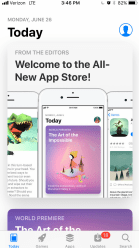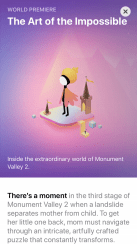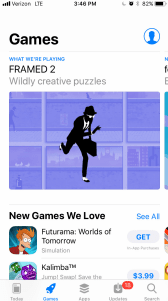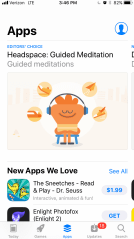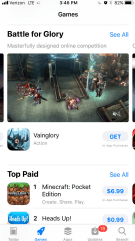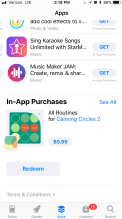 Top Charts 
As mentioned, top charts have been relegated in iOS, from their own tab into a space embedded within the games or apps featured tabs. 
Top charts have also been converted from a vertical scroll in their embedded view, to a horizontal scroll, meaning that only the top 3 paid/free apps/games now will capture the highest-volume top chart visibility real estate (i.e. above the fold of the top chart). The horizontal scroll also ends after the 12 apps, forcing users to tap into the top chart to see the rest of the top apps. 
Entering the top chart allows users to see all apps, as well as filter in the same view for different categories.
App icons have been removed from the top chart category icons, replaced by only a default image for each category. Additionally, there is no more top-grossing chart.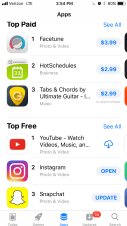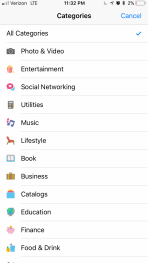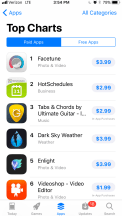 Search Results Page 
One of the biggest changes is that the new search results page shows three images (the first preview video and the first two screenshots, or else three screenshots total). This squeezes the space and makes reading text in screenshots much harder. 
Preview videos also now autoplay on mute as soon as the video is within view (unless a video begins playing further up screen, in which case the second video will wait to play until the first has finished). Each app results is smaller, and  In-App Purchases, Apple editorial pieces, and developer pages are now eligible to show in the search results page. 
Subtitles also appear in the Search Result Page, and related searches have been removed from the US store.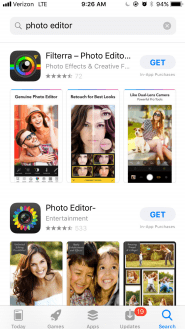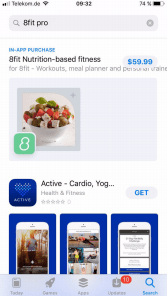 App Product Page 
The product page now shows several new data points: 
The app's highest top chart rank (if applicable). 

The app's subtitle. 

The app's all time ratings (there are no more current ratings). 

A 170 character promo text that sits separately, on top of the description. 

An icon, name and description for up to 20 In-App Purchases. 
For apps that a user has already downloaded, the What's New will appear above the screenshots, and below the ratings/ reviews for users who have not downloaded the app. 
Videos will autoplay on mute in the product page as well, and developers can have up to 3 preview videos and 5  screenshots. 
In-App Purchases will scroll horizontally just like the top chart view in the apps/games tab.