"How can I make sure that I stay on the good side of Apple and Google and not run the risk of having my app taken  down?" 
The goal of ASO is to boost visibility and conversion, while still abiding to the rules of the app stores. In contrast, the  Black Hat sect of ASO disregards these rules completely and uses unfair optimization tactics to gain a competitive advantage. To prevent such unfair competition Apple and Google lay out strict penalties (such as removal from their app stores and developer programs) for apps that break the rules or use forbidden tactics. 
This chapter aims to give an outline of which practices of Black Hat ASO are out there and how to be effective with ASO  while at the same time steering clear of dangerous or shady black hat tactics.  

Both Apple and Google have a set of strict guidelines and rules ( Apple App Store Guidelines and Google Play Store Guidelines) but also at other times keep it necessarily vague on what exactly is considered overstepping the line. According to Apple's review guidelines, developers will know the line when they cross it.

The app stores rely on developers to optimize for discovery to deliver a great user experience. Apple encourages apps to optimize app metadata, from text elements like the app the description, to visual elements like screenshots, so that users can enjoy the optimal store experience. Apple even actively seems to embrace ASO and give tips on how to optimize for search. Google Play goes one step further and provides tools like Store Listing Experiments to optimize assets, next to other useful features for conversion rate optimization (CRO). 
Black Hat ASO is used to artificially increase both visibility and conversion 
In CRO terms, Black Hat ASO is used by spammers to gain an unfair advantage against legitimate apps by manipulating the areas of CRO that deliver the most impact. 
Burst campaigns, one of the main tools in the Black Hat ASO's toolkit, are mostly used for growing an app's visibility. Yet for Android apps (where the total downloads are visible to users), burst campaigns can also increase an app's conversion rate by making apps appear more popular than they actually are through this social proof-based data point. This can also occur in the App Store in iOS 11, where top chart ranks show in an app's product page. 
Campaigns that raise an app's star rating and generate fake reviews are also a big Black Hat CRO tool. By raising an app's total star ratings, boosting its star rating and/or filling an app's store listing with flattering reviews, black hat  ASOs can fool unwitting, legitimate users that an app's value is higher than it actually is, and earn a boost in organic downloads. 
While it is effective in the short term, over the longer term Black Hat ASO tactics cannot improve an inherently poor quality app. As such it offers a view into the fact that having a good conversion rate is required in order to maintain or grow visibility, as explained throughout this book. 
To illustrate this fact, we conducted a case study investigating a weather app spammer that used a set of apps to infiltrate the top keyword ranks for "weather" searches in the Google Play Store. While the spammer used fake reviews and a keyword burst campaign to initially gain a top rank for weather searches, the app subsequently lost ranking as legitimate users stopped downloading it or wrote bad reviews. 
Black Hat Strategy: Keyword Metadata Manipulation 
The following are a few of the most common Black Hat tactics around keywords in the app metadata. 
Black Hat Tactic: Keyword stuffing 
In the play store, where the descriptions rank for keywords, one simple tactic is to shove as many keywords as many times into the description, in hopes of earning higher rank for those keywords. The app below offers a view into keyword  stuffing for the keyword: "mp3," "download," and "music."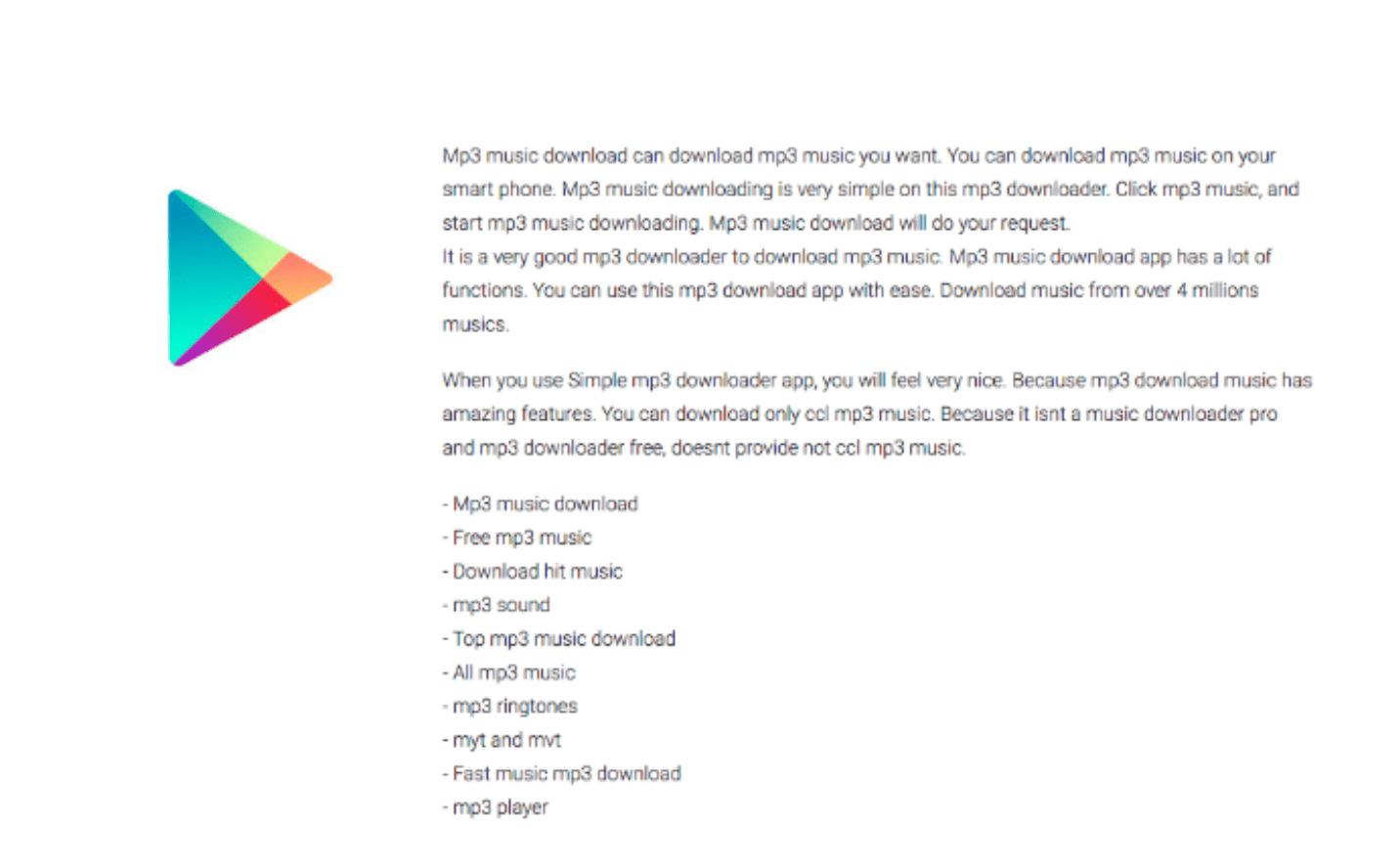 Black Hat Tactic: Leeching off of brand Names 
Using well-known brand names and sometimes even their logos to deceive users into downloading the black hat app instead of the original. Taking into account that, according to Google, more than half of the users are searching for a specific title, this is naturally a widespread Black Hat tactic. While Apple reset star reviews after each update in iOS 10  or earlier, these fake apps could simply submit a new version after getting too many negative reviews. And, while in iOS  11 ratings do not auto-reset, developers have the option to manually reset their ratings and reviews.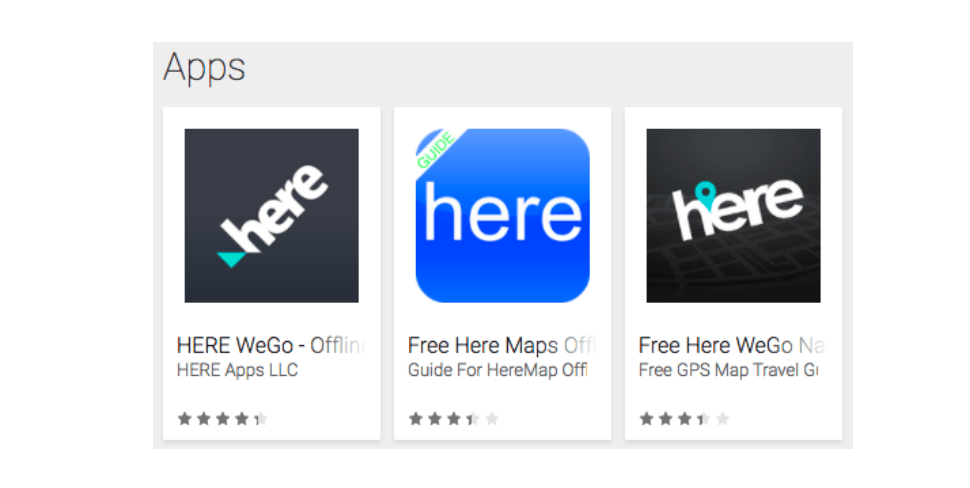 Black Hat Tactic: Trending Search Manipulation 
A position in the trending searches can result in a significant amount of downloads from users casually browsing the  App Store. This presents an opportunity for fraudulent searches which can be used to increase exposure and get short term growth.
A slightly less aggressive, yet borderline Black Hat technique is incorporating trending search keywords that aren't relevant to the app itself. It is also prohibited in the guidelines of both stores and can result in getting banned. But of course it is legitimate to adapt an app so it becomes relevant to a trending keyword, such as "Halloween", i.e. by changing the app temporarily to a Halloween edition. 
Black Hat Strategy: Ranking Manipulation 
App store rankings are one of the major drivers for traffic and app discovery, whether it's ranking in the Top 100  downloaded charts, ranking within a category, or keyword ranks. 
Because simple download data or download velocity data are highly important factors in the ranking algorithms, the  algorithms are left vulnerable to a number of Black Hat tactics: 
Black Hat Tactic: Top Chart Browse Manipulation  
Black hat methods acquire massive numbers of cheap installations, which can come from many sources, such as people who are paid to download apps, bots, or incentivized ads.  Some bot installs can even go as far as pretending to be "retained" Installs (fake users opening the app after X amount of time), manipulating rankings beyond the initial burst.  The main target of burst campaigns is acquiring organic downloads from the visibility attained by achieving high top-chart rankings, but keywords can also be affected, per the following page.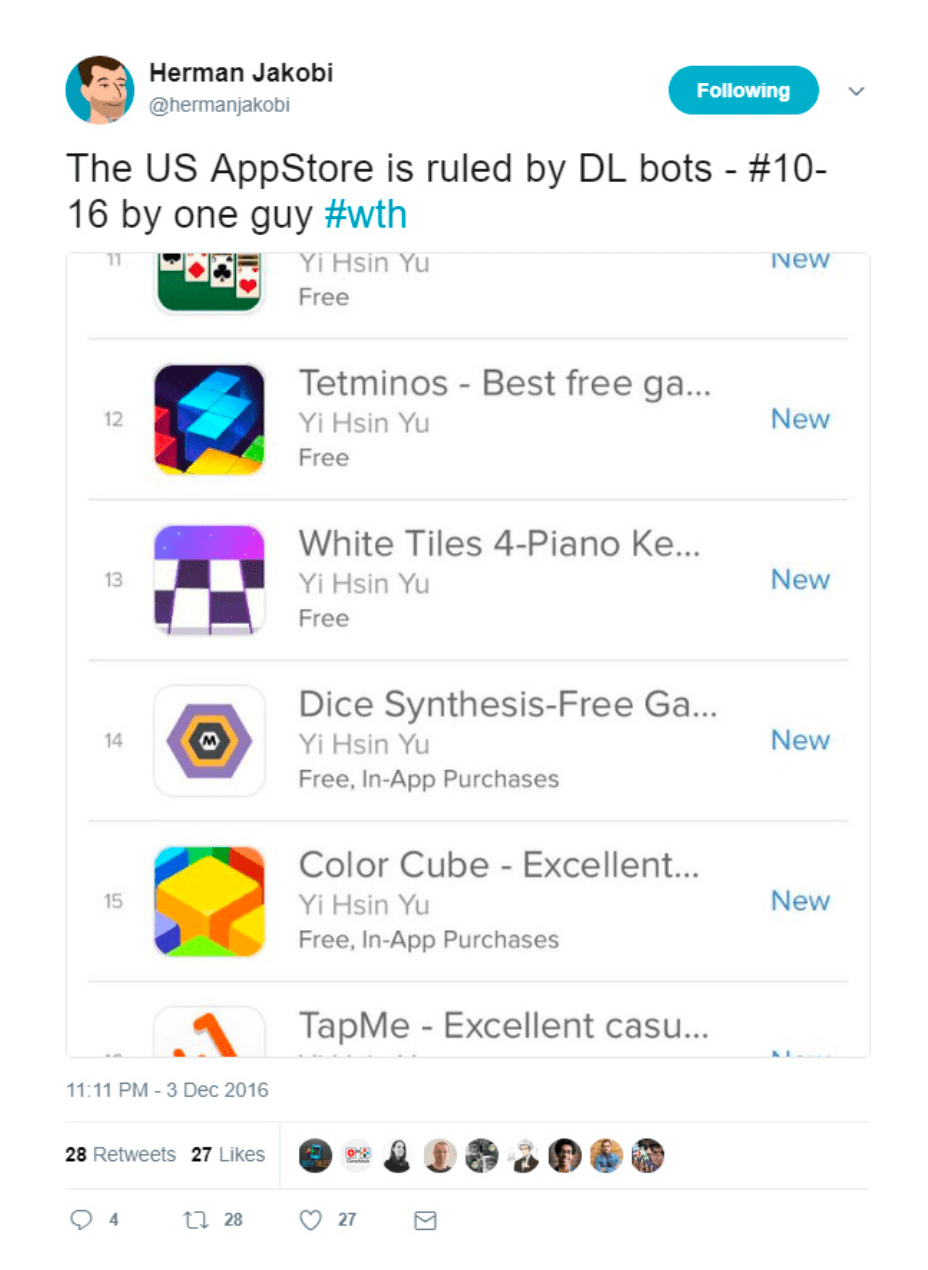 Black Hat Tactic: Incentivized Installs 
In 2011, Apple prominently cracked down on incentivized app Installs campaigns by rejecting apps that had implemented offer walls for incentivized downloads. One issue with incentivized Installs is that they usually lead to a low quality user base, which can hurt an app's engagement metrics. This can be mitigated by using incentivized video ads where a view is rewarded with in-game currency but the actual download is optional. 
While incentivized Installs are mostly regarded as a gray hat tactic and can be used by legitimate apps, incentivized  Installs are still designed to manipulate rankings by acquiring a large number of Installs from users who have little-to no interest in the app itself other than simply earning an incentive (such as unlocking content in another app). 
While taken in the context of purely building brand awareness, this is not a problem; however, when considering that app rankings are a zero-sum game where downloads of all kinds affect rankings, this means that apps which gain rank via incentivized downloads push out apps that have worked hard to acquire downloads from more legitimate sources, often over a longer period of time; this fact marks the transition of incentivized Installs from being acceptable to becoming harmful to the legitimacy of the App Store. 
Black Hat Tactic: Search & Install Campaigns 

Here, users are incentivized to download an app coming from a specific search query instead of directly downloading from the App Store page. This results in both a higher Click-through-rate as well as a higher amount of users that convert from this particular keyword. Also it can affect the trending searches section if done at scale. 
In addition to affecting the total downloads, recall that the app stores consider conversion rate as a major signal for keyword rank. This has implications for search & install campaigns, because if an app is able to acquire artificial keyword searches that convert at 100%, they can game the system by raising their conversion rate for that keyword overall. While store ads can be used in some ways for the same purpose, this can be a far more expensive approach. 
While search + install campaigns are seen by many as Black Hat ASO, others consider it legitimate, and providers that are manipulating the search scores are openly promoting these type of campaigns. 
Black Hat Tactic: Manipulating the Top Grossing Chart 
This tactic, highlighted by Gabriel Machuret, includes increasing the price of an app to astronomic heights and then asking friends to buy it. 
The trick is to let them demand a refund right away after the transaction has been processed. This will lead to climbing on top of the top-grossing charts within a category to then just change the pricing back to normal and profiting off the increased visibility due to the top-grossing ranking spot. 
With iOS 11 and the removal of Top Grossing charts this topic becomes obsolete for the App Store. 
Black Hat Strategy: Manipulating Ratings & Reviews 
User reviews are one of the most important factors for app store ranking and conversion rate optimization. A common  way is to ask the users to rate their experience within the app first, and then send only the happy users to the app store to leave a rating (this is called segmenting), but recently Apple seems to be taking an issue with this approach, and now 
requires developers to abandon custom prompts, and instead use only Apple's 10.3 in-app rating system. 
There are a number of Grey-to-Black Hat tactics to boost user reviews, all of which are illegal but nevertheless commonly found. 
Black Hat Tactic: Incentivized Reviews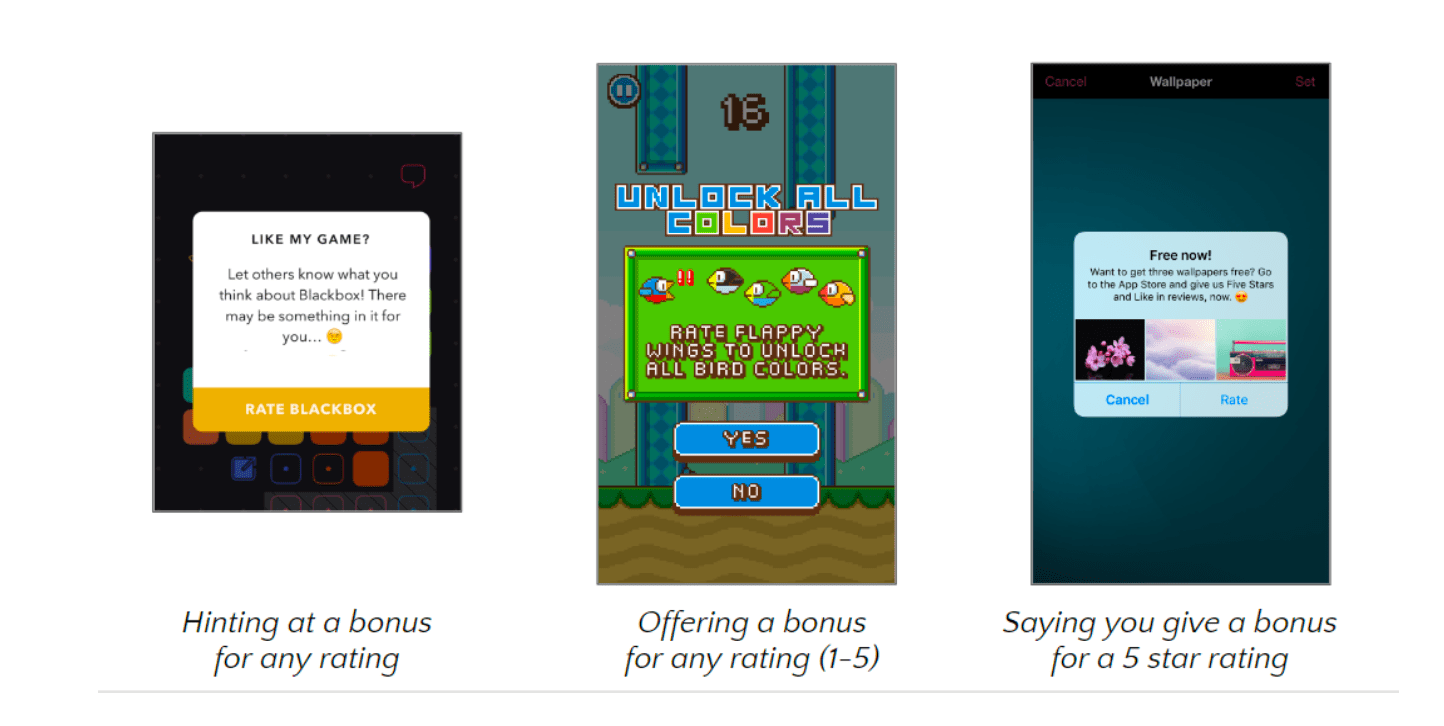 This tactic includes everything where the user is offered something in return for leaving a review. Apple prohibits offering for example in-app currency, content or upgrades in the app to get reviews and ratings in return. In their  guidelines Apple is stating "Developers who attempt to manipulate or cheat the user reviews or chart ranking in the App Store with fake or paid reviews, or any other inappropriate methods will be removed from the iOS Developer Program." 
Black Hat Tactic: Paid Reviews 
Buying reviews is a prohibited, but very common Black Hat tactic. Normally these reviews are quite easy to recognize when taking a look at the wording. If there are a lot of reviews with almost identical wordings, it's safe to assume that these reviews are bought. It also happens that identical reviews from competitors are used.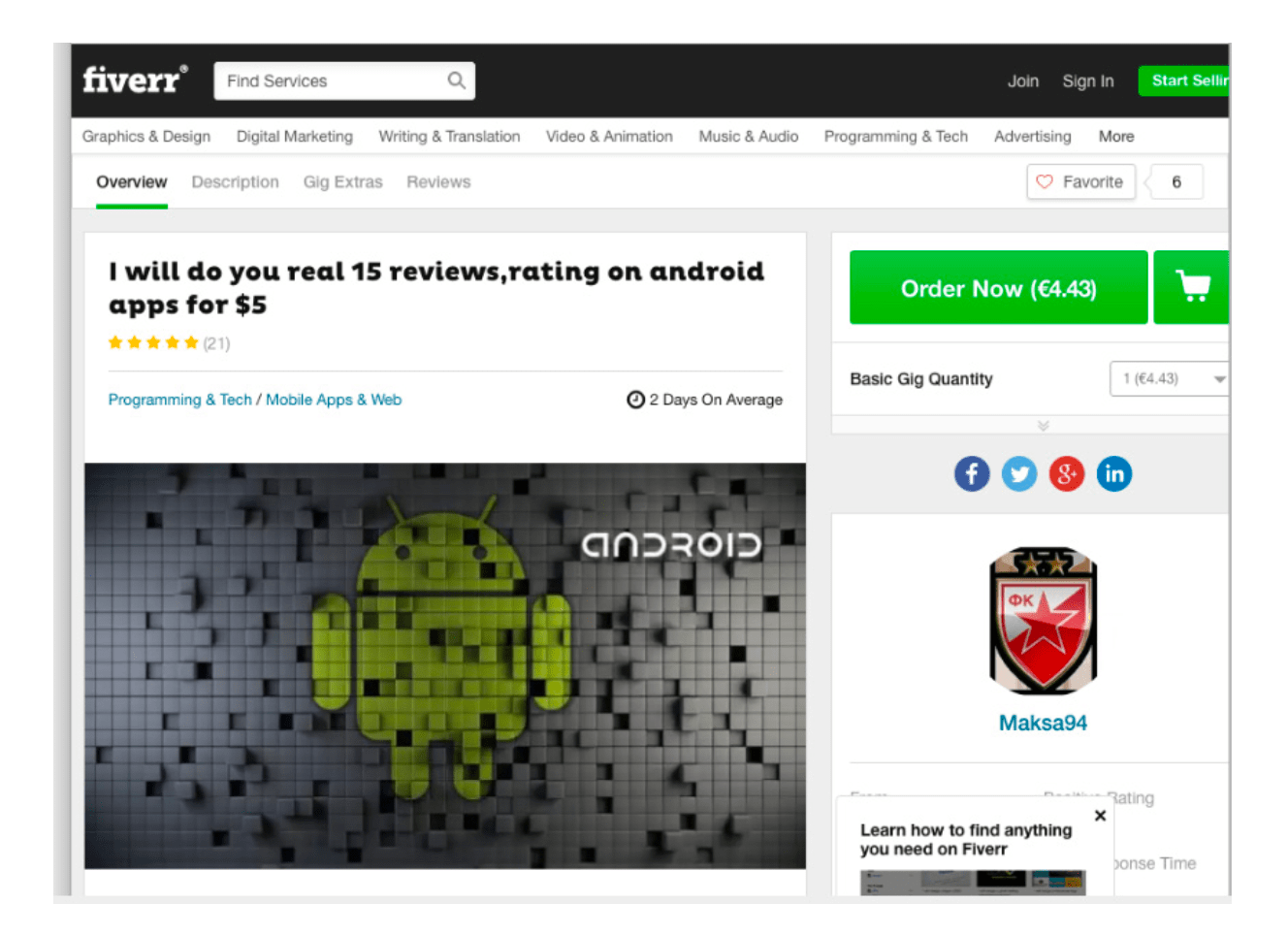 Black Hat Tactic: Review Contests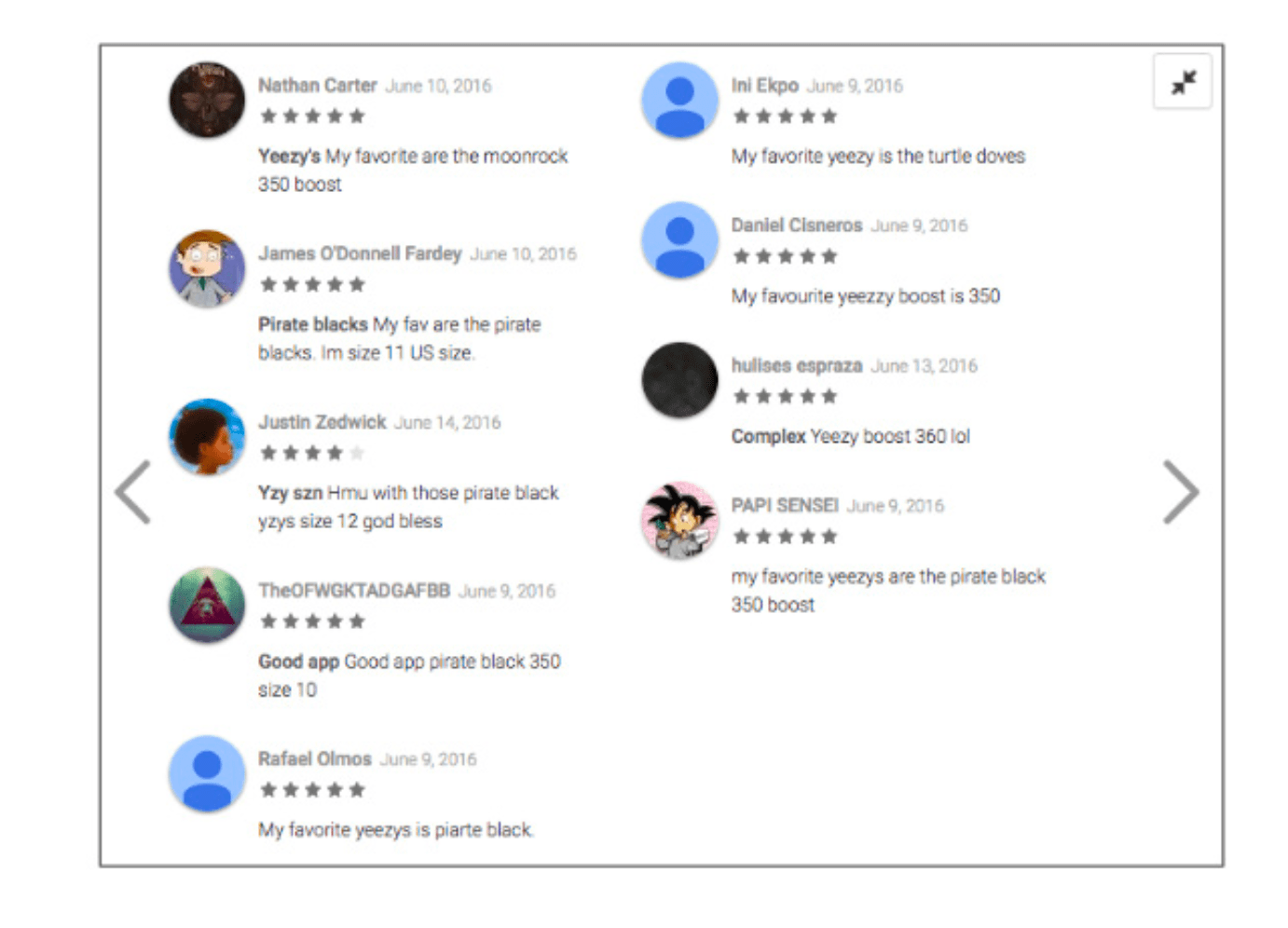 Since the Google Play Store indexes the keywords in user reviews there are multiple ways to users to include important keywords in their reviews, such as giving users to entries into a contest where they could win something in return for leaving a review. 
Black Hat Tactic: Reviewing Your Own App 
Another tactic generally regarded as gray hat, many developers will write reviews for their own app, or ask friends to do the same. This is especially common with indie developers, or apps with low rating volume after having ratings reset after an update. 
With the release of iOS 11 and the non-resetting of reviews, this practice will likely diminish in usage. 
Black Hat Tactic: Rating Competitors' Apps Negatively 
There are many cases were publishers have chosen the unfair route to attack their competition. Rating the competition negatively is one of them. Needless to say, this tactic is prohibited by Apple and Google.