11. App Store Platforms and 3rd Party ASO Tools
"What tools are useful for managing ASO?" 
Trying to manage an ASO strategy without using tools is not recommended.  
One reason among many is that neither Apple nor Google provide data for keyword or top chart ranking. ASO tools have been developed to make repetitive or difficult tasks easy to manage, thereby helping you to gain more insight and improve your ASO results with less effort.

Platform Tools 
Notwithstanding the above comment, Apple and Google do provide plenty of data via their first party reporting platforms, with more data being released by both Apple and Google on a regular basis. 
Google Play Console 
DASHBOARD VIEW 
In the Google Play Console, the dashboard is the main screen in the Google Play Console that you will arrive at after selecting an application. The Play Console dashboard is meant to offer an overview of the health of your app and  includes the following data points:  
Installs

by user 

UnInstalls

by user 

Installs

by user

by country 
Installs

on active

devices

(only available per the last 30 days) 

Ratings

volume 

Average

rating

Crashes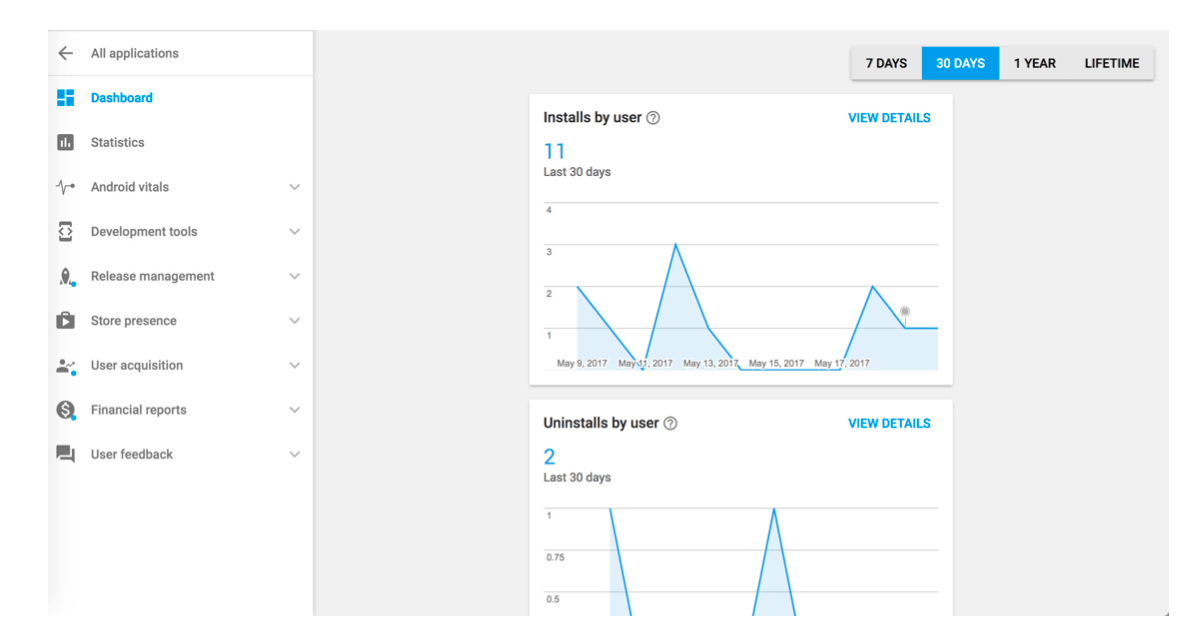 Use this data to check in on the overall health/growth of your app. But be aware that this data is not filtered by source,  meaning that you cannot distinguish between, say organic traffic and paid traffic; an increase in either will show up as an increase in installs. Use the User Acquisition view to compare performance by sources. 
STATISTICS VIEW 
The Statistics view offers a deeper look into your app's data along several data points and even comparison dates.  Downloading the data will export a collection of reports in comma-separated format from the time period you have selected (7 days, 30 days, 1 year, lifetime). 
By configuring your report, you can view up to two data points across one of the following: 
Android version 
Device type 
Tablet size

(10 inch and above vs 7 inch to 10 inch, not inclusive of 10 inch) 

Country 
Language 
App version 
Carrier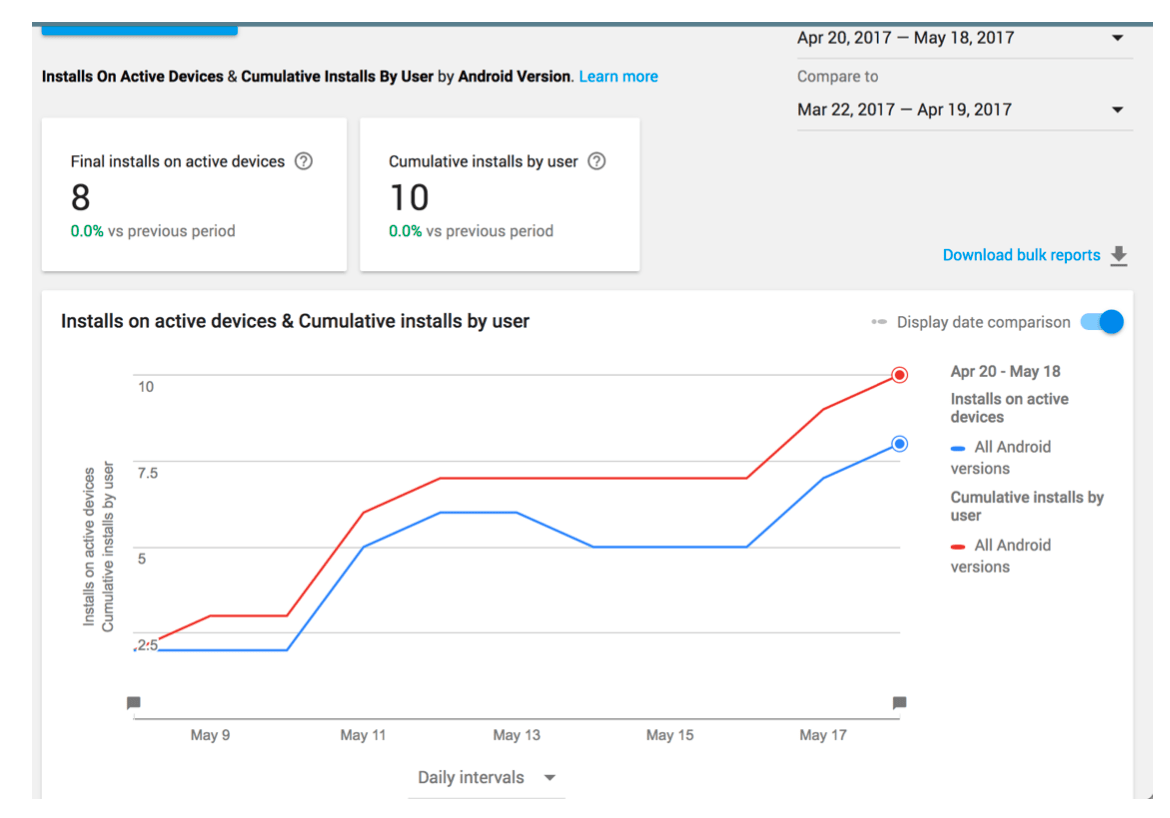 Use this data to see how your app is trending based on the prior period, information that the User Acquisition view does not provide. But similarly to the dashboard view, be aware that you cannot filter by acquisition source in this report.  This report is more handy than the dashboard view for drilling down into your app's performance along dimensions such as country, but the statistics report is generally less useful for ASO than the User Acquisition view. 
ANDROID VITALS 
Data points here include insight for developers to analyze app performance in terms of stability, battery & rendering times.  
DEVELOPMENT TOOLS 
Developers can use this view to manage Firebase Cloud Messenger, as well as services & APIs. 
RELEASE MANAGEMENT 
Developers and marketers can tap into Google's abilities to manage new app releases, Android Instant Apps, device catalogues and app signing here. 
STORE PRESENCE 
This view is a big one for app developers/marketers, as it houses the levers that determines how your app's store listing appears in the store, including the following two major areas: 
Store listing 
The store listing is where you enter your app's metadata (both text and visuals), category, contact/privacy information,  as well as add translations for localized listings.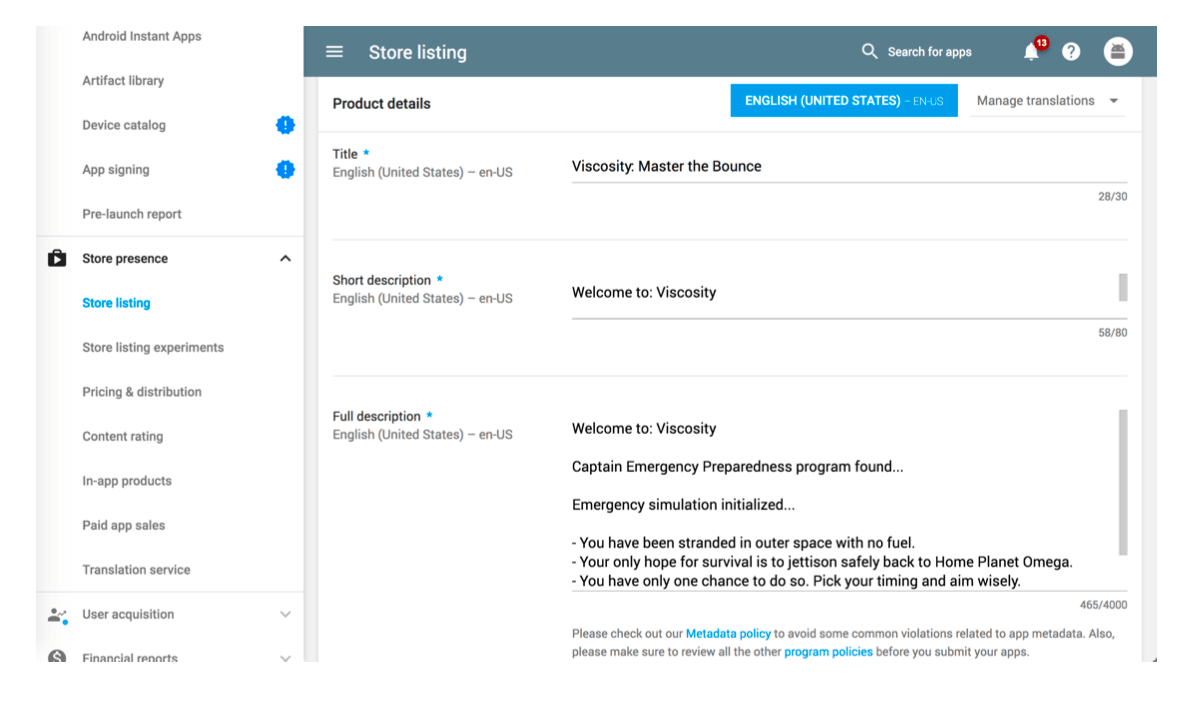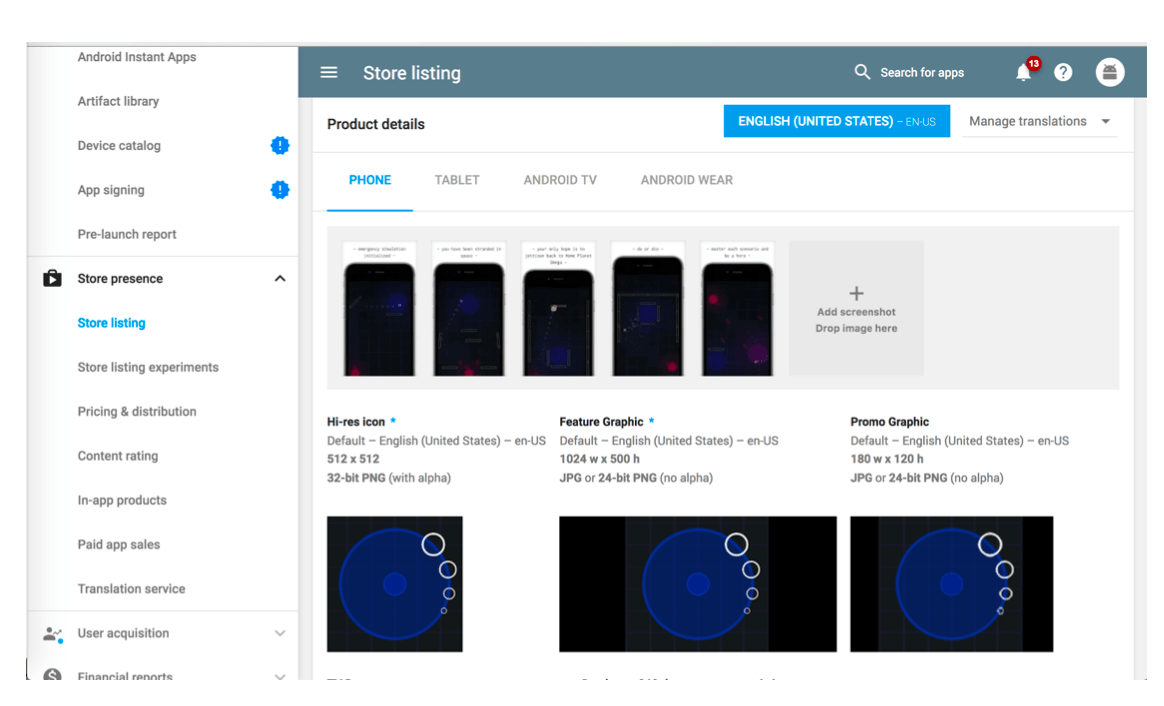 STORE LISTING EXPERIMENTS 
One of the biggest differentiators between the Google Play Console and iTunes Connect is the ability to run experiments (A/B tests) through the Google Play Store. Experiments can test all elements of an app listing (except the app title), and experiments can be run on up to 75% of an app's live store traffic.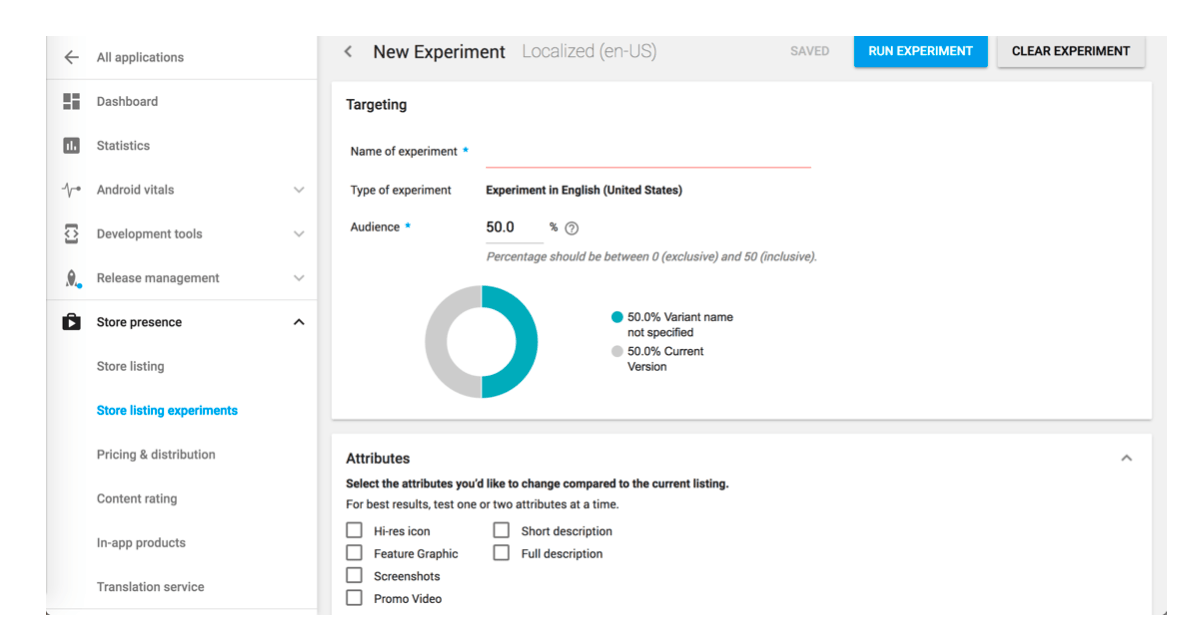 While highly useful and the best way to obtain a true test of a live app store listing, there are several limitations to note  with Google's A/B testing engine: 
The

confidence interval is locked

at 90%, which may not be a high enough level of confidence for marketers who want a more precise reading. 

Testing is done with

all visitors

to an app's listing, which cannot be manipulated (e.g. search vs top chart browsing). 

Experiments provide data on retained users, however they

do not allow

for reporting on other

post-install metrics

, such as revenue. 

 

Per the above point, experiments provide no insight into which types of users were sent to each variant. 

Running multiple experiments only provides data on performance for a variant all-up, which while useful for a  cohesive report, makes it difficult to distinguish the effect of each variable. 

Experiments do not provide insight into other metrics, such as engagement or view-rate of each element.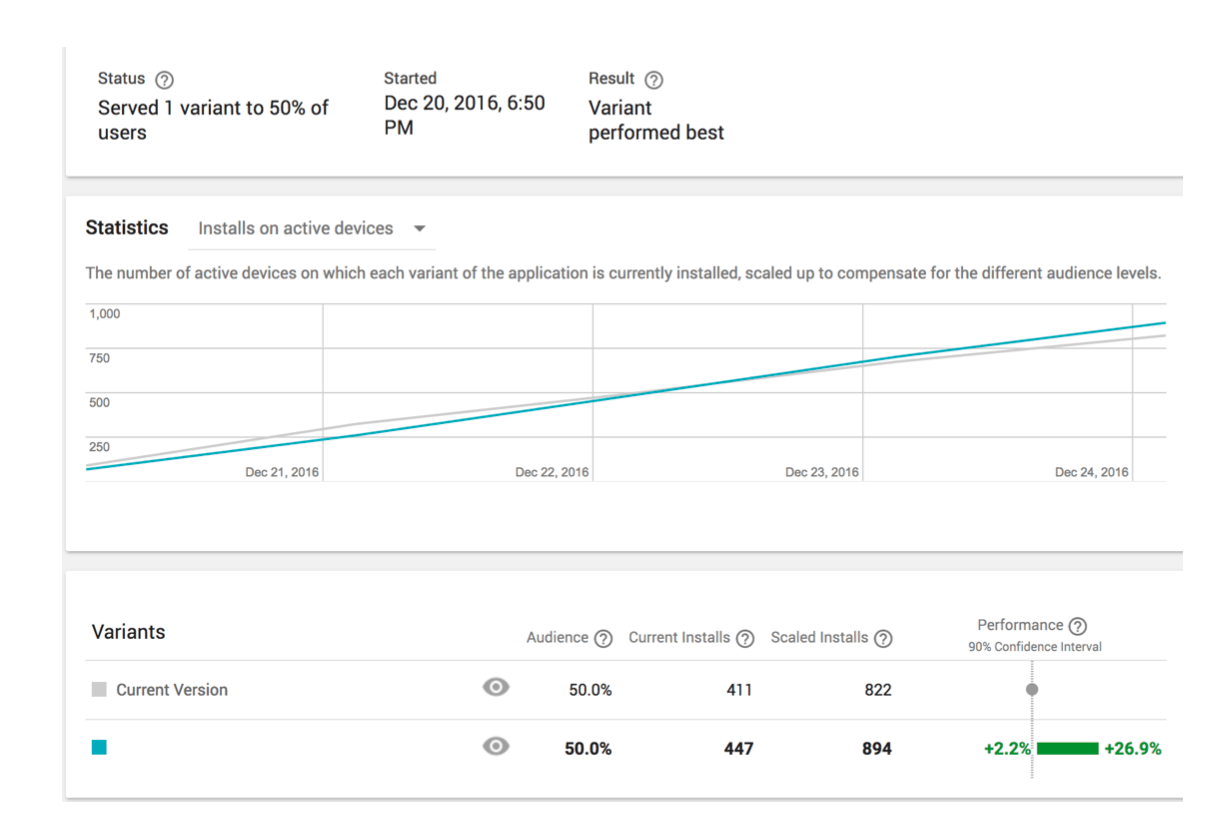 Other options available in the Store Presence view include: 
 

Pricing & distribution 

Content rating 

In-app products 

Paid app sales 

Translation services  
USER ACQUISITION 
The user acquisition tab is another important area for app developers/marketers focusing on ASO. Here, Google provides data on both acquisition as well as retention, broken out along several dimensions.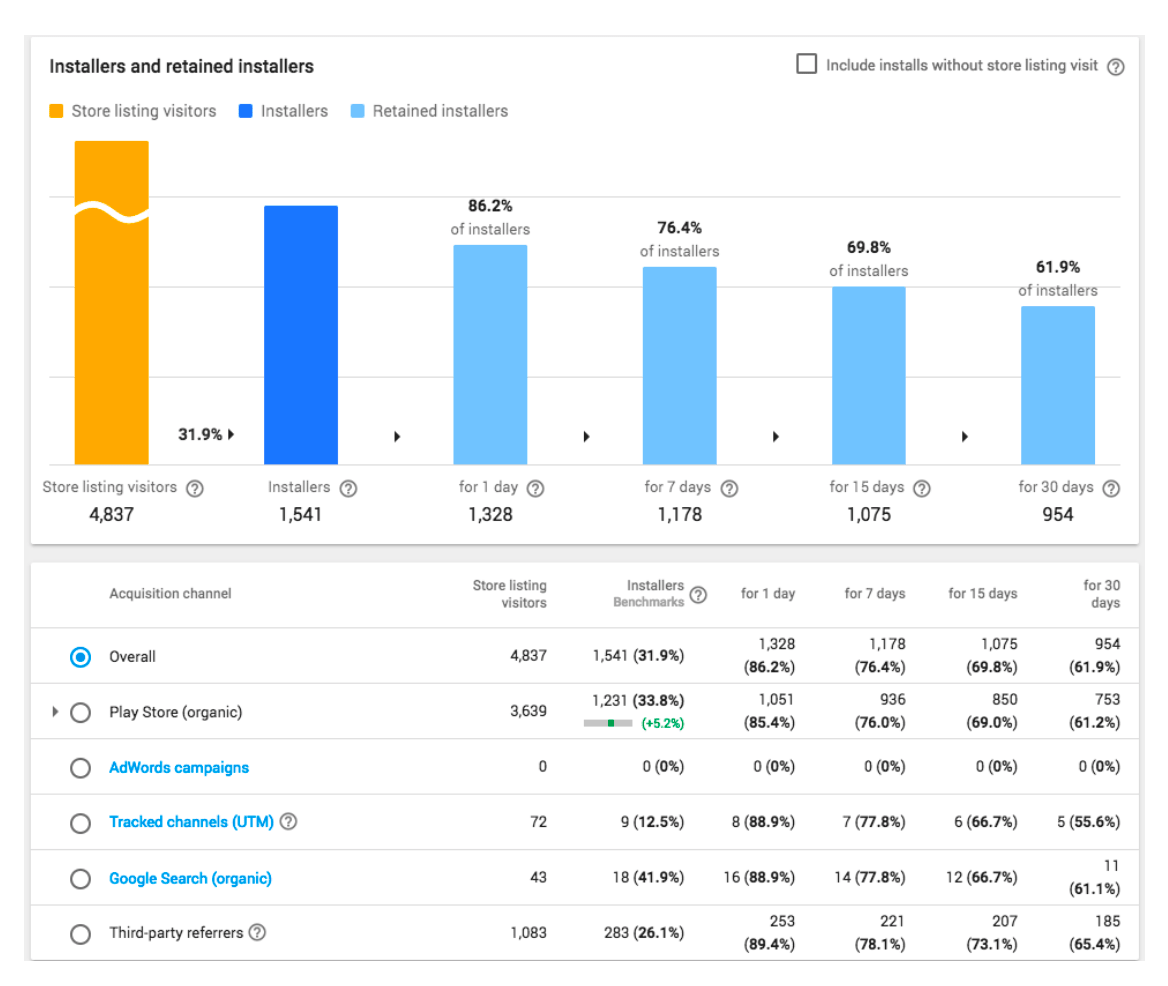 Google's acquisition data is quite useful and extensive, especially for ASOs who don't have an MMP. Use this data for  some of the following analyses: 
 

Measuring the real change in performance after an optimization (e.g. how a screenshot change affected conversion rate). 

 

Measuring the performance of each acquisition source, such as how SEO installs converted purchases (and which keywords drove installs), or how each Adwords campaign performed. 

Analyzing your app's AARR (acquisition, activation [i.e. 1 day retention], retention [i.e. 7-30 day retention], and  revenue [i.e. purchases]). 

 

Identifying subscription rates, as well as maturation rates (i.e. users who reached the end of the initial subscription period), and drop-off rates from subscription payment #1 to subscription payment #2. 

 

Measuring funnel performance for each country. 
Google's "installs without a store listing visit" refers to downloads that occurred without a visit to your app's page, such as direct downloads from Google.com, or installs pre-loaded onto new phones.
In addition to general acquisition and retention rate data, ASOs can also dive into Google's conversion rate benchmark data to compare their performance vs the marketplace of peer apps (i.e. apps that share a category and monetization type).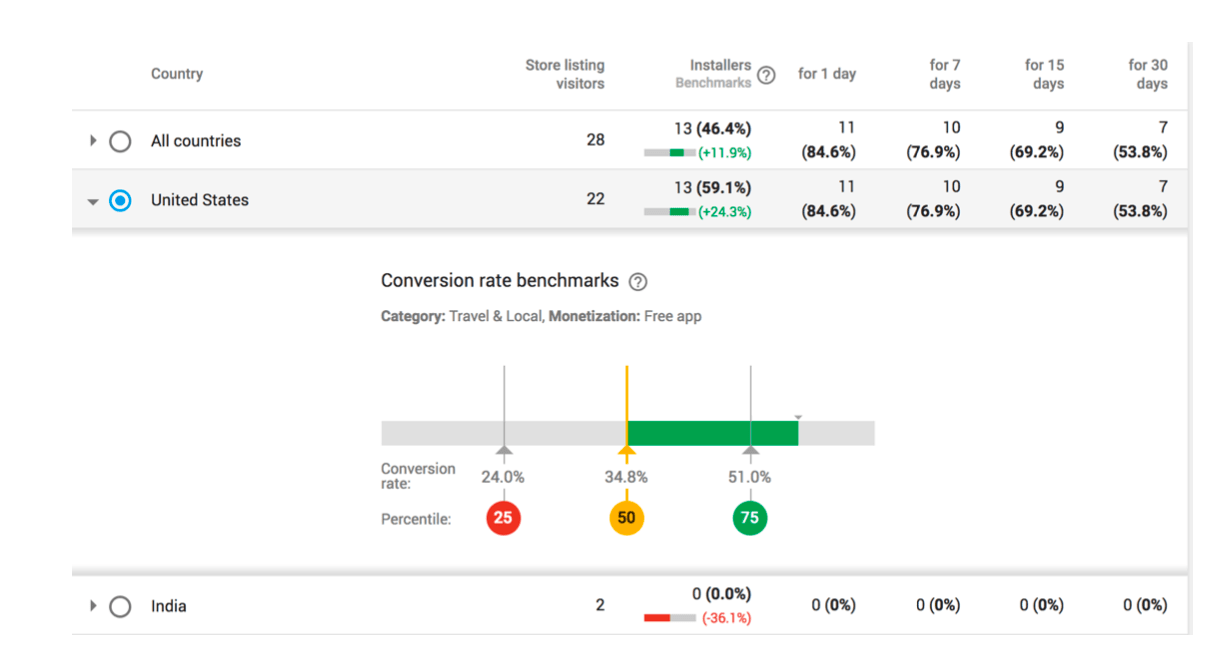 Other information provided via the acquisition reports view includes: 
 Adwords campaigns

– Reports on Adwords campaign budget, spend, target CPI vs actual CPI, status, and conversions. 

Promotions

– Allows you to create promotion codes for paid apps or In-App Purchases, which can be distributed to users for marketing/retention purposes. Apps can provide up to 500 promo codes per quarter. 

Optimization

suggestions – Programmatic suggestions from Google, such as adding a localized store listing version for a country with a poor conversion rate. 
FINANCIAL REPORTS 
Another big area for ASOs, the financial views of the Google Play Console provide financial data in several unique sub views: 
 

Overview

– provides revenue, buyer, and average revenue per transaction/user data, broken out by several  summary time periods (last day, last 7 days, last 30 days, overall) and by country 

 

Revenue

– breaks down revenue per individual product (with subscriptions products also broken out  separately), as well as by day over select time periods, and by country 

Buyers

– explains total/unique/returning buyer data broken out per country and by day over select time periods. 

 

Conversions

– offers conversion and (cumulative) spending per buyer data broken out by weekly/monthly cohorts over select time periods.

Subscriptions

– provides a window into your active subscriptions vs cancellations vs new subscription volume, and revenue over time.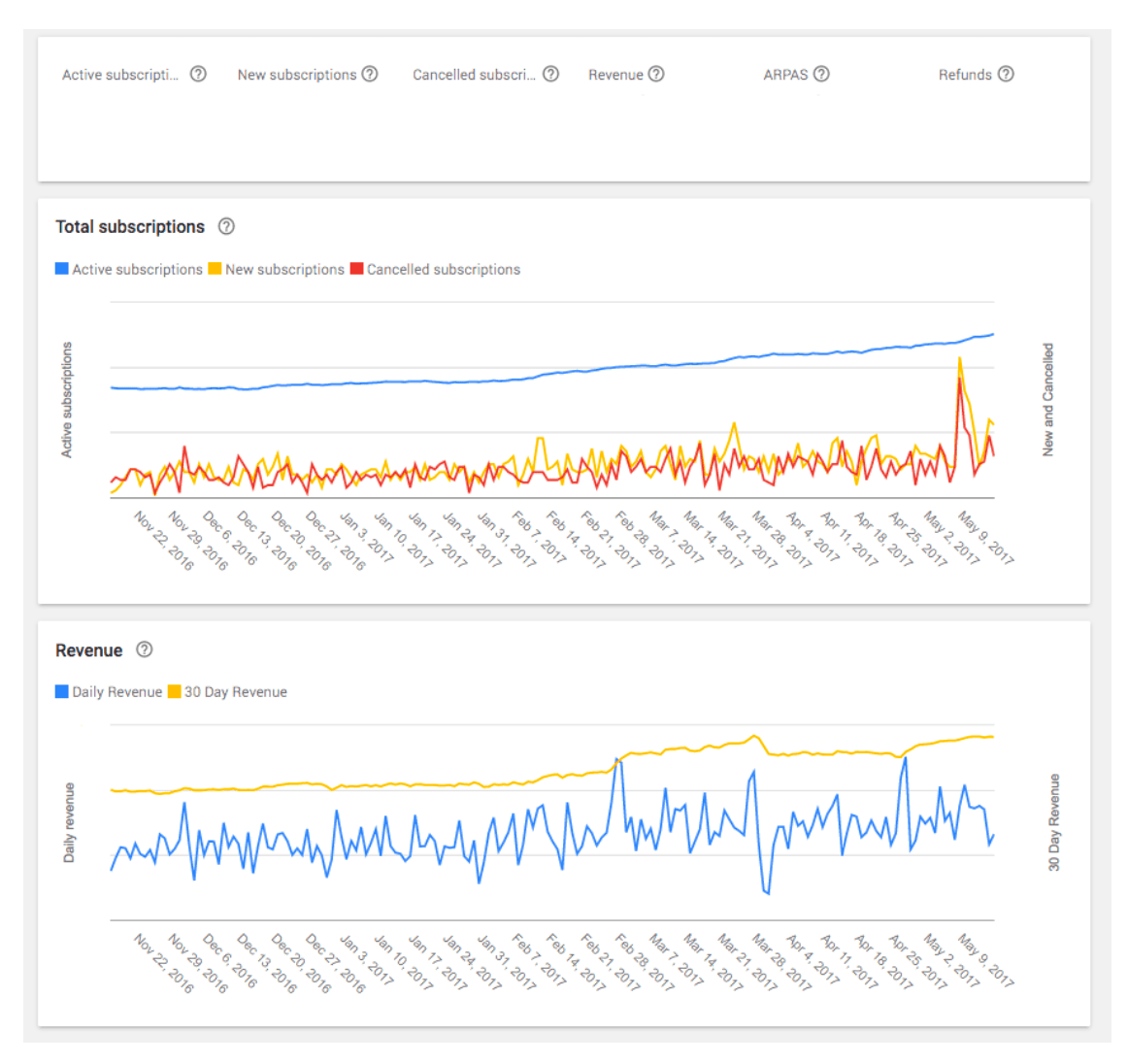 USER FEEDBACK 
This last view contains inputs from users, including both ratings/reviews and beta feedback. User feedback data is  provided in one of four sub-views: 
RATINGS 
Google provides great summary data on reviews via daily/weekly/monthly and cumulative time grains. Google also  provides several dimensions for drilling-down into rating health, including: 
Country 

Language

App version 

Android version 

Device & tablet type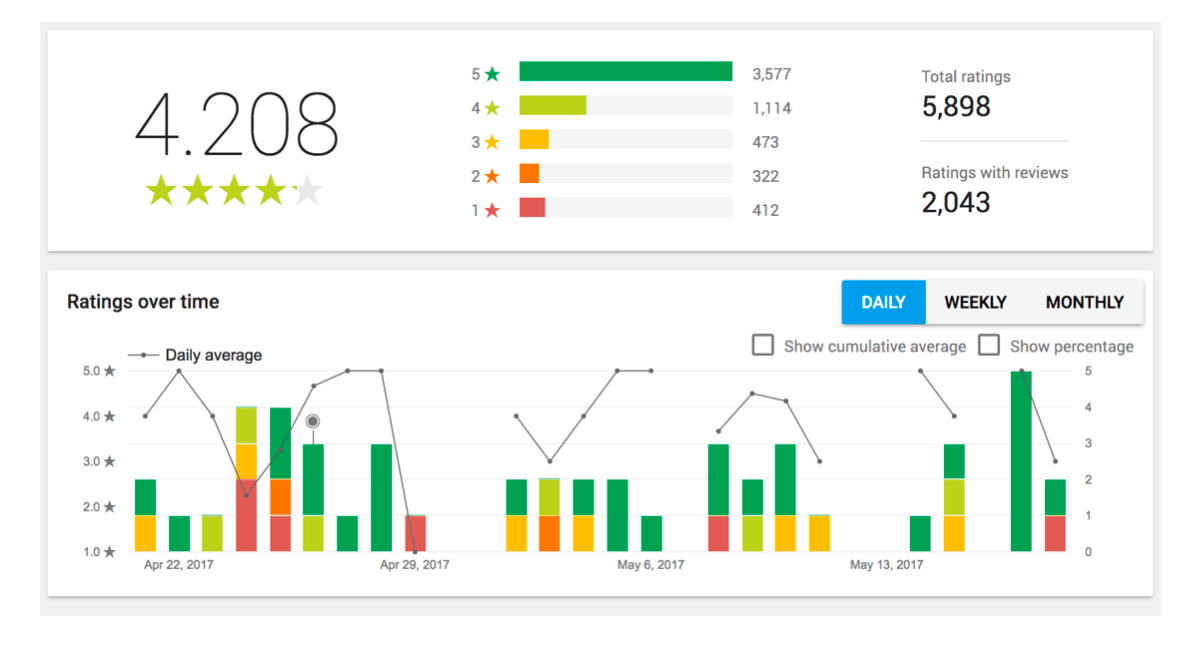 Use Google's ratings report information to: 
 

Analyze the impact of your rating prompt. 

 

Allocate customer service resources, based on the rating per country data. 

 

Prioritize QA resources, depending on the rating per device or Android version data. 

 

Decide to take action if your app's rating is consistently trending lower. 
REVIEW ANALYSIS  
Google also provides a similarly deep level of insight for review analysis, with the following data points:

 

 

The impact on ratings of reviews that were and were not replied to by you (the developer).

 

 

The most common phrases found in reviews (review highlights). 

Insights into each rating functional area (i.e. common topics, such as app design or updates) and a comparison for each functional area of your app's performance vs your app's category peers.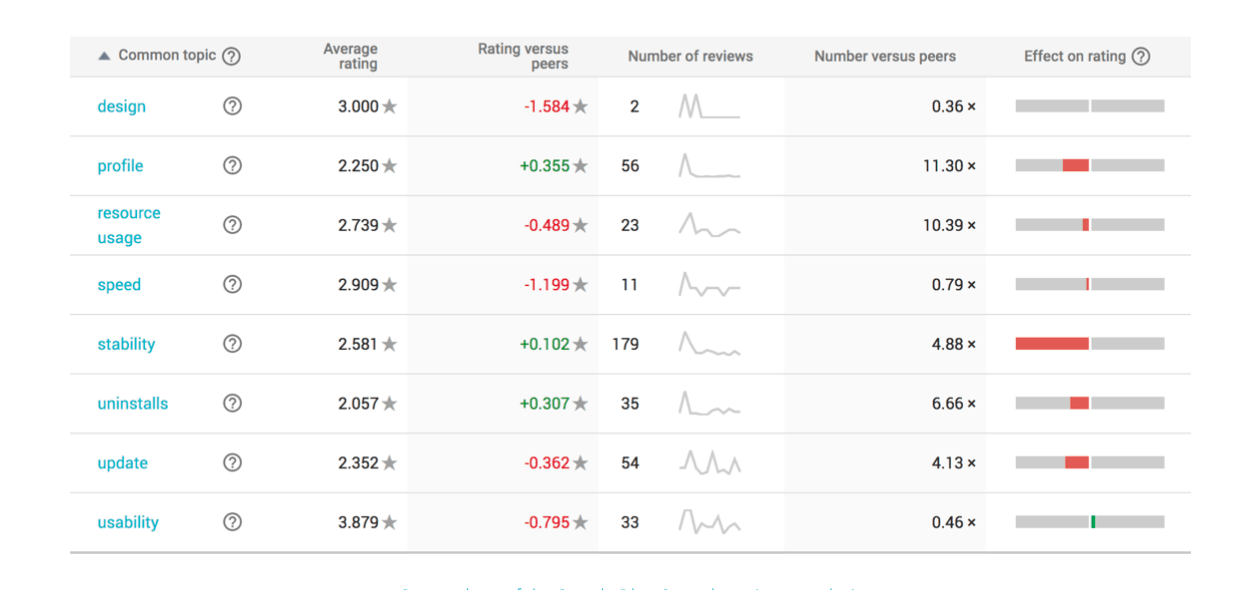 Specific, dynamic topics mentioned in reviews by users are also provided, for several languages.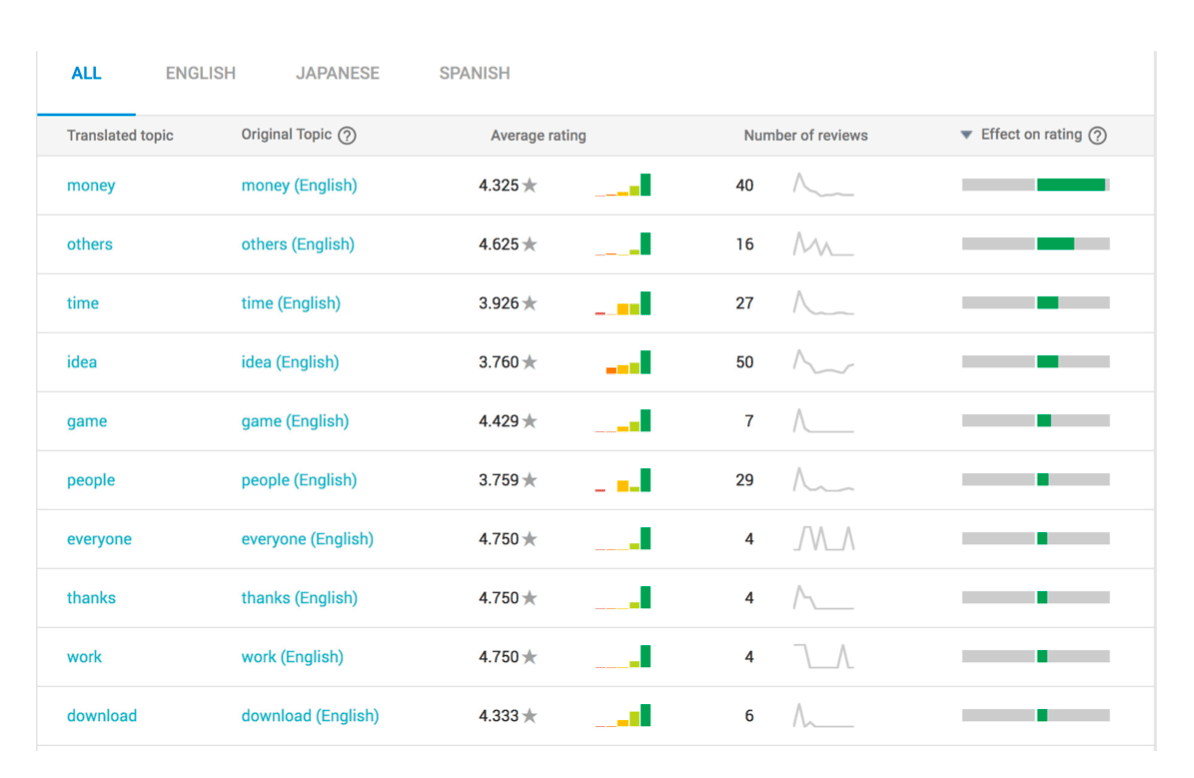 Use Google's reviews reports to: 
Prioritize developer time based on feature/bug feedback. 

Identify features and functional areas to highlight in your CRO efforts. 

Identify common root words useful for visibility optimization. 

Come up with messaging and ideas for your marketing and advertising efforts outside of the store. 
REVIEWS 
Google also allows developers/marketers to view/analyze/manage replies to individual reviews, and filter the reviews  displayed by several dimensions, including: 
Rating 

Android version 

App version 

Specific review phrase (highlight) mentioned 

Language 

Specific functional area (common topic)

Developer reply state 

Specific topic mentioned 

Device 

Search review text for custom input 
BETA FEEDBACK 
Provides data similar to the reviews subview, but limited to beta feedback and the following dimensions:
Language 

App version 

Android version 

Developer reply state 

Search review text for custom input 
Android app developers/marketers can also create a developer page, which can help increase downloads for all apps  in a developer account. 
Developer pages can include the following information: 

 

Promotional text (140 characters) 

 

Website URL 

 

Graphic assets (developer icon 512×512 and header image 4096×2304) 

Featured app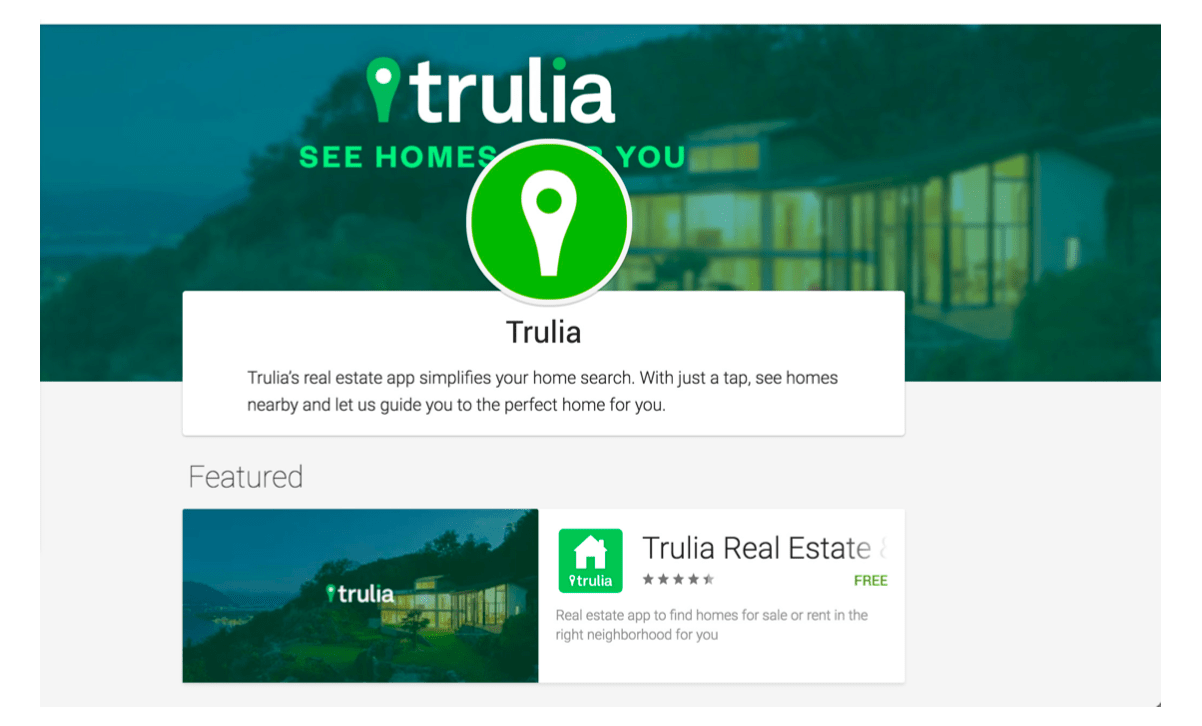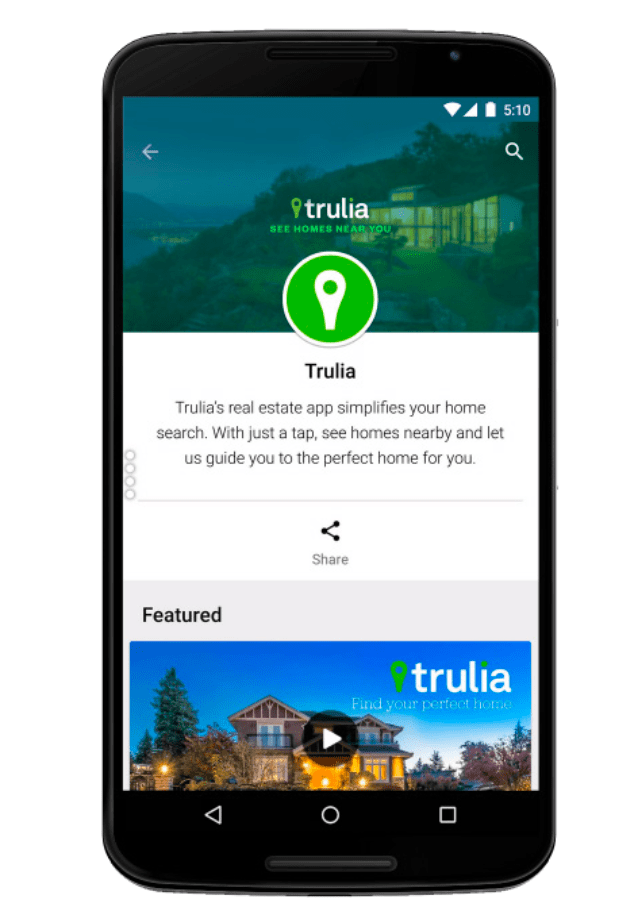 Other information found in the Google Play Console includes: 
Developer account details 

API access details 

Pricing templates – help templatize the management for pricing across multiple apps

Managing testers 

Pre-launch report – identifies crashes, display issues, and security vulnerabilities. 

Preferences for notifications 

G

ame services 
iTunes Connect 
While Google's has out-innovated Apple when it comes to app developer tools, Apple has nonetheless built a solid platform and committed to a regular series of updates to its iTunes Connect platform. Apple's iTunes Connect platform is separated into four main navigation views, as well as several sub-tab views within each.
MY APPS 
Similar to Google's Store Listing view, the App Store subview is where developers and marketers adjust the metadata that shows in the App Store. The major subviews here include: 
App Information – this includes the app title, category and localization selection. 
Pricing and Availability – this provides visibility into pricing-related distribution details. 
App (with version #) – this is where the major metadata (besides the title and category) are submitted, including screenshots, icon, description, screenshots, What's New, and localization selection. 
Developers can add a localized app listing for a specific country or countries in the App information subview by clicking the default language name dropdown and selecting a country to localize for. Localizations require a new build/version to be queued for submission. 
FEATURES 
The features subview provides control and visibility over In-App Purchases, subscriptions, the Game Center, encryption  and promo codes. 
TESTFLIGHT 
The TestFlight sub-view provides control and visibility over beta testers (internal and external), as well as requisite testing information. This sub-view includes useful information on tester invites sent, tester installation status, and app crashes, for both each version, as well as for individual testers. 
ACTIVITY 
The activity subview provides details on build submissions, app store versions, and ratings and reviews, which also enables the ability to reply to user reviews.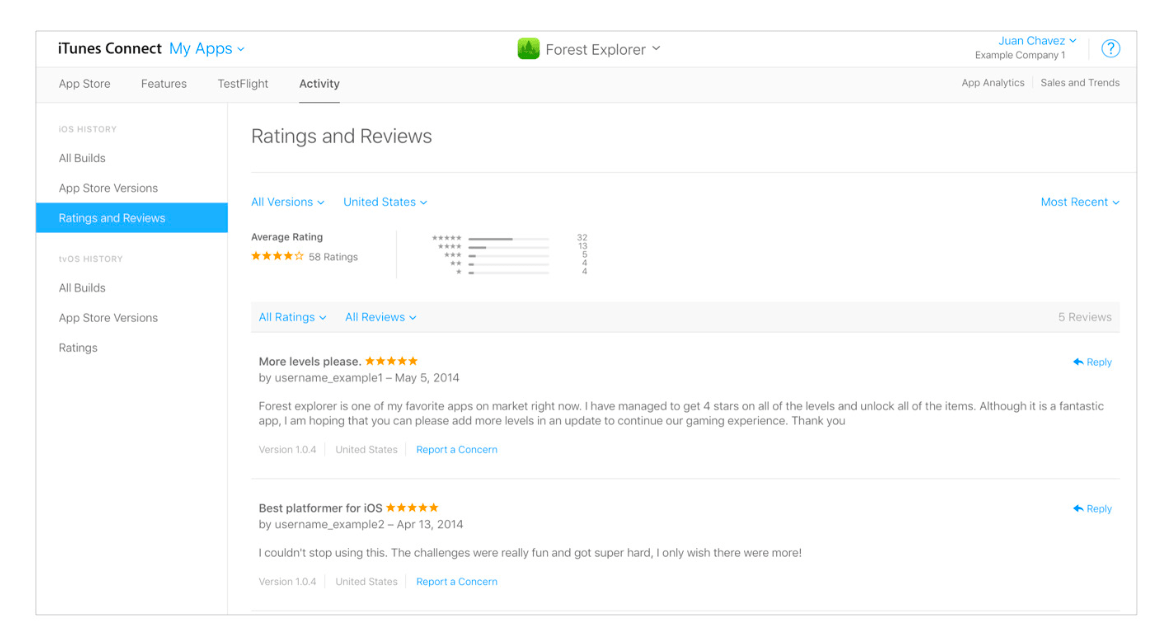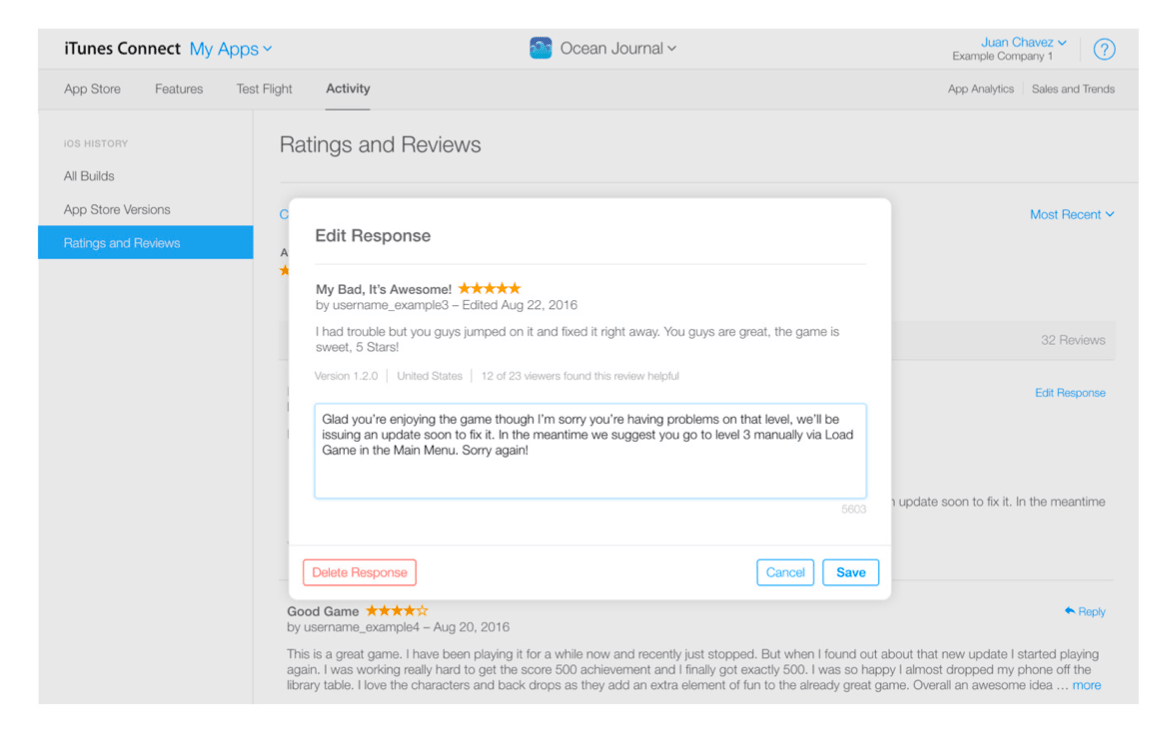 Pro Tip: In ratings and reviews, you can also see metadata on the country of the user who left the review, and how many viewers marked a review as helpful. Apple makes it easier to access this data by providing a filter option for most recent/helpful/favorable/critical, as well as for app version and user territory. This enables you to zero in on the reviews that best represent the sentiments of your userbase. 

APP ANALYTICS 
As with Google's User Acquisition view, App Analytics is the location that ASOs will spend the most time investigating in ITC, as it provides the data points necessary to judge the success of an ASO strategy. App analytics can be viewed in summary across all of a developer account's apps/bundles, as well as individually.  
In the initial, overview subview, marketers and developers will see a high-level look into the selected app's performance,  along with retention and geographic data.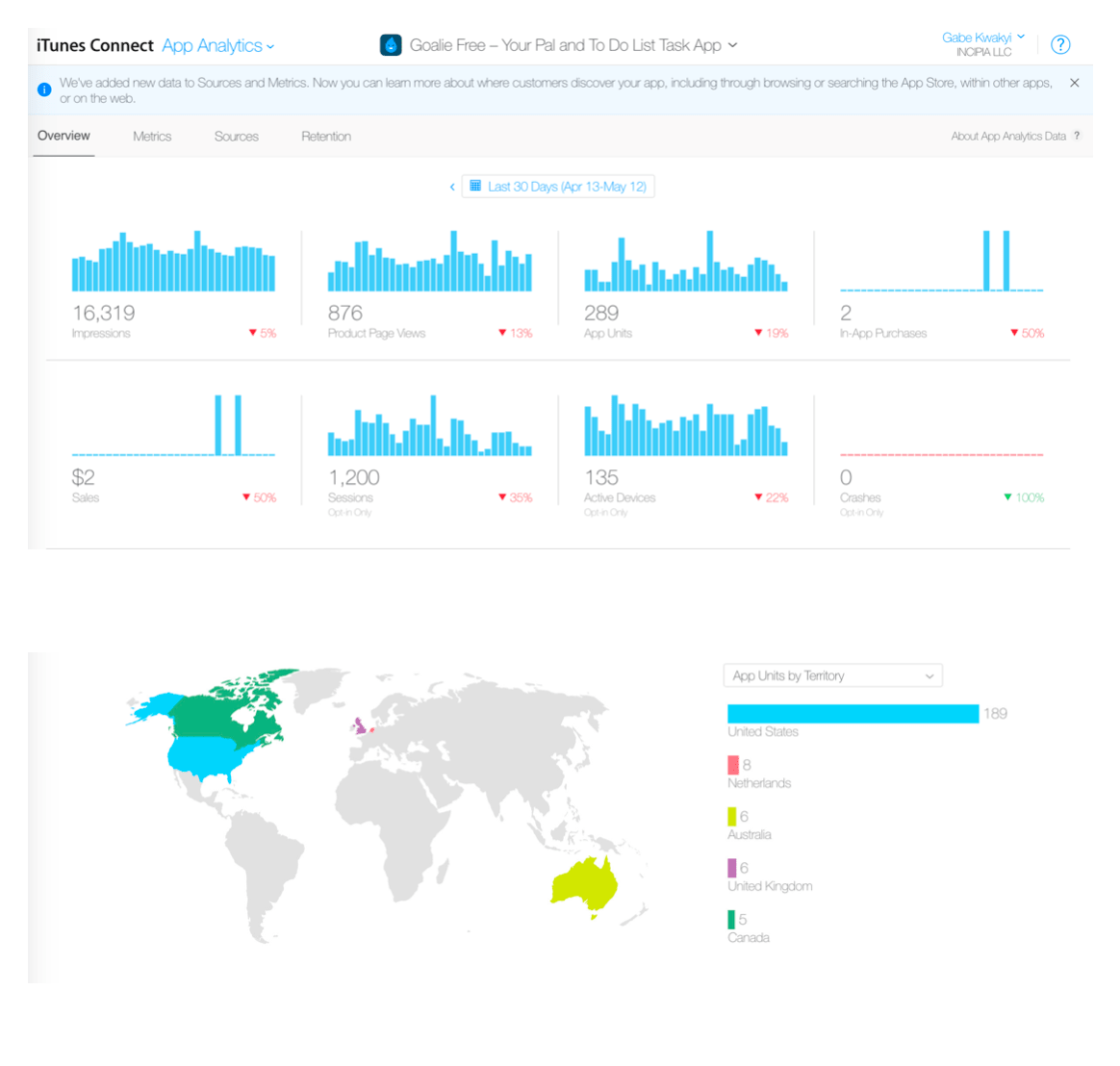 Similar to Google's Dashboard view, but more detailed, the overview subview is great for gaining a quick-look at the health and performance of your app, to see whether things are trending in the right direction or whether a problem is developing.
Keep in mind that the latest day or two days' data may be delayed in reporting, and may not show (especially for app units and revenue data). 
The metrics subview provides an ability to drill-down into dimensions such as app store browse and filter by dimensions like territory. Data from the metrics subview can be compared to one another in dual axis or calculated ratio, as well as downloaded to CSV. New app version updates or Apple software updates are indicated by gray, vertical bars  (annotations). You can also save views, such as TTR (ratio of Product Page Views / impressions).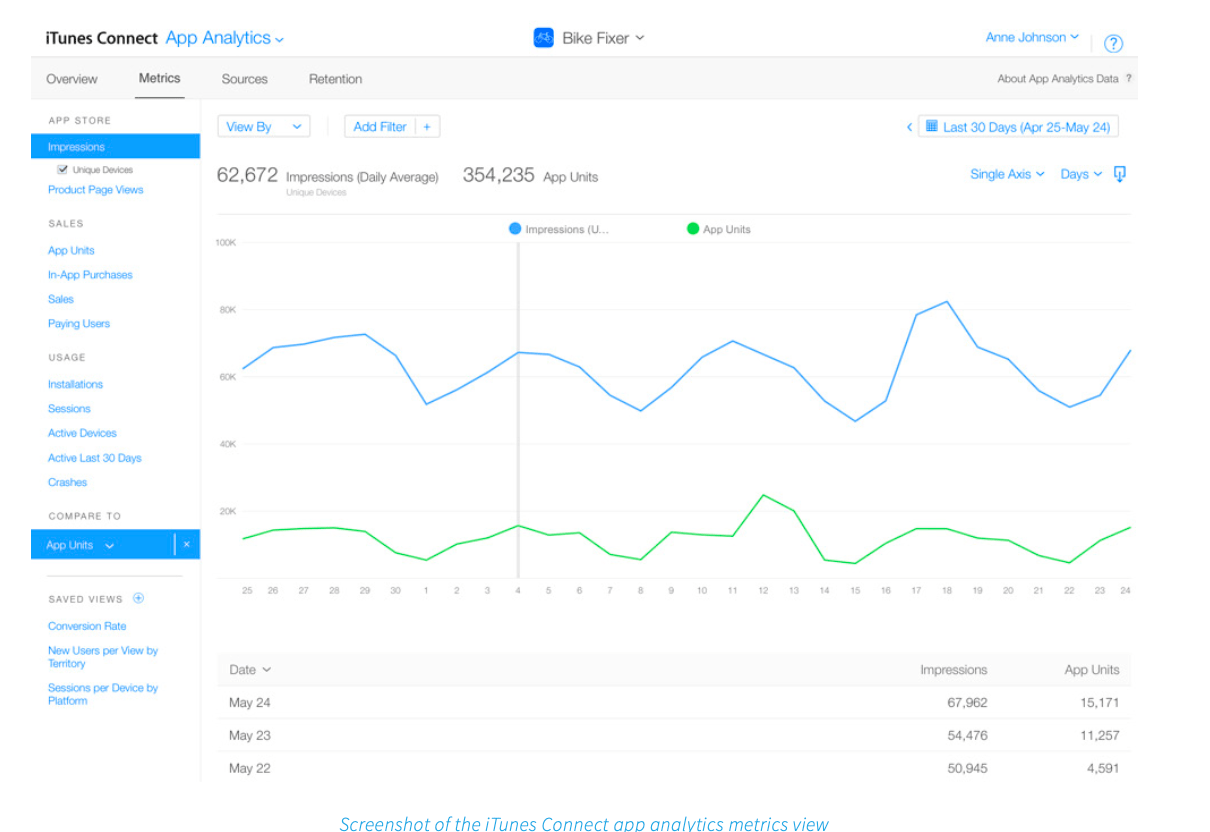 The metrics subview is excellent for configuring data for download into your own reports, as well as drilling into a trend noticed in the overview subview, such as worsening downloads. Use this data for some of the following analyses: 
 

Comparing the conversion rate by country. 

Determining the uplift in app store search impressions from a recent metadata update.

 

Determining whether the uplift from a recent visibility optimization led to a worse ARPU. 

 

Viewing macro trends in metrics like impression volume or KPIs like app units, spanning months, to understand the long-term success of your ASO efforts. 
The sources subview contains some information found in Google's User Acquisition view, but with additional clarity into sources within the App Store via the app store search and app store browse segments.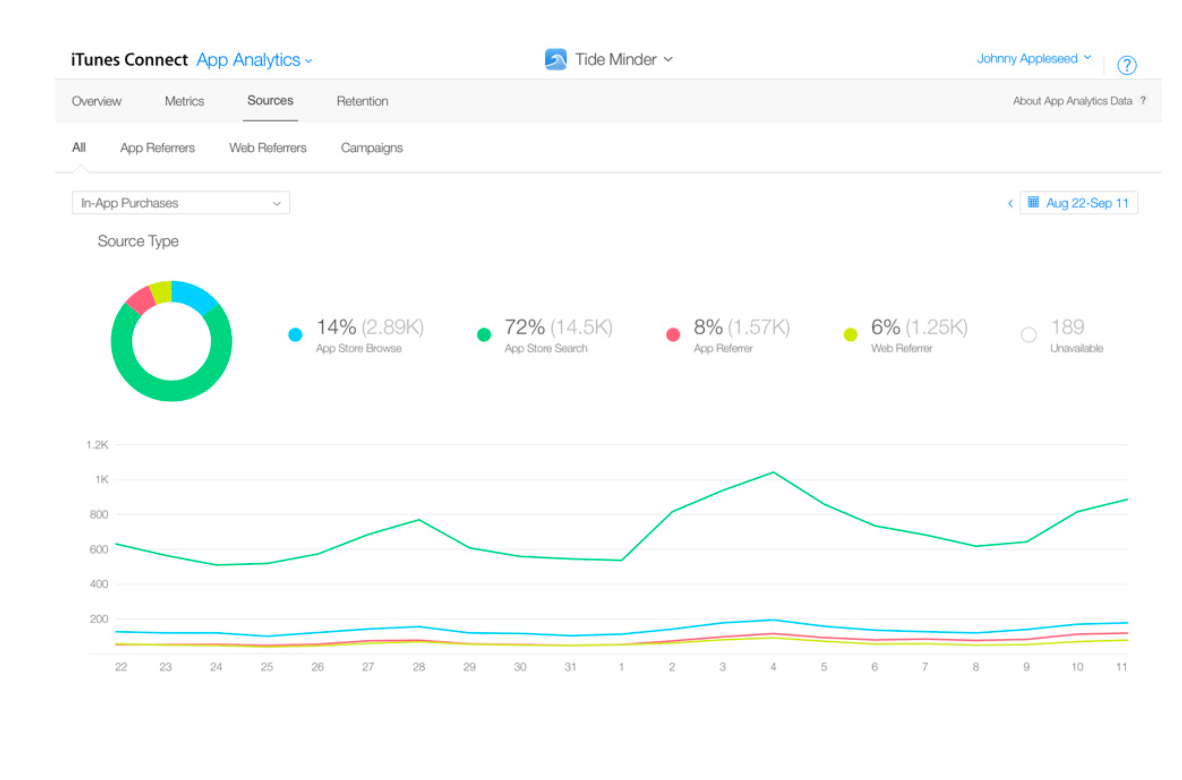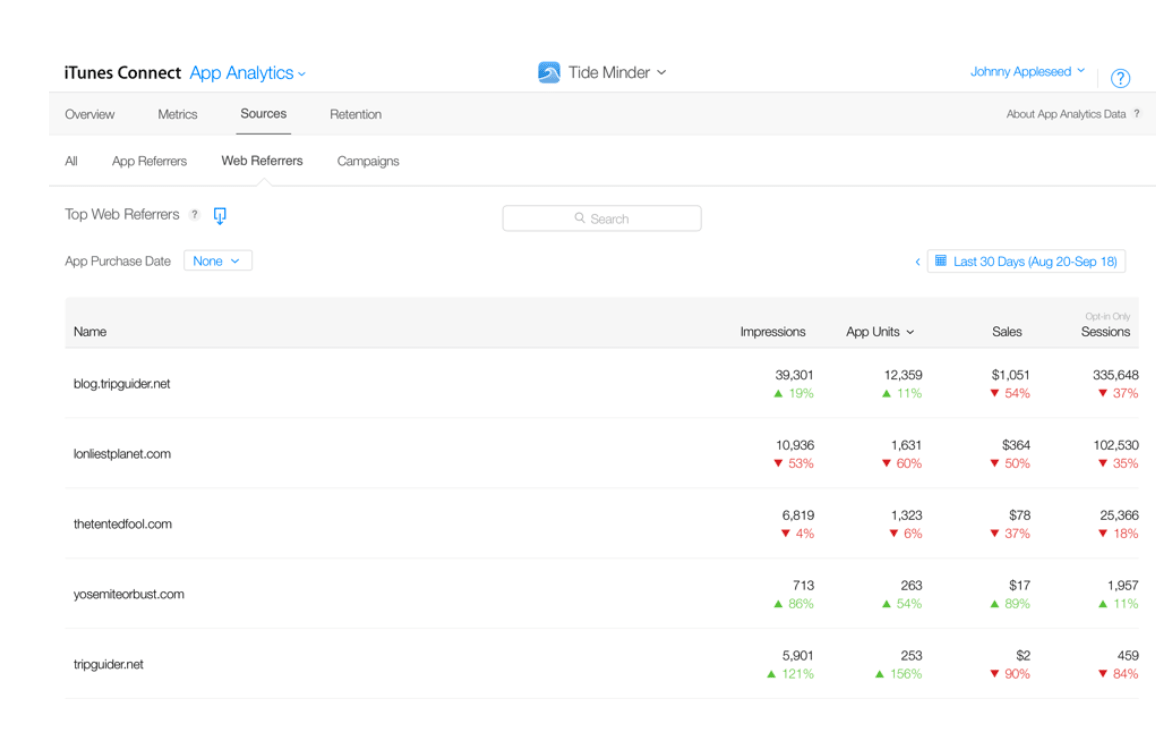 Some of the ways that you can use Apple's source data include: 
 

Disambiguating the impact of search vs top charts/features in terms of driving performance for your app.

With this data, it is also now possible to more accurately determine the return of earning your way to an above-the-fold top chart position. 

 

Identifying top referrer apps, in order to strengthen those relationships and/or marketing connections. 

 

More easily correlating the impact of keyword ranking changes, via analyzing only data from the app store search segment. 
Some caveats of the new iTunes Source data include: 
 

From Thomas Petit: 

 

The data is only available since 4/15/17. 

 

There is a massive post-install misattribution. 

 

Organic/Paid Search Ads breakdown undisclosed. 

 

From Gabor Papp: 

This data is based only on opt-in data (for us, that's only 26-30% of all user data). 
The retention subview offers insight into your app's retention performance, broken out across the following dashboards:
Retention per day for users acquired 30 days ago 

Day 1 retention for the past 30 days 

 

Daily retention for each of the past 28 days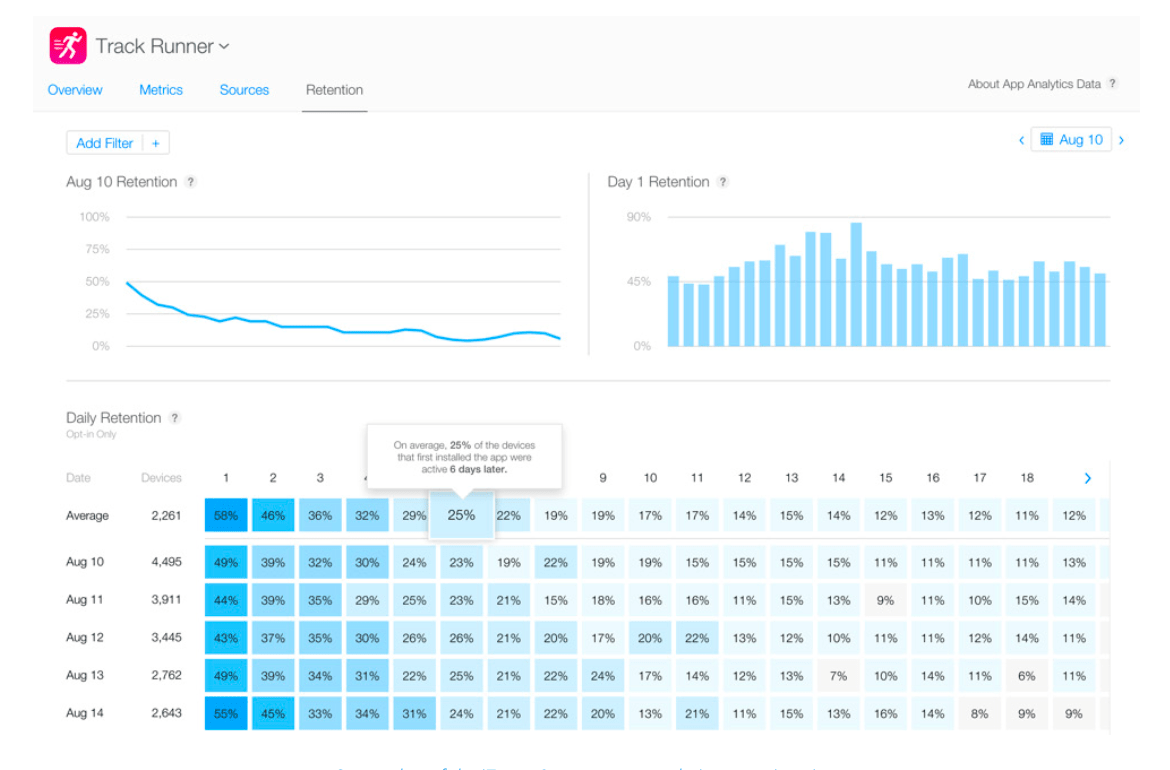 Use this data for some of the following analyses: 
Analyzing your app's retention data if you do not have an MMP. 

 

Analyzing the impact of your engagement campaigns on raising retention 

 

Analyzing the quality/retention of users sourced from changes in ASO/marketing strategy.  
Pro Tip: You can schedule a weekly email summary that provides app analytics data on your top 20 apps via the Users and Roles view.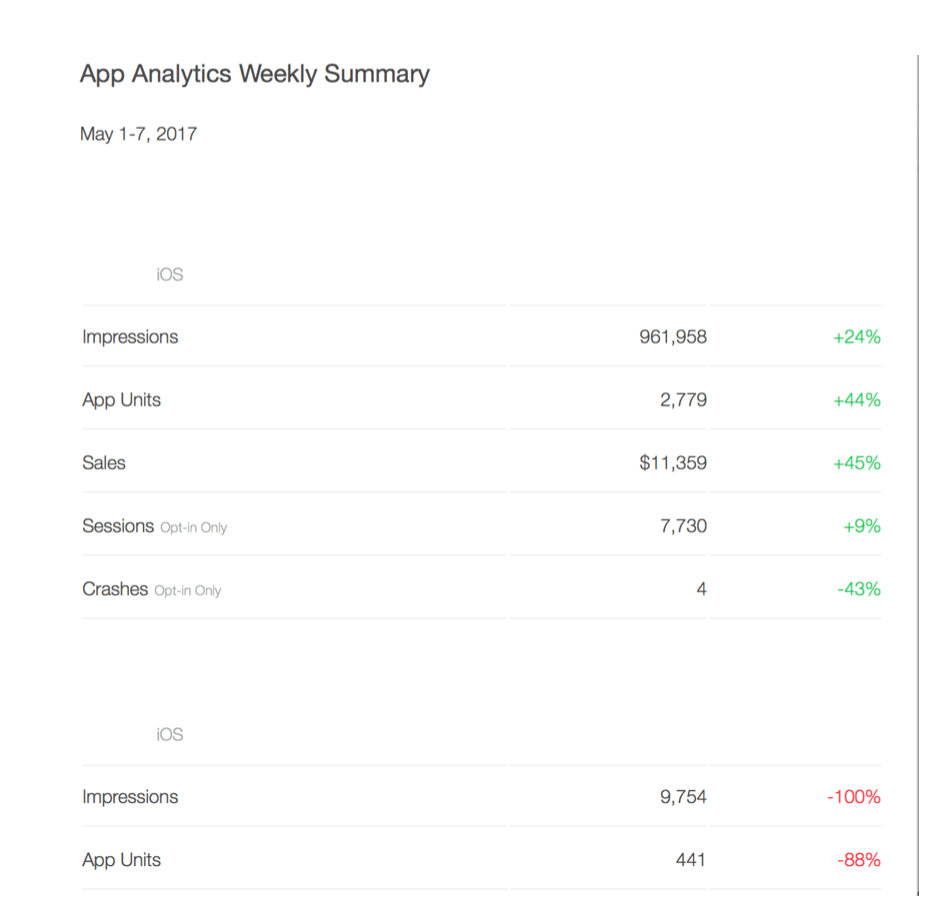 SALES AND TRENDS 
Sales and Trends provides a more in-depth analysis than App Analytics does, into downloads and products purchased  by users, including three main sub-views: 
Subscriptions offers reports on your subscription products (filterable by app or subscription product). Several dashboard views help organize this data into related sections, including:  
 

The number of active subscriptions, which counts both pre-existing subscribers and new subscribers on a particular date. 

 

A count of daily subscription units. 

A count of daily subscription sales. 
There are a variety of ways in which you can use these reports. For example, you can: 
 

Analyze your

push campaign

effectiveness for increasing the number of new subscription signups (pre-post). 

 Cross-reference

your new user

acquisition

reports with new subscriptions to determine whether you're acquiring quality users and what the lag time in subscribing is. 

Diagnose the overall health of your

subscription volume

and, with a daily/weekly/monthly revenue goal,  determine when you need to turn up your marketing activities to increase subscription cash flows. 

 Subscription activity, listing a count of the individual subscription events per day including:
New subscribers 

Renewals 

Reactivations (users who cancelled and returned) 

Refunds 

Cancellations 

The number of active free trials. 

A breakdown, per month of conversion rates per subscriptions and trials, along with average rates over the past 12 months. 
You can use these reports to determine how well your optimization activities are doing in terms of improving the conversion rate of both free and paid subscriptions. Track the dates on which your activities (such as promoting free trials, running remarketing campaigns or implementing a push or in-app notifications system) are occurring and then compare the conversion rate pre-and-post the start date of your optimization activities. 

Subscription cohort analysis, showing active subscriptions by starting week, stretching back from the current week.  
This report is useful for determining the lifetime length of subscriptions, which helps when calculating the lifetime value of your customer (LTV is a must-know number in order to scale effectively, especially when running paid marketing campaigns). You can also use this report to determine how your subscription optimization efforts are doing, similar to  the prior conversion rate report, yet this time in terms of total length of each subscription 

Subscription revenue (by dollar and percentage of the total) of users over time, segmented into those who have been subscribed for over or under 1 year, when Apple's cut of revenues swaps from 30% to 15%. 
This report is useful for determining how much of your subscription revenue is being earned by higher margin > 1 year  users 

A list of the top subscriptions for a developer account, by app and subscription name with a count of active subscription and active free trials.  
Use this report to determine which subscription products are performing better than others in terms of total conversions and free trials. Two other useful data points that can be calculated from this report include: 
 

Determining the

importance of a trial

in producing a full subscription for each individual subscription by dividing the number of trials by active subscriptions (as applicable). 

 

Determining whether f

ree trials

lead to

more subscriptions

in general by segmenting subscriptions into "offers free and "does not offer free trial," and summing the total subscriptions for each segment.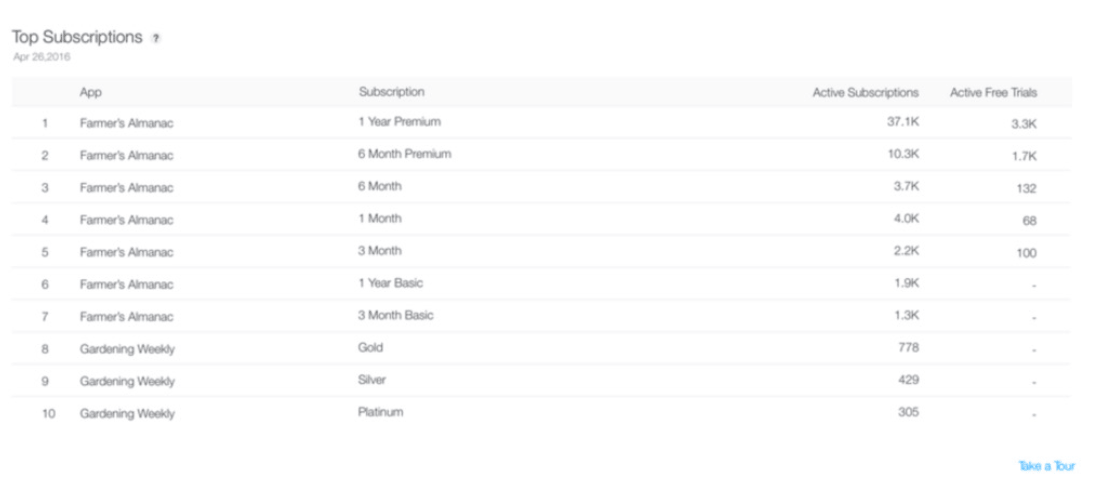 Apple also offers a couple additional reports for developers and marketers, including: 
 

Subscriptions – higher-level, audience or market data such as active subscriptions by country or subscription  ID. 

.

Subscription Events – a more detailed view within individual subscriptions such as days before cancellation,  cancellation reason and days cancelled. 
SALES 
Sales offers reports on all products sold (including free downloads and paid purchases). Sales reports can also filter  returned items by the following options: 
 

Content (the name or ID of the unit sold, such as an IAP item) 

 

Territory  

 

Device 

 

Category (each item's category, such as iOS Apps > Business) 

Content-type (drill-down into different distribution categories of items, including apps, bundles, In-App 
Purchases broken out by iOS apps, tvOS apps and Mac apps) 
 

Transaction type (free/paid/redownloaded/refund/update) 

 

CMB (short for Complete My Bundle, shows action taken by customers to purchase the remaining apps in a  bundle beyond those already purchased) 

 

App version  

 

Store currency (e.g. USD, EUR, INR) 

Client (App store/iMessage app store/News)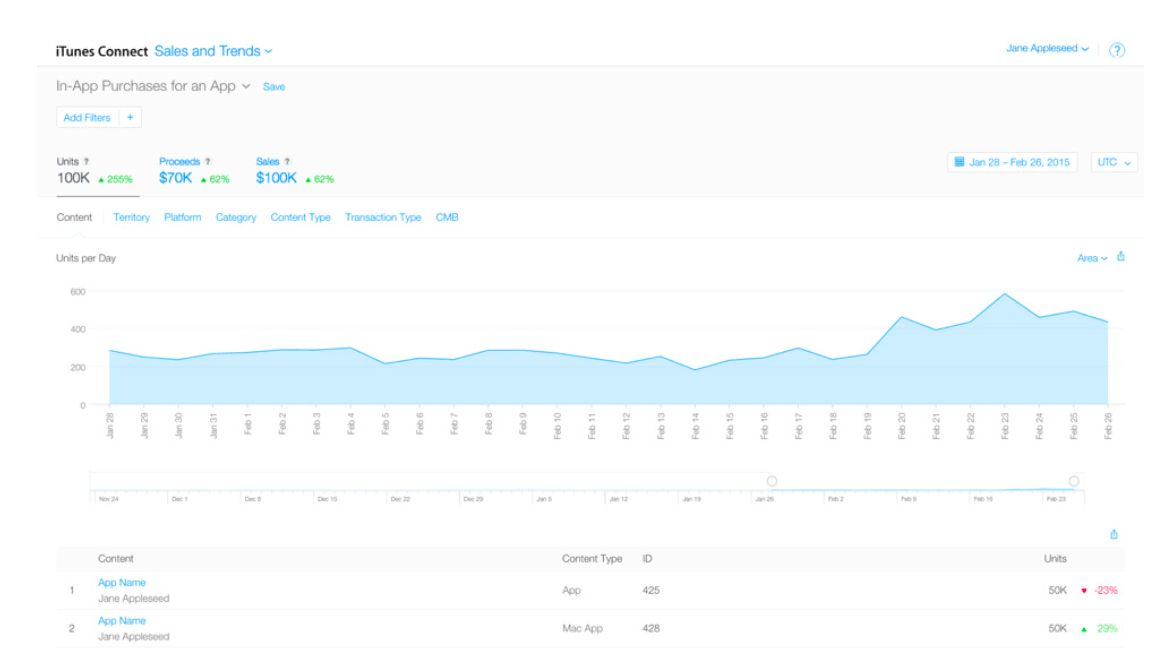 Reports provide a way to easily download data. 
Payments and Financial Reports provides a breakdown of payments and units sold per date range across regions,  including original currencies, currency conversions and taxes/adjustments. 
User Roles allows developers to control access to all or partial access of an iTunes Connect account, as well as access to TestFlight for beta testing purposes. There are 7 different roles that a user can gain access to, including the following.  Users can also be limited to access only a certain app(s), except for the admin or finance roles, or if the reports add-on  is added to a role.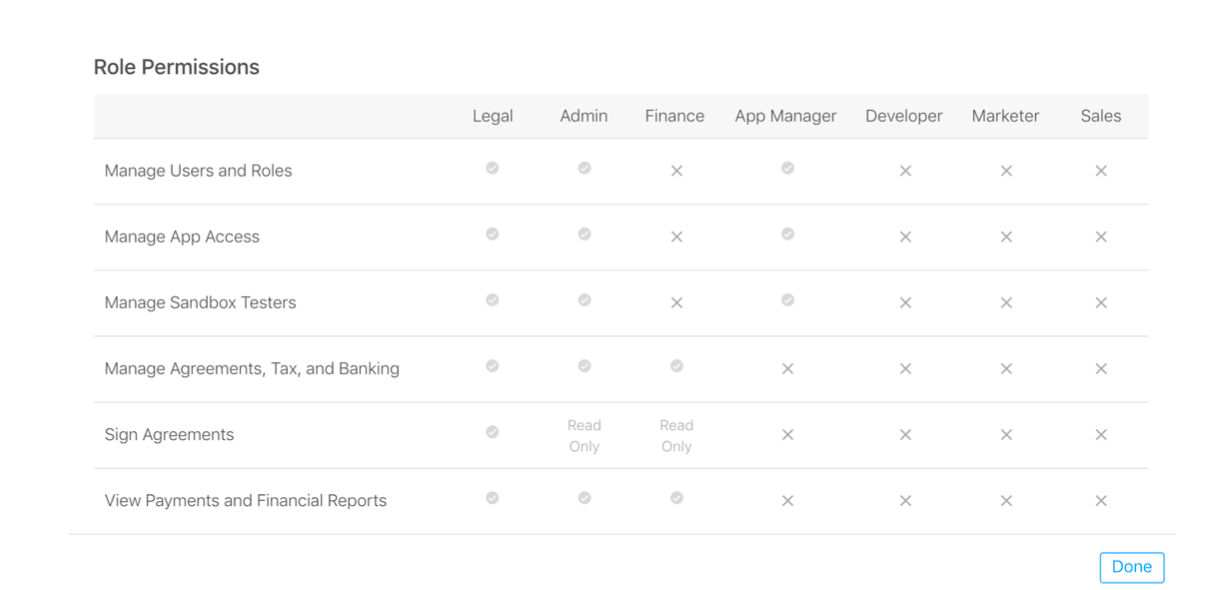 Agreements, Tax and Banking includes all the legal requirements to distribute and sell apps.
Resources and Help provides developers with videos, documentation, news and links to help resources across the different products distributed through iTunes, such as apps or podcasts. 
ASO Tools 
ASO Tools provide broad functionality to report on, analyze, optimize and position the metadata elements of your ASO  strategy. In the following pages, we list the major ASO tools, broken out by functionality that includes keyword research,  keyword optimization, keyword ranking, top chart ranking, app performance data, ratings/reviews and competitive research. 
General ASO Tools 
General ASO tools focus on helping you analyze all the general elements of your ASO strategy, from ranking on keywords/ top charts, to keyword research, to light competitive review and more. 
AppFollow 
AppFollow is a Russian ASO tool started in 2015 and publically launched in 2016 as a monitor for apps in the app stores.  Based on the data the service was aggregating, the AppFollow team started to develop internal ASO tools to support doing ASO for customers. AppFollow offers general ASO services, with unique features including app reviews, ranks, keywords, downloads and reports delivered to Slack and email in real-time.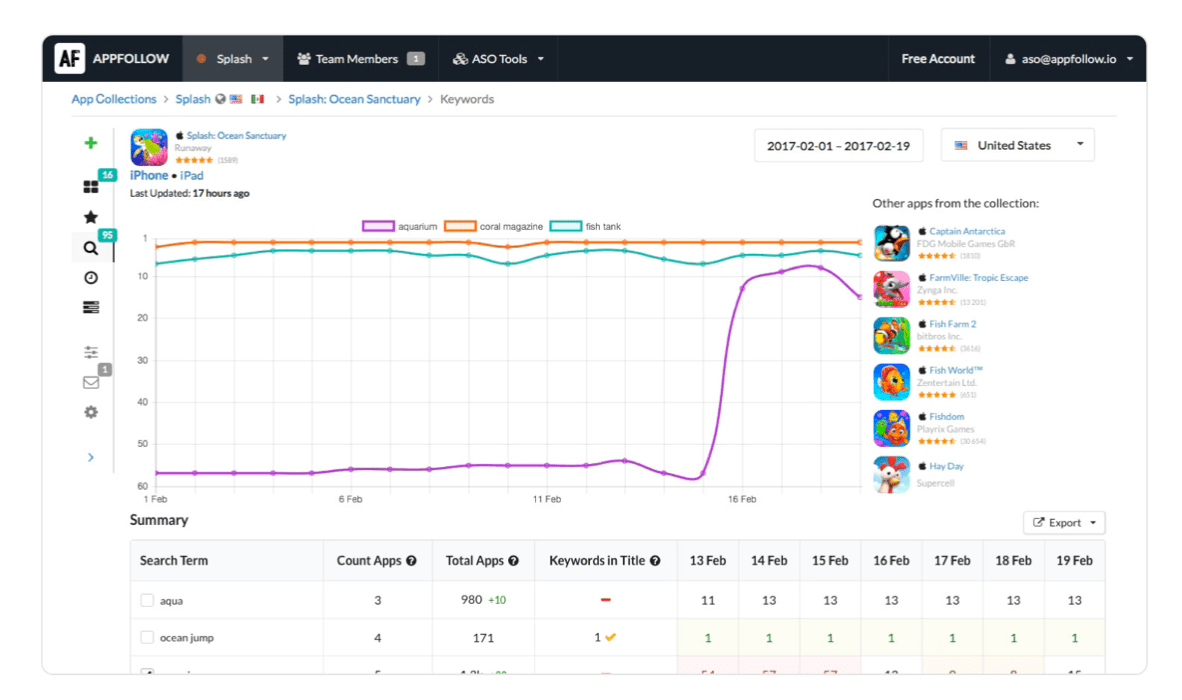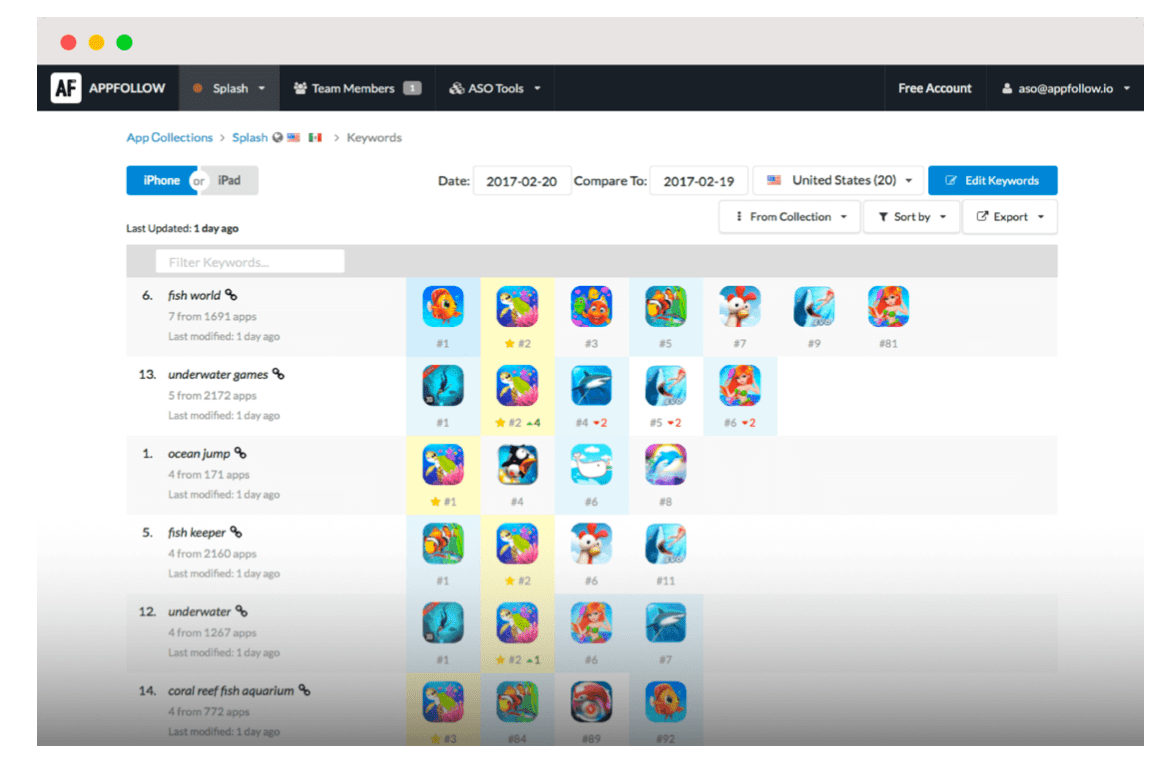 AppRadar 
AppRadar is an Austrian ASO tool that first went live in March 2016; though Thomas Kriebernegg, the CEO of App Radar,  had been working as an App Marketing Consultant since 2011. AppRadar specializes in keyword research, and some of AppRadar's unique features include submitting metadata directly to iTunes Connect and Google Play Console accounts.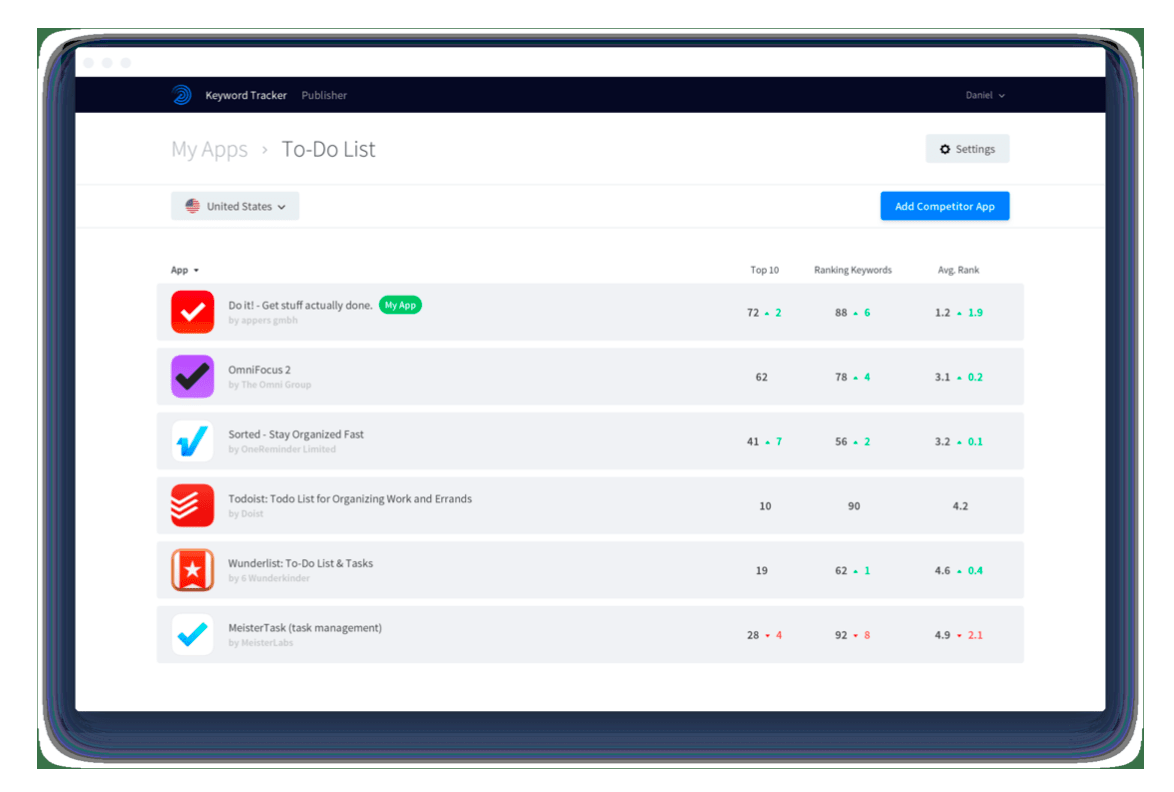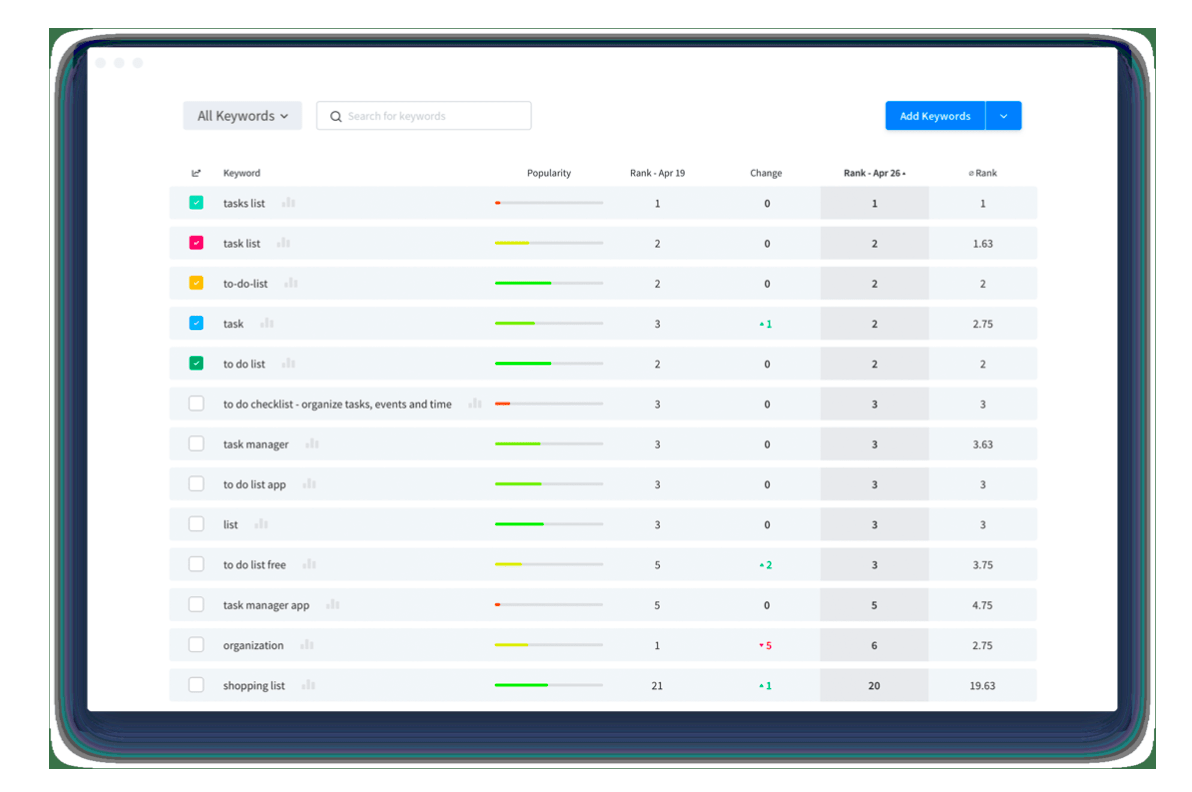 AppTweak 
AppTweak is a Belgium-based ASO tool, founded in 2013 by Olivier Verdin and Sebastien Dellis. AppTweak provides general ASO services, with unique features that include a percentage stack that shows keyword download contribution margins over time and monitoring top keywords by rank gain/loss.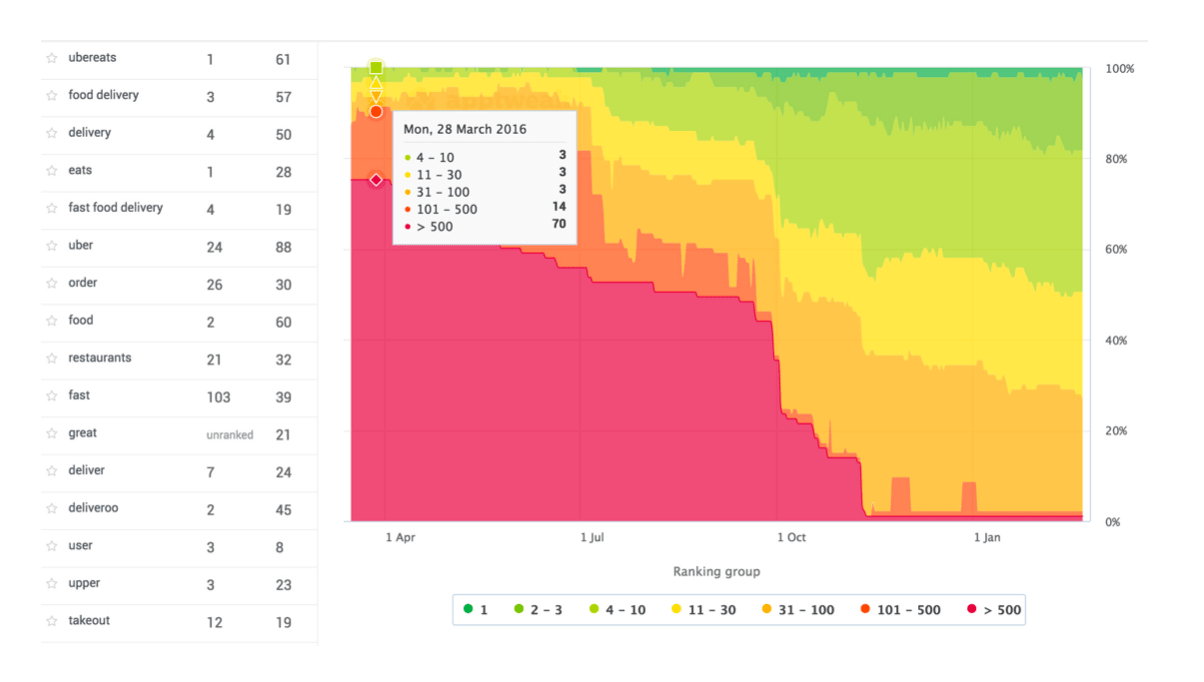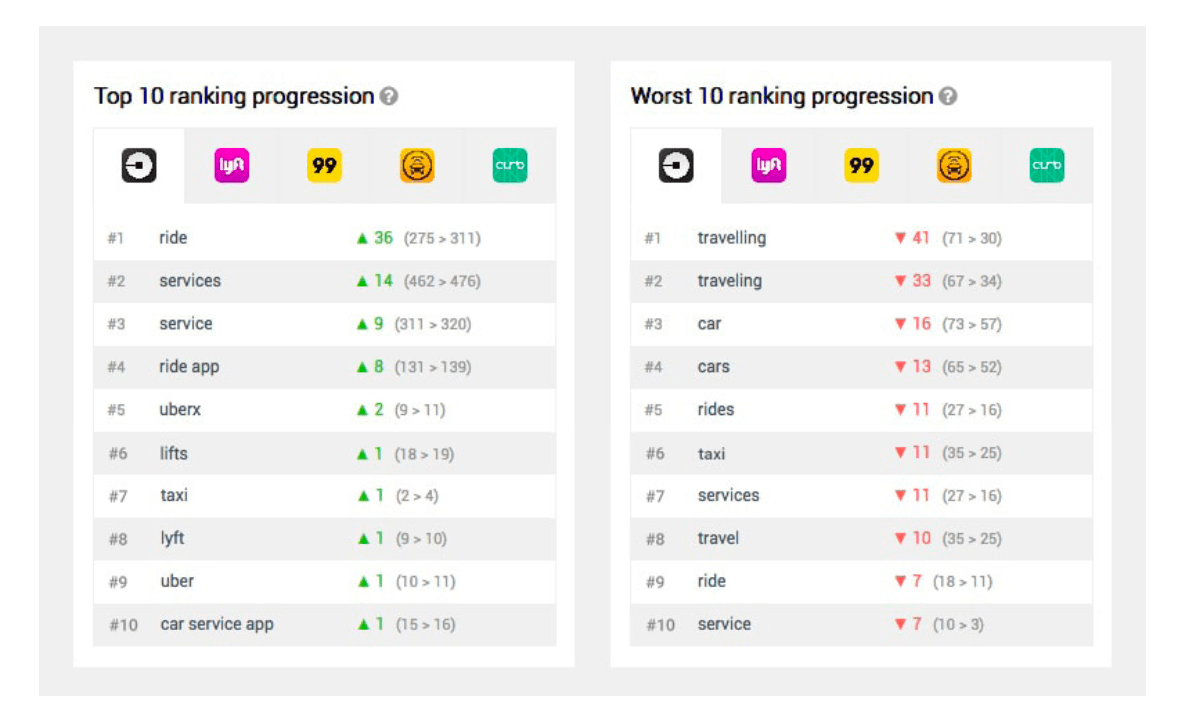 ASODesk 
ASODesk is a Russian ASO tool, founded by Sergey Sharov. ASODesk provides general ASO services, along with unique features focused on providing accurate attribution of organic downloads to keywords.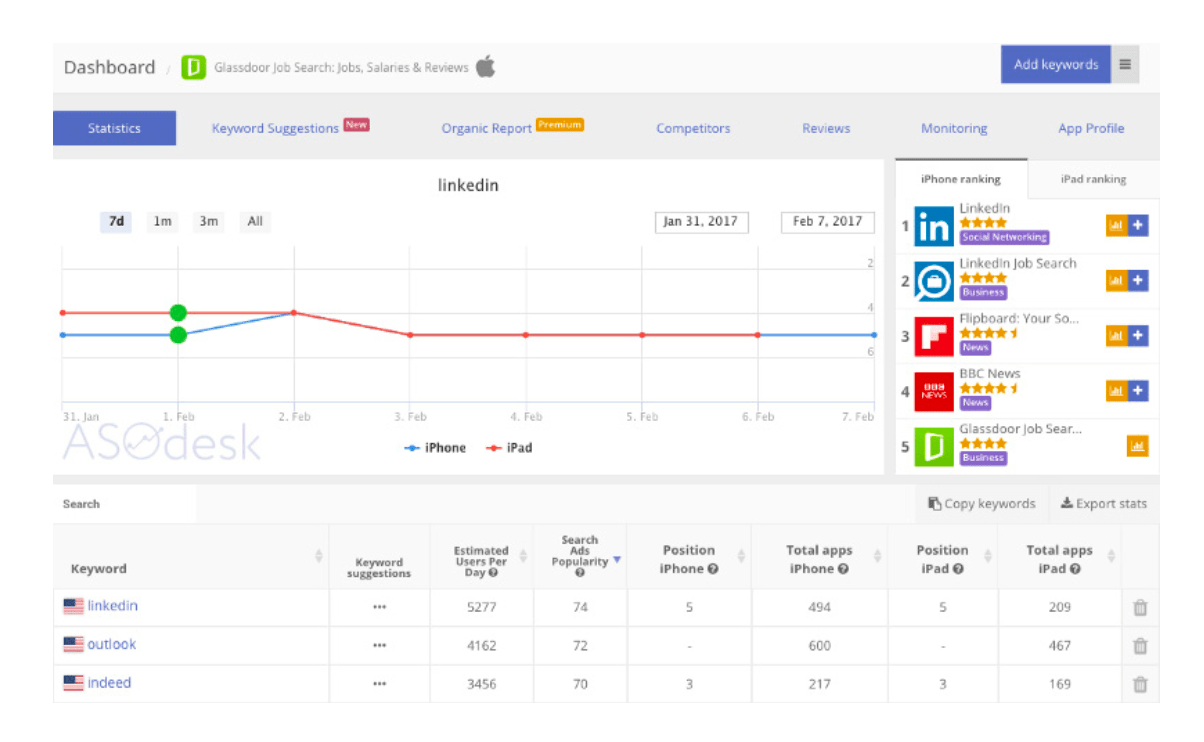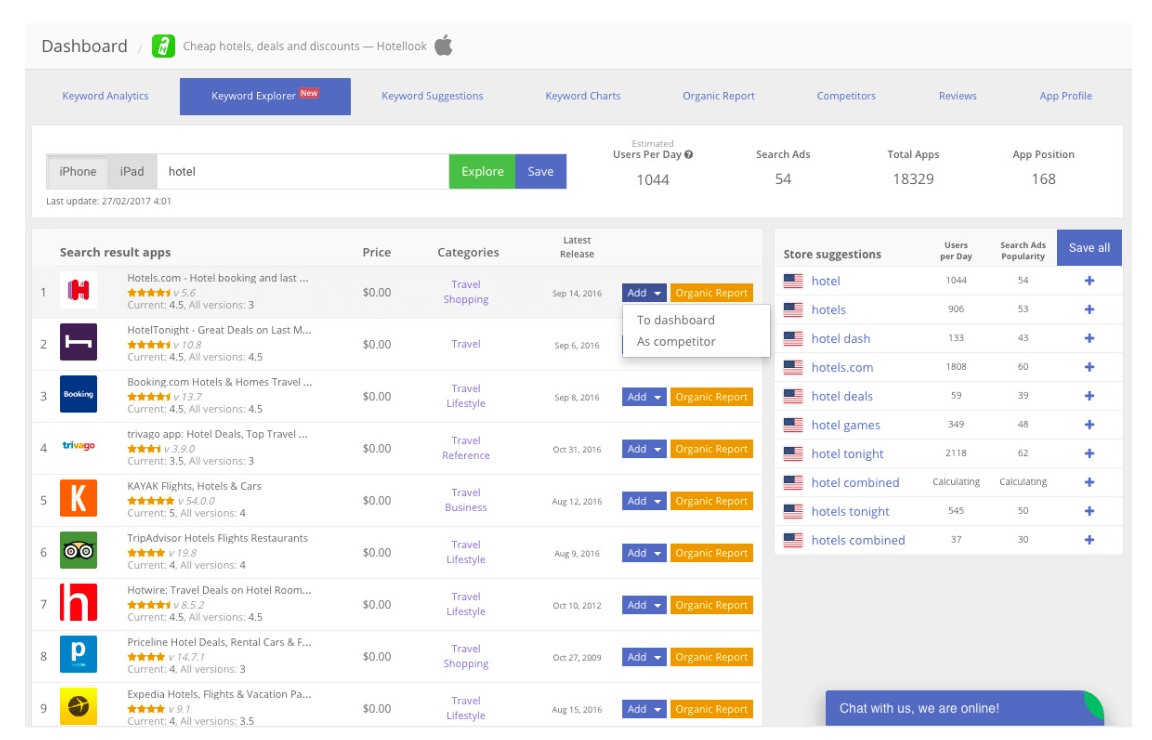 Mobile Action
Mobile Action was started in 2013 by CEO Aykut Karaalioglu as an ASO and app marketing agency. The Mobile Action team built the tool to support clients and eventually launched the tool externally as a SaaS platform. Mobile Action provides general ASO services, with unique features that include an estimate of daily/monthly active users for apps and custom alerts for app changes.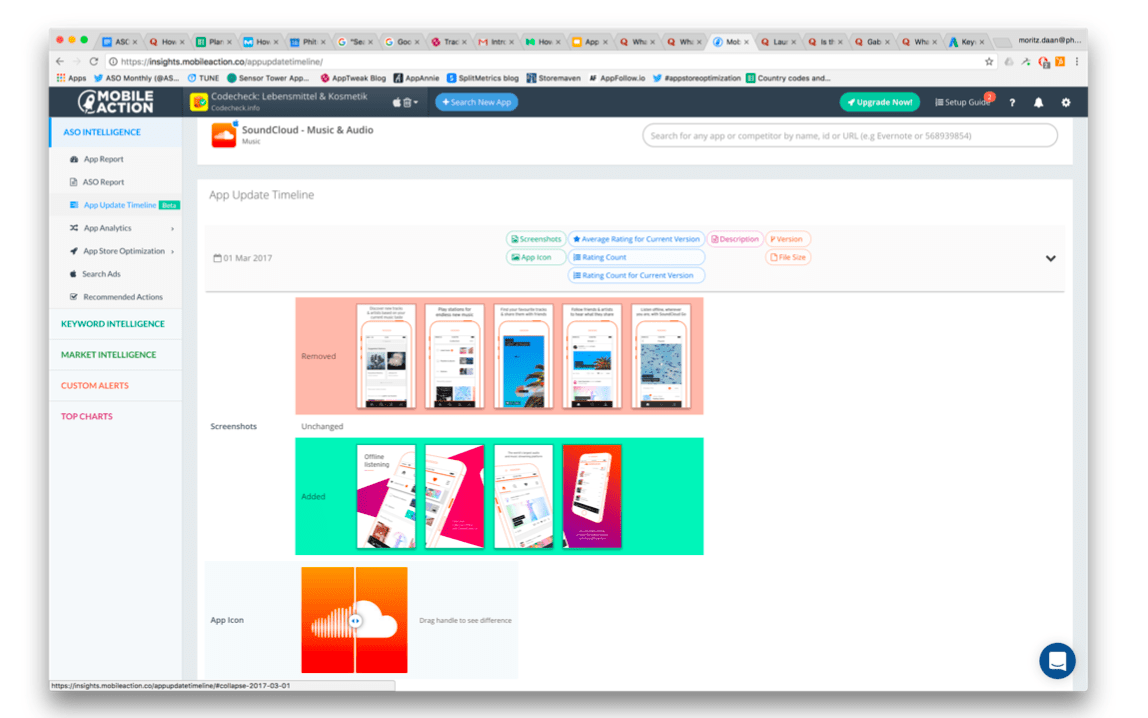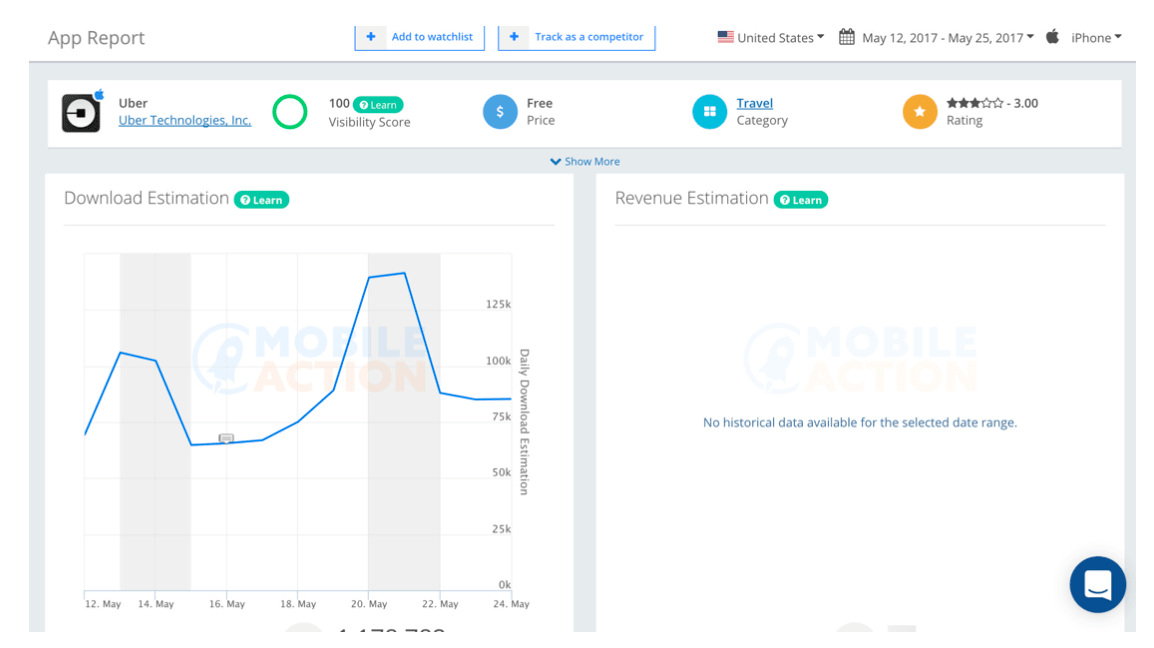 SensorTower 
SensorTower is an ASO tool founded in 2013 by AngelPad 6 alumni Alex Malafeev and Oliver Yeh. SensorTower offers general ASO services, with unique features that include custom alerts delivered via email and Slack for new/soft launches, download/revenue spikes and app updates.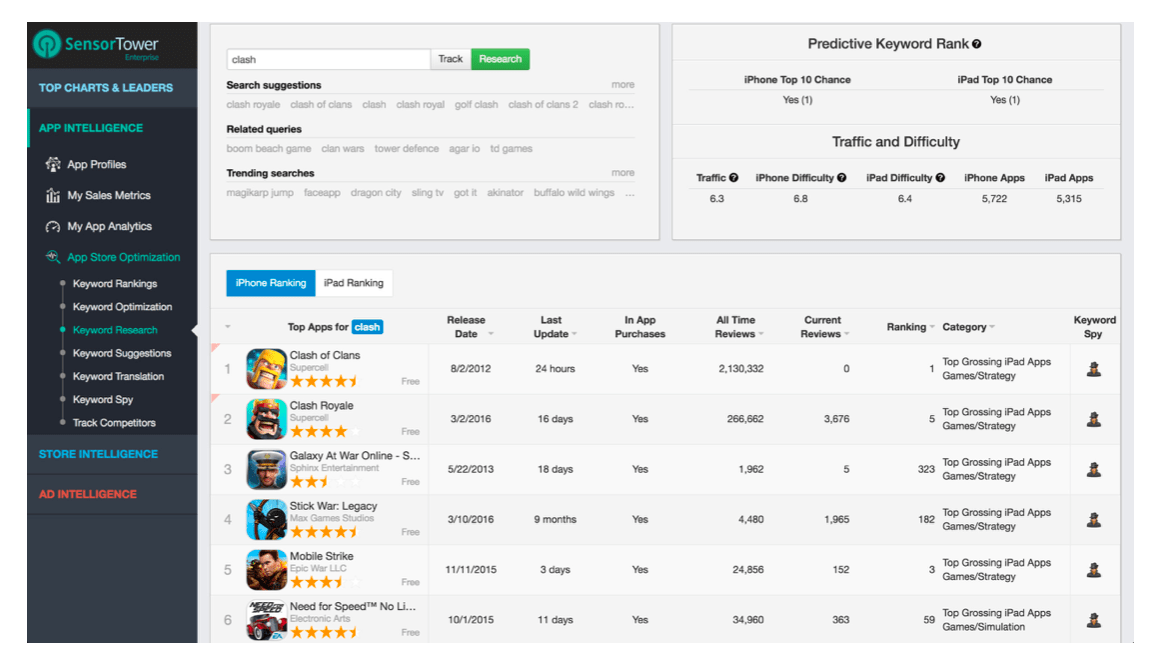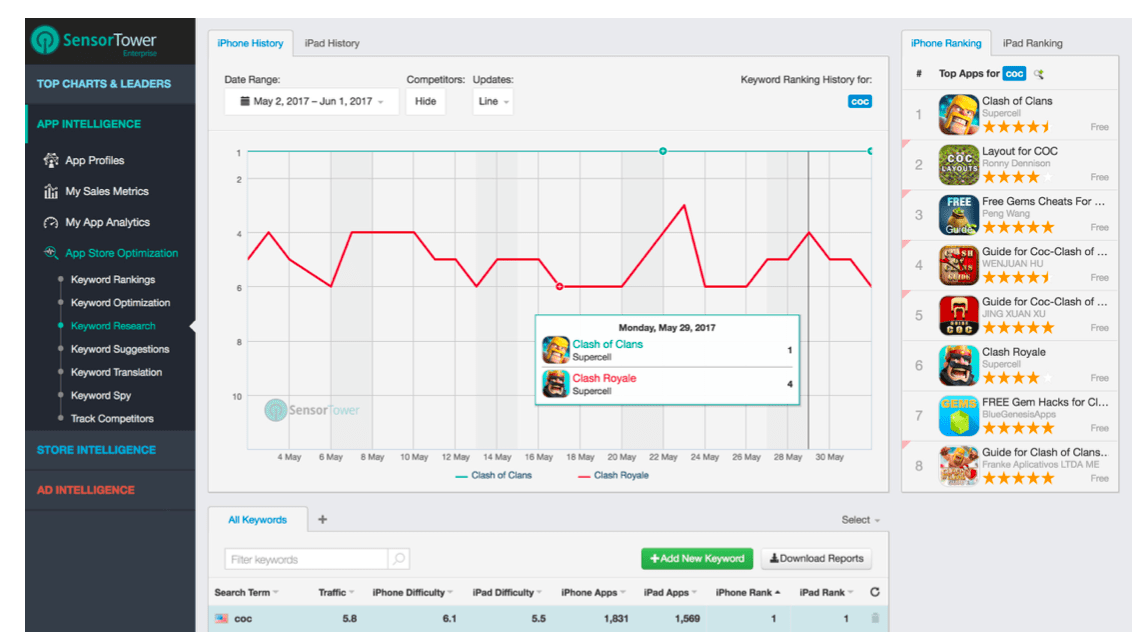 PrioriData 
PrioriData is a German app marketplace intelligence and research tool founded by Patrick Kane, in 2013 in Berlin. Priori  Data offers competitive intelligence and keyword rank tracking, and recently added ASO features for researching and tracking keywords, along with unique features that include providing daily app download and revenue for apps.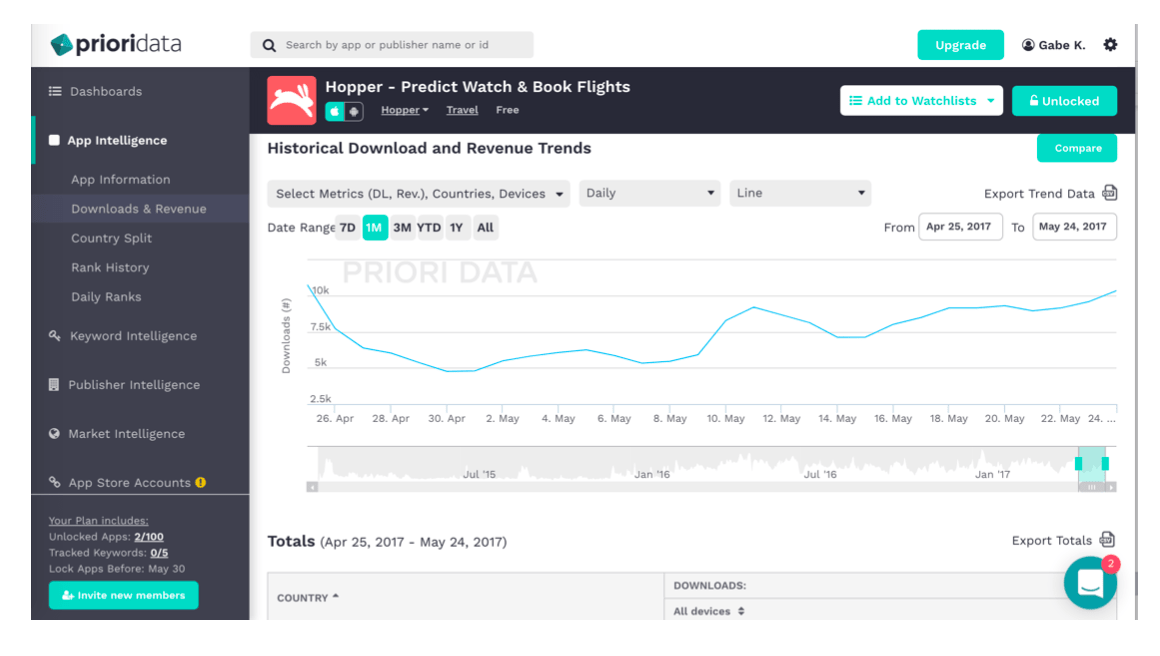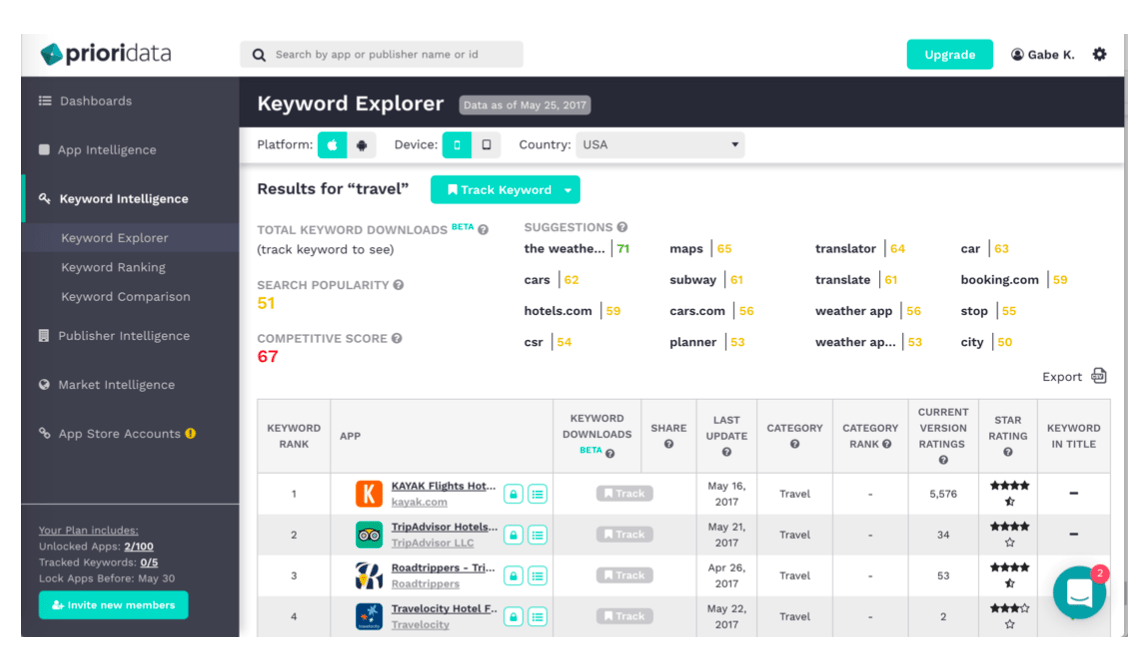 TUNE
TUNE App Store Analytics – formerly MobileDevHQ – was founded by Ian Sefferman in 2012 as the first ASO-focused  product for mobile marketers. TUNE acquired MobileDevHQ in 2014, where it now sits within the TUNE Marketing Console product suite. TUNE provides a combination of multiple ASO services, with unique features that include attribution, engagement and A/B testing support, as well as automated featured placement annotations and organic uplift measurement, which measures the impact of marketing activity on organic Installs.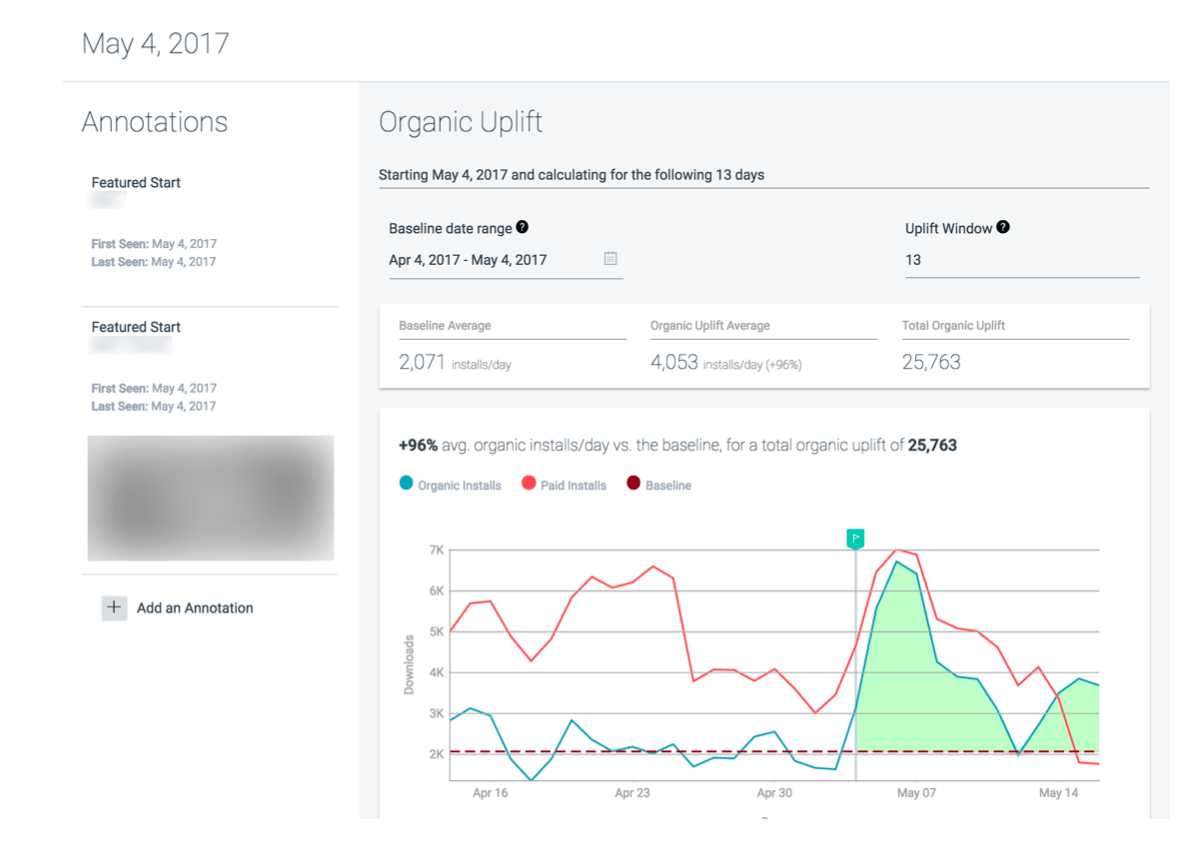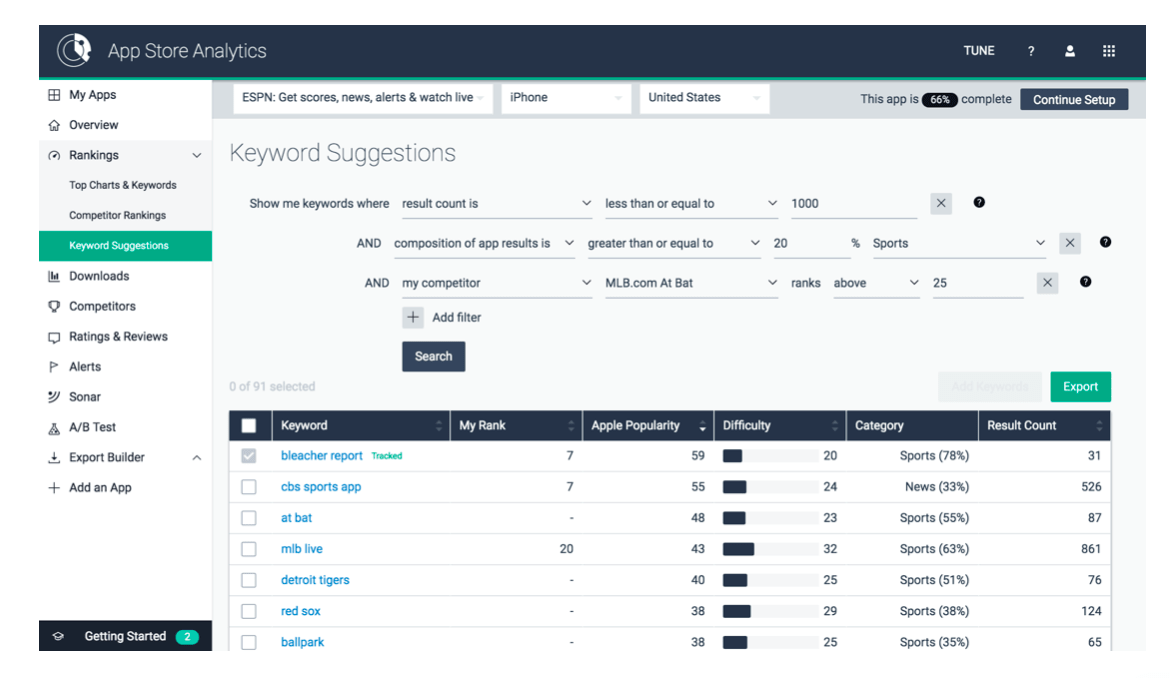 TheTool 
TheTool is a newer ASO tool out of Spain, created by ASO and SEO experts at app marketing and mobile growth agency,  PickASO. It was first built as an internal tool and then publicly released in 2017. TheTool provides general ASO services,  as well as unique features such as a mobile app interface and a focus on analyzing the organic multiplier of paid downloads.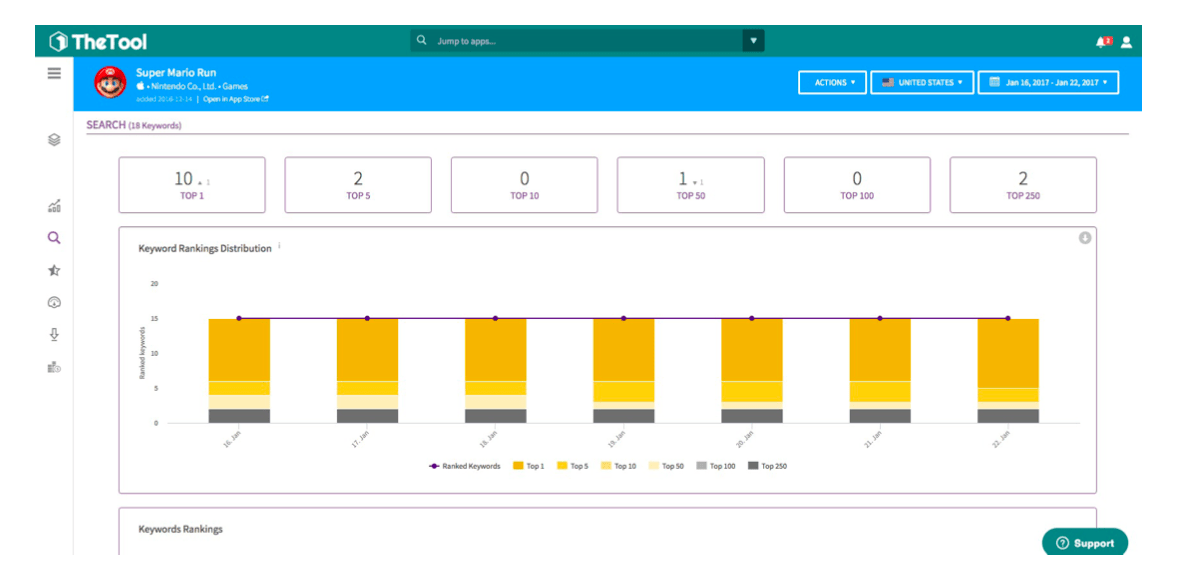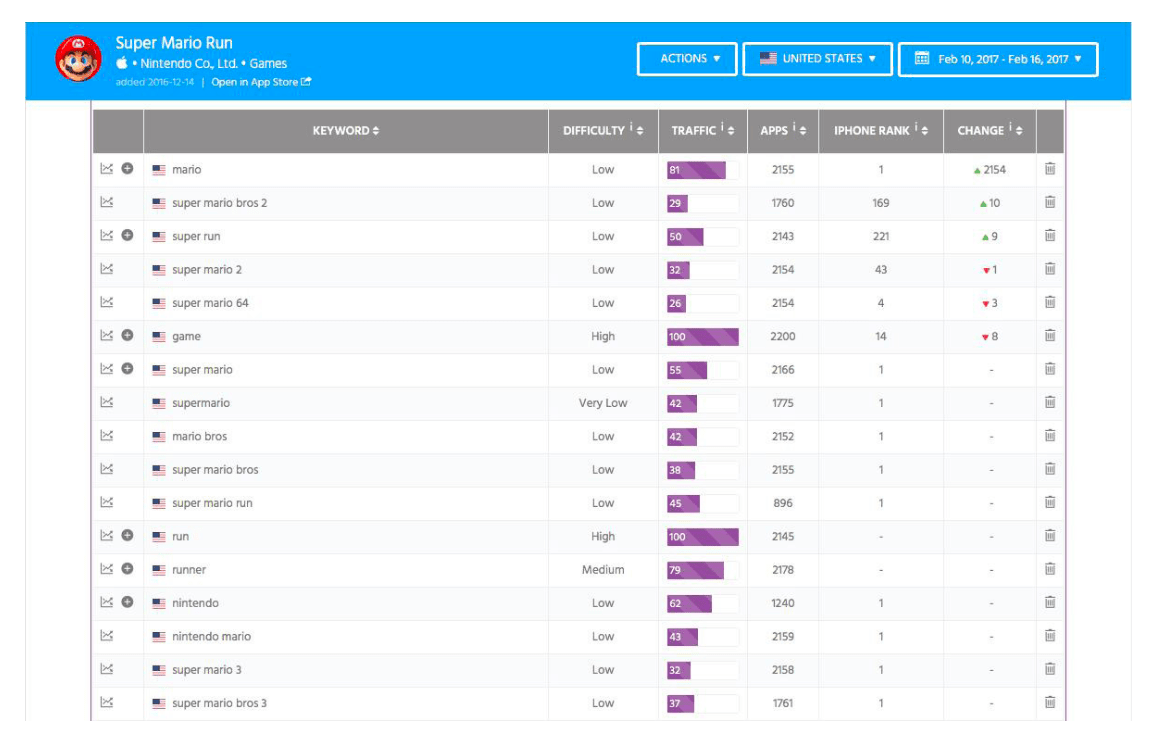 Keyword Discovery Tools 
Keyword discovery tools focus on helping you research keywords in either the genesis or iteration stages of your ASO  strategy, but do not provide ranking or reporting for specific apps. 
Google Keyword Planner Tool 
The Google Keyword planner tool is accessed through the AdWords interface, requiring users to sign up for an AdWords account.  
While it only provides keyword research based on Google.com web search traffic, the Keyword Planner Tool is one of the most prolific keyword research tools available, and can nonetheless serve as a great starting point for keyword research. One handy feature is the ability to require certain words to be present in search queries (keywords to include),  which can help zero in on searches for "apps," "iPhone," and "Android" and obtain more accurate suggestions. Another useful parameter is narrowing results for particular countries, date ranges (e.g. for seasonality) and languages. 
This tool also provides insight into monthly search volume for keywords, which can directionally be used to prioritize keywords.  
However, take web search trend data with a grain of salt and be aware that web search trends often do not align with app store search trends. That said, for app indexing optimization, the Keyword Planner is an excellent resource for researching the right keywords to use to increase web-sourced organic Installs.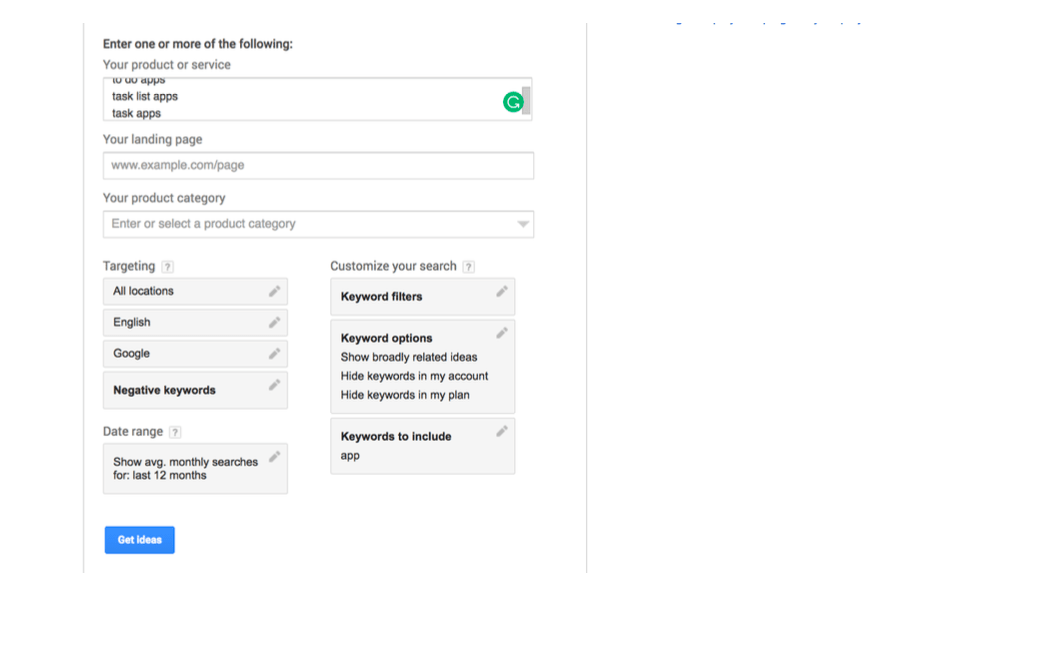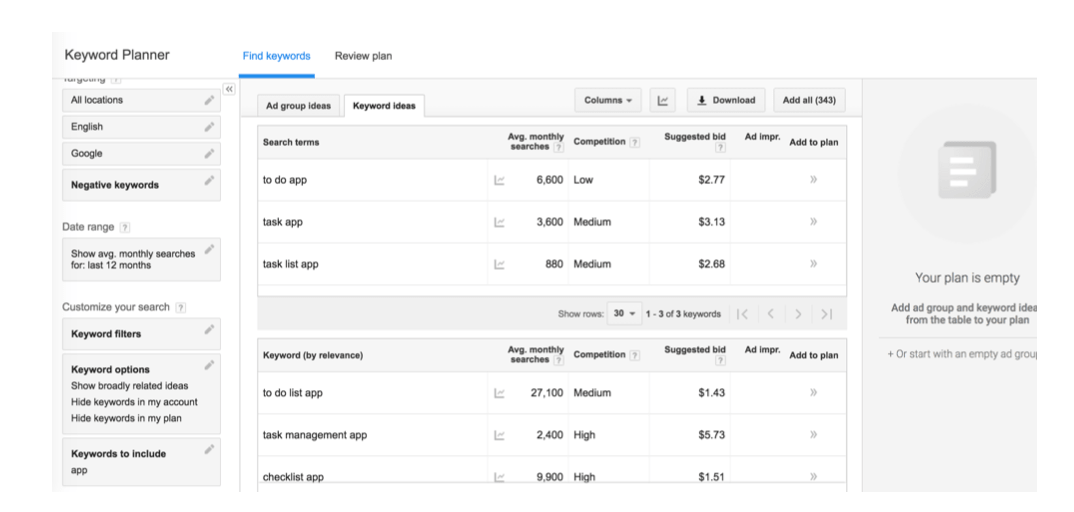 Google Trends 
Google Trends is another tool that can be useful for comparing the web-based, relative popularity of particular topics, for up to 5 topics. One unique feature of Google Trends is that it rolls many individual keywords into a "topic".  This helps provide a more accurate macro-view when analyzing trends that may span a wide set of keywords that are alike. Again, a word of caution for using Google trends for anything other than directional analysis, as web-based search trends may not mirror app store search trends.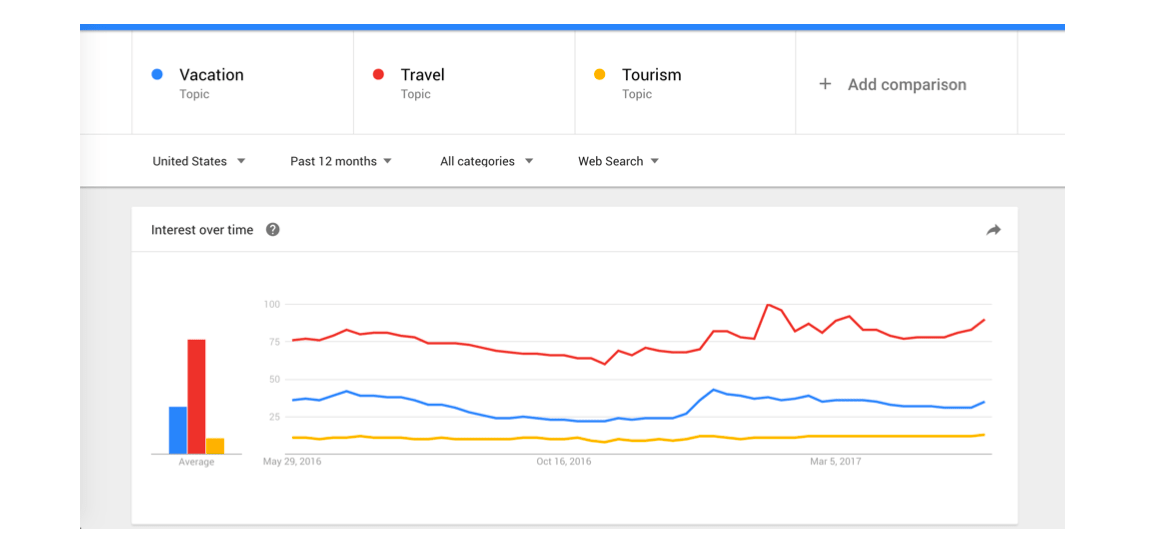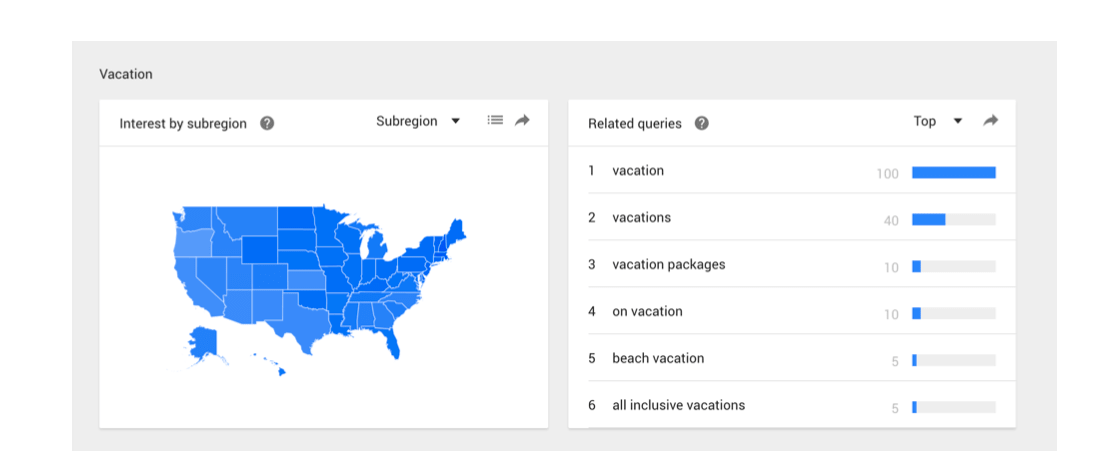 Appkeywords.net 
Appkeywords.net is free a tool made by Sebastian Knopp that provides auto-fill results for Google Play for the US,  UK, Italy, Germany, France, Brazil and Spain, and had offered App Store trending searches for worldwide, the US, CA,  Italy, Germany, France, China and Spain (plus a count of the number of hours trending).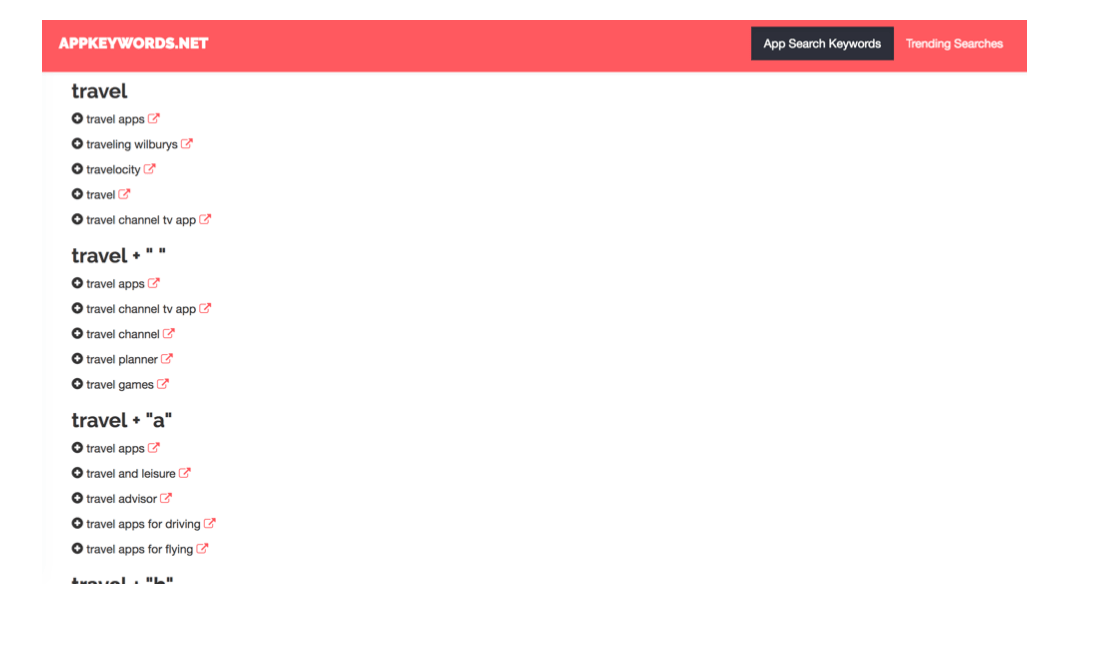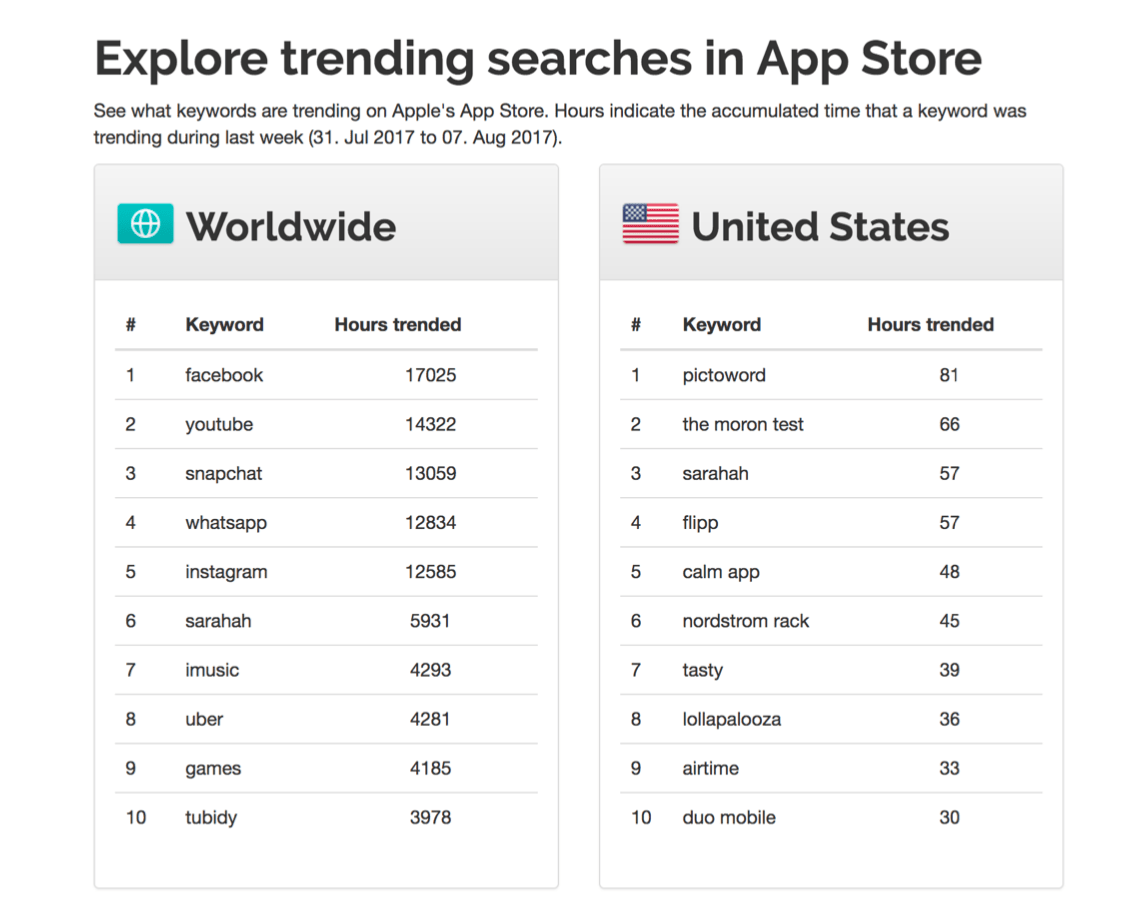 Appkeywords.io 
Created by ASO Tool AppTweak, AppKeywords.io provides auto-fill results for the App Store and Google Play store.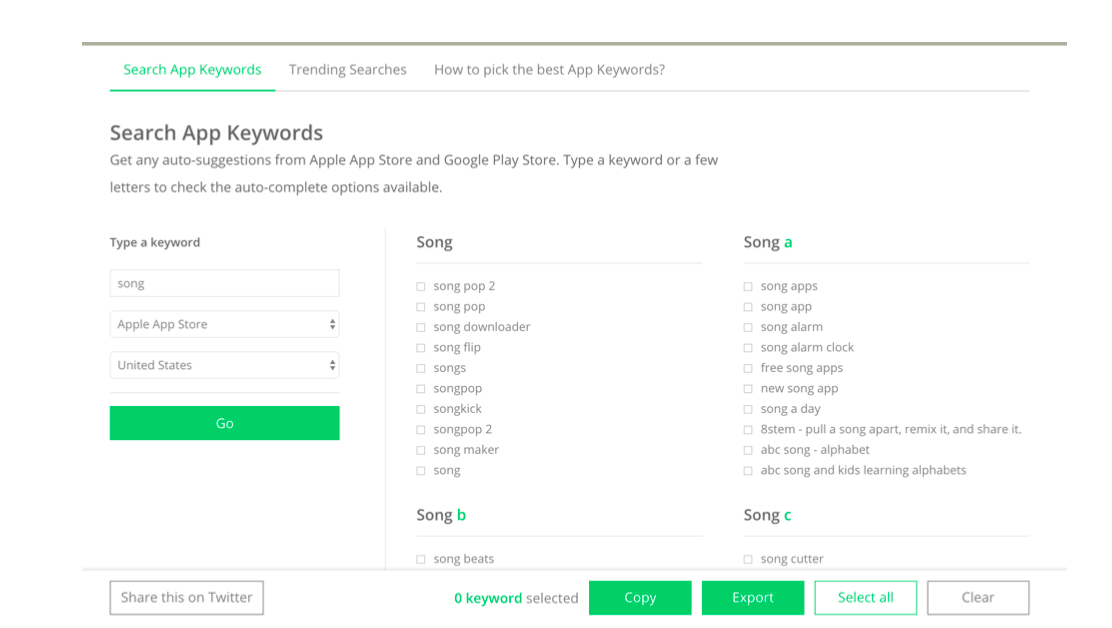 A/B testing tools 
A/B testing tools focus on empowering ASOs in conversion rate optimization and provide iOS ASOs with the functionality of Google Play Experiments, but with additional features; ASOs can also use A/B testing tools to run experiments for Android apps, too. 
RaiseMetrics 
RaiseMetrics is an A/B testing tool publically launched in 2016. It was initially built for a small group of people to help with an app optimization by mobile optimization experts Diana Sedunova and Adelina Voskresenskaya with technical help from Alexey Savitsky. Unique features include the ability to pay per single experiment and the ability to run a 2-step search page test that provides insights into competitor listings, as well as your app's listing.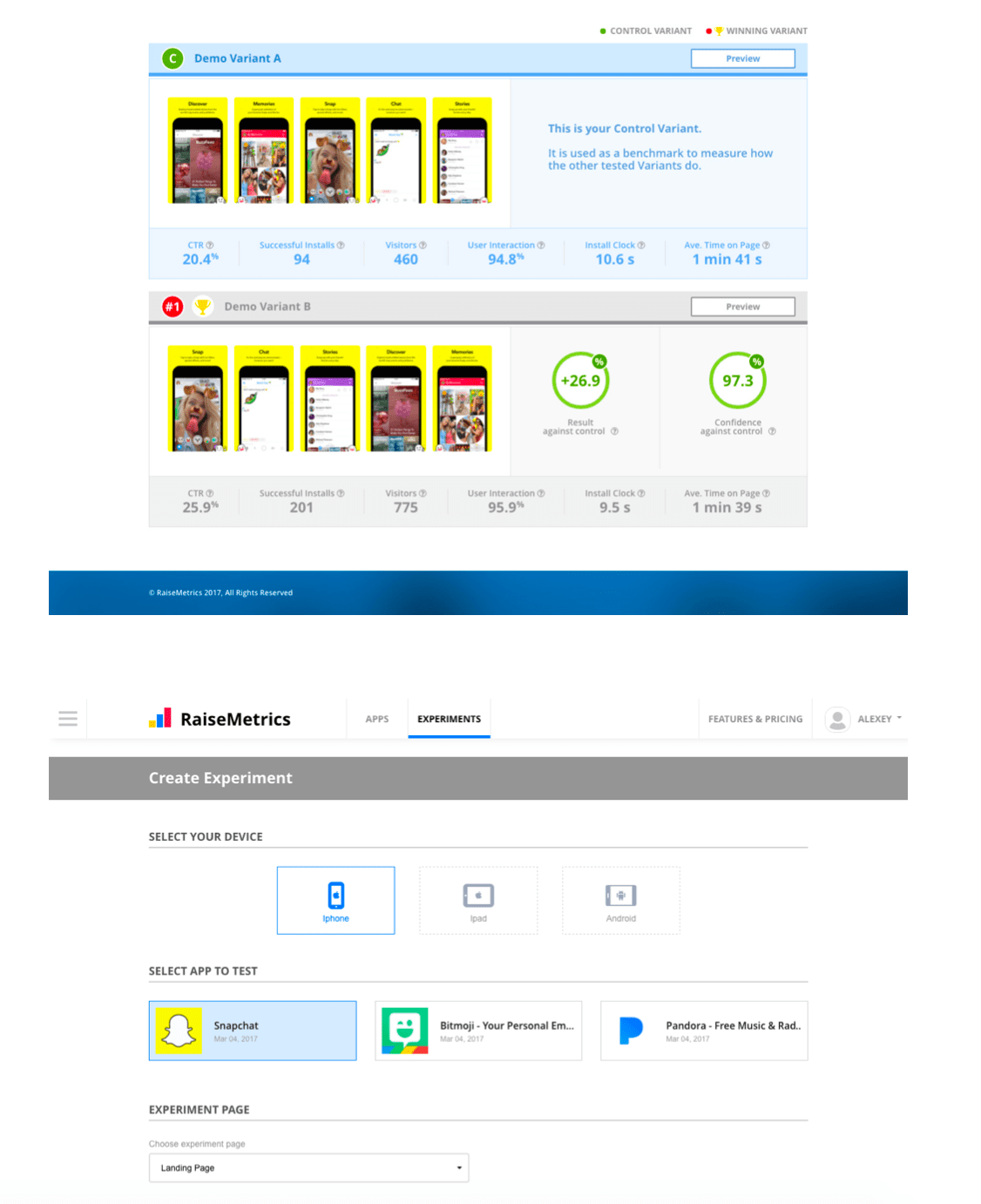 SplitMetrics 
SplitMetrics is an A/B testing tool founded in 2014 by Max Kamenkov, an ASO guru and a former chief architect at  Pandadoc, and Eugene Nevgen, a founder at MSQRD. Unique features include an instant audit of an app's ASO strategy,  as well as ASO consulting services and performance benchmark data for clients running tests.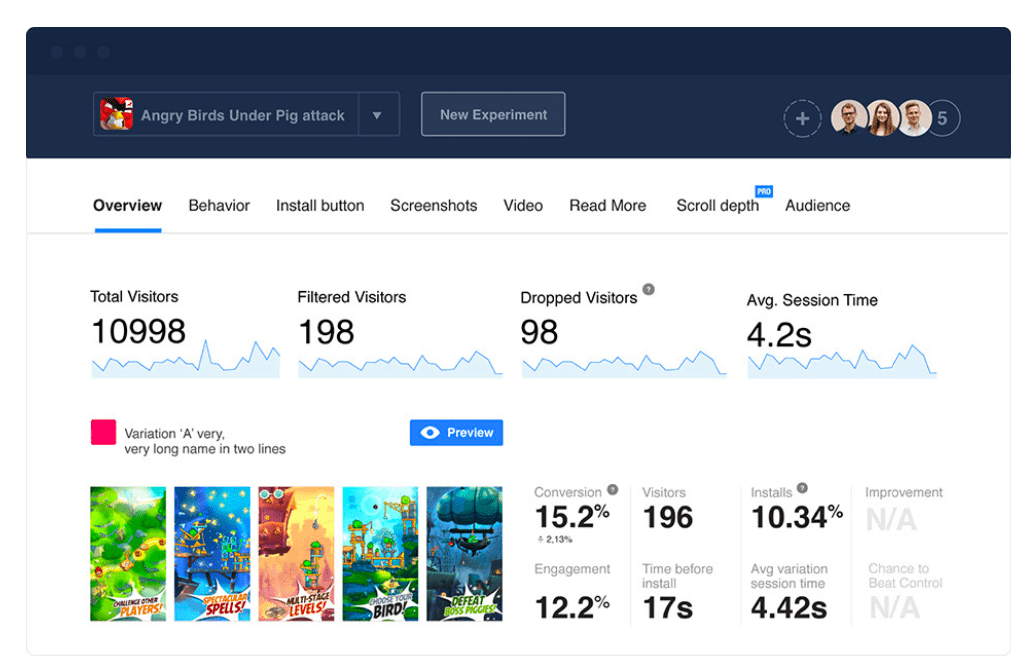 StoreMaven 
StoreMaven is an A/B testing tool founded in 2014 by entrepreneurs with experience in gaming, mobile marketing and big-data analytics. A unique feature of StoreMaven's is its machine learning algorithm, which saves media costs by concluding tests faster and with fewer samples.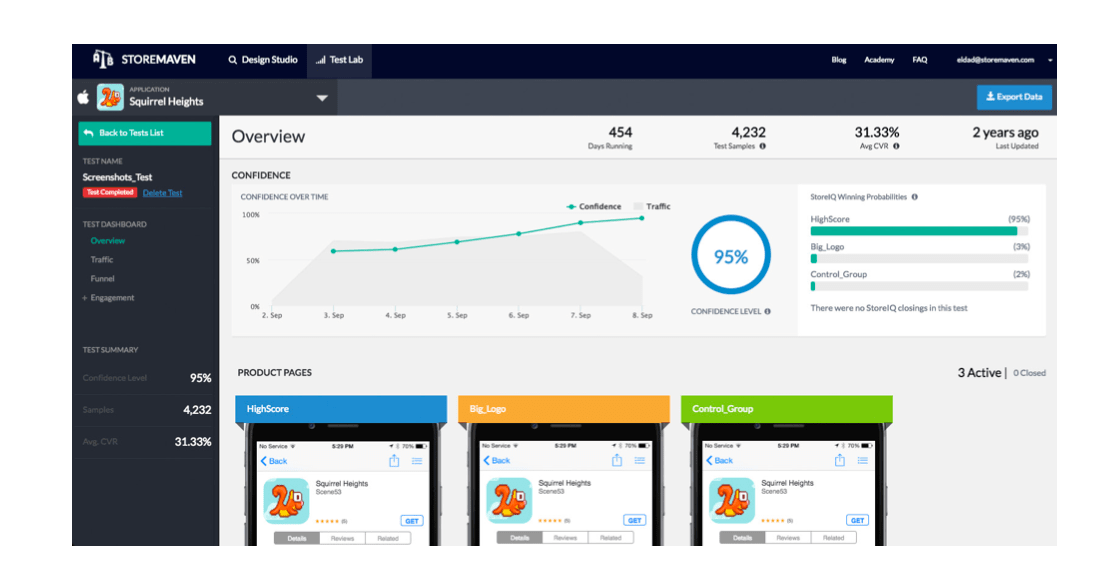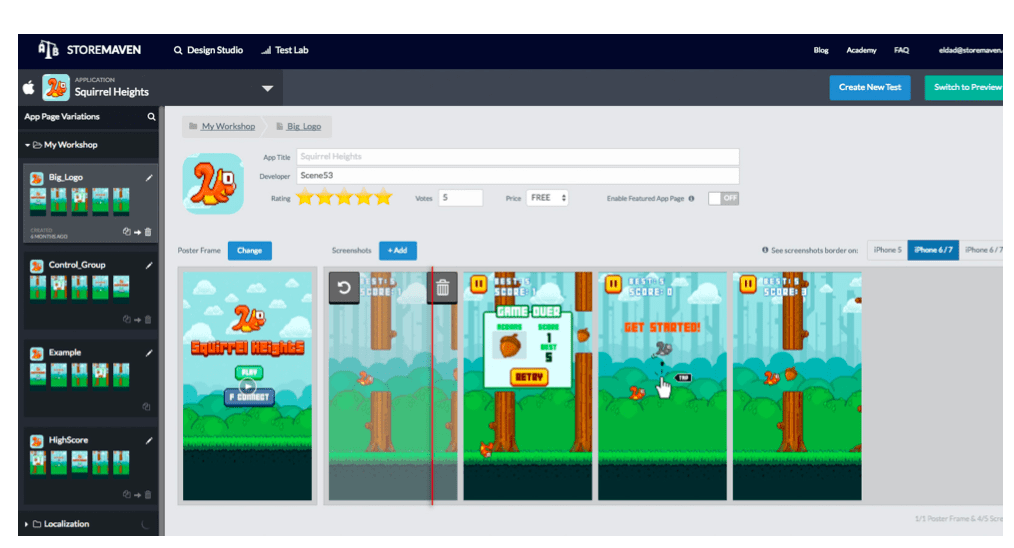 TestNest 
TestNest is an A/B testing tool founded in June 2014 by Nick Kurat and Timothy Kozak, who previously launched together a number of their own web and mobile products. Unique features including allowing users to adjust statistic variable calculations and plugging into iTunes Connect to provide expanded insights for conversion rate optimization.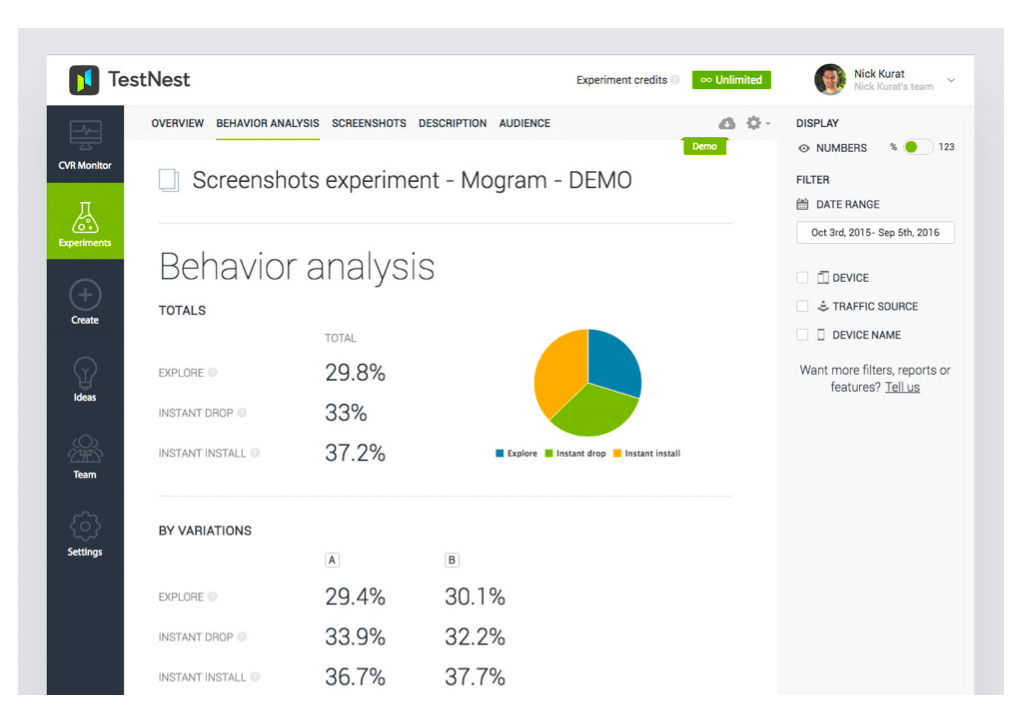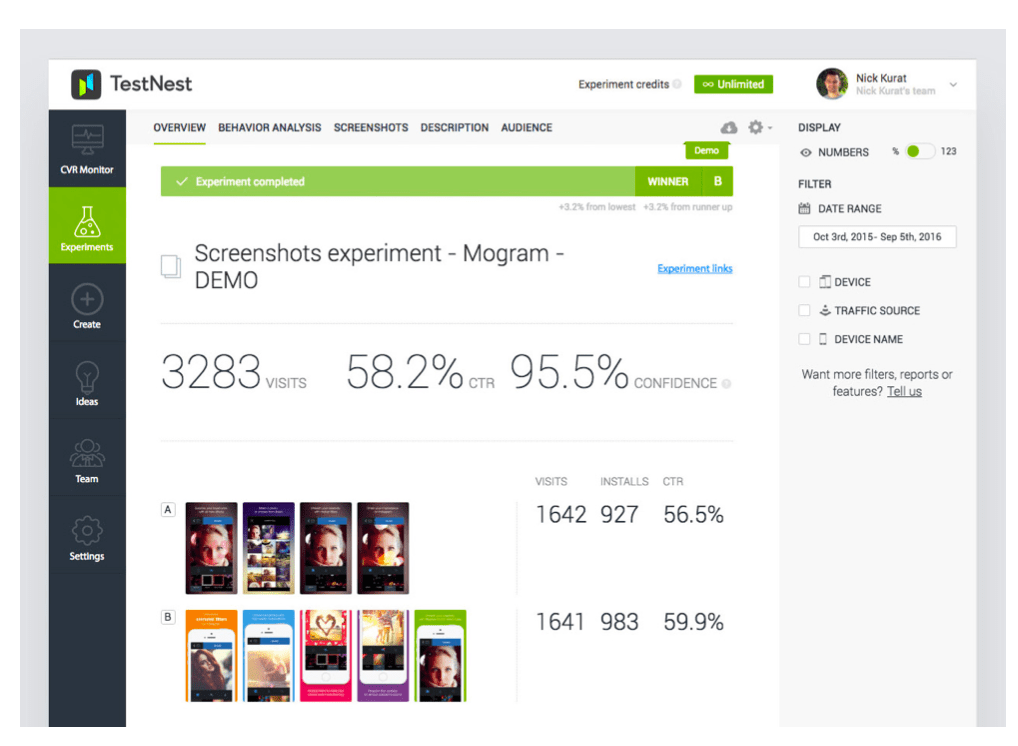 Competitive Intelligence Tools 
While some competitive intelligence tools provide features that overlap with general ASO tools such as app reporting and keyword/top chart ranks, competitive/marketplace intelligence tools focus on providing ASOs with data more difficult to obtain, such as retention rates and usage overlap for competitor apps and categories, country-level and demographic data and advertising trends. 
AppAnnie 
AppAnnie is the largest ASO tool, founded in 2010. AppAnnie provides a broad suite of products, primarily focusing on competitive/market intelligence. Some of AppAnnie's unique features include competitive advertising intelligence, usage intelligence and hourly top chart rankings. 
AppFigures 
AppFigures is an app tracking and intelligence tool founded in 2009. AppFigures focuses on providing unique value via integrations, robust API reporting and real-time reports.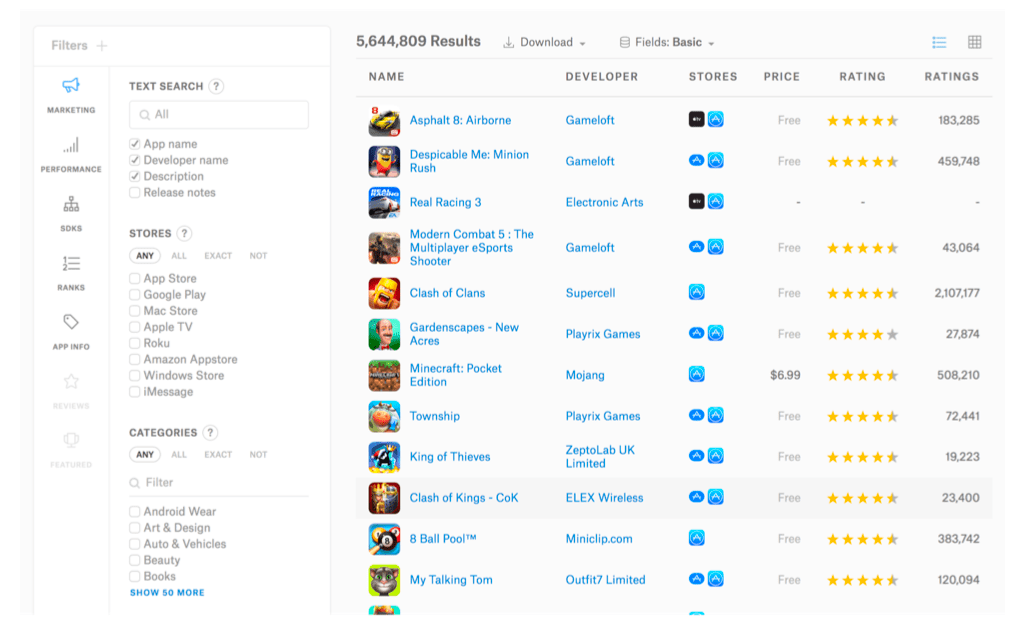 AppTopia 
AppTopia is an app data and market intelligence tool founded in 2011. AppTopia focuses on providing unique value through retention rate, app SDK usage figures and breakout app alerts.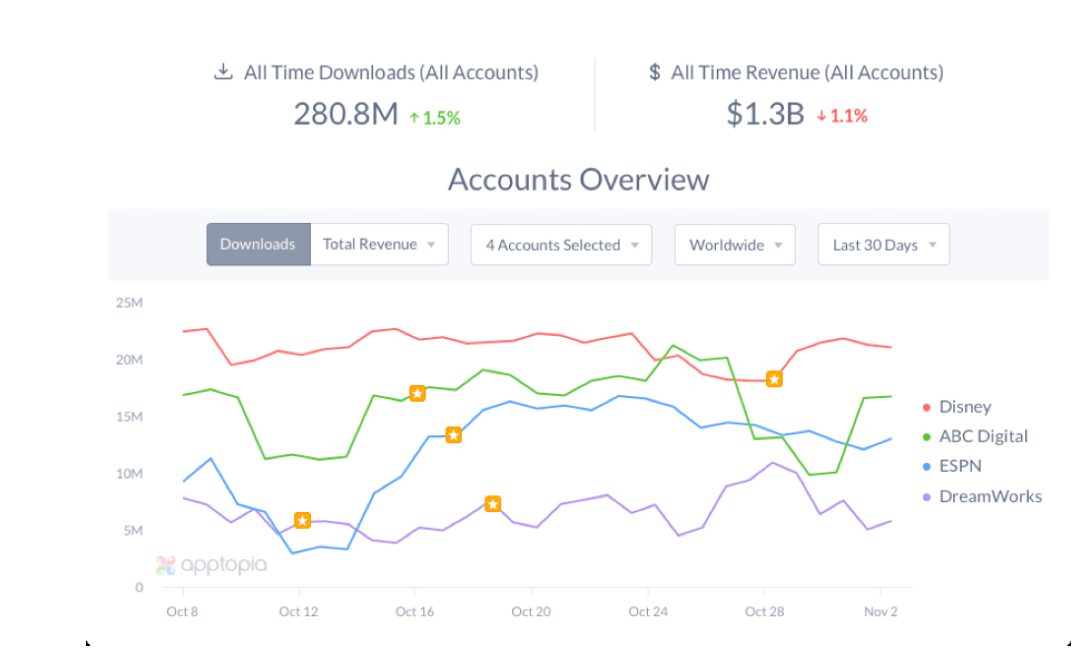 In-App Rating Prompts 
Apptentive 
Apptentive is a US-based ratings, reviews and sentiment optimization tool, founded in 2011 to provide tools to developers to measure sentiment and gather feedback from their user base.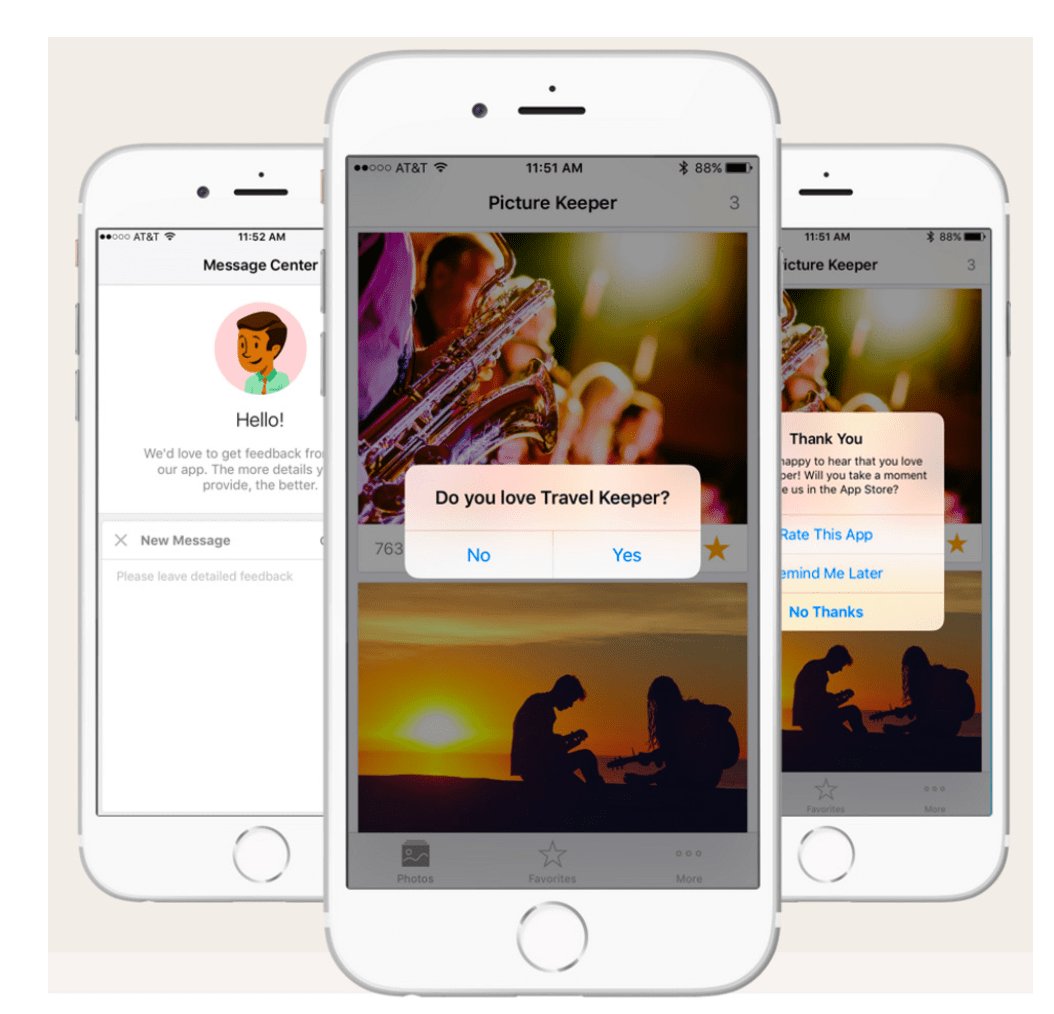 Screenshot Builders 
Screenshot builders make life less tedious, but offering features such as templates for custom screenshot design, as well as automation of localization buildout. 
AppLaunchpad 
AppLaunchpad is a tool to create app screenshots for App Store & Google Play pages, and has taken the place of  Launchkit.io, which Google bought and shut down.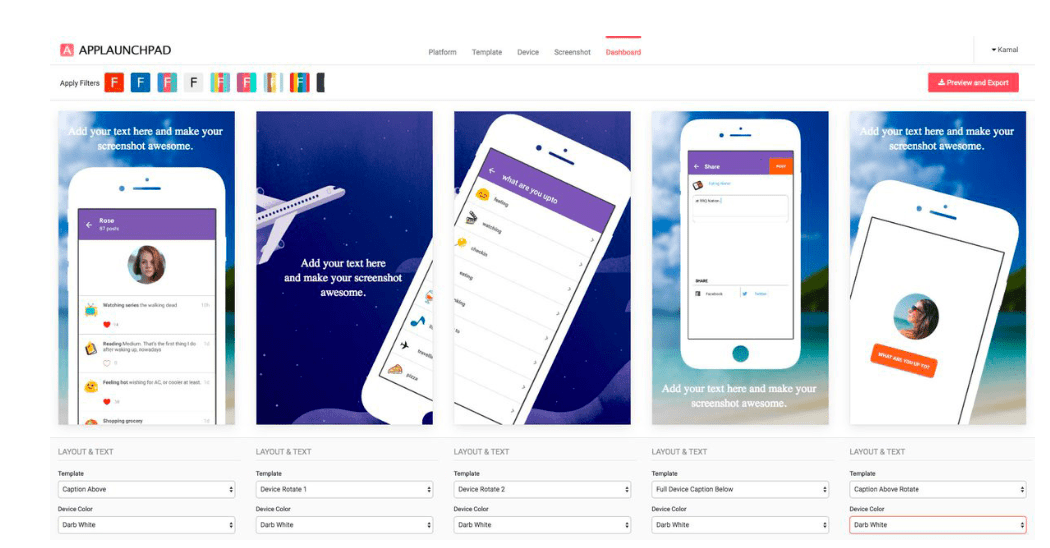 Fastlane 
Fastlane is an open-source way to automate generating iOS and Android screenshots, in addition to other builds/ release features. Fastlane is owned by Fabric, which is owned by Google.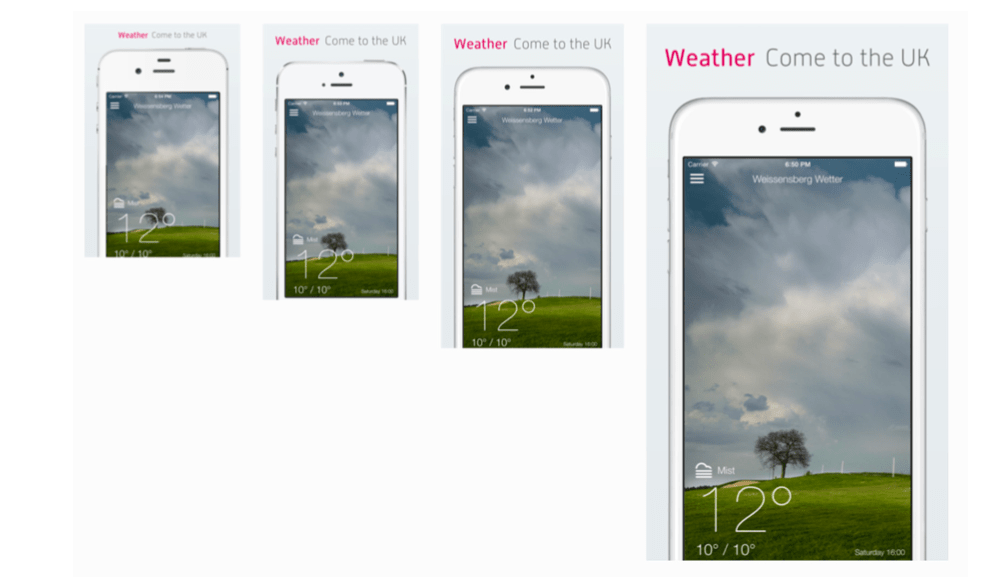 Other ASO tools 
Listed here are a couple other tools provide ancillary features useful for ASOs. 
AppScatter 
AppScatter helps you publish to and monitor hundreds of stores worldwide.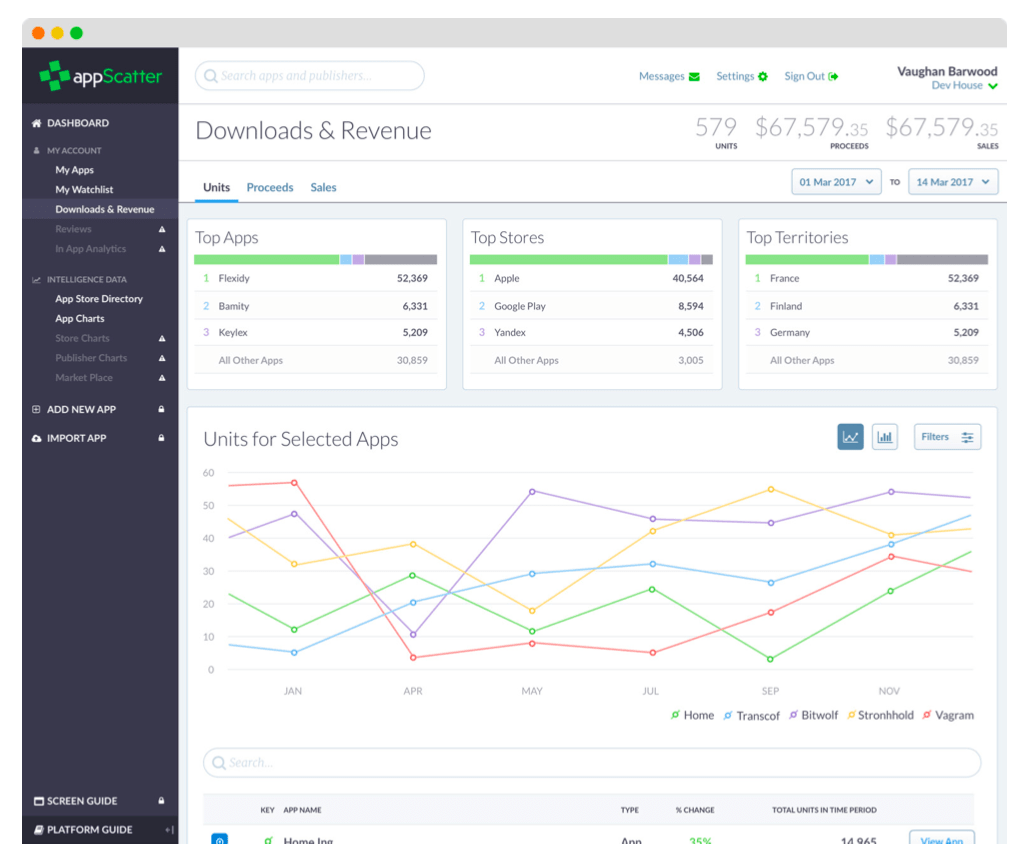 CodeNGo 
CodeNGo is a platform that helps developers self-publish their app to over 30 stores, as well as translate listings and report on data from 3rd party stores.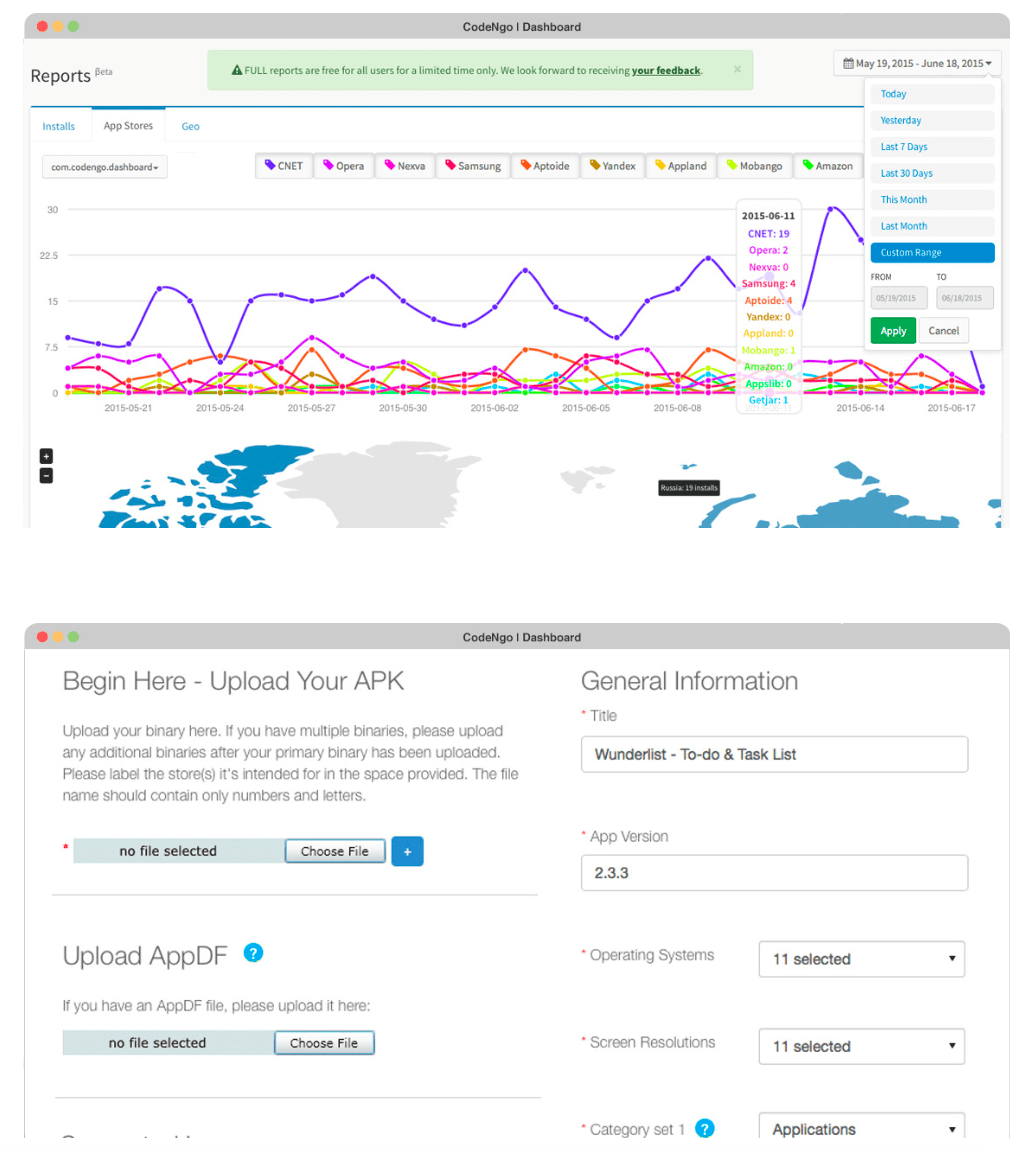 AppBot 
AppBot is a tool for monitoring and managing app ratings and reviews across major app stores. Unique features include integrations with communication, CRM and project management platforms, as well as topic/sentiment/ trending analysis.